A date doesn't have to break the bank. There are many inexpensive ideas to enjoy! Dates don't need to be extravagant or expensive to show someone you care. It's all about making an effort to spend quality time together. A great experience can be created on any budget! Check out our list of budget-friendly dates that can be enjoyed all year long.
Dine Out on the Cheap
To lighten your bill, look on savings websites (like Valpak) for local restaurant deals and dining specials. Happy hours also offer great specials, which often include cheap drinks and half-priced appetizers.
Hit the College Scene
Many large lectures tend to be open to the public, and you usually can find reasonably priced sporting event tickets.
Get Some Class
There are a variety of classes offered throughout the city, so you're sure to find something new! Dancing, painting or maybe you'd like to stretch your culinary skills to the next level — the sky is the limit!
Get to Work
Get your heart rate up by working out together. You can take a fitness class or even just go for a swim! Check out our list of workout ideas.
Hit the Town
You may not have experienced many of the tourist attractions throughout the city, so grab your date and pretend to be tourists. Pack a camera or just bring your phone. You can take time to enjoy the sights right in your back yard.
Exercise your Funny Bone
Share some laughs together and take advantage of the low ticket prices for amateur performers. Check out Liberty Center's Funny Bone and our review.
Find a Treasure
Have fun looking at unique trinkets and treasures, and you never know what you may discover! Check out different flea markets in our area or even hit up some yard sales. You never know what you'll find to add to your collection.
Whip Up Some Fun
Find a couple of recipes, pick up the ingredients at a local market and make a meal together. You could even do something simple and make your favorite desserts or bake cookies. In addition to Findlay Market, there are a bunch of farmer's markets.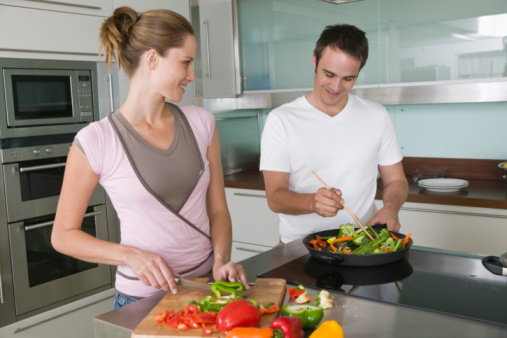 Game On!
Challenge each other to your favorite board game or grab a deck of cards. If you have a gaming console, video games also are a fun option. Check out our top picks for games to play as a couple or as a group and our list of fun games and gaming centers here.
Go Back in Time
Roller skating, bowling and mini golf are great inexpensive date options and still can be as exciting as they were in your youth. Be sure to scope out places, as most offer specials throughout the week.
Volunteer Together
Pick a cause you both care about and sign up to volunteer. Volunteers always are needed at organizations throughout the city. Animal shelters, soup kitchens and running events are great places to start. It's not only a great way to bond, but you'll also be making a difference in the community. We put together a list of perfect ways to date with a purpose.
Movie theme night
Pick a genre and cook up a theme related to the movie. Go Italian and make some lasagna with "The Godfather." If you don't want to cook, you always can check out Goodfellas for pizza beforehand and actually watch "Goodfellas."
Sing your heart out!
Have a cocktail and dive into the song library at a local karaoke bar. You can choose a duet or serenade your sweetie. Let your inner rock star shine!
Rock on, my friends
There are so many local bands in Cincinnati that have yet to be discovered … by you! Some concerts are even free on the weekend, like at The Southgate House Revival. If you're interested in finding some new venues to check out, take a look at our list of top indoor concert venues. You're bound to find a few free or low-cost shows. Maybe you'll be able to say, "I heard them before they were big."
Cheer your team to victory
Soccer is gaining serious traction here in Cincinnati, so attend an FC Cincinnati game. You also can get some cheap tickets for a Reds game and splurge on the snacks. Other sports teams to check out would be roller derby and ice hockey. You likely can find weekly deals!
It's a beautiful day for a picnic
There are a ton of gorgeous parks in Cincinnati. From Eden Park to Ault Park, you're bound to find a place for your date. Before you go, pack a lunch. You can go fancy with a bottle of wine, cheeses and fruit. If that's not your style, consider packing some sandwiches.
Food truck crawl
Take advantage of the food truck trend and find some new food! Food trucks sometimes are at events, bars or just parked out on the street. Check out Over-the-Rhine for any food trucks outside 16-Bit or Washington Park. Queen City Radio has a permanent one on their patio!
Get artsy
The Cincinnati Art Museum always offers free tours. They also offer different events throughout the week. A big event you and your date can check out is "Art After Dark."
With all these ideas, you'll definitely be busy! The best part is it will be well within your budget. Have fun and check back for more ideas!