I can't think of a better date night than one that starts and ends with laughter. Laughing with loved ones, laughing with friends, laughing with co-workers and laughing with complete strangers are some of the reasons I love visiting Funny Bone Comedy Club Restaurant in Liberty Township. It doesn't matter who you attend the show with, you will go in smiling, knowing you will be entertained and get to laugh a lot.
Be prepared
Be sure to leave yourself plenty of time before the show actually starts to enjoy all that Liberty Funny Bone offers. They have a beautiful large bar area with plenty of seating for you to enjoy a cocktail prior to entering the show. Our show started at 7:30 p.m., and we arrived an hour before showtime. Plus, seating is done first come, first served, so the earlier you arrive, the closer you may get to the stage.
Liberty Funny Bone has a changing lineup of comedians. Check out their calendar to see who is headlining. Ticket prices vary based on the show. Shows usually run Thursday through Sunday, and all shows are 21 years or older unless specified differently. We saw Ryan Hamilton, and we laughed, laughed and laughed some more.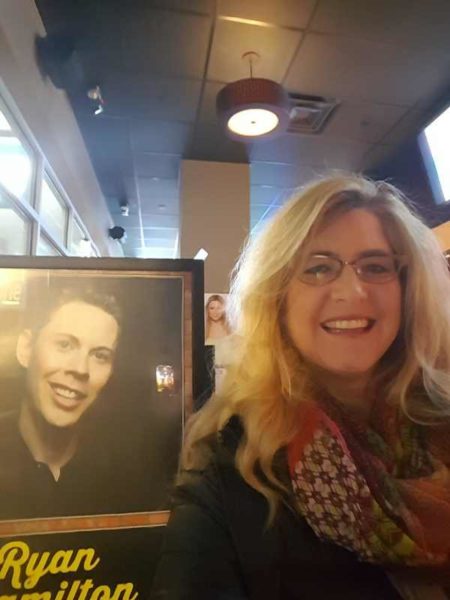 Me with headliner Ryan Hamilton. (You'll also see an MC and an opening comedian.)
Start the night off right
Once the doors open to the main stage, you'll have plenty of time to look over their delicious menu filled with appetizers, entrees, salads, sandwiches and desserts. They have lots of fun cocktails, beer and wine to choose from. We started with cocktails. Since it was the holiday season, I was able to try one of their Vanilla Cider holiday cocktails (Crown Royal, Vanilla Whisky and Angry Orchard), while my friend enjoyed a glass of wine. Both were perfect ways to warm us up on a cold winter night.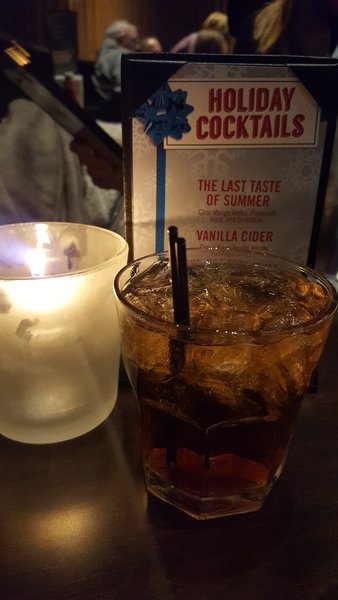 Tickle your taste buds
Enjoying good eats also makes for a memorable night. At Liberty Funny Bone, they have a great menu. There are appetizers that are perfect for sharing. When I visited with my husband, we shared the Smokehouse Nachos, and they were delicious and filling. During this visit I started with a side house salad (love that it was served in a cold dish). I opted to try the Baja Tacos with shrimp, and I'm so glad I did. The dish was accompanied by black beans, tortilla chips and my own cup of queso. Yes, I cleaned my plate. And I actually only had a tiny bit of food envy when my friend's dish was presented. She went for the Caesar salad and hand-breaded shrimp platter served with cocktail sauce, fries and house-made coleslaw. We both were very pleased with our dinner selections.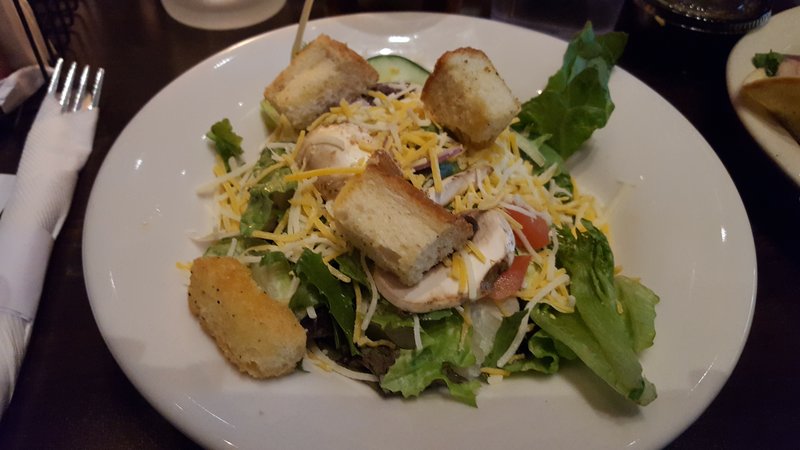 Side Salad – served on a cold plate with the best croutons ever!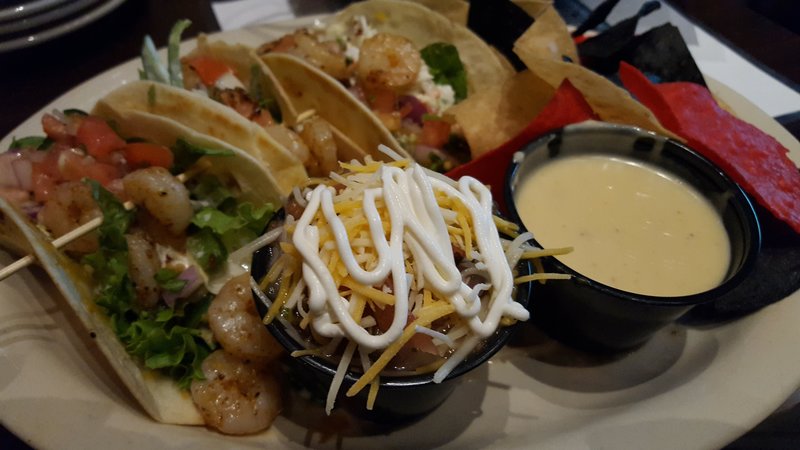 Baja Shrimp Tacos (You also can do pork or chicken.)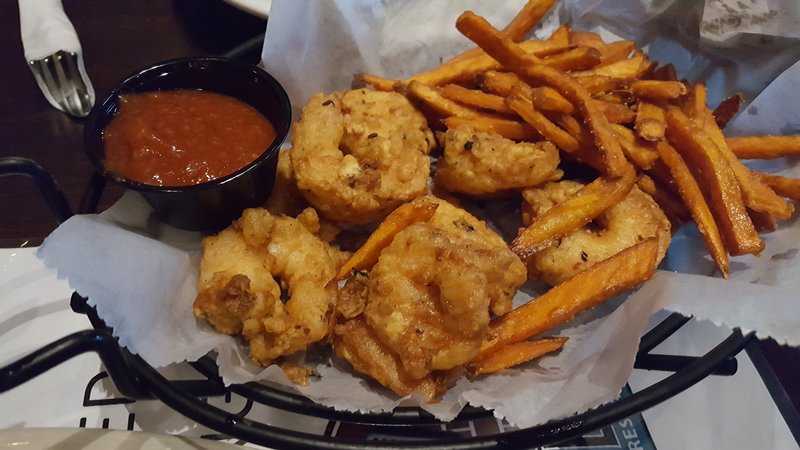 Hand-breaded Shrimp platter (homemade coleslaw not shown)
A perfectly delicious ending
The servers at Funny Bone do a fabulous job. While we were knee slapping and roaring with laughter, they were quietly checking on us to see if we needed drink refills or anything else. Of course, dessert beckoned us with a sweet inspired menu of Cinnamon Roll Bread Pudding, Elephant Ear Sundae for Two, Funnel Cake Fries, New York Style Cheesecake and the Ultimate Brownie. A hard decision to make. I went with the New York Style Cheesecake, topped with caramel and chocolate. The cheesecake was so good, however I was a bit envious of the Cinnamon Roll Bread Pudding and started sneaking bites since this dessert could easily be shared. Thankfully we were in a darkened room, so I'm not sure if my friend ever discovered how many bites I actually took.
If you're looking for good times, good food and lots of laughs, then visit Funny Bone Comedy Club at Liberty Center. You will be oh so glad you did.
Funny Bone Comedy Club & Restaurant
Liberty Center
7518 Bales St., Liberty Township, Ohio
(513) 779-5233