Are you working toward a healthier you in the New Year? Instead of going at it alone, consider getting your partner involved and making a date out of it! Research shows that couples who work out together are happier and more satisfied with their relationship overall. Whether you're in a relationship or just looking for a quirky date idea, there are plenty of reasons to get fit together.
Check out our roundup of some of our favorite places in the Cincinnati area to get your workout on:
CycleBar
CycleBar is an indoor cycling boutique in Hyde Park that offers stationary bike classes for everyone. You and your partner can choose to go on a "Classic Ride" which combines a mixture of upper body work and drills in an upbeat, multi-sensory environment. You can also opt for a more soulful "Connect Ride" which blends the rigor of indoor cycling with yoga. Looking for something different? Look into "Theme Rides" like Mashup Monday, Throwback Thursday and Happy Hour to make your date truly unique.
CycleBar offers a free 30-minute session so that you and your partner can try it out to see if the workout is right for you. You also select your bike station when registering for a ride, so you can make sure your date is right by your side!
Modo Yoga
Classes at Modo Yoga offer a cardiovascular workout that strengthens muscles and increases flexibility, all while calming the mind and reducing stress. That's something any couple can use! All classes are practiced in a heated environment that allows for safe stretching and promotes detoxification.
If you and your date are looking for something a little more intimate, you can book a private class for two. The private class allows you and your partner to ask questions and find a program that works for both of you. Modo Yoga currently has studios in Cincinnati, Clifton and Crescent Springs. Want to learn more? Click here for more details!
Nishime Family Karate
Looking to kick your date idea into high gear? Nishime Family Karate offers adult karate and fitness classes, including cardio kickboxing and Zumba! Whether you and your date want to get in shape, learn to defend yourself or just have fun, Nishime offers fun, high-energy classes for people of all skill levels.  Packages starting at $20 for two classes are available.
There are Nishime locations in Cincinnati, Florence and Bright.
Orangetheory
Orangetheory is a fast-paced workout that offers heart rate-based interval training in a fun energizing group environment. Be ready to sweat! Participants burn an average of 500-1,000 calories per 60-minute session in this high-intensity workout. There are Orangetheory studios located in Mason, Newport, Oakley and West Chester.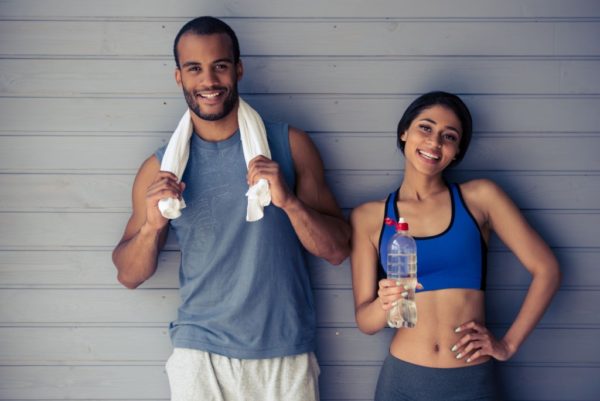 Queen City CrossFit
Downtown's Queen City CrossFit is a strength and conditioning community that allows you and your date to achieve your fullest potential while also having fun. Classes focus on 10 general physical skills including endurance, stamina, agility and balance. All of these skills are scalable in intensity to suit all fitness levels. Note that participants are required to complete a two-week Elements program prior to participating in classes.
Explosion Fitness Solutions
If you're struggling to get into the groove by yourselves, try a personal trainer.  Explosion Fitness Solutions offers two training facilities near West Chester/Fairfield and Mason.  They offer personal one-hour sessions that include a total body workout incorporating cardio, strength, balance and flexibility. Training as a couple will have both of you in shape, feeling great and having a great time working toward your fitness goals together. Having a professional available to teach you the right form while working out not only helps improve results, but dramatically reduces the risk of injury.
YMCA
If you and your date are looking for a little bit of everything, don't forget that your local YMCA offers all kinds of fun, engaging group exercises. The best part? They're free! From aerobics and cardio to yoga and Zumba, the Cincinnati-area YMCAs offer something for everyone. Find your local YMCA and check its fitness schedule by visiting cincinnatiymca.org.
With all of these options available in the Cincinnati area, you'll never have to complete the same boring workout routine by yourself again. Now is the perfect time for you and your date to get fit and have fun while doing it!