Don't let the weather bring your date to a screeching halt – simply move the fun indoors with these fun local indoor dates!
Sometimes the weather can put a real damper on your date life. You still want to spend time together, so simply schedule indoor dates – out of Mother Nature's way! We've put together a list of great Cincinnati indoor dates that will keep your dating routine fun, exciting, and most importantly, keep you both out of the elements!
Museums and Local Attractions
The Cincinnati Museum Center is a one-of-a-kind, multi-museum complex housed in historic Union Terminal. The Museum Center consists of the Cincinnati History Museum, the Cincinnati History Library and Archives, the Duke Energy Children's Museum, the Museum of Natural History & Science and the Robert D. Lindner Family OMNIMAX® Theater. The Cincinnati Museum Center's collection is made up of more than 1.8 million artifacts, art works and archives The Museum Center offers a variety of adult-oriented programs and events which are great for dates. The Center is open 10 am – 5 pm Monday through Saturday and 11 am – 6 pm on Sundays, perfect for indoor dates. Regular parking is $6 and $4 after 4:30 pm. Ticket prices vary depending on exhibits and OMNIMAX show selections. You can also find food, refreshments and gift shops in the center.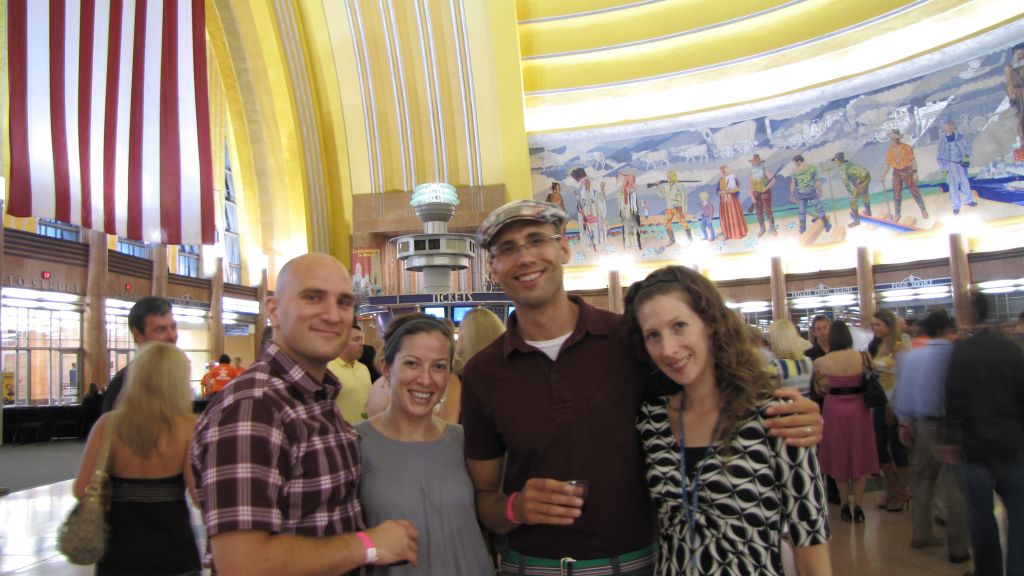 The Cincinnati Art Museum features more than 65,000 works spanning 6,000 years – super impressive! Additionally, the Cincinnati Art Museum hosts several national and international traveling exhibitions each year, and regularly offers a variety of date-worthy programs, activities and special events. The museum is open 11 am – 5 pm Tuesday through Sunday. General Admission is always FREE (can you say frugal indoor dates?), however be sure to check on pricing for special exhibitions. Parking is $4, BUT, if you spend $10 in the Terrace Café or $15 in the Museum Shop parking is FREE.
There is something for everyone at the Contemporary Arts Center. Enjoy three floors of ever-changing world-class art exhibitions, The UnMuseum, an entire floor dedicated to interactive art and art making and a lobby area that is free and open to the public with rotating art installations. The center is open 10 am – 9 pm on Monday, 10 am – 6 pm Wednesday through Friday and 11 am – 6 pm on Saturday and Sunday. Admission is $7.50, and FREE on Wednesday nights 5 – 9 pm. As for food, you're right downtown, so you definitely have a lot to choose from! Also, be on the lookout for CAC@21C docent tours – a 30 minute guided tour of the 21C galleries, followed by a 30 minute tour of the Contemporary Arts Center exhibitions. The tour also includes free museum admission, so it's easy to make a day of it.
The American Sign Museum is home to the history of American signage over the last century. It is dedicated to telling the story of signs, from how they are created, how they have evolved and changed through the years, and what they say about American history and culture. The museum is a very unique date destination, and is great for those looking for something outside of the box. It is open 10 am – 4 pm Wednesday through Saturday and noon – 4 pm on Sunday. Tickets are $15 and include a guided tour.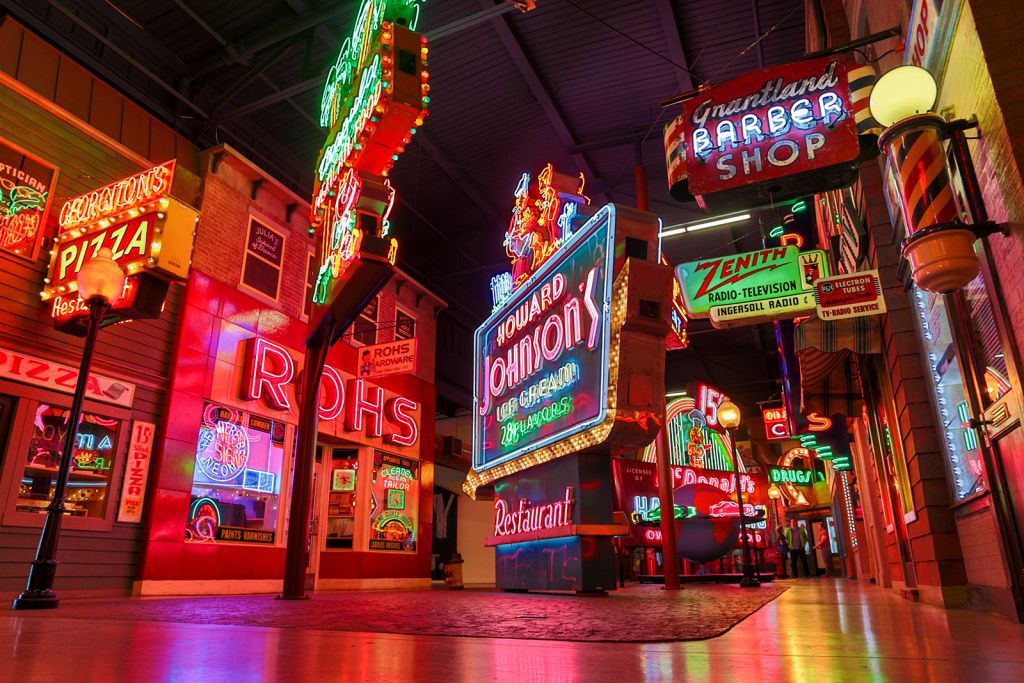 The Krohn Conservatory was built in 1933 at the height of the Art Deco era and is loaded with interesting architecture and history to explore. At the Krohn Conservatory you can discover more than 3,500 plant species from around the world right in Cincinnati's backyard. Throughout the year, the Krohn Conservatory transforms and hosts special exhibits and programs, including the ever popular "Butterfly Show" and the amazing holiday show. Be sure to check their website before going, as admission prices and hours change seasonally.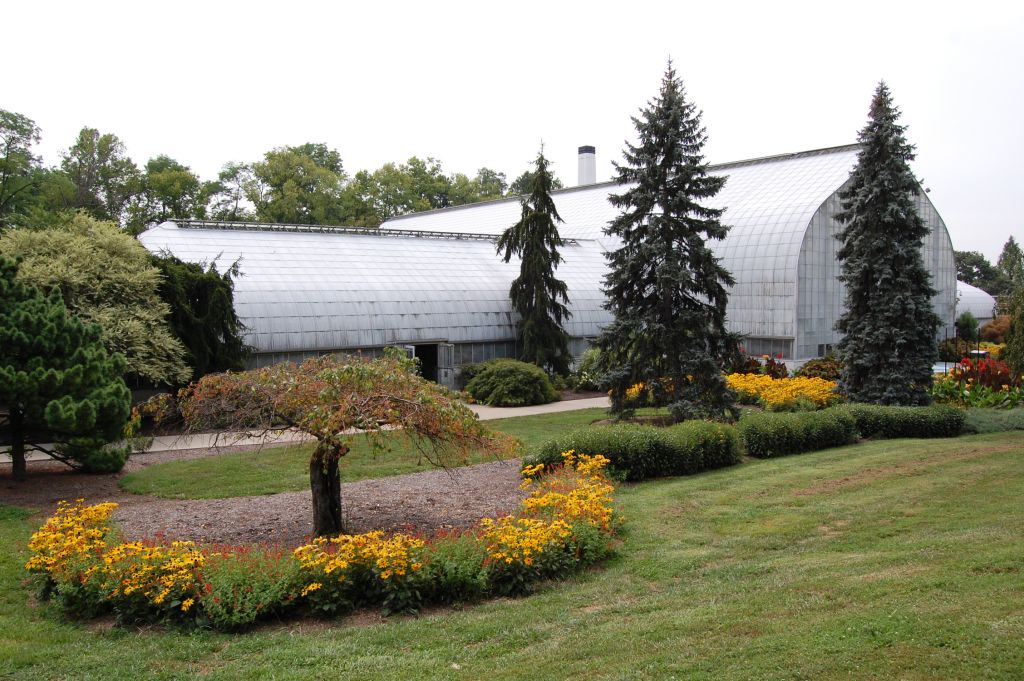 The Taft Museum is located across from Lytle Park. Visiting the Taft is a unique experience. It is the home to a world class collection of art in the intimate setting of a historical house. The museum hosts a variety of date-worthy events, be sure to check the calendar on their website. The Taft is open 11 am – 4 pm Wednesday through Friday and 11 am – 5 pm on Saturday and Sunday. Admission is $10 or less and includes access to the historic house, special exhibitions and parking. BONUS – Admission is FREE on Sundays!
The Newport Aquarium showcases thousands of animals from around the world in a million gallons of water, and is open to the public 365 days a year, 10 am – 6 pm. General Admission is $23. Parking at the Newport on the Levee garage is convenient and even includes a reduced rate for lunchtime dates. You can also grab a bite to eat at Sharky's Café or check out one of the many restaurant options at the Levee for a more formal meal.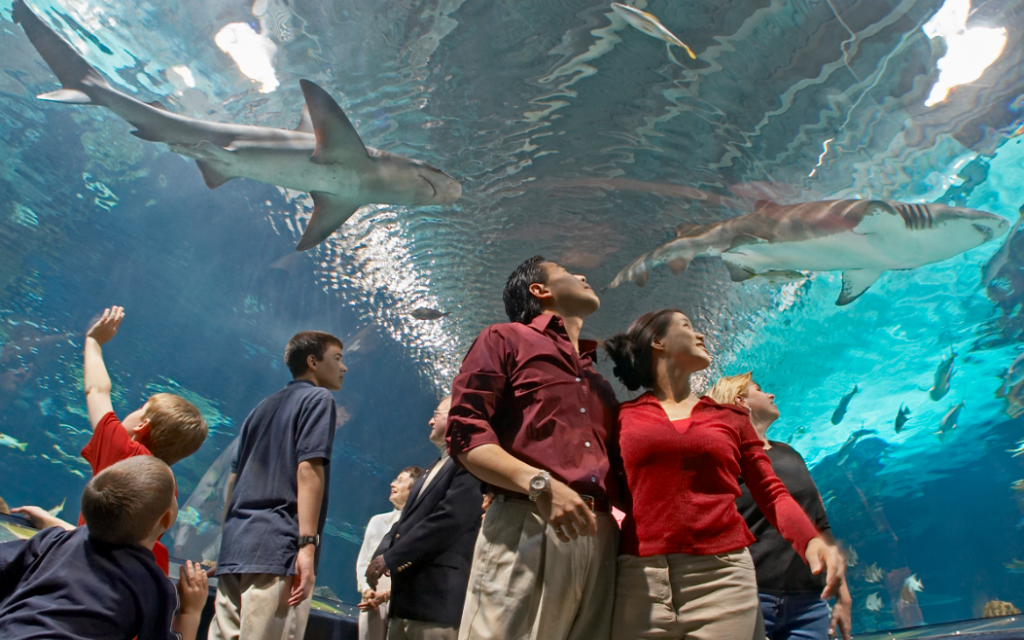 The Cincinnati Reds Hall of Fame & Museum is a must-visit museum for anyone who is a fan of America's Pastime. Preserving history and providing inspiration for the next generation of baseball players and Cincinnati Reds fans, the Reds Hall of Fame is the largest team hall of fame in all of baseball. Ten galleries house the Hall of Records, Glory Days and more. Tickets are $10, but be sure to check their website for hours, as they vary throughout the year. For the full Red's enthusiast experience grab a bite to eat at the Holy Grail, a hometown sports bar, located right across from the Great American Ball Park.
With two locations in Cincinnati, Jungle Jim's is easy to get to from any part of town. These deluxe grocery stores carry almost 200,000 products from around the world. In addition to all the grocery items, you can check out store tours, food demonstrations and other fun attractions – it truly is a unique experience. They also host many food and drink-related events throughout the year that are great for date nights. Plus, they offer cooking classes or you can find unique recipes prior to your visit, pick up the ingredients and make a meal together. Both locations are open 8 am – 10 pm, 7 days a week. Planning indoor dates at Jungle Jim's is really double the fun. Enjoy tasting and shopping, then grab the ingredients for a fun dinner for two that you prepare at home together.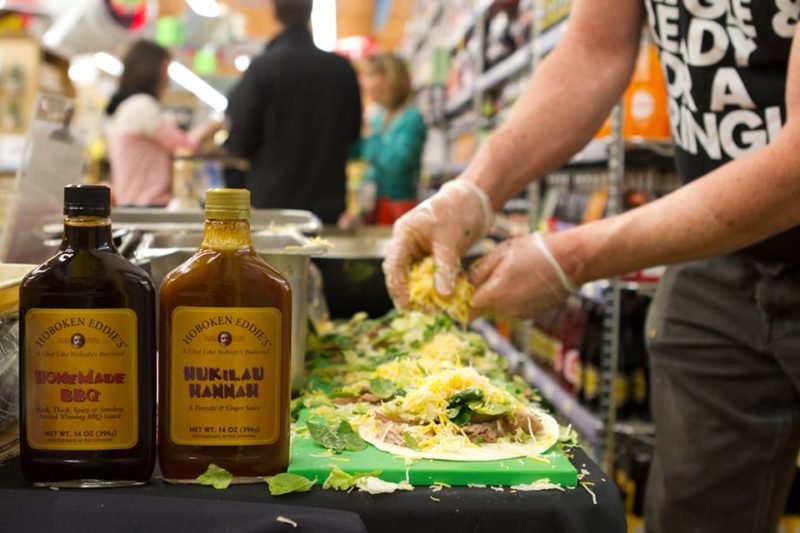 The Behringer-Crawford Museum houses a collection of the regional history of Northern Kentucky as part of the Ohio Valley, including natural, cultural, and visual and performing arts. The museum offers rotating exhibits that change seasonally in addition to a display of Holiday Toy Trains. If you are looking for a fun, spur of the moment spot for indoor dates, BCM is a great choice.
The Drake Planetarium is located in Norwood and offers a variety of astronomy and laser shows for a fun, interplanetary date. Visit their Website for show dates and times.
The Cincinnati Observatory is home to the world's oldest telescope still in use nightly by the general public, and is known as the "birthplace of American astronomy". You can take a self-guided tour during the weekday or check out a public astronomy program or stargaze Thursday and Friday evenings. You can also enjoy a guided tour on the 2nd and 5th Sundays of the month. As indoor dates go, this one is stellar!
The National Underground Railroad Freedom Center aims to reveal stories of freedom's heroes from the era of the Underground Railroad to modern times. The Freedom Center offers a variety of permanent and traveling exhibits throughout the year. The Freedom Center is closed on Monday and open Tuesday through Sunday. Hours vary by season.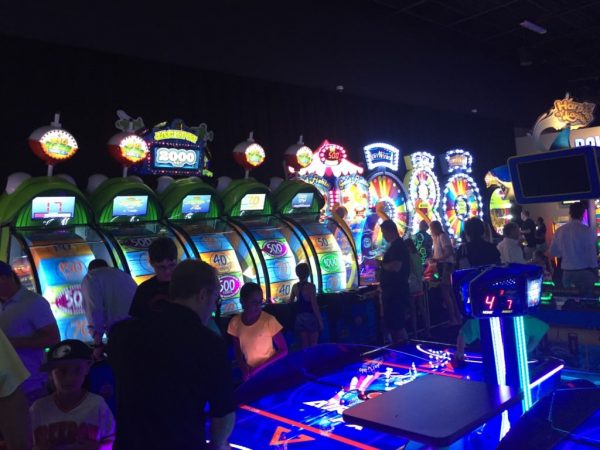 Entertainment Centers
Dave & Buster's offers everything from your favorite arcade video games to carnival and midway games like skiball with the added benefit of serving delicious appetizers, desserts, and main course menu items and stocking a full bar.
◆ GAMEWORKS – NEWPORT ON THE LEVEE
Great location and fun atmosphere make Gameworks at Newport on the Levee a great choice for an afternoon or evening date out of the weather. Appetizers and menu items from burgers to pizza and salads and a full bar mean you can start and end your date there, and plenty of games from arcade style to midway carnival games mean you'll find all the fun you can handle.
You can really be a kid again at Scene 75 Cincinnati! With an arcade, indoor go-karts, lazer tag, blacklight mini golf, mini bowling, and SO much more you will definitely be able to make Scene 75 part of your regular date night rotation.
With locations in Mason and Northern Kentucky, you are certain to be close to a Lazer Kraze location. Not just for the kids, have fun blasting each other in the lazer arena, or jump around in their trampoline rooms. Take a breather and order a pizza from the concession stand while you try your hand at skiball or one of the many arcade games. A date full of fun!
You'll have a load of fun with The Web Extreme's Laser Web, inside go-kart, blacklight mini-golf course, mini bowling alley and zombie escape room. Save time for a sweet treat in the ice cream parlor!
ESCAPE ROOM CHALLENGES
Challenge yourselves to one of the fun escape rooms cropping up all over the Cincinnati area. Wade through riddles and contests designed to challenge your mind as you try to escape in 60 minutes or less!
Choose your Houdini's Room Escape adventure – The Tower, The Lab, The Game Room, The Oval Office, or The Magic Portal.
◆ BREAKOUT – WEST CHESTER
Breakout of one of these great scenarios – The Christmas Caper, The Kidnapping, Museum Heist, Operation: Casino, Island Escape, or Hostage.
Which Escape The Room Challenge scenario can you beat – Esmeralda's Curse, Escape the Mob, or Double Agent Dilemma?
Test your wits against one of these Sherlock's Escape Rooms challenges: The Assassin's Code, Graveyard Escape, Cabin in the Woods, The Shipwreck, The Wild West, and Jr. Sherlock.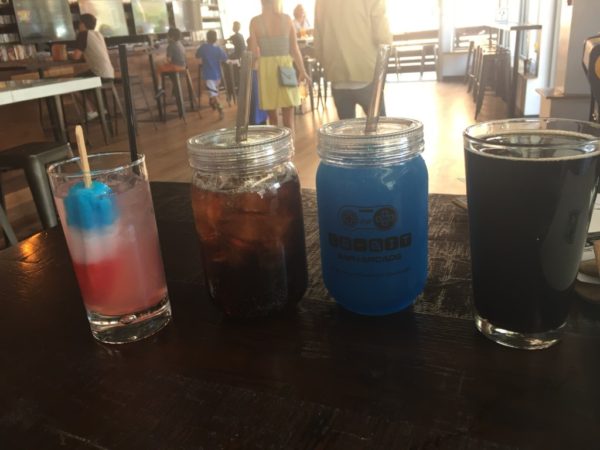 ARCADE BARS
Arcade Legacy claims to combine three of your favorite things: video games, alcohol, and food. Around 50 arcade games and pinball machines plus classic console games mean you can battle your sweetheart and finally decide who is the real Tekken or Donkey Kong master. Want the pure video game experience? Head to Cincinnati Mall for Arcade Legacy – 70+ arcade and pinball games plus console games with Atari 2600 all the way to PS4 consoles for your gaming pleasure.
At 16-Bit you'll find delicious signature drinks like the Hulk Hogan, the Kevin Bacon, and Ice T plus more than 50 classic games that you play for FREE.
BOWLING
◆ AXIS ALLEY – NEWPORT ON THE LEVEE
The brand new Axis Alley at Newport on the Levee offers low-key thrills in a sleek, state-of-the-art facility. Check out your favorite sports events on projected screens above the lanes while enjoying the convenience of lane-side food and beverage service. On the weekends they even host live performances from local and regional bands.
Splitsville features eight luxury lanes and tons of indoor and outdoor seating, and conveniently – Howl at the Moon is just next door, perfect for taking the date through the day into the night.
Western Bowl is a great place to go for an old-school bowling experience. Their recently remodeled facility boasts a whopping 68 lanes of bowling excitement, plus a full bar and pool hall. A great place to grab a burger and a beer!
For many more excellent bowling spots around town, check out NKY & Cincinnati Bowling Date Spots.