We love playing games, enjoying good food and pretending to be kids again whenever we get the chance. Spending a night out together, just having a good time with no commitments or responsibilities, is a little slice of heaven. Recently we were invited to experience just such a night when we got a sneak peek of the brand new Dave & Buster's in Florence, Kentucky.
Dave & Buster's in Florence has the honor of being the very first Dave & Buster's in Kentucky. It's part sports bar, part arcade, part restaurant and 100% fun! We were impressed by the sheer size of the restaurant and game area — it's HUGE. This Dave & Buster's comes in at an amazing 30,000 square feet of fun. Check out some of the amazing features of this all new entertainment center and restaurant:
A state-of-the-art sports bar with a massive wall of HDTVs and plenty of seating for ultimate sports viewing.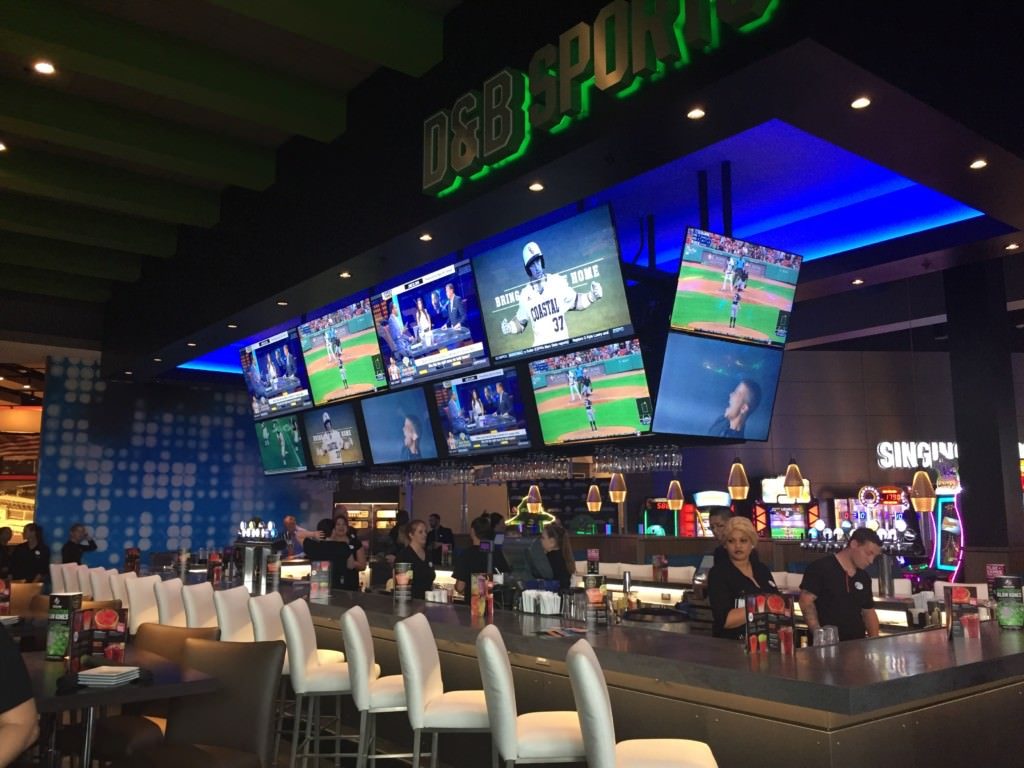 Chef-crafted menu items including Pepperoni Pretzel Pull-Apart, Three Cheese Grilled Cheese Sticks, Bacon-Wrapped Shrimp with Lobster Sauce and Fire-Grilled Sirloin, the Short Rib & Cheesy Mac Stack, Angry Orchard BBQ Half Chicken and the Legendary Burger lineup featuring a burger topped with boneless buffalo wings.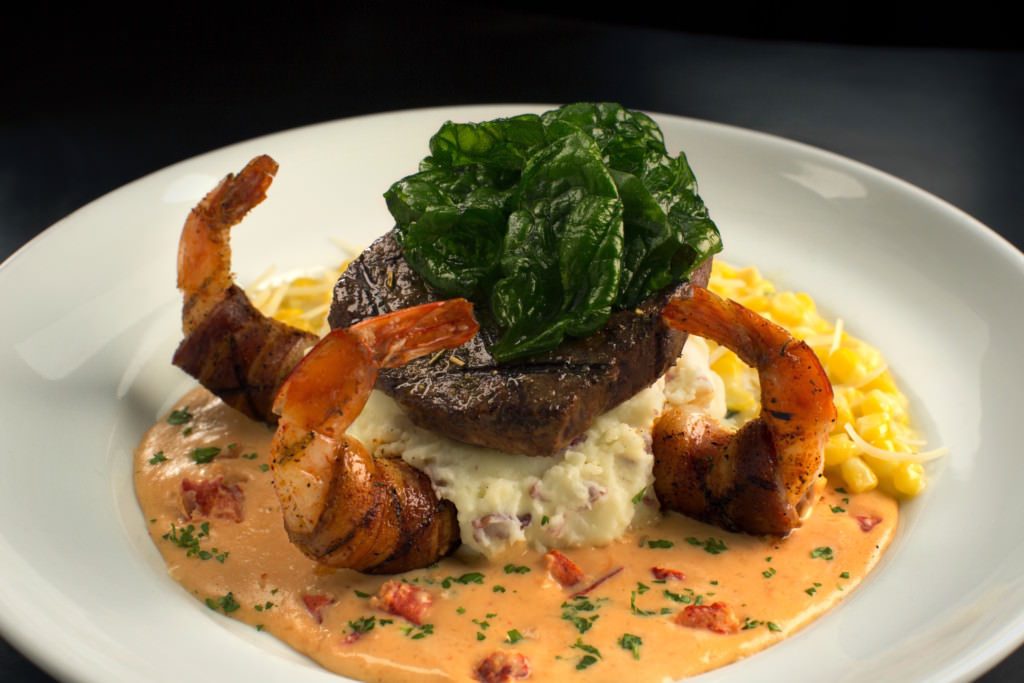 One-of-a-kind cocktails you won't find anywhere else: Adult Snow Cones, CoronaRitas, Tiki Drinks, Mega Mojitos, a Strawberry Watermelon Margarita made with strawberry flavored ice cubes and Glow Kones featuring a blinking, flashing glow cube.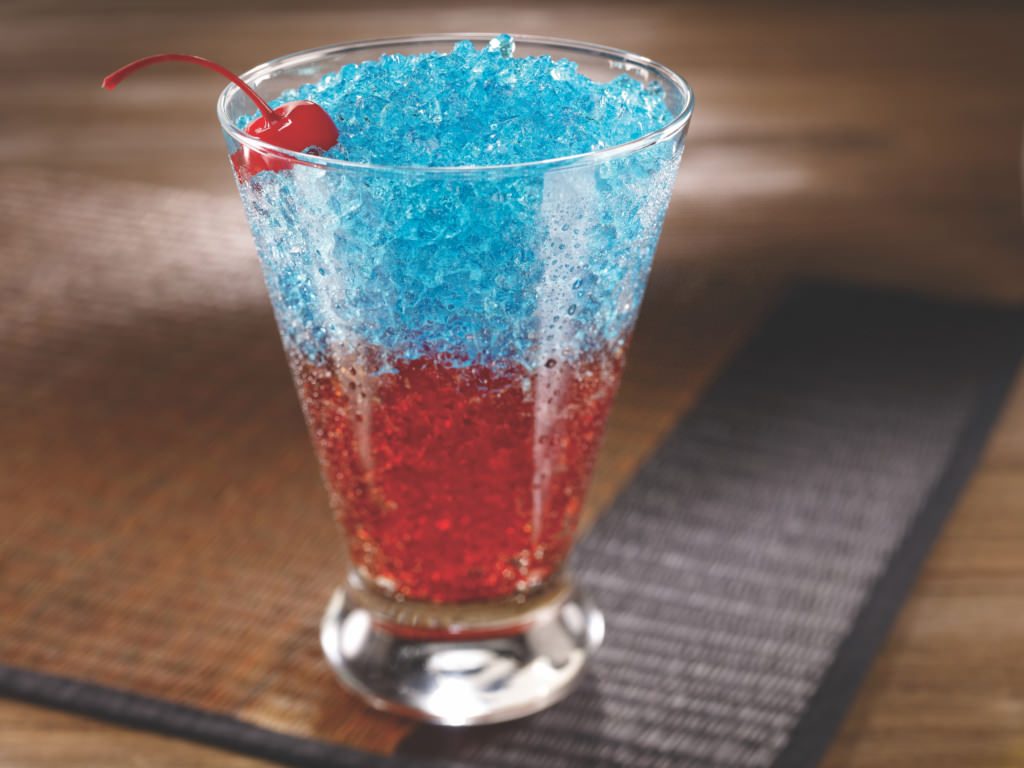 Over 150 of the latest and greatest games including Ghostbusters, Star Wars Battle Pod and Zombie Snatcher.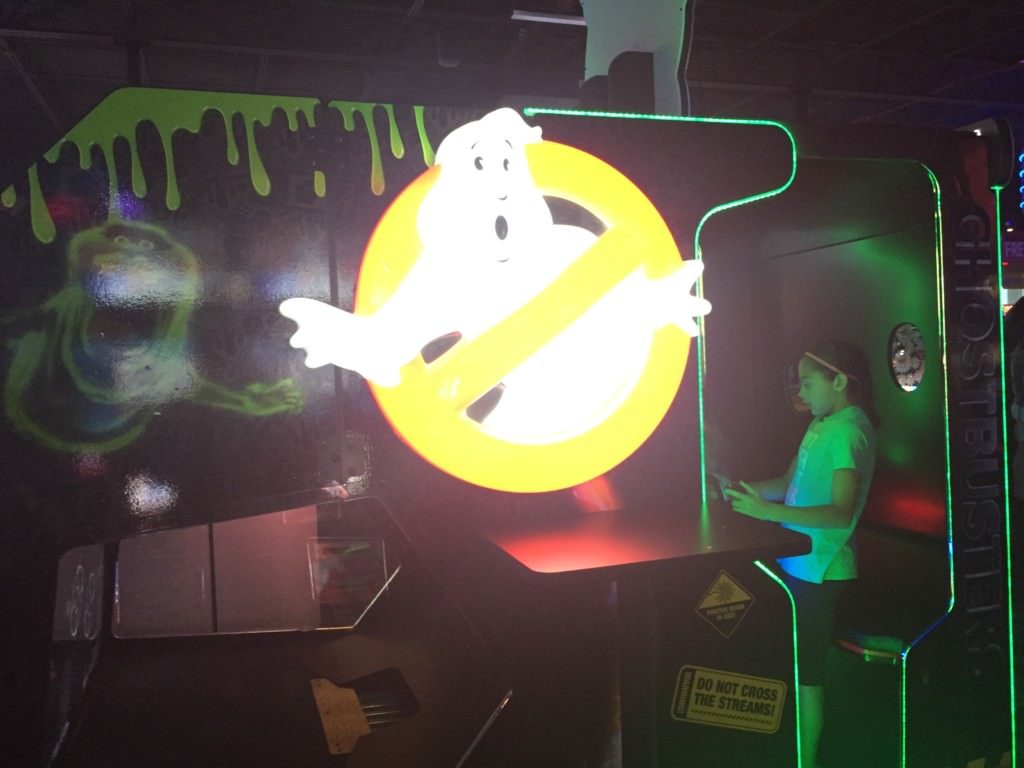 We arrived for our sneak peek and were immediately seated at a comfortable table and got down to the very serious business of checking out the menu. First up – cocktails! There's no way we could pass up trying out the Zombie Tiki cocktail. It was fun to drink and so tasty. Plus, you can purchase the glass to take home with you!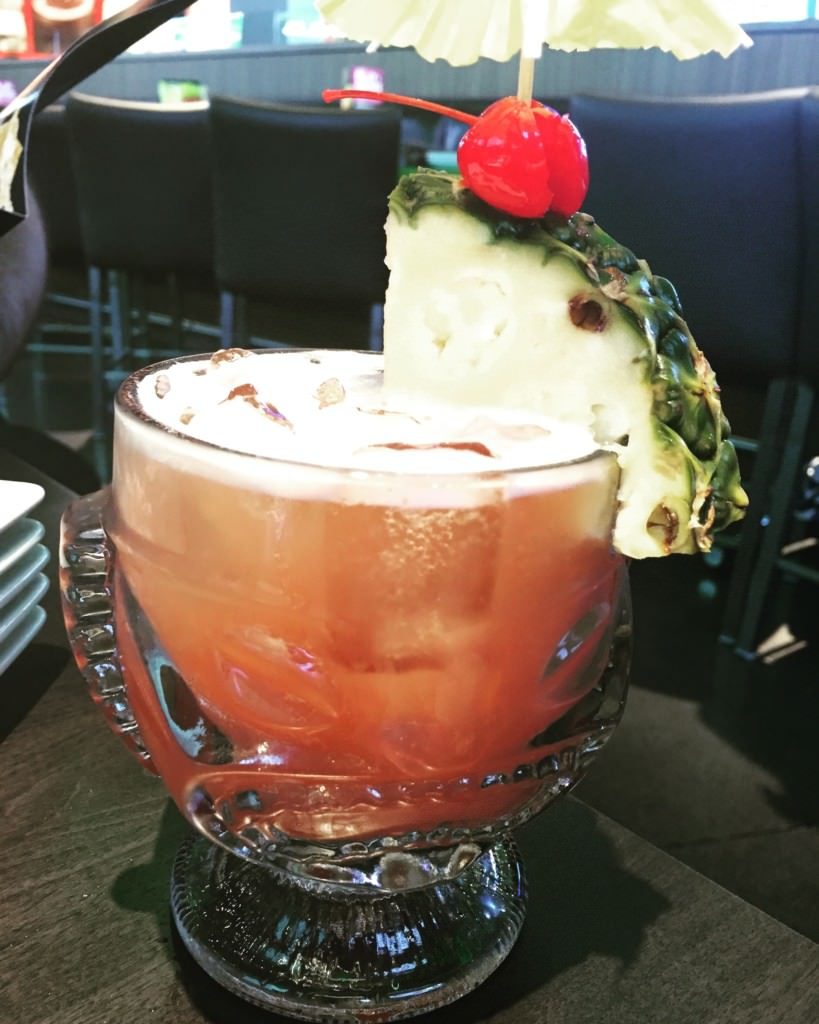 We decided to share the Three-Cheese Grilled Cheese Sticks as an appetizer and Oh My Goodness, they were so delicious, I nearly ordered them as my entrée after taking the first bite. Listen to this – "Manchego, cheddar and mozzarella cheeses melted between giant slices of sourdough bread with a cheddar and Manchego cheese crust. This gigantic sandwich is griddled to a crispy golden brown, cut into eight individual sticks, and served with warm tomato basil dipping sauce." SO GOOD!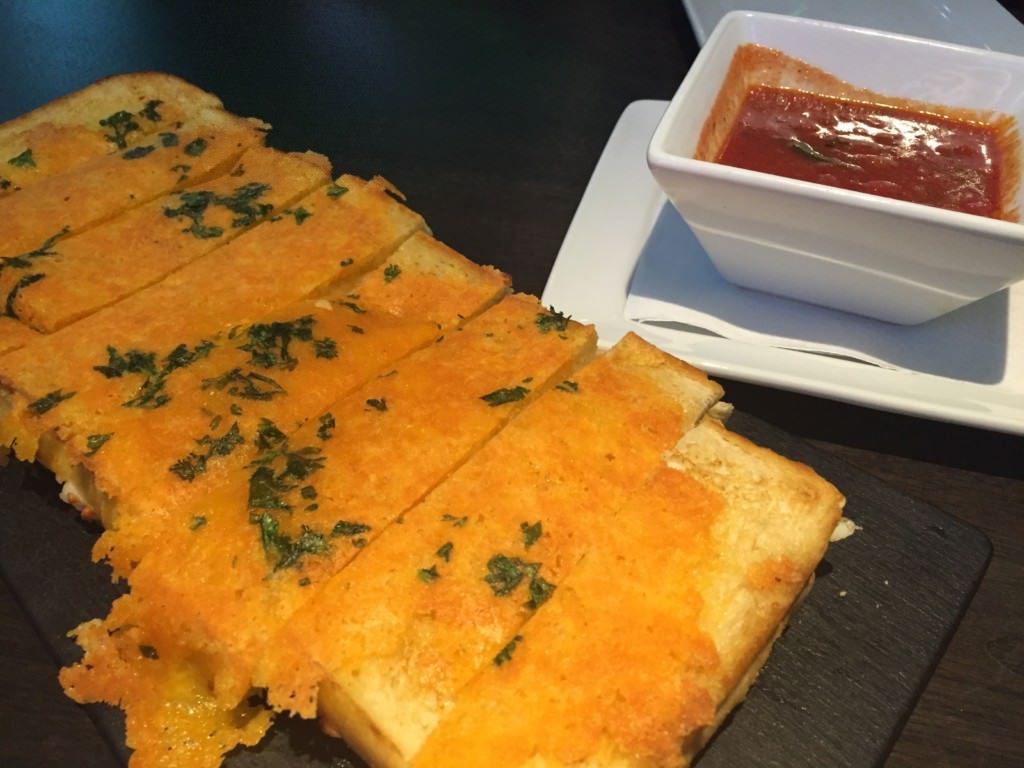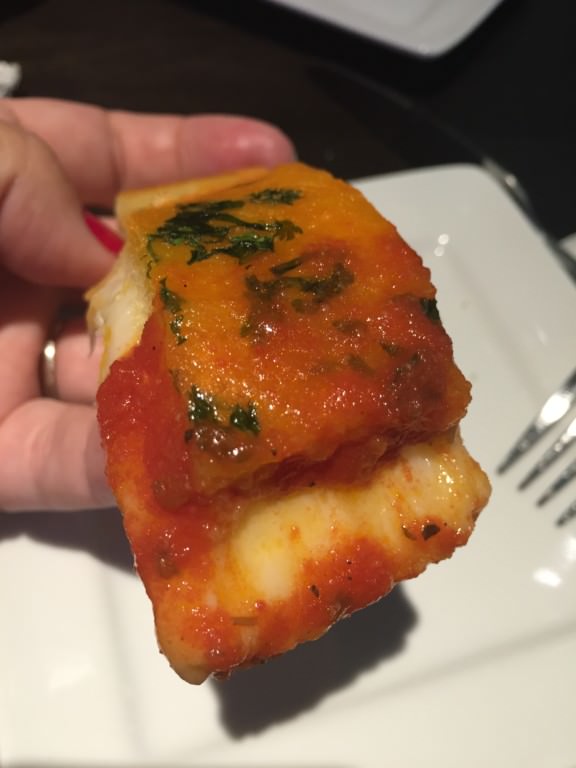 In between cocktail tasting and diving into our appetizer, we had time to look around and enjoy our modern and comfortable surroundings. Lots of big screens so you'll never miss out on a big game, comfortable tables and seating and an amazing bar area.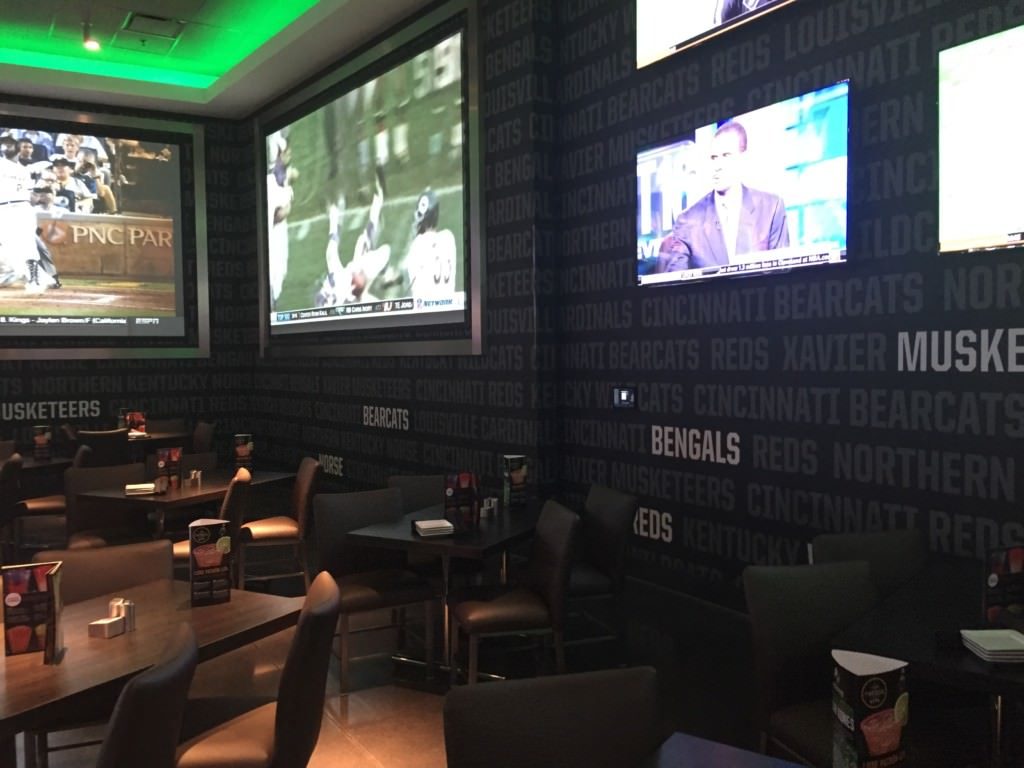 Our server kept a careful eye on us, making sure our drinks were full and that we stayed comfortable and happy but we never felt pressured to hurry, even on such a busy night. We enjoyed our appetizer and made our dinner decision: Bang Bang Chicken with Spicy Thai Peanut Noodles and the Short Rib and Cheesy Mac Stack. When the food arrived we were not disappointed in our decisions. They were both absolutely delicious!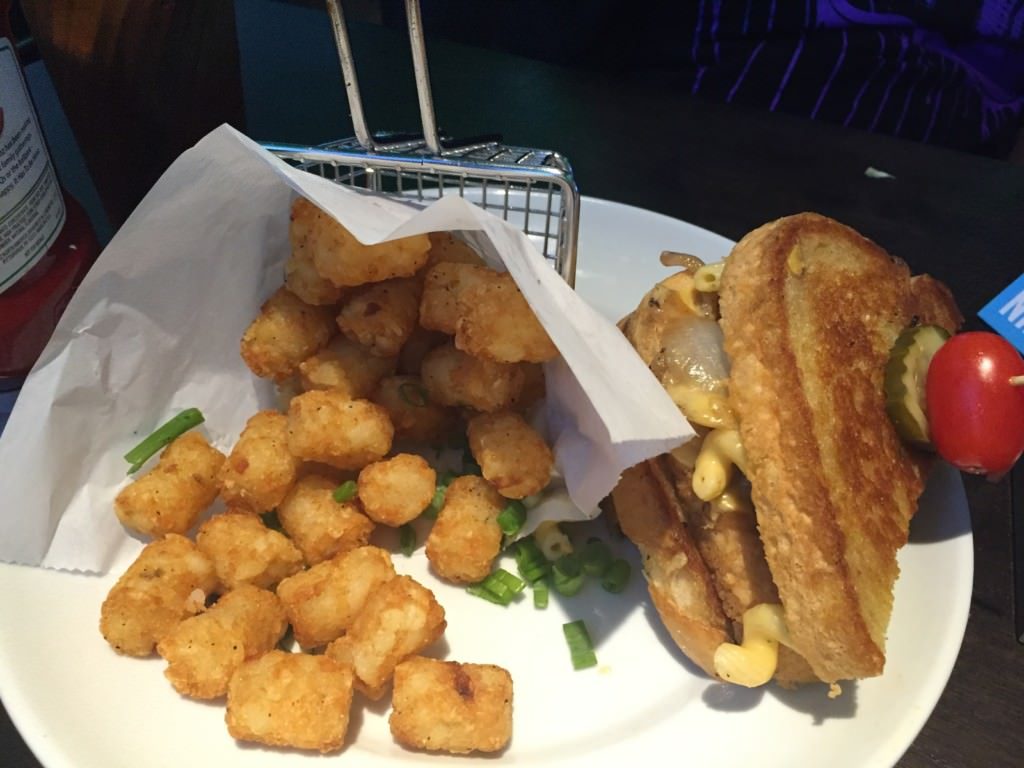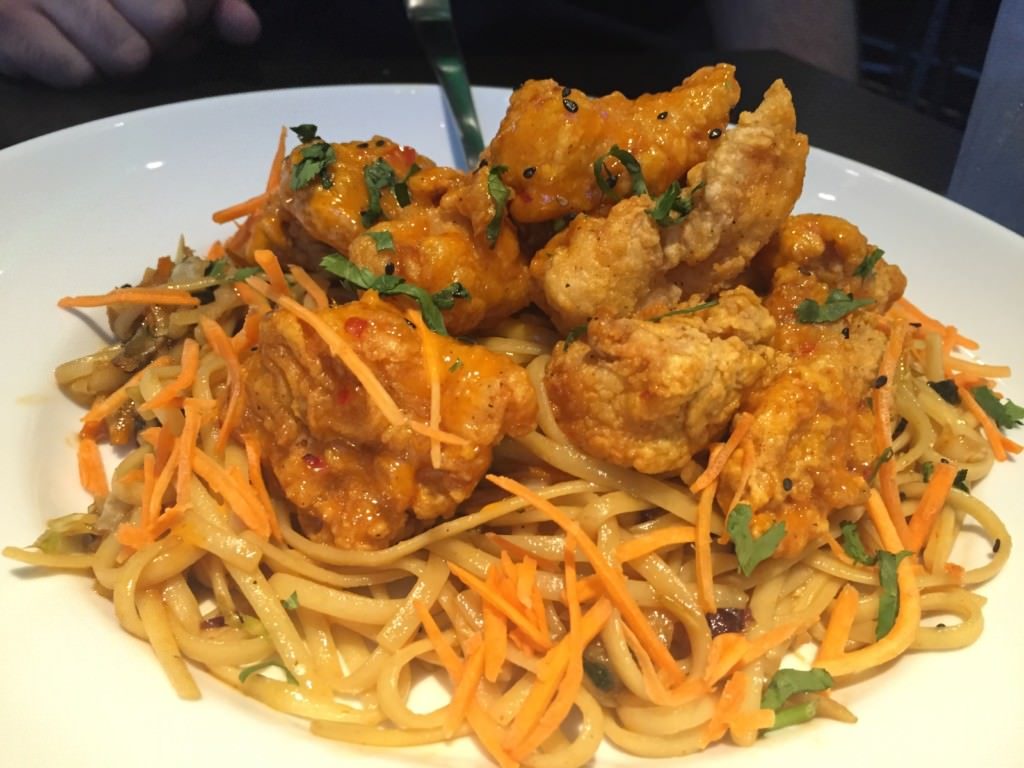 We thoroughly enjoyed every bite of our dinner and enjoyed chatting and relaxing, catching up with each other from a busy week and planned some fun for the weekend ahead. When we finished we were refreshed, well-fed and ready to hit the games!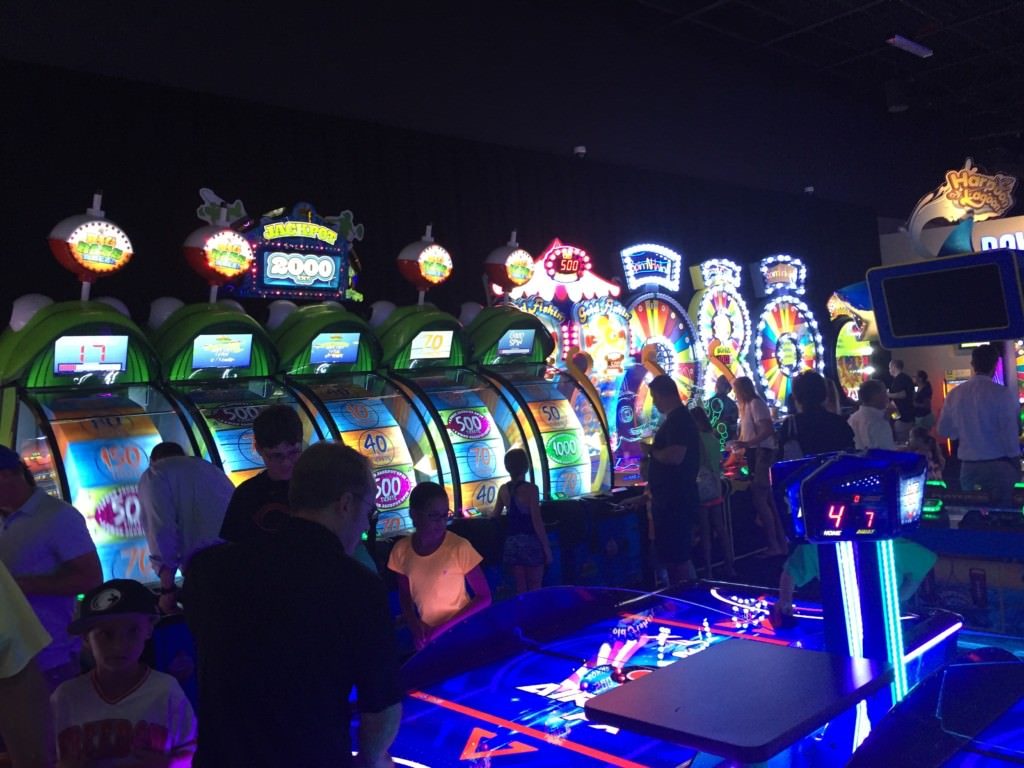 We were like kids in a candy store! We both love games, and Dave & Buster's has every kind of game you can imagine! There were favorites from my childhood, and I really loved checking out the giant Connect 4.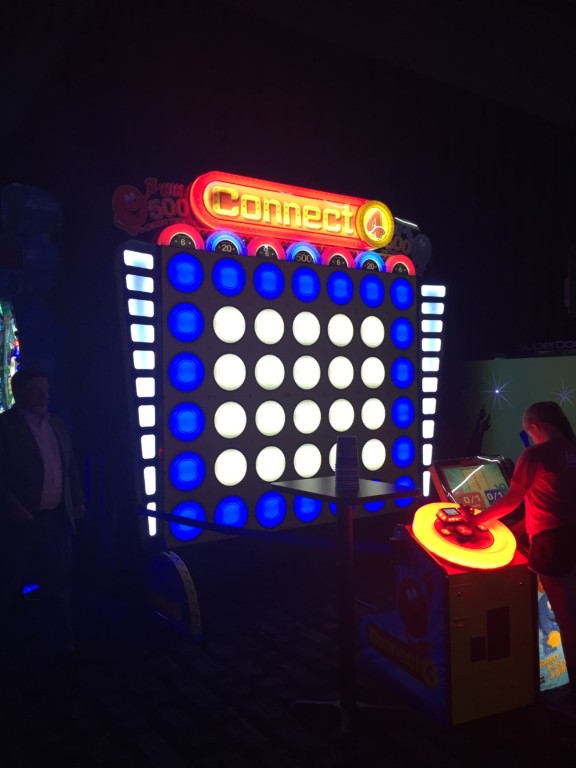 Arcade-style video games, skee-ball, giant Fruit Ninja, Star Wars Battle Pod and even creepy zombie games!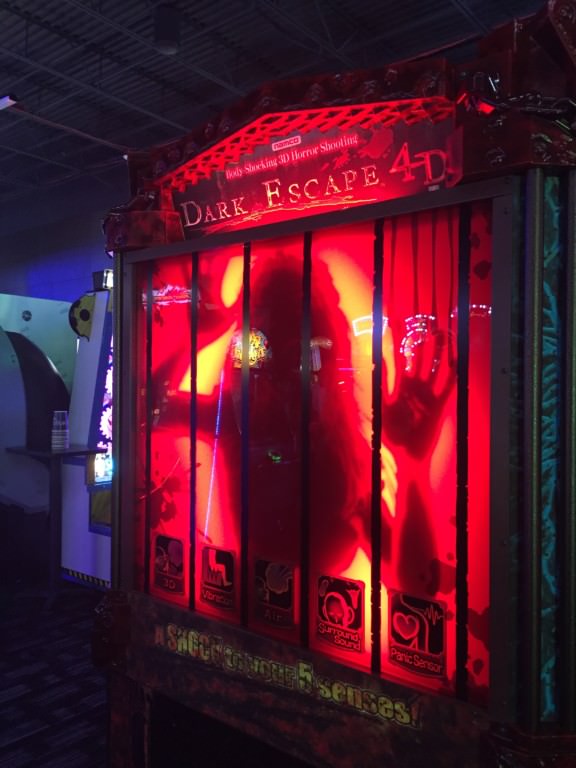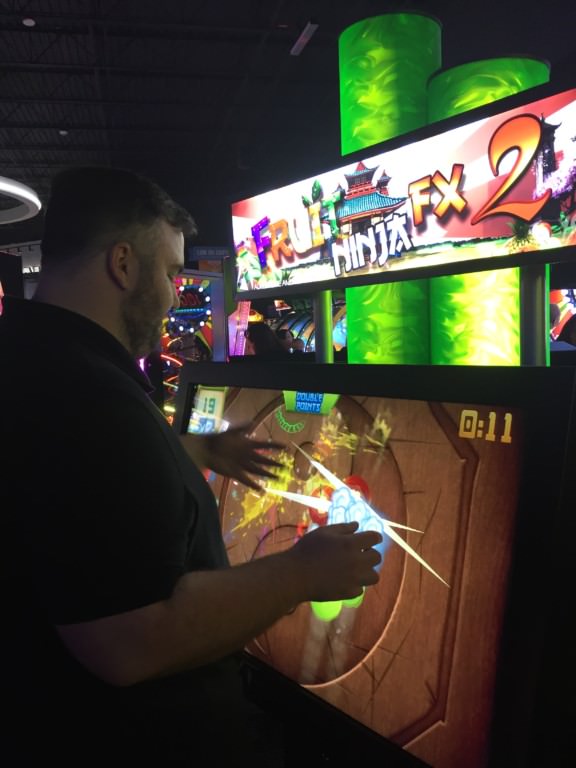 We had a blast! We played games, talked, laughed and had so much fun. Dave & Buster's has great weekly specials and happy hour deals which make date night so much more budget friendly. Check these out:
Happy Hour (Mon–Fri 4:30-7pm) & Late Night Happy Hour (Sun–Thurs 9 pm–close): 1⁄2 Price Cocktails, $1 Off 22 oz. Drafts, $1 Off Glasses of Wine and $3 Off Bottles of Wine.
2 For Tuesdays: $2 Tacos, $2 Select Beers & 2 Free Game Plays with $10 Power Card purchase or re-charge (All Day)
1⁄2 Price Games Wednesday: All games are 1⁄2 half priced (All Day)
It's the perfect opportunity for me to work on my Galaga game score — game on!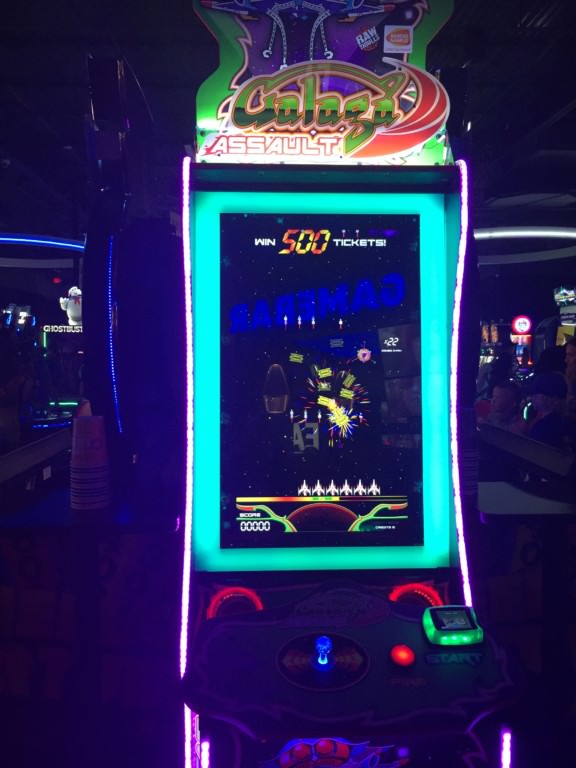 This place is fantastic for date night in so many ways. It's great for a first date – games are a great ice breaker. It's perfect for a group date – something for everyone and plenty of games to go around. And it's an awesome idea for a night out of relaxing and fun no matter how much or little time you have – do drinks and appetizers, or a full dinner. They even have a party room available that holds up to 90 people for private parties!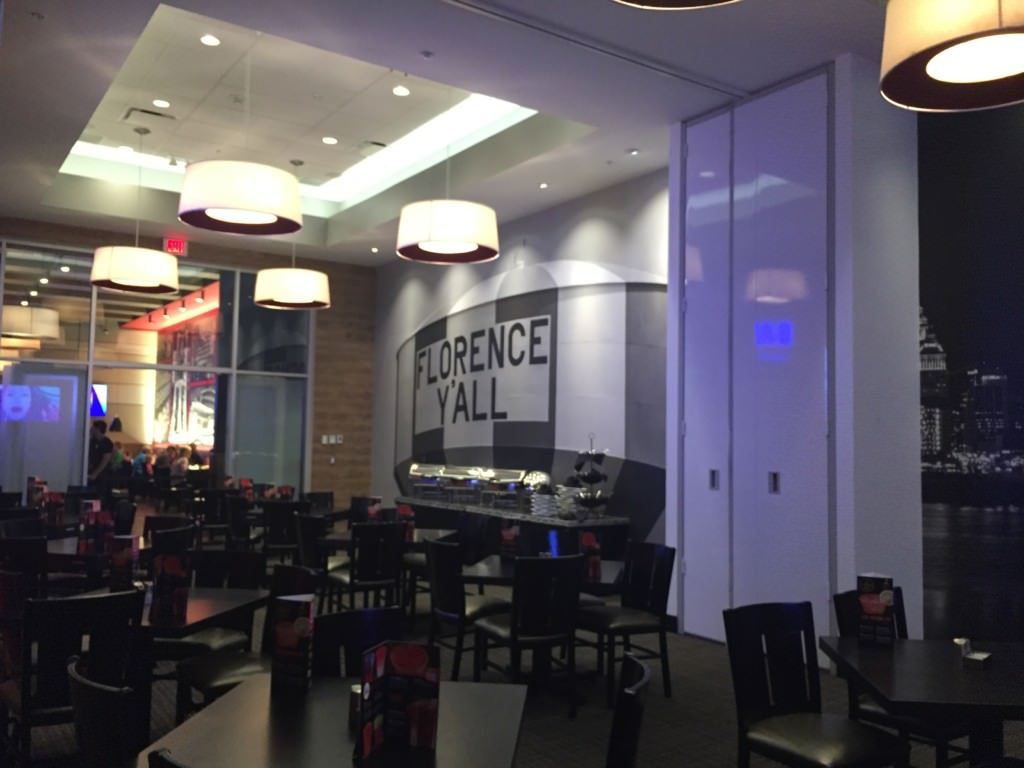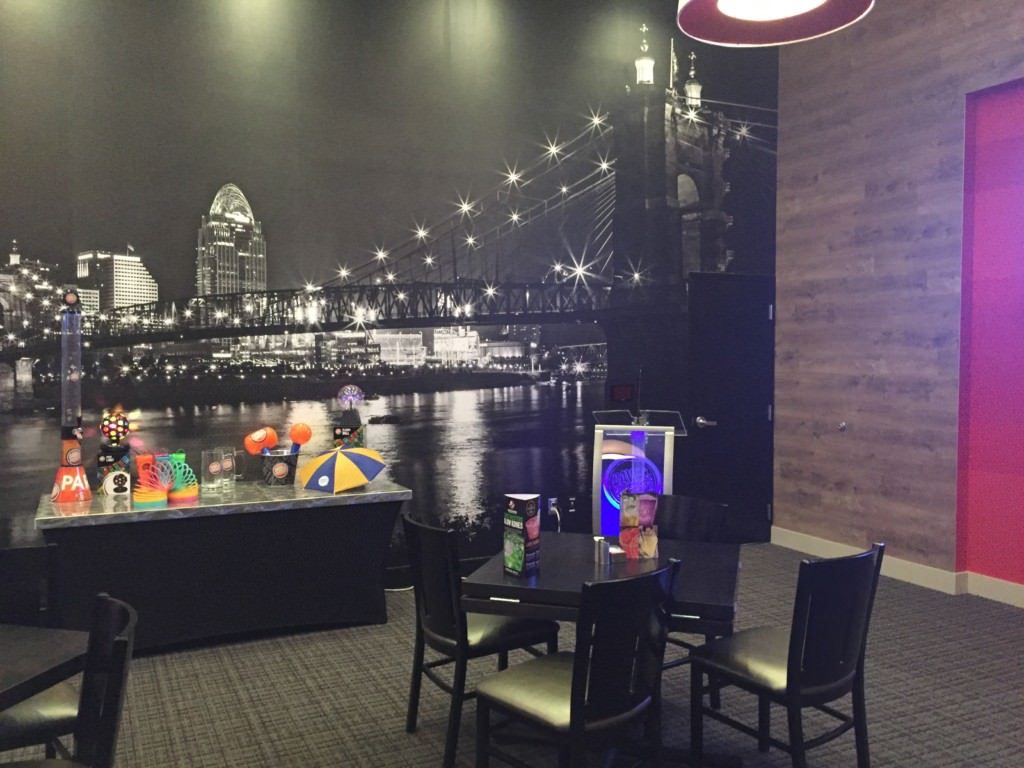 Birthdays, bachelor parties, anniversaries – the possibilities are endless!
We really had a fantastic time at Dave & Buster's in Florence and can't wait to go back. We give ❤️❤️  for romance and $$ to $$$ for price range. Check out the full menu and hours of operation on their website at www.daveandbusters.com/florence.