Plan a party to cheer on your team's next away game, and make it a fun date opportunity, with our roundup of great tailgate party recipes and tips!
Never miss a tailgating opportunity – create your very own tailgate party at home! Tailgating in Cincinnati and Northern Kentucky has been elevated to an art. Whether you are hosting the pre-game party, or heading out with your sweetheart to enjoy the game with friends, we've got some great tailgate party recipes, tips and tricks to make your party stand out from the rest. Our five delicious and creative snack ideas, that you can whip together in no time, are sure to impress at home or on the go. So grab your sweetheart, call up your friends, and get the party started!
Tips and tricks for an easy and fun home tailgate experience:
Make it easy on yourself – Football fans aren't expecting fine linen and your best crystal. They expect great food, cold drinks, and fun atmosphere. Grab disposable cutlery, napkins, plates, cups, and even tablecloths in your team's colors to make clean up easy.
Cover all the bases (or end zones) – Make sure you have plenty of water and sodas available for the non-drinkers in your crowd, and to keep everyone hydrated. If you are providing the party beverages, make sure you have it all iced and easily accessible, and if part of your plan includes a signature cocktail, have it mixed before hand and have plenty of ice and garnish on hand.
Food is real MVP – Everyone has a "must have" tailgate food. Guacamole and chips, wings, pizza, hot dogs and burgers, and so much more. Narrow down your choices to two grilled items, a few sides, and some appetizers, including a veggie and fruit tray. The less cooking you have to do during the party, the more fun you'll have. Make sure to check out our great tailgate party recipes below for ideas.
Dress the part – This isn't the time to be low-key. Break out the jerseys and wildly colored wigs. Grab some beads, hats, and even spray on hair color from the party store and kick your party attire up a notch – or ten!
Set the mood – Before kickoff, it's fine to have the TV on and tuned in, ready to go when the first play is called. But until then, keep the TV volume low and turn on the tunes.
Get YOUR Game On – Plan a game of flag football, cornhole, or any other games you can think of to get you all up and moving and having fun, not only during pre-game but half-time, too.
Great Tailgate Recipes:
Now that you've got the basics down, think about food. Are you serving all finger foods and appetizers? How about a meal, including a couple of grill items and sides? Once you decide how many you'll be feeding and what the food will look like you can plan a menu. Veggies with dip and a fruit tray are always good ideas, and assorted cheeses with meats and crackers are popular, but if you really want to kick up your game food a notch, check out these great tailgate party recipes:
Homemade Guacamole & Salsa with chips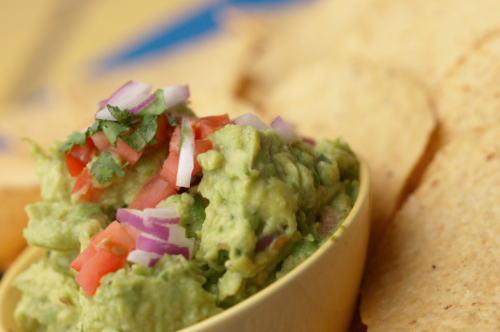 Guacamole:
5 avocados cut into ½ inch pieces
3 roma tomatoes, seeded and finely chopped
.5 medium red onion, finely chopped
1 fresh jalapeno, seeded and finely chopped
1 cup fresh cilantro, finely chopped
2 Tbsp. fresh lime juice
1 tsp. kosher salt
1/8 tsp. black pepper
2 Tbsp. Green onions, mostly green tops, finely chopped
Tortilla chips
In a large bowl combine all ingredients except tortilla chips and blend well, mashing the avocado slightly in the process. Refrigerate until game time. Garnish with green onions. Serve with chips.
Restaurant Style Salsa:
1 can (28 oz.) whole tomatoes with juice
2 cans (10 oz.) Rotel (diced tomatoes with green chilies)
.25 cup chopped onion
1 clove garlic, minced
1 whole fresh jalapeno, quartered and sliced thin
¼ tsp. sugar
¼ tsp. ground cumin
½ cup cilantro
½ whole lime, juiced
(Note: this is a very large batch. Recommend using a 12 cup food processor, or you can process the ingredients in batches and then mix everything together in a large mixing bowl).
Combine all ingredients in a blender or food processor and pulse until you get the salsa to the desired consistency. Test seasonings and adjust as needed. Refrigerate for at least an hour before serving. Serve with chips.
BBQ Chicken Nachos 
2 cups grated cheddar cheese
1½ cups shredded rotisserie chicken
¾ cup barbecue sauce of your choice
½ red onion, sliced into thin crescents, caramelized or sautéed
4 scallions, thinly sliced
Half of a 14 oz. bag of tortilla chips
Heat oven to 450 F. Line a baking sheet with foil and spray with no-stick spray. Mix shredded rotisserie chicken with ½ cup of barbecue sauce. Spread chips onto baking sheet and top with barbecue chicken mix. Top chicken and chips with caramelized onions, then cover with shredded cheddar cheese. Bake until cheese is melted, approximately 4 to 6 minutes, then drizzle remaining barbecue sauce on nachos and sprinkle with scallions. Note: You can substitute ½ cup of buffalo sauce for the barbecue sauce and then drizzle ¼ cup of ranch dressing after baking for Buffalo Chicken Nachos.
Meatball Sliders Two Ways
Meatball recipe:
1 pound of lean ground beef
¾ cup Italian seasoned bread crumbs
½ cup Parmesan cheese (Italian meatball version only)
1 large egg
½ tsp. garlic powder
Salt and pepper to taste
For Italian version:
1½ cups of your favorite marinara sauce
1 cup shredded mozzarella or Italian blend cheese
2 pkgs. Slider buns
For BBQ version:
2 cups of your favorite BBQ sauce
2 cups shredded coleslaw (store bought or your favorite recipe)
2 pkgs. King's Hawaiian sandwich rolls
Preheat oven to 375 degrees. Line a baking sheet with aluminum foil and spray with no-stick spray. Mix ground beef, breadcrumbs, Parmesan cheese (for Italian version), egg, garlic powder and salt & pepper together by hand, mixing well. Roll out 2" meatballs and place on baking sheet. Bake for 20 minutes, turning once.
For Italian meatball sliders: Slice meatballs in half and place on slider bun, top with marinara sauce and shredded cheese and place under broiler just until cheese starts to melt, about < 1 minute.
For BBQ meatball sliders: Slice meatballs in half and place on Hawaiian rolls. Top with barbecue sauce and slaw.
Skinny Green Chile Enchilada Dip
4 oz. low fat cream cheese, softened to room temperature
1 cup plain nonfat Greek yogurt
½ cup green enchilada sauce
7 oz. can diced green chiles
½ tsp. cumin
½ tsp. chili powder
½ tsp. kosher salt
3 cups cooked chicken, shredded (Hint: rotisserie chicken works well and is FAST!)
½ cup part skim mozzarella
½ cup Monterey jack cheese, divided
Whisk together the cream cheese, yogurt, enchilada sauce, green chiles, and spices. Fold in the shredded chicken, mozzarella and ¼ cup of the Monterey jack cheese. Place in oven safe dish and bake at 350 for 30 minutes, until mixture begins to bubble. Remove from oven and top with remainder of the Monterey jack cheese. Return to oven and place under broiler until cheese is golden brown, no more than two minutes.
Serving tip: This dip is delicious served with veggies, tortilla chips, crackers – really anything!
Looking for a fun spot to watch the game with great drinks, appetizers, and atmosphere? Check out our post with great ideas for places to watch the game.
Got game tickets? Tailgate with ease (and with style) with our roundup of best tailgating tips and tricks.