It's tailgating season in Cincinnati! No matter which team you happen to be cheering on to victory, be it the Bengals, Bearcats or Wildcats, you are sure to be doing so with a little (or a lot) of tailgating. We can't think of a more fun and casual way to spend an afternoon with your sweetheart and good friends than a day celebrating your favorite team with food, drinks and fun! Instead of stressing when planning your next tailgate party, check out our list of tailgating tips and tricks – guaranteed to ensure your next experience is a complete win!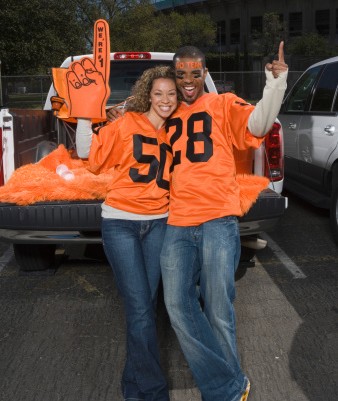 First and foremost,  check the weather forecast. Nothing puts a damper on your get-together quicker than a complete downpour or sudden change in temperature.
Show up at least four hours before the game, and plan to eat at least two hours before the game. This gives you plenty of time for setting up, cooking and cleaning up before game time.
Remove the need to pack bowls for your chips and pretzels, and make less cleanup work for yourself, by using this easy tip: create a bowl out of the chip or pretzel bag! Check out this handy video and you'll be chip dipping in no time!
Don't lug around heavy coolers, instead create a cooler from your beverage case. Just pick up your favorite beverage (whether it's a cold beer or soda) then open the case, remove the cans and add a double layer of garbage bags (to prevent leaks), then add your drinks back in a few at a time along with a layer of ice. Once your drinks are gone, simply toss the case in the garbage!
Go hands free with a simple trick – attach magnets to your drink cozies. When you need an extra hand to manage your burger or walking taco, simply attach your cozy (and cold beverage) to the side of your car or truck.
Have the main course before the game, and dessert afterward. You know the post-game traffic jam will take awhile to wind down. Instead of sitting in that dead-stopped traffic, post-game tailgate with dessert!
Use disposable foil baking containers, with lids, to pack your burger toppings (lettuce, onion, tomato, etc), your burgers (pack between layers of wax paper so your patties stay perfect) and marinated meats (marinate and skewer kabobs the night before for quick and easy cooking).
Pack your cooler for easy access by placing bottles and drinks on bottom, plastic food containers in the middle, and bagged foods on tops. Make sure there is plenty of ice between the layers, and in all the cracks, to keep everything super cold.
Use an empty cardboard six-pack holder for bottles of condiments for easy passing and transport.
Transport any dishes and utensils you'll need in a large plastic storage tub with a lid. When you're done, simply line the tub with a garbage bag, pack up your dirty dishes and utensils, and transport them home – mess free!
Re-purpose an empty drink holder as a veggie tray. Simply add four empty plastic disposable cups to the cup holder and fill the cups with your favorite veggies – save one for the dip! Easy to pass to friends and it won't tip and spill.
There are many, many Pinterest boards dedicated to the art of tailgating with recipes, decorations and so much more.  Do you have a tip, trick or tailgating hack that helps you create the perfect game day party? Share in the comments!