I'm not much of an artist, but this weekend, I feel like I became one.
My boyfriend and I decided to check out a paint night event at Eat Drink Paint. If you've never heard of it, you definitely should check it out.
This paint event took place at Gameworks in Newport on the Levee. Other paint events with Eat Drink Paint can take place at the PRVLGD Lounge and Bistro in downtown Cincinnati.
Before we arrived, we were informed that it would be a three-hour event. When we got there, we were given two drink tickets for either beer or wine and one hour of play time for Gameworks!
Since they still needed to set up, we spent the first hour playing games. Fun fact: Playing Dance, Dance, Revolution in heels is not the best idea. I still won at the shooting games, though.
When it was time to go in, we helped ourselves to some food. All the food and drinks in the room were included in the admission price. They had fried chicken, potato skins with bacon and a vegetable tray. Along with that, we had our choice of Coke products and water.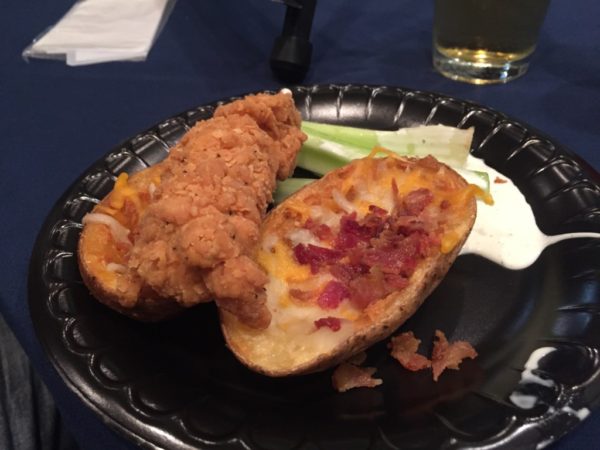 The seating arrangement was inviting. Four tables with about six seats each were set up. Each seat had an easel and a white canvas. It was nice because you could talk to other people or stay close with your date. It was a relaxed atmosphere, especially since Edward, Chief of Fun, had music playing.
Before starting the event, Edward had us all stand up and hold up our paintbrushes for a toast. After getting us in the mood, we were ready to paint.
Normally we would choose one picture from four different designs, but our group was large enough to do two different paintings. Half the room voted for the Cincinnati skyline and the other half voted to paint wine pouring into a wine glass.
My boyfriend and I chose the skyline.
Edward gave some instruction to get us started. Ultimately, it was up to us on how we wanted to paint it.
I loved that! Like I said, I'm not much of an artist. Because it was up to us, I felt no pressure to make my painting perfect.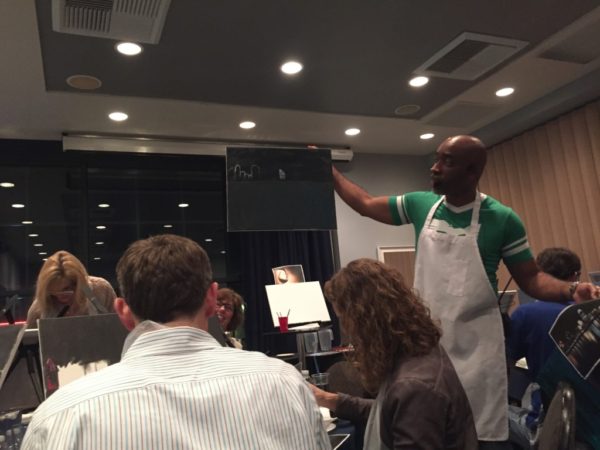 "It's your own masterpiece," Edward told us.
We were given enough time to complete our paintings, so no stress there. My boyfriend and I got to talk the entire time while eating our snacks. Throughout the painting process, Edward painted his own version of the Cincinnati skyline and gave some pointers to people who needed assistance.
After we finished, Edward took photos of everyone holding their paintings. It was such a fun experience. I definitely would go back! Couples dates are encouraged, as well as groups and friend dates.
Not only that, but Eat Drink Paint is affordable. There are weekly deals posted, so be sure to keep checking back! You can attend a public event or plan a private event for your own painting party.
I also learned that my boyfriend is an artist and I am an abstract artist. Yeah, abstract.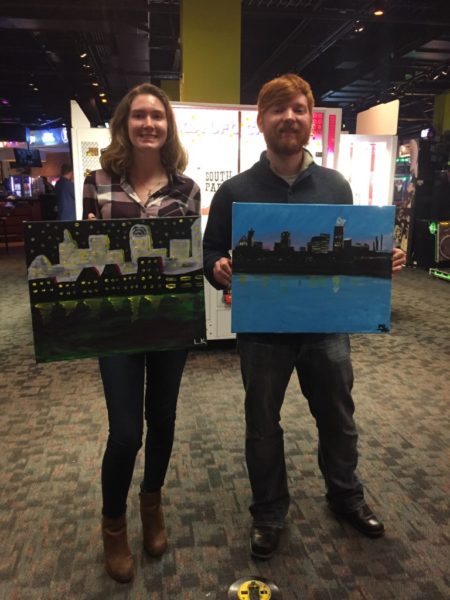 If this sparked an interest in art, check out our review of Painting with a Twist.