Hey there! It's me again, Heather, from TheHealthyHen.com! I just got back from a fun evening and I wanted to tell you all about it!
Not every date night needs to involve a nice restaurant, a waiter and delicious food. Although those dates are wonderful! Think outside the dating box and head out to Painting with a Twist! This is a great unique date night Cincinnati idea, that anyone artsy or not will enjoy!
You get to have a fun night out,try something different, create a personal masterpiece, , make new friends, and sip on your favorite beverage! Who wouldn't love that?!
During your class you will laugh, sing, dance, paint, eat & drink and leave relaxed and happy with your original artwork ready to hang! PWAT is a great place to have fun with your friends, have a date night, celebrate special events & holidays, or simply relax and let your hair down! You will love this experience and surprise yourself with your hidden talents!
Here's how it works…
First, check out the calendar on their website and pick a date (and piece of art) that looks good to you! There are TONS to choose from!
Then, call ((513) 229-7700) and make your reservations! Classes fill up quickly!
They provide all your painting supplies, all you need to do is bring yourself, and your favorite beverage and snack if you'd like!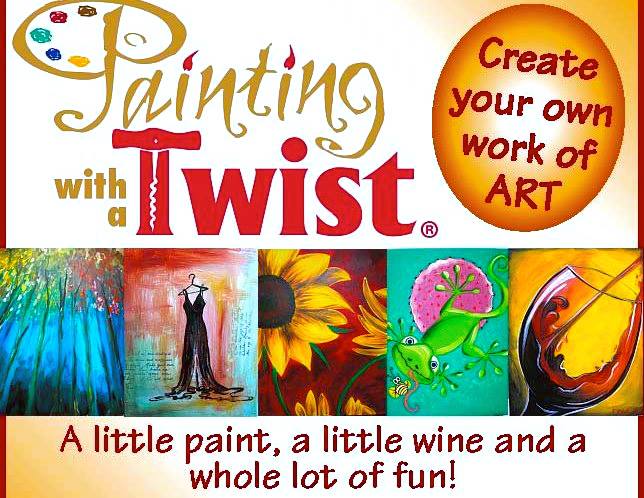 Painting with a Twist is a fun art studio for anyone interested in painting! In our classes we use acrylc paints on 16×20 canvas and teach the class step by step through the specific painting of the day. Most of our guests have no painting experience and all of them have great success!
Now, I am no artist…believe me! I thought, "sure this will be a fun night, but no way will I paint anything even close to good." I couldn't be more wrong! The instructor gives you step by step instructions, plus two other helpers walk around and give you tips, advice and help in anyway you need. Lively bunch too! Our instructor was Morgan, he so funny and entertaining!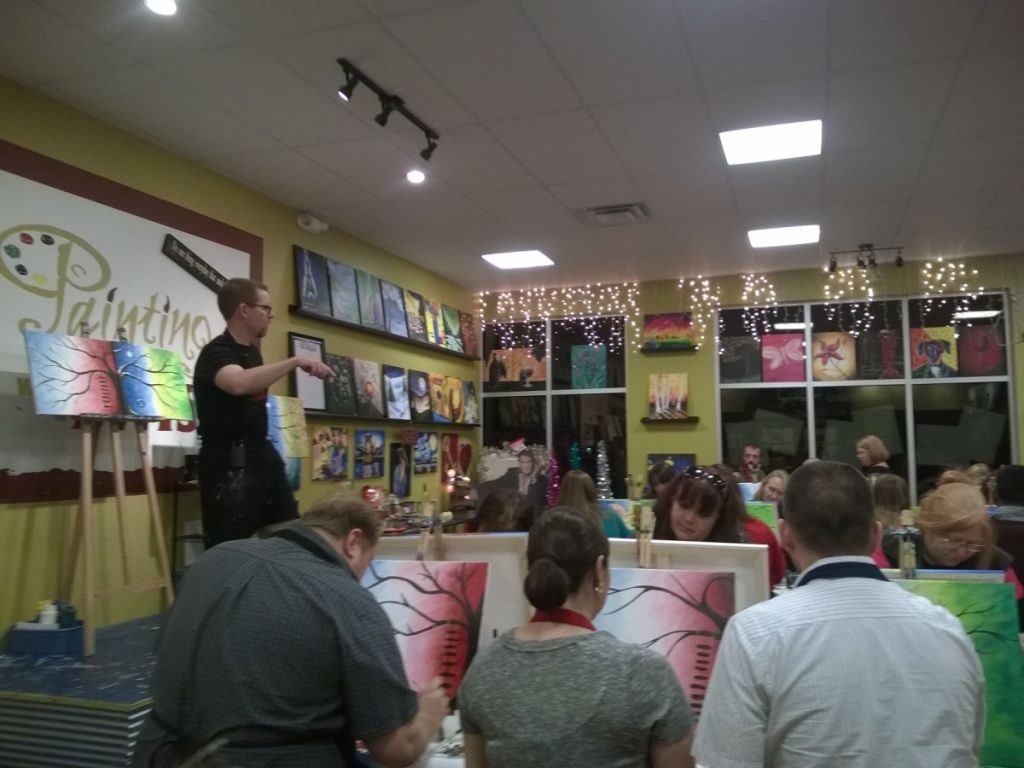 The great staff and wonderful step by step instruction helped me go from this…
to this!!
Notice anything missing? haha Like the other half of the tree? Well, that's because you create one half and your date creates the other!! Check out this couple, out on a date…at Painting with a Twist!
For your next date night, grab your honey and check out Painting with a Twist! Enjoy each other, the fun and relaxing atmosphere and take home your own personal piece of art!
Have fun and check back here and let me know how you liked it and what piece of art work you created!