The perfect date doesn't have to take place after dark. There are so many wonderful lunch date spots in the Cincinnati area. You can put together a great date at any time! Check out our list of Cincinnati lunch date ideas and restaurants.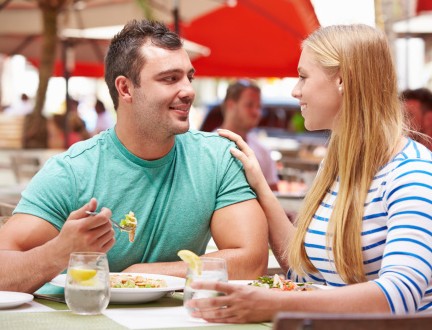 Blue Ash: Take a stroll through beautiful Sharon Woods before heading to your destination for a delicious and fresh lunch.
Through the Garden – Everything from fresh salads to the best pot roast on the planet, Through the Garden is a fresh, casual and relaxing lunch spot.
Slatts Pub – If you're craving pub food and good old-fashioned burgers, Slatts is the place to go.
Glendale: Enjoy a delicious lunch before heading to Trillium Trails Wildflower Preserve for a walk through nature, or head to Tri-County Mall for some shopping.
Grand Finale – A quaint, old-world setting is the perfect romantic spot for a lunch of crepes, steaks, seafood and more.
Cock & Bull Public House – Pub food at its finest, and great beers to boot. Cock & Bull is the perfect casual and fun lunch spot.
Mason: You won't have a problem making a day of your trip to Mason – there are so many close attractions, you'll have no trouble choosing! The Beach Waterpark, Pump It Up, Paintball Country, Kings Island and so much more – just pick an activity, and then head to lunch at one of these delicious and romantic spots to plan your day.
Banana Leaf Modern Thai – Innovative stir-fry, noodle and rice dishes in a contemporary spot with scenic patio and tasty beverages.
Hamilton: Historic Hamilton is scenic and beautiful, a perfect setting for a romantic daytime date. Want more? Explore the surrounding area, head to Miami Whitewater Forest or Stricker's Grove for a day of fun.
J. Austin's Riverbank Café – Craft beers aplenty, delicious dishes with a southern flair, and historic charm – you can't go wrong at J. Austin's!
West Chester: You can make a day out of a lunchtime trip to West Chester with no trouble at all! Ikea, The WEB Extreme Entertainment, Voice of America MetroPark and more. Pick a dining destination and spend your day exploring!
Korealistic – Japanese and Korean dishes, sushi, and more make Korealistic a fantastic pick for when you just can't decide what sounds best.
Trinity Gastro Pub – Trinity has great luncheon features, such as Pulled Pork Sliders, Chicken and Waffle Sliders, fresh fish tacos and more – all for only $7.95!
Loveland: We love the Loveland Bike Trails! Take your bike, pick a romantic spot to dine, and spend the day enjoying each other's company and the gorgeous town of Loveland.
Asian Paradise – Whether your date is craving sushi, sashimi, or General Tso's chicken, Asian Paradise has exactly what you want!
Tano Bistro – With a delicious selection of creative sandwiches, such as Belly Banh Mi, Cuban, BBQ Slaw Wraps, and the W.A.B.A.M. (walnut, apple, bacon jam, arugula, fresh mozzarella) you will find a delicious dish for your lunchtime delight.
Downtown Cincinnati: Have you spent any time exploring Downtown Cincinnati? Check out the CAC, Taft Museum, Carew Tower and so much more before stopping at Nicholson's for a tasty brew and delicious meal.
Nicholson's Tavern & Pub – Scotch Eggs, Mussels, Calamari Fries for starters, Cock-a-leekie soup and sandwiches of all kinds too, you won't go hungry at Nicholson's.
Palomino – Elegant dining, delicious food, creative and amazing cocktails are all on the menu at Palomino. A great view of Fountain Square, too!
Hyde Park/Rookwood: If you've never taken time to explore the Hyde Park and Rookwood area, you are missing out. Great shopping and delicious food, you're sure to find plenty of fun!
Seasons 52 – Experience fresh and delicious seasonal menu items, created from locally sourced ingredients. Upscale dining at its best!
Kenwood: Besides Kenwood Mall (great shopping!), you can also make it a matinee movie date at Kenwood Theatre.
Aroma Sushi – Sushi rolls and pan-Asian offerings, served in a casual atmosphere.
Trio – Upscale American standards such as sandwiches, salads, pizzas and flatbreads and more.
Northern Kentucky: All of the fun isn't north of the river, we promise! Northern Kentucky boasts plenty of beautiful parks and fun activities.  Newport on the Levee, where you'll find Tom + Chee, is home to Newport Aquarium – a great after lunch date idea. Izzy's has multiple locations in NKY as well as Cincinnati and the Ft. Wright location has a lovely patio for outdoor dining. Mellow Mushroom also has multiple locations, one in Hyde Park along with NKY's Wilder location.
Izzy's – A Cincinnati classic! Tasty original Reuben sandwiches, and other deli favorites, served up fresh and made to order with crisp Izzy's pickles and signature potato pancakes. Patio dining available at some locations.
Tom + Chee – Comfort food at its finest! Every grilled cheese combination you've ever thought up can be found on the menu, and then some. Fresh, made-in-house soups, crisp and delicious salads. You can't go wrong!
Mellow Mushroom – Not your average pizza pie, Mellow Mushroom serves up delicious pizzas with a twist. It's whimsical atmosphere makes for a fun and flirty date destination.