We talk about date night quite a bit around here, but the truth is – date night can be anything you want it to be … like a brunch date. Brunch spots are great date ideas. Start your day with a delicious meal, and who knows where the day will take you! We rounded up some of our top picks for brunch around town to get you started. Keep in mind, many brunches will book up early and require reservations, so call ahead to be sure to have a spot when you arrive. If it's a special occasion, such as Christmas, Valentine's Day, or especially Easter and Mother's Day, call far in advance to guarantee seating.
Sleepy Bee Café – Sleepy Bee is THE spot to 'bee' (see what we did there?) if you love pancakes – Apple Cakes, Piggy Cakes (with bacon inside … yum!), Nutty Bee (peanut butter, chocolate and bananas).  Not in the mood for pancakes? Try a breakfast sandwich, such as The Broakley or Queen City Bee. And don't forget the roasted root vegetables — delicious! Sleepy Bee Cafe has three locations — one in Blue Ash, the original in Oakley, and one in Downtown.
Fifty West Brewing – Craft beer enthusiast? Try Sunday brunch at Fifty West Brewing Company. Brunch is served from 11 a.m. to 3 p.m. Sunday, and with menu items like breakfast Chilaquiles, banana custard French Toast and Country Fried Green Tomatoes, you can't go wrong!
Taste of Belgium – Brunch like a Belgian at any of Taste of Belgium's many locations. Try the Brunch Burger — waffle, egg, maple syrup, bacon, Havarti and frites!
Hangover Easy – Experience the deliciousness that is Hangover Easy in Cincinnati. Order such delights as the Dirty Sanchez (featuring chorizo and fresh pico de gallo), a Greek Omelet or Angry Egg.
Cheapside Cafe – Breakfast is served all day at the Cheapside Cafe. Enjoy Challah French Toast, Oatmeal Brulee, or a Chorizo/Egg Sandwich, along with salads, delicious sandwiches and more.
First Watch – This breakfast and lunch spot, with several locations in our area, boasts a fresh juice bar and seasonally fresh menu with fruit, sandwiches and breakfast delights such as Power Bowls, frittatas and more.
The Grille at Palm Court – Enjoy an elegant yet relaxed brunch at The Grille at Palm Court with all of your favorite brunch and lunchtime foods.
Otto's on Main – You can't go wrong with a Sunday brunch at Otto's on Main in Covington's MainStrasse Village. Try their famous chicken salad, a Benedict Otto's or live it up with a B.L.F.G.T. — bacon, lettuce and fried green tomato served on a toasted croissant with egg and cheese. Head out onto Main St. for a little window shopping afterward – a perfect date!
Eighteen at The Radisson – With breathtaking views of Cincinnati and Covington, Eighteen at The Radisson, Covington's revolving restaurant atop The Radisson Hotel, is a perfect spot for celebrating a special occasion with a superb Sunday Brunch. There is a carving station, an omelet station and many more buffet items to choose from.
Rima's Diner – With made-to-order omelets, biscuits and homemade gravy, fried potatoes, French toast and more, Rima's has comfort food brunch items like your mom used to make. Sunday brunch is served from 10 a.m. to 3 p.m.
Mokka and the Sunset Bar & Grill – Possibly the best French toast in the area! Crispy on the outside, creamy on the inside, topped with bananas and crème brulee pastry cream … it's heavenly.
Wunderbar – Authentic German cuisine in a great, casual atmosphere. Brunch is a Sunday affair, served from 10:30 a.m. to 2 p.m. An excellent selection of beer and a menu that changes monthly make this a great choice for a fun brunch date.
Keystone Bar & Grill – Yes, you can have Mac & Cheese for brunch.  Everything from pancakes and French toast to their famous mac & cheese or a pint of bacon. Yum!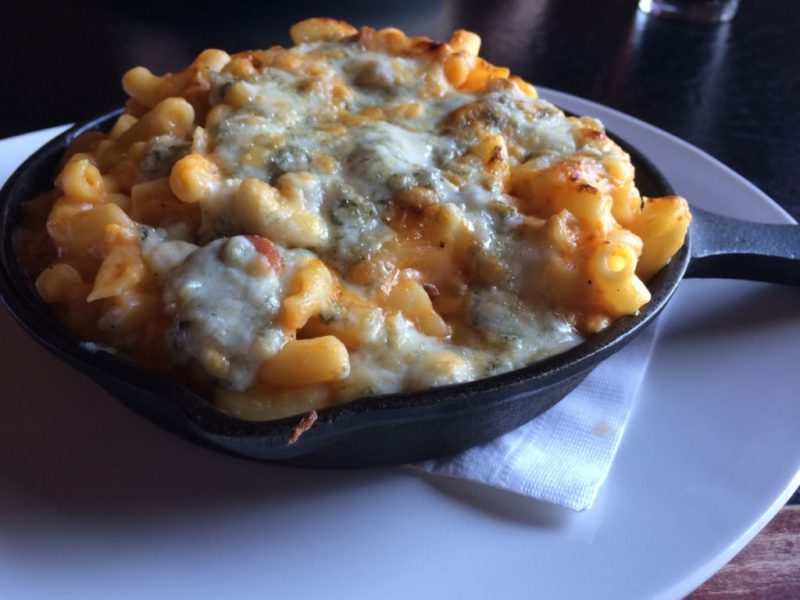 Molly Malone's – Traditional breakfast or breakfast burger (served with a fried over easy egg as a topping), you can't go wrong at Molly Malone's in Covington. Try a traditional Irish Breakfast complete with rasher bacon, banger sausages, white and black pudding, grilled tomato, baked beans and potato pancake.
Fort Mitchell Public House – Just off of I-75 in Ft. Mitchell you'll find the Fort Mitchell Public House and a delicious brunch spread every Sunday. Goetta Hot Brown, Goetta Croissant and house specialties like Jambalaya and Mediterranean Veggie sandwich, will guarantee you find just what you've been looking for.
Sugar 'N Spice – Craving that perfect old fashioned diner pancake? Sugar n' Spice is the spot! It's not strictly a brunch spot, but you can order from the breakfast or lunch menu all day every day from 7 a.m. to 3 p.m. The pancakes make the trip worth it!
Olive's on Ludlow – Sunday brunch at Olive's can be anything from French toast just like moms to Eggs Deutche — two potato pancakes topped with two sausage patties and two eggs any style drizzled with Parmesan cheese sauce. Add a French press coffee and enjoy a special brunch date.
Red Feather Kitchen – This scratch kitchen works magic on menu items such as Steak Benedict, Breakfast Poutine and the Cincinnati Egg (wrapped in goetta), making it worth the trip to Madison Road for a delicious brunch-time treat.
Teller's of Hyde Park – Available on Saturday from 11 a.m. to 2 p.m. and Sunday from 10 a.m. to 3 p.m., Teller's brunch is just as stellar as any other dining experience at this restaurant. Bananas Foster French Toast, Chicken and Waffle, Bangers and Smashed and so much more — delicious!
The Echo – This Hyde Park restaurant technically isn't a brunch spot, as they serve breakfast daily, but for your next breakfast craving, this is the place to go. Check out the "Hangover Helper" section (hangover or not) for delicious concoctions like the Belgian Bird — a breakfast sandwich made with chicken tenders, fried egg and cheddar cheese served on a Belgian waffle with powdered sugar and syrup — or the Hot Mess — layers of home fries, scrambled eggs, bacon and sausage all smothered in sausage gravy and cheese and served with toast.
Cozy's Cafe and Pub – There's character at every table in this rustic farmhouse and trendy pub. You and your date can enjoy gourmet food with a creative twist at Cozy's Cafe & Pub in Liberty Township! Check out our review here. 
With so many great restaurants around the Tri-State, we're sure we missed a few. Let us know your favorite spots to grab brunch!