Editor's Note UPDATE: Tano Bistro has since been revamped and expanded after the fire in 2017 including doubling its size with three different floors and a second location in Hamilton.
Tano Bistro and Catering is a contemporary restaurant located in the heart of historic downtown Loveland that highlights fresh responsibly sourced ingredients with a seasonally changing menu. My husband and I had the privilege of meeting the Executive Chef and Owner, Gaetano "Tano" Williams, the mastermind behind the quaint, yet elegant bistro. We quickly realized after talking with him that there is so much thought, planning and preparation that goes into the menu at Tano. The menu changes seasonally with big changes in the spring and fall. They always offer at least two vegetarian entrees with each menu. They have an extensive wine list that changes with each new menu, and they take a lot of time pairing wines with the flavors of each entrée.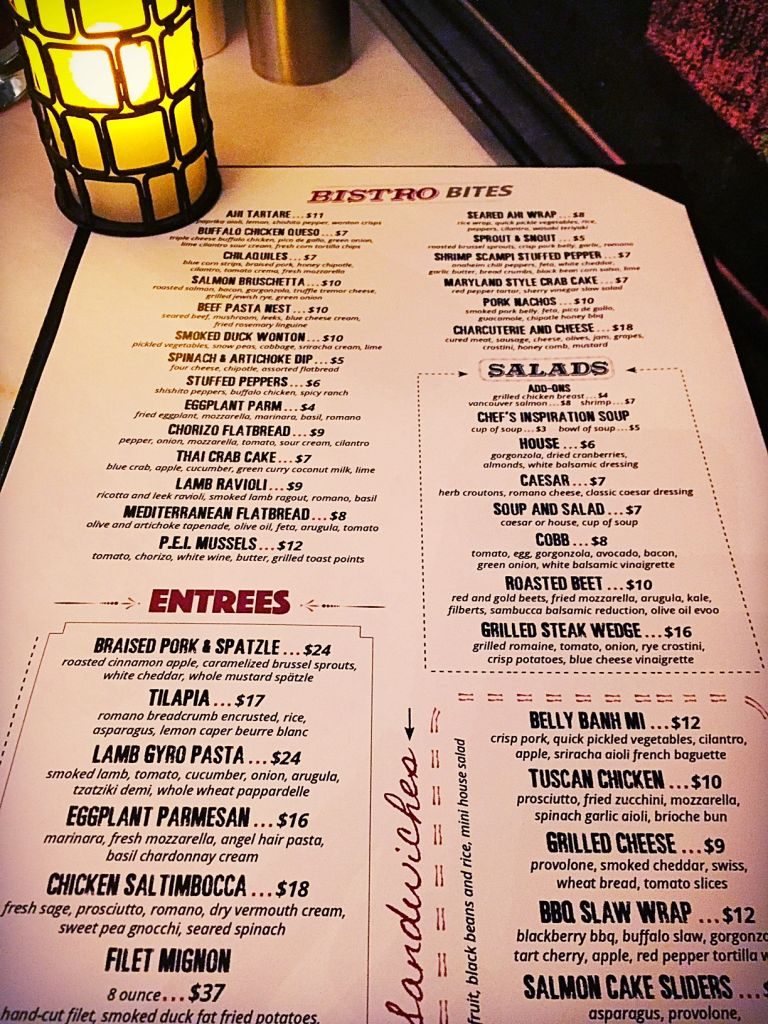 (Note: This is an old menu)
What I was most impressed by is that everything is done in house. They buy local as much as possible, they smoke meats in house, and all their meals are made from scratch. Not only does this make the food taste fresh and phenomenal, but anyone with allergies or specific food likes/dislikes can go to Tano and experience the amazing food with special food requests so you are getting exactly what you want.
Tano is also known for their Shareables (their appetizer section of the menu). We were able to try four of their most popular shareables:
P.E.I Mussels. My husband is a huge fan of mussels, and if they aren't cooked right they can be rubbery and tasteless. These melted in your mouth and the sauce was TO DIE FOR! It is a Mediterranean sauce, and it really is amazing!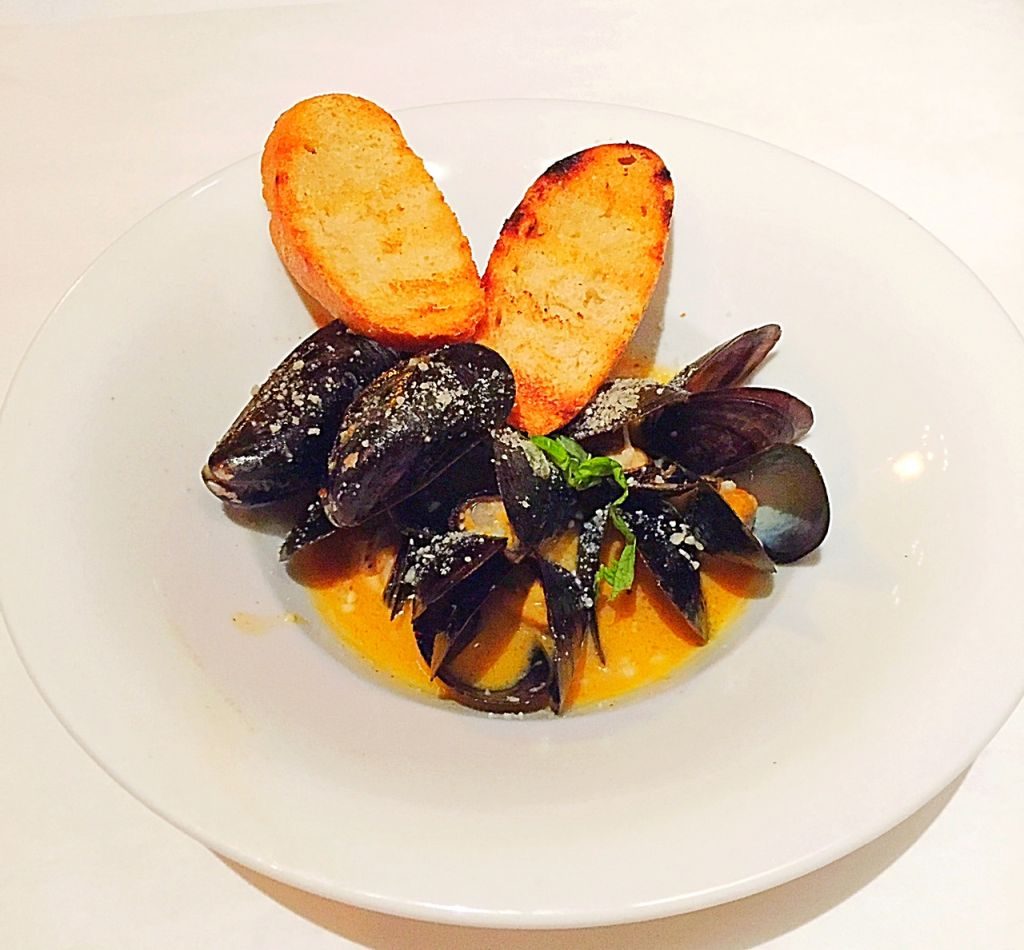 Smoked Duck Wonton. These won Best in Taste at the Horseshoe Casino downtown November 2016, and they did not disappoint. I loved the sriracha cream on top — it gave the bite just the right amount of spiciness.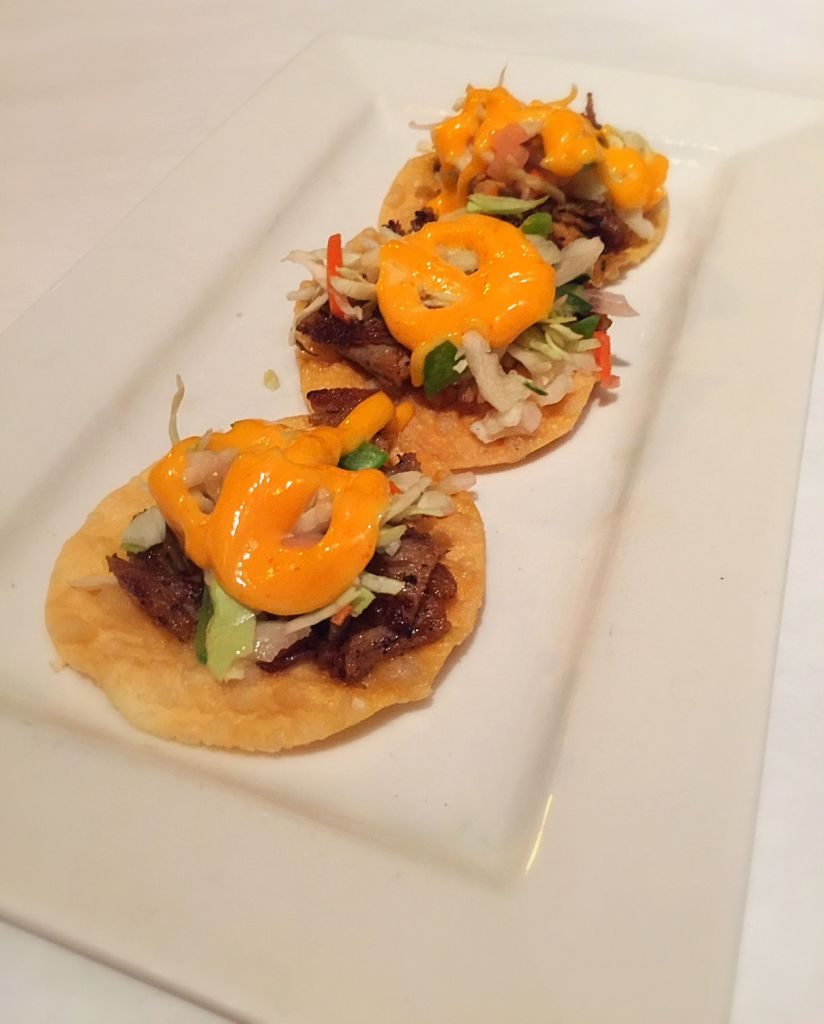 Sprout and Snout. People come from near and far for this bistro bite. The combination of flavors from the smoked pork belly and the roasted Brussels sprouts were PERFECT! This was my favorite bistro bite that we tried. I love Brussels sprouts, but even if you don't, I would highly recommend giving this one a try. They were cooked to perfection — they were so crisp and flavorful.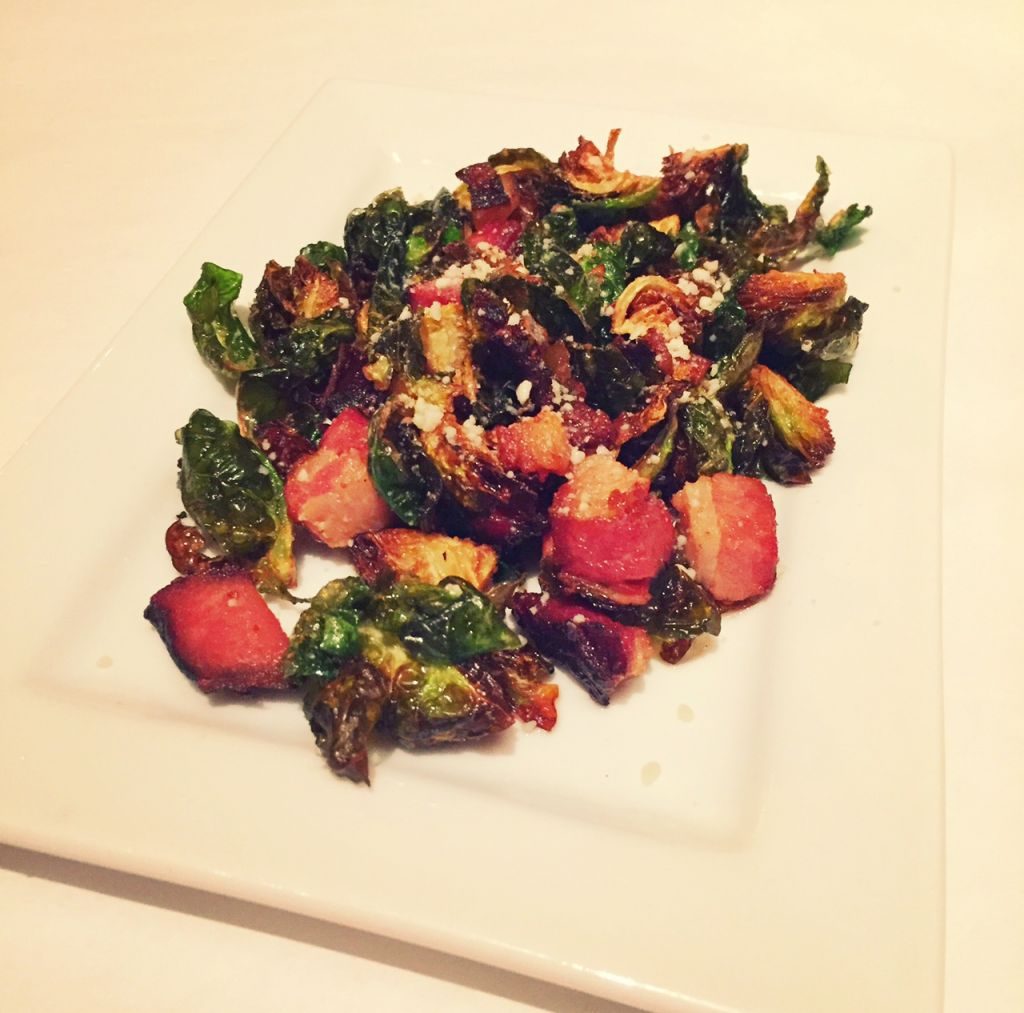 Ahi Tartare. This dish was super flavorful with smoked paprika aioli, lemon shishito pepper and wonton crisps, which added the perfect crunch!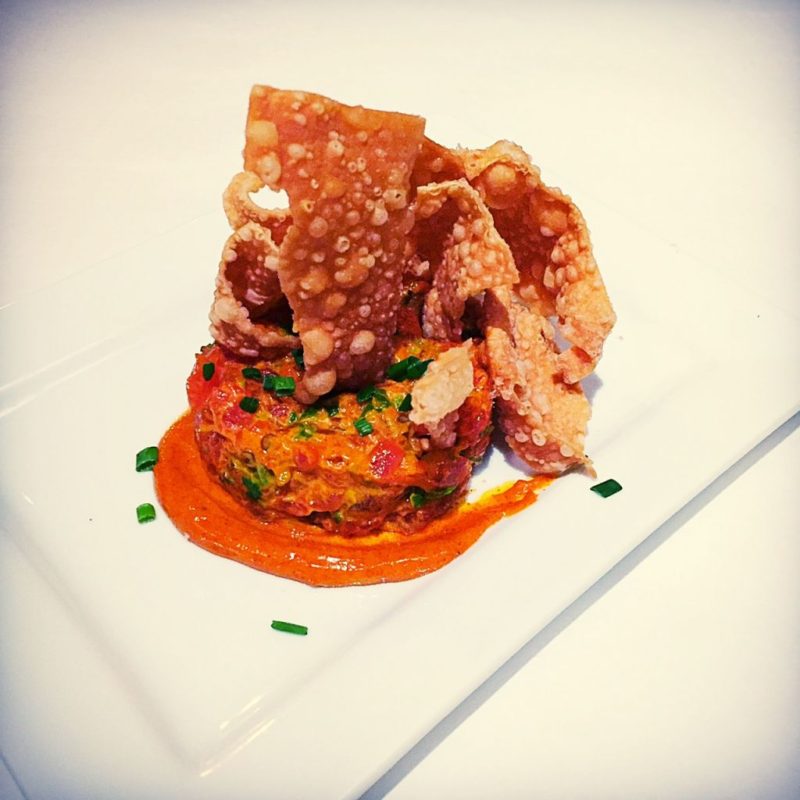 They have such a wide variety of Bistro Bites, so their a great addition to not only a romantic dinner with your sweetie, but you can meet up with girlfriends and share some appetizers over a glass of wine. They truly do have something for everyone.
Editor's Note UPDATE: Since the fire, there is another bar area on the second floor as well as a rooftop bar. The photos shown are prior to the restaurant's expansion. Any other descriptions of the restaurant's interior may no longer be accurate to the current architecture and decor of the facility.
The inside of the restaurant is lovely. We sat in the main dining area, which is both elegant and cozy. They also have a rather large bar area with a smaller room off the back with additional seating.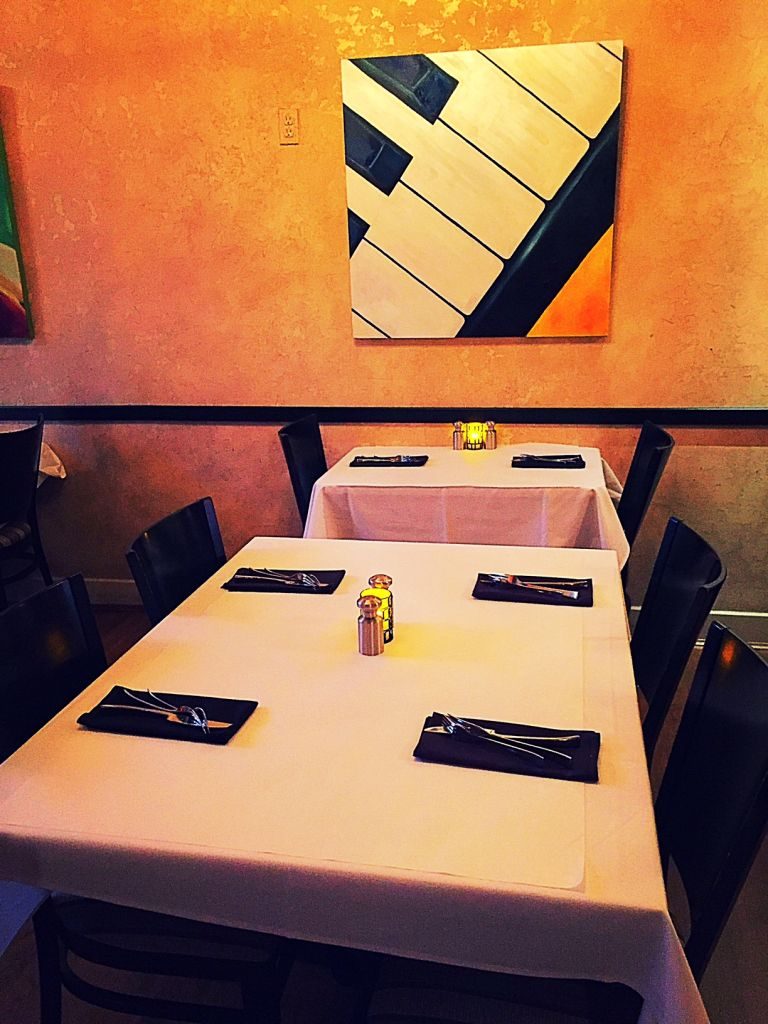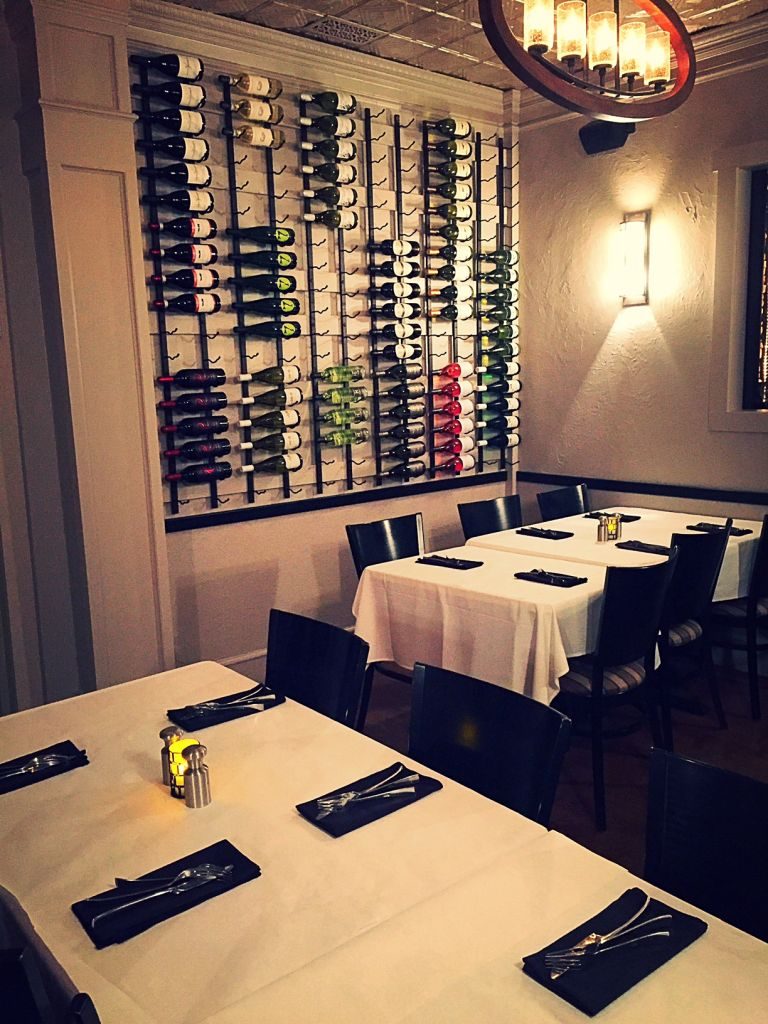 They also have a modern and quaint area upstairs that seats around 12 people for a more private dining experience for those special events.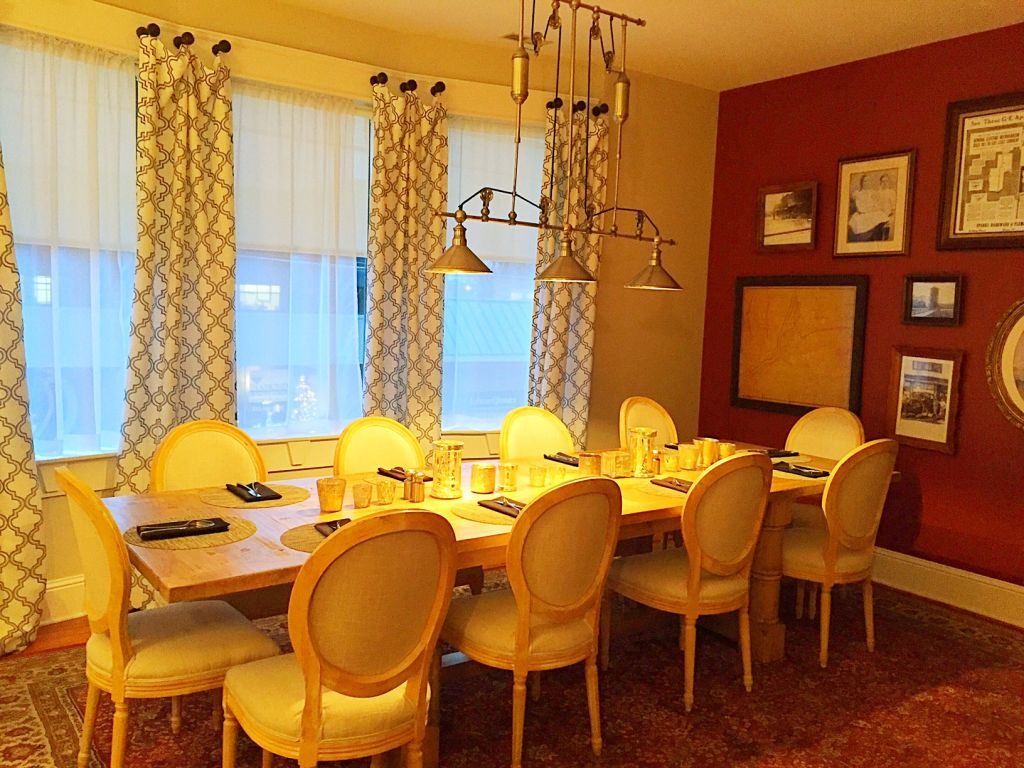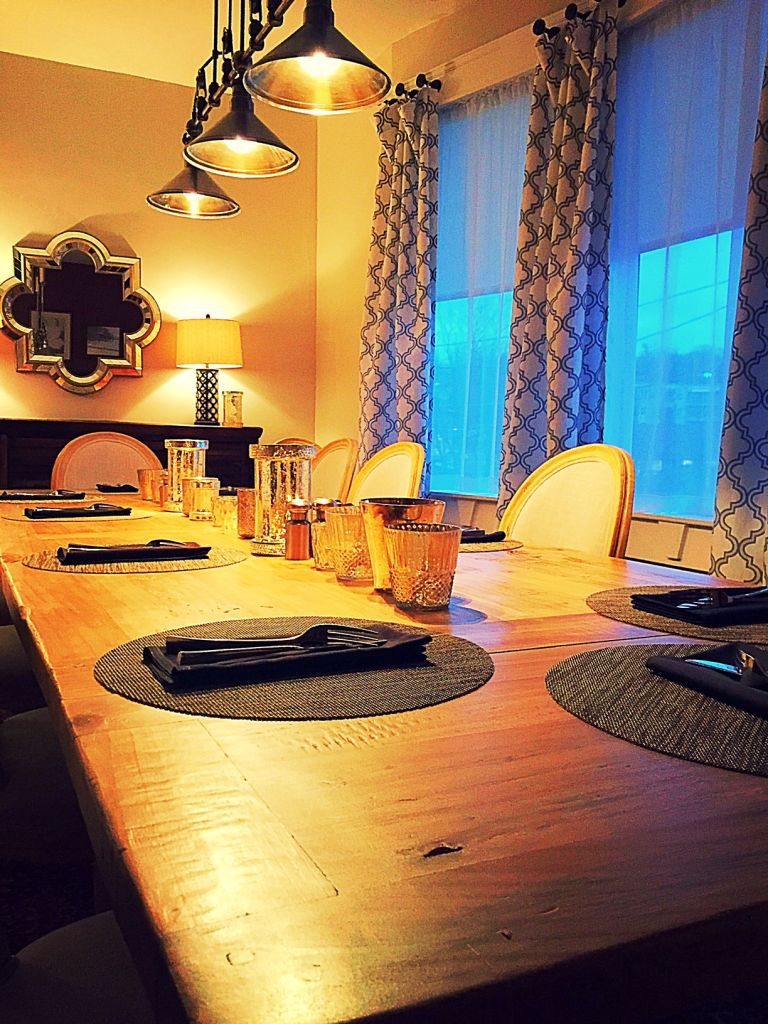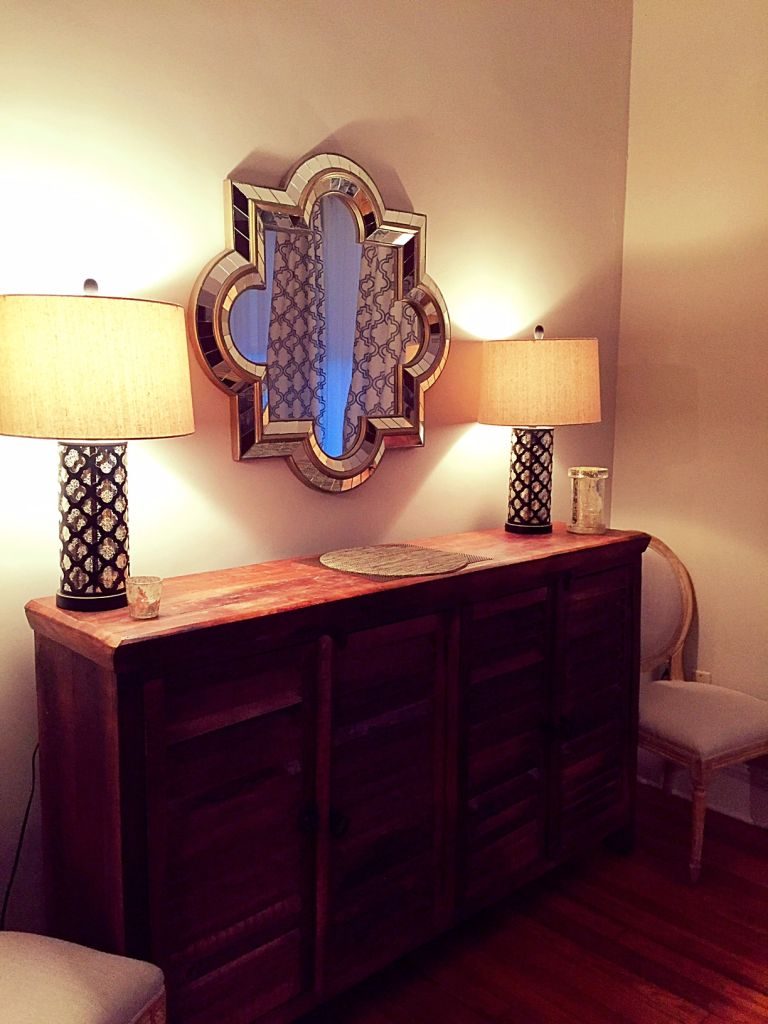 For my entrée, I ordered the Stuffed Salmon. This was by far the BEST salmon I have ever eaten! The combination of the crab, bacon, brie and lemon beurre blanc sauce it was stuffed with made it amazingly flavorful.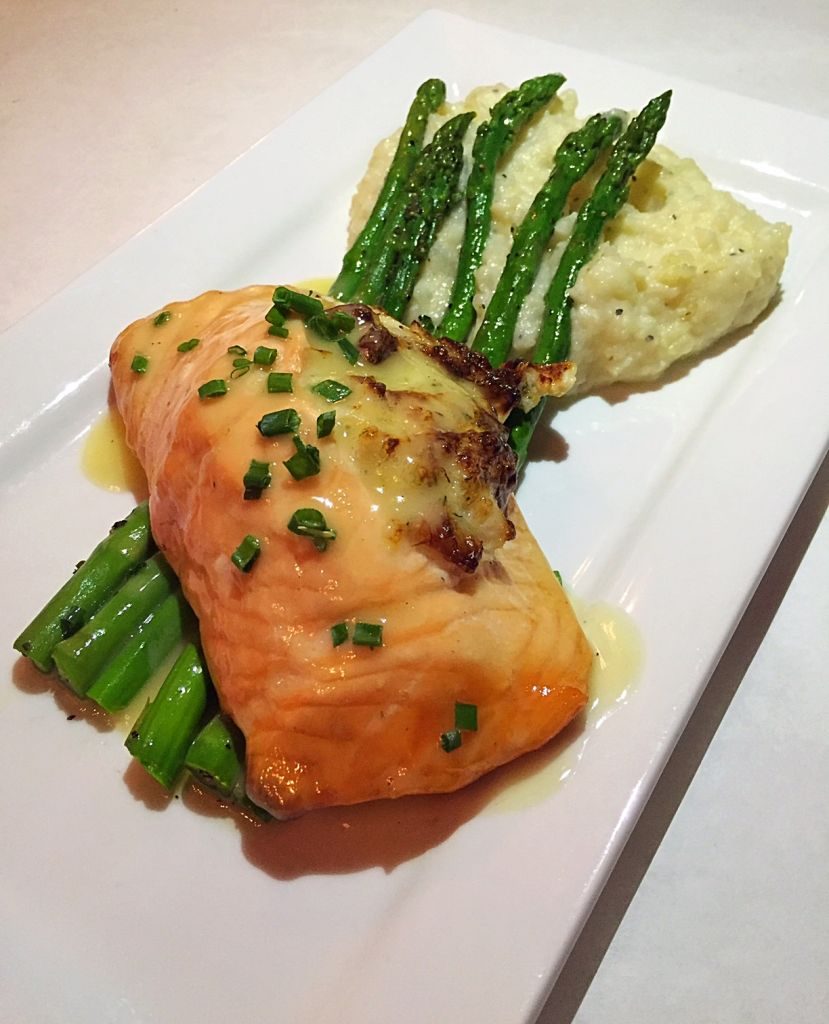 My husband is typically a steak guy, but the Chef recommend the Chicken Saltimbocca, so he went with that for his entrée. It was topped with fresh sage, prosciutto, Romano, dry vermouth cream, sweet pea gnocchi and seared spinach. The chicken was tender, and he absolutely loved it!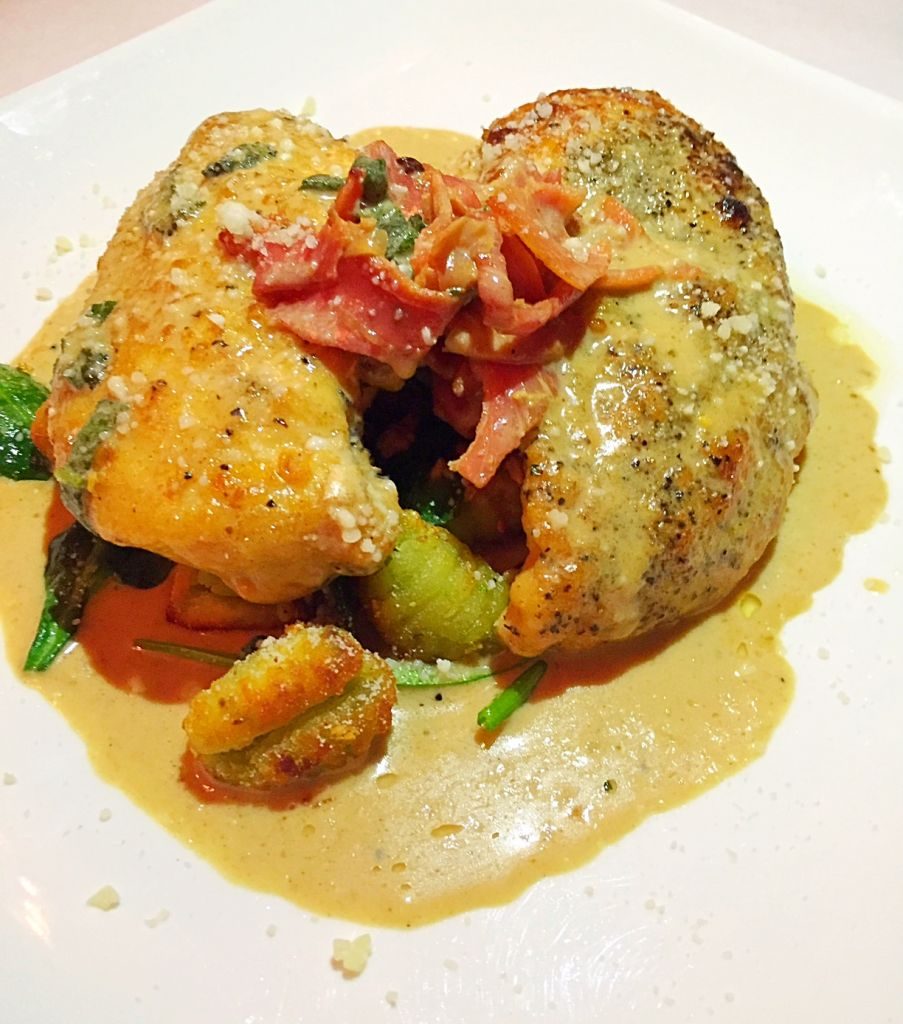 Although we had so much to eat, I had to make room for dessert! Tano has a pastry chef on staff so the desserts are fresh and made daily. They don't have a set dessert menu since they change it seasonally, but we picked two desserts to try.
They offer these donuts typically, but depending on the time of year, they may be stuffed with something different.  They came out warm and melted in your mouth. I have been craving them ever since our visit! Although I loved the chocolate brownie pictured below, but the donuts were my favorite.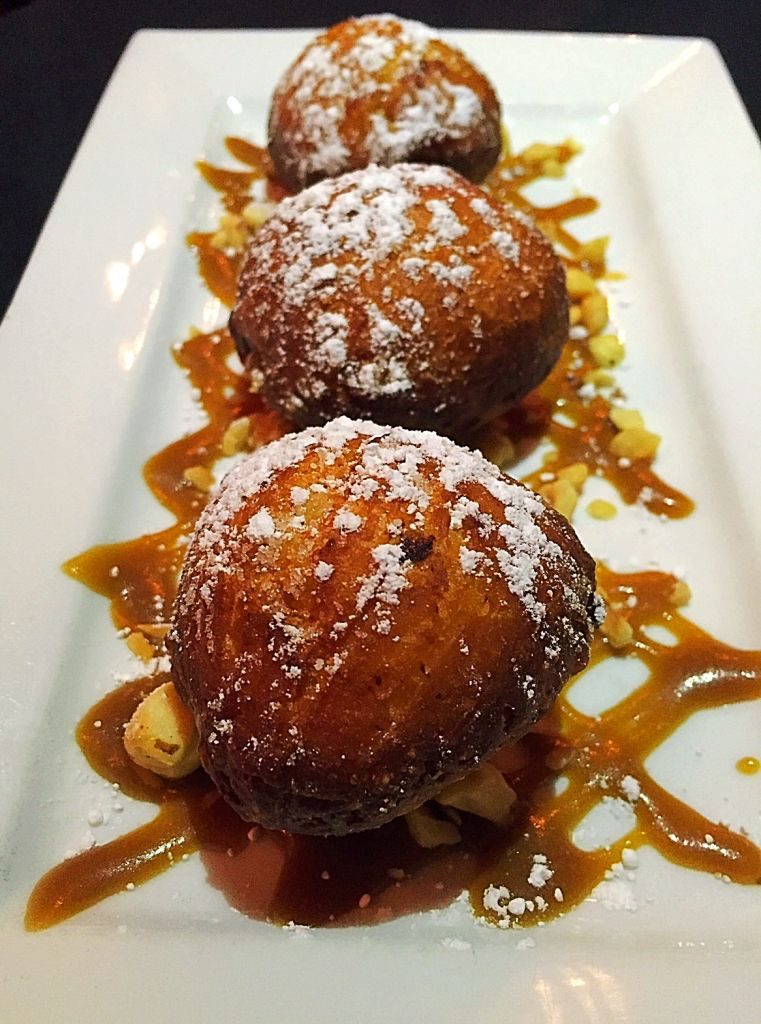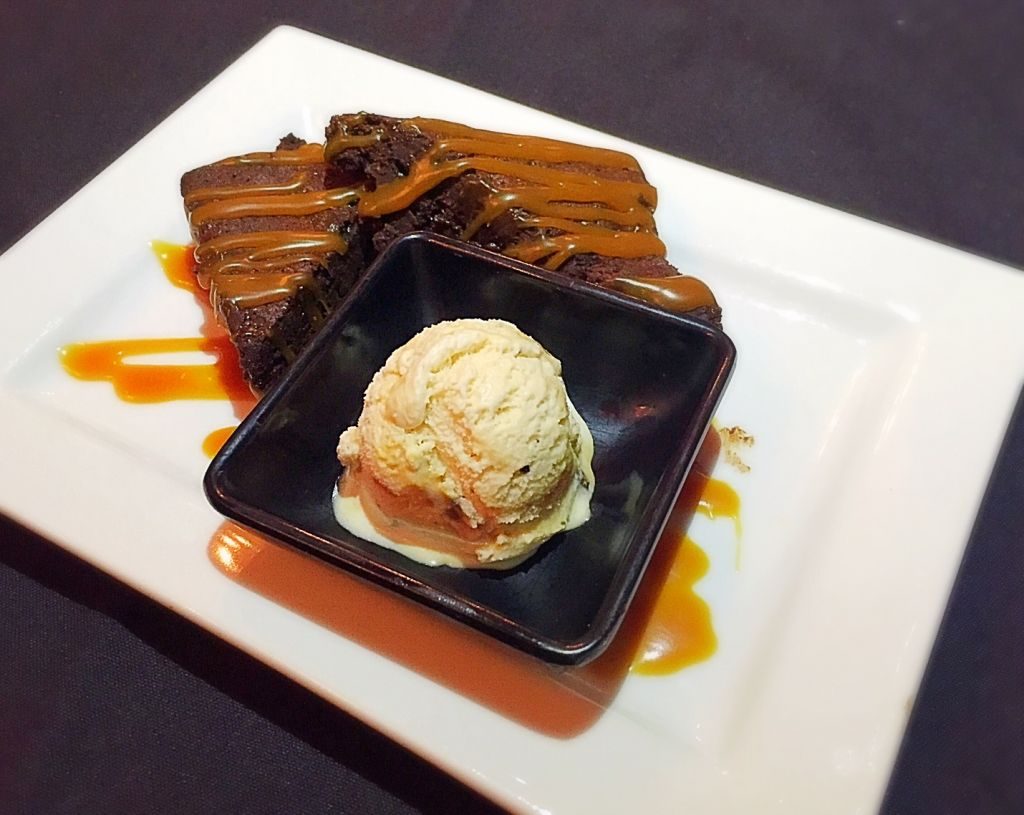 Overall, I really enjoyed our date night at Tano. Not only can you enjoy their amazing food and wine for a lunch or dinner date, but they also offer Sunday brunch and a take out service, called Take Home Tano. This, in particular, sparked my interest because there are nights when you don't feel like getting all dressed up to  go out!
They are also offering an amazing Valentine's Wine Dinner at the elegant Peterloon. You can find more information about other events and registration details on their website.
Whether you live near or far, it really is worth taking the trip to Loveland to visit Tano Bistro for a unique and wonderfully flavorful dining experience.
Tano Bistro
204 W Loveland Ave, Loveland, OH 45140
Open Daily at 4pm - 10pm
Monday - Friday
Saturday & Sunday Brunch
from 9am - 3pm
Sunday Dinner Menu
begins at 3pm
Happy Hour
3pm - 7pm Monday - Friday