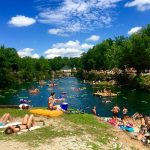 Night clubs,  live music, and wine and scotch tastings are great, but sometimes don't you just want to escape your home base? With Spring around the corner and warmer weather on the horizon, White Rock park in St. Paul Indiana is a great place to break from your normal routine.. With all sorts of things to do such as: Cliff jumping, zip lining, fishing, scuba diving, and camping,… it makes for a great date or a group outing, and you can get there and back with just one tank of gas.  Welcome to our newest series, called One Tank Trips.
My girlfriend and I wanted to get away from our normal routines, so, we decided to head to St. Paul, IN when we had a free weekend and warmer weather. When we exited the highway to St. Paul, there was a convenient gas station that allowed us fill our coolers  with snacks, Gatorade, water, and everything we needed for the day.
St. Paul is filled with helpful signage to ensure you won't get lost en route to your destination. When we arrived, we were amazed at how beautiful and picturesque the natural rock quarry is that is the centerpiece of the park itself. After admiring our surroundings, we turned our attention to the incredibly friendly staff who asked us if we had a cooler, which we had to pay a nominal fee to take into the park. The staff then provided us with a quick overview of the park and what had changed recently, and we parked, ready to enjoy the day.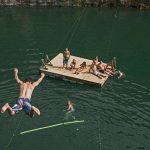 Our first activity was jumping off the Park's main attraction: The 30 foot high cliff jump. The actual jump is almost as fun as cheering on park goers that panic as they get to the top.   Once we got to the bottom and into the water, we swam to a nearby ladder to try the 20 foot high jump. There was no backing out on this one, and it took some prodding from my girlfriend to finally take the plunge (into the water, not marriage).
After these various water activities,  we tried the zip line, which was exhilarating and much easier to hold onto than some might say. We were a little tired after that, so we swam to one of the park's floating docks, and enjoyed each other's company, taking in the beauty of St. Paul and being outside.
We paced ourselves throughout the rest of the day, and continued to enjoy all of the fun that White Rock had to offer. Which included a rope swing, and the 2 other smaller cliff jumping platforms.  My girlfriend and I both love the outdoors, and St. Paul allowed us to spend an afternoon with each other being as active or lazy as we desired.
We didn't purchase a fishing pass, but that is on our bucket list for next time. At the end of the day we were exhausted! We simply got out, dried off, and hopped in the car. There was no line to get out, there weren't any other unnecessary hassles. White Rock is a one of a kind experience that you can enjoy with that special someone or a group of friends. It is inexpensive and a great way to enjoy what nature and our local treasures have to offer.
And best of all, it only costs about one tank of gas.
Stay tuned for more from our series One Tank Trips.