My husband and I recently celebrated our 10th anniversary at Unwind Wine Bar in Hyde Park! It was the perfect choice for us. What a fun place.
When you walk up to the patio, you know you're in for a great evening. There's such a fun and relaxing ambiance right from the start. The ample outdoor seating looks comfortable, and the fire pits and heaters are so inviting.
We chose to sit inside, which was just as cozy and interesting. Upon walking in, you're greeted by the gorgeous bar, which is surrounded by a floor-to-ceiling wall of wine! I knew I was in the right place!
There are so many comfortable places to grab a seat. I was actually surprised at how large it was inside. There are all kinds of choices. Comfy couches, leather chairs, dining tables, low tables. Rustic and upscale — there is something to suit everyone.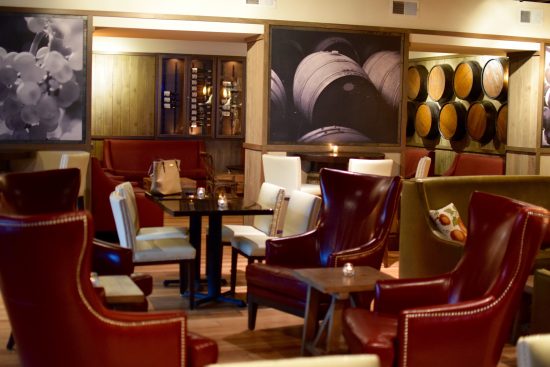 We chose some comfy couches in "the wine cave" for a cozy ambience surrounded by wood, stone and wine barrels on the walls. Very fun!
Our server helped us choose a nice bottle of wine, and she rocked it. It was amazing!
So, it's called Unwind Wine Bar and Light Fare. But, that does not mean you will leave hungry. We had a hard time choosing the light fare we wanted, because we wanted it all! We started with the Artisan Cheese Board. Oh man, the spiced honey was amazing. It was the perfect plate of delicious cheeses, fruit and nuts.
Next, we had a Margarita Flatbread with a fantastic balsamic reduction. It was so good. I wanted another one. But, we also ordered a Shiitake Smoked Gouda Dip served with crostini, which came out next.
Yes. That's right. Shiitake Smoked Gouda Dip. SOOO GOOD — it was creamy and tangy with an amazing savory mushroom flavor. There was nothing left.
Then, we had the Warm House Olives. This dish was mostly for me, and I think that I ate them all. I love olives! They were warm, marinated Greek olives with lemon zest. Served with hug chunks of feta and bread sticks.

And last, we had dessert of course! What's a 10 year anniversary without dessert? We went with the Whiskey and Chocolate. What a pairing! Chocolate truffles, strawberries and bourbon! We had such a great night!
If you're looking for a romantic place for your next date, you need to check out Unwind. It was something different — a little bit quirky and fancy. It was perfect.
They also have an amazing Happy Hour. Actually, it was voted the best in the city! Happy Hour is Monday through Friday from 4- 7 pm. Happy Hour consists of select 1/2 price wine bottles, $5 off other wine bottles, $2 off 6 oz. wine glass wine pours and  $2 off appetizers.