Here at Date Night Cincinnati, we focus all of our energy on the perfect date night. This time, we're focusing on your ultimate date night — your wedding day.
We decided to bring in an expert on the most popular trends seen in weddings recently.
Our wedding expert this month is Tracy Claiborne of Ohio Bridal Expos.
Here is her breakdown:
Décor, Décor, Décor
We have been seeing a trend of couples doing some really cool décor for their weddings. What I mean by décor is draping in the venue, linens, chairs, furniture, flowers, lighting and so much more!
Some people will stick with just one theme, such as all rustic. The rustic theme would include mason jars for glasses or wooden tables with lantern centerpieces. Others go the formal route with silk table clothes, sequence runners and china place settings.
If you're looking for something chic and modern, you can rent lounge furniture in simple black and white, along with illuminated tables and bars.
There also are those who combine looks. I have seen barn weddings with hanging chandeliers and formal table settings combining that "rustic chic" theme.
There is décor out there for any kind of theme you are looking for, and the companies that have it can help you create the look and feel you want.  You really can make your wedding unique and give your guests something to talk about as they enter your venue.
The perfect floral arrangement for a blushing bride
This year we are seeing a very green and natural look when it comes to flowers for weddings.
The brides are carrying simple bouquets with fresh cut stems or some go with wild flowers that cascade. Simple green and white floral arrangements seems to be popular. Tables are being decorated with long vines or garlands for green. Florists are creating hanging arrangements, such as wreaths, that create focal points in the room rather than just having large flower vases on the tables.
Not only are flowers popular for table décor, bouquets and hanging arrangements, the look is carried onto the bride as part of her hair décor. Some brides are opting for flower wreaths or simple greens to be placed in their hair as an alternative to a veil.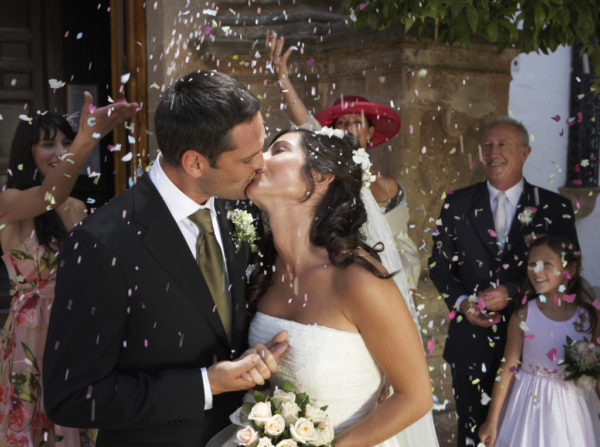 How to make the most out of your budget
My experience in producing bridal expos for more than 10 years has enabled me to see all aspects of every kind of wedding, from spending the highest budget to the lowest.
There is always that "happy medium," where you can get the look and feel of a very expensive wedding but find ways to save. You can hire someone to create your look or you can create the look by searching in magazines, Pinterest, etc. Then you can go to décor companies to rent the things you will need. You, your bridesmaids and family members can gather the things you need and create the look yourself.
This can be accomplished with flowers as well! Find a picture of what you want and take it to a florist. Most florists can help you create the bouquets yourself and save money on all your flowers.
For food, it is not always about how much you spend, but how fun or how creative the food was at wedding. For example, themed appetizers, small plates or even food trucks are a great alternative to the usual food choices.
For desserts, you are seeing everything from donut cakes, ice cream bars and cupcakes to a full-on dessert bar that has handmade mini treats of all kinds.
There also are great consignment shops that have used wedding dresses that are only a year or two old. You just might find the gown of your dreams at one of these and save a bundle. Don't count them out! I walk by one close to me frequently and see gowns that are just amazing.
I always am so impressed when I go to a wedding and hear about how the bride, groom and family were involved in creating the entire day. It has so much meaning when there is such a personal involvement in creating the event.
Each month, we will have a new theme and expert guest blogger. Keep an eye out!
Save