Do you know one sure-fire way to know you've finally hit summertime in Cincinnati? Taste of Cincinnati is in town! Memorial Day weekend in Cincinnati means more than just pool openings and cookouts – it means you get to taste the best the city has to offer, enjoy music by local and national bands and enjoy a food lovers date like no other!  If you're thinking of heading downtown with your date to enjoy the Taste of Cincinnati, we can help you plan the perfect date. Read on for tips on where to park, which food tents to hit and the best entertainment!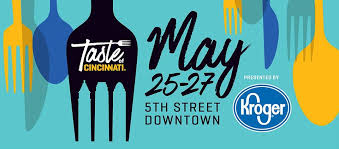 Parking – Taste of Cincinnati is held on five blocks of 5th Street in Downtown Cincinnati from Vine Street to Sentinel Street. There are multiple parking garages in the area, along with on-street parking (although you'll pay by the hour – don't let that meter expire!) The Fountain Square garage is another option as well, but it will fill up quickly. Our tip – be patient when searching for parking, or better yet, take a cab, Uber, or Metro/TANK bus and save yourself a headache!
Hours – The Taste of Cincinnati is a 3-day event — 11 am-11 pm on Saturday, May 25th and Sunday, May 26th; 11 am-9 pm on Monday, May 27th.
Food – There will not be a lack of amazing and delicious foods to try while you are visiting. For a full list of the 2019 Best of Taste Winners, check out their website, but be prepared to indulge in bacon wrapped shrimp kisses from McCormick and Schmick's Seafood and Steaks, Blueberry Lemon Creamsicle from Streetpops, and many more. You'll have choices from Alfio's Buon Cibo, Oakbrook Bakery, Izzy's, Keystone Bar & Grill, Just Jerks, LaRosa's, Marty's Waffles, Kabobske, Tom+Chee and many more. For a full list of attending restaurants, and pricing, visit the Taste of Cincinnati food page.
Entertainment – Once you've made a loop, grabbed a beer and an appetizer, you'll be in the market for some entertainment. There are four different stages scattered along the Fifth Street route, from Fountain Square to the P&G Gardens, to allow you to pause, indulge in your bites and enjoy live music from some of the city's best bands. Music performances range in genres, so there's certain to be something for everyone. For a full list of entertainment, stage locations and performance times visit their entertainment page.
The Taste Experience – Back for it's seventh year in 2019, The Taste Experience takes place in P&G Gardens under a tent with cocktail tables, fine wines, craft beers and excellent bites. The proceeds from The Taste Experience go to Cincinnati State's Midwest Culinary Institute to help refurbish their teaching kitchens, and let's face it,  that just means more delicious food for everyone!
Food Truck Alley – North Broadway off of 5th Street will be Food Truck Alley, and will feature some of the most delicious food trucks in the region, along with live music and seating.
There's really no way to show up at Taste of Cincinnati and not leave with a new appreciation for the city's best food, a full belly and a great memory. This is a perfect date idea, because you will not only experience new foods together, but you'll also get to enjoy plenty of time talking and getting to know each other better. Enjoy the official start of Cincinnati's summer season at Taste of Cincinnati!