They say that romance starts in the kitchen. In my case, it can sometimes be better if I stay out of the kitchen, because my husband is a WAY better cook. BUT, that's where a cooking class comes into play. I don't mind cooking when it's social and feels like an adventure — guided instruction and intervention by a chef when needed is always a bonus, too.
For our date night adventure, we attended a cooking class at Sur La Table at Rookwood Commons. Sur La Table offers a variety of dining themes to choose from each month. Our Date Night Cooking Class theme that evening was "Great Food on the Grill" with Chef Scott Cacchiotti.
Our Menu: Grilled Flatbread with Mint Pesto, Peas and Goat Cheese – Herbed Pork Tenderloin with Rhubarb Chutney – Grilled Pound Cake with Strawberries and Cream.
I liked that our menu combined a lot of ingredients that I would not have thought to try together on my own. We were also taught techniques and were introduced to new kitchen tools that make meal prep easier. You prep your meal in groups of four, which is a great opportunity to make new friends or to plan a double date.The maximum class size is 16, and each class lasts between 2- 2½ hours on average.
There is plenty to taste throughout the class, so don't worry about leaving hungry. The cooking class atmosphere is really fun, relaxed and conversational, and the best part is that you get to eat each course as you go!
Each course during the class gave each of us the opportunity to do our part in prepping for the meal. I'm still pretty amazed that I was part of making such a great meal!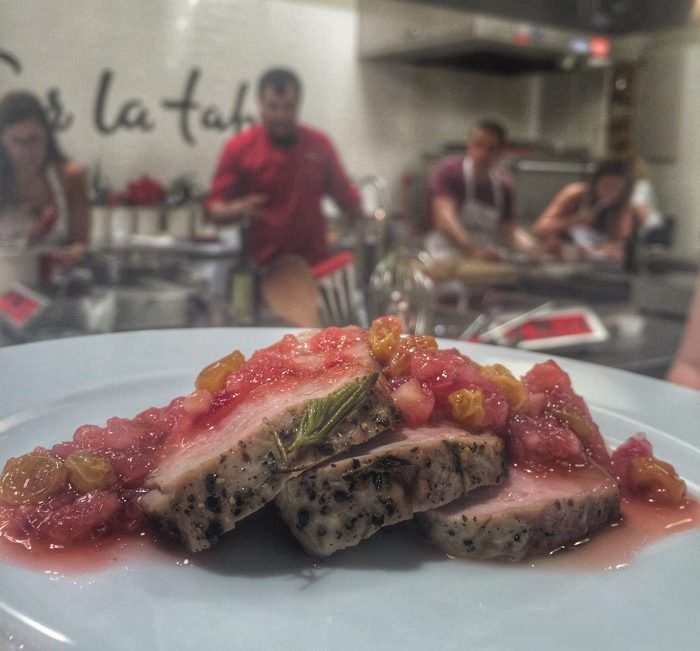 Chef Cacchiotti was amazing — he was very personable, explained everything in detail and answered any questions we had throughout the class. Each course during the class also gave each group member the opportunity to do our part in prepping for the meal. I'm still pretty amazed that I was part of making such a great meal! This class really opened my eyes to new possibilities on the grill. I never would have thought of grilling pound cake, but the results were delicious!
After the cooking class, you will find the knives and kitchen tools that you used during your meal prep for purchase in the store. Class participants get a discount to be used that day if you want to take an item home for future cooking projects. You will also receive a packet with all of the recipes from your class so you can recreate them at home.
My husband was really inspired after the class and made his own twist on flatbread pizza the following evening. I really enjoyed cooking together, and I think that a cooking class is a great way to mix things up.
You can find out more about cooking classes at Sur La Table from their website.