We couldn't be more excited about the return of warm weather, sunshine and blue skies! The approach of spring has us dreaming of long walks in the park, picnics with all of our favorite foods and light, refreshing spring date cocktails that add the perfect touch to a lovely date.  Check out our roundup of delicious spring cocktail recipes, and plan the perfect springtime date: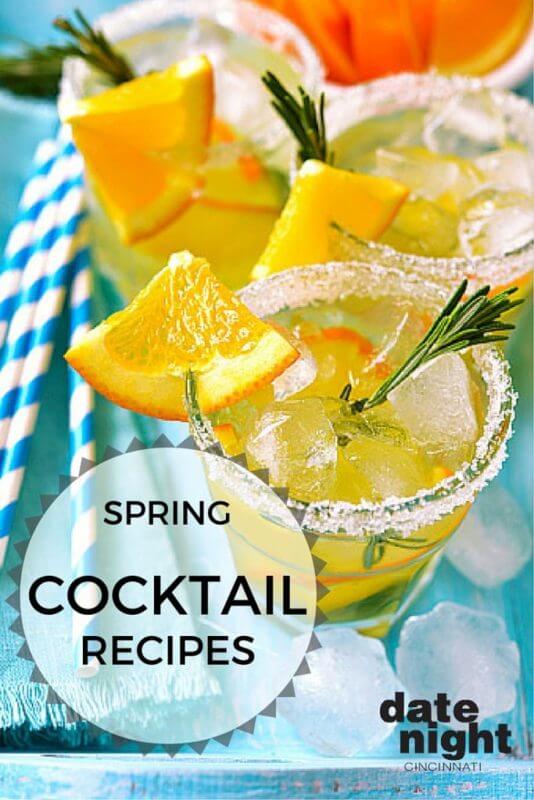 Strawberry Basil Margarita
 Ingredients:
1 can of frozen limeade concentrate
Dozen strawberries
8 basil leaves
2 to 2 ½ cups tequila (gold or silver)
Preparation:
Empty limeade concentrate into a pitcher and add 2 ½ cans of water and 1 ½ cans of tequila (more or less tequila to taste). Hull and slice the strawberries and add to the pitcher. Then, crumple the basil and add it to the pitcher as well. Chill overnight, or at least 4 hours.
Via The Kitchn
Lemon Drop
Ingredients:
Fine sugar, for rimming the glass
1 thin lemon wedge
1 ½ ounces vodka
½ ounce freshly squeezed lemon juice
½ ounce of Simple Syrup
Ice
Lemon twist for garnish
Preparation:
Chill cocktail glass in freezer until ready to serve. Rub rim of glass with lemon wedge then roll in fine sugar to coat the rim. Place the vodka, lemon juice and simple syrup in a cocktail shaker and fill halfway with ice. Shake vigorously until the outside of the shaker is frosted. Strain into the sugar-rimmed glass and garnish with a lemon twist.
Via Chow
Green Tea Mojito
Ingredients:
1 tablespoon of fresh lime juice
4 large mint leaves
2 tsp. sugar
Approx. ½ cup of brewed green tea, chilled
1 ounce white rum
Preparation:
Muddle the lime juice, mint, and sugar together in a tall glass until the mint leaves are bruised lightly. Add ice until the glass is ¾ full and then pour in rum and green tea. Stir thoroughly. Makes 1 mojito. To make a pitcher: Multiply the ingredients by number of guests or servings then follow directions above. Refrigerate until ready to serve.
Via The Kitchn
Curious about green tea and its health benefits? Click here for more details!
Sparkling Strawberry Cocktail
Ingredients:
 2 cups of hulled strawberries
2 TBSP water
¼ cup orange juice
1 bottle chilled Prosecco or other dry sparkling wine
1 orange, sliced into rounds
Mint sprigs for garnish
Preparation:
In a blender, puree 2 cups hulled strawberries and 2 tablespoons water until smooth. In a pitcher, combine strawberry puree, bottle of Prosecco or other wine (chilled) and 1 orange sliced into rounds. Stir gently and serve garnished with mint sprigs.
Via Martha Stewart
White Sangria
Ingredients:
½ cup peach schnapps
½ cup cognac
¼ cup white sugar
4 oranges, sliced into rounds
2 green apples cut into cubes
2 mangos, peeled and sliced
4 bottles of dry white wine, chilled
1 liter ginger ale, chilled
Preparation:
In a pitcher, combine the peach schnapps, cognac, sugar, sliced oranges and sliced mangos. Chill for at least an hour. Add white wine and ginger ale to the mixture right before serving.
Via Punchbowl
Blueberry Rum Smash
Ingredients:
Fresh (or frozen) blueberries
1 TBSP brown sugar
¾ ounce fresh squeezed lemon juice
2 ounces rum
Ginger ale
Preparation:
Cover the bottom of an old-fashioned glass or mason jar with blueberries. Add the brown sugar and lemon juice and muddle until the sugar is melted. The idea is to break the skins of the blueberries, but not to mash them into a pulp. Fill the glass with crushed ice, and then add the rum. Top with ginger ale and stir.
Via The Kitchen
Lambic Sangria
Ingredients:
1 bottle of Framboise lambic, chilled
1 bottles of white ale, chilled
6 ounces of Lillet Blanc, chilled
6 ounces of raspberries (about 1 cup)
½ medium orange, thinly sliced
Ice
Preparation:
Combine all measured ingredients in a large pitcher. Stir until evenly mixed and then serve over ice.
Via Chow
Mint Julep
Ingredients:
3 sprigs fresh mint
2 oz bourbon
1/2 oz simple syrup
Crushed ice
Preparation:
In a julep cup or highball glass, muddle 2 sprigs of mint with the simple syrup. Fill the cup ¾ full with crushed ice. Add bourbon and stir. Fill remaining glass with crushed ice and sprig of mint.
Bonus: Many recipes call for simple syrup and it's very easy to make yourself!
Simple Syrup
Ingredients:
2 cups sugar
2 cups water
Preparation:
In a saucepan, boil sugar and water over medium-high heat until sugar has dissolved. Remove from heat, and let cool completely before using.  You can store refrigerated up to 2 months.
Via Martha Stewart