I was so excited to finally have a date night with Scott at Silver Spring House. I have been here a couple of times with a girlfriend, when she visits from California, she has to come to eat here. The Silver Spring House was a family favorite for her when they lived in Cincinnati, and I knew Scott would love it!
As soon as you pull into the parking lot, you feel like you're on vacation. The restaurant looks like a beach house. They have adirondack chairs out front —  a nice place to enjoy a beverage. They even have palm trees around the sign.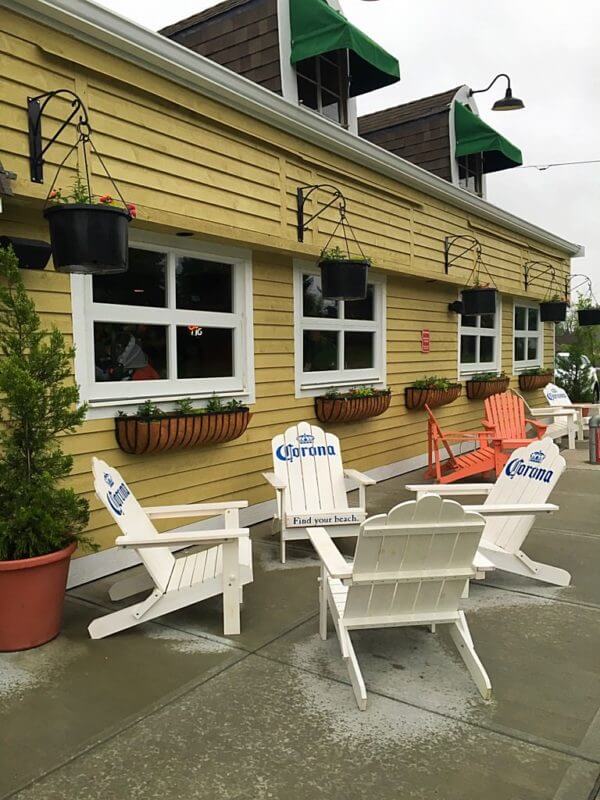 Inside and outside they offer open-air bar seating. They also have a private party room! The inside walls are decorated with pictures of people who have dined at the restaurant –. I love looking at pictures! I think that it makes the décor fun and interesting.
We chose to sit outside.  There are two bars outside and TVs everywhere!  You get free popcorn and peanuts (you can throw the peanuts on the floor). We were promptly seated. Since we already felt like we were on Vacation, we ordered summer drinks!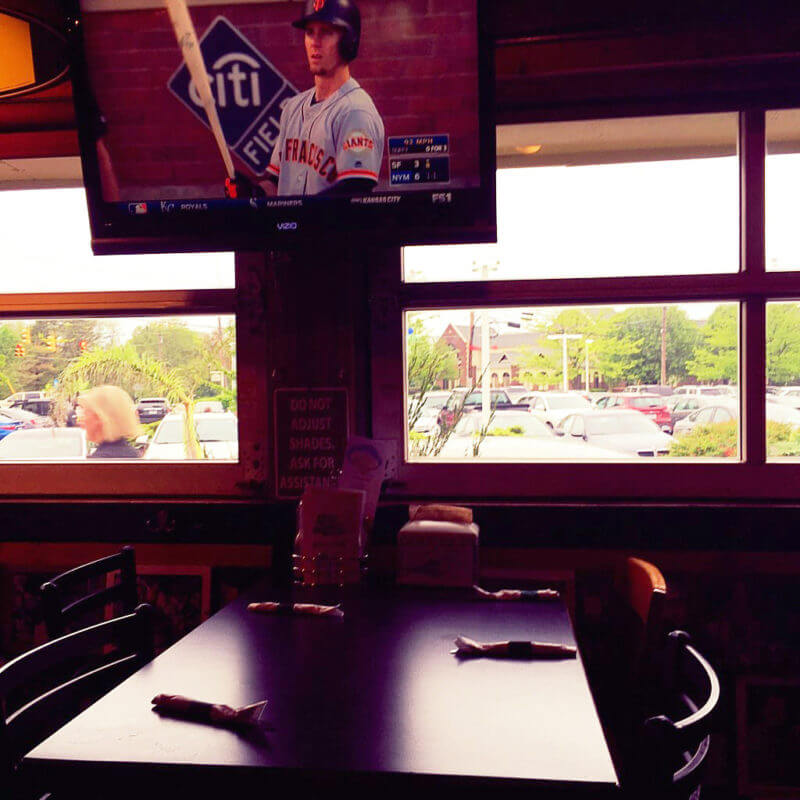 I had a frozen strawberry daiquiri and Scott had a Blue Moon with an orange twist!  For our appetizer, we ordered the Spicy Shrimp cocktail.  It did not disappoint!  It has 6 HUGE jumbo shrimp served with fresh horseradish cocktail sauce. We were in Heaven!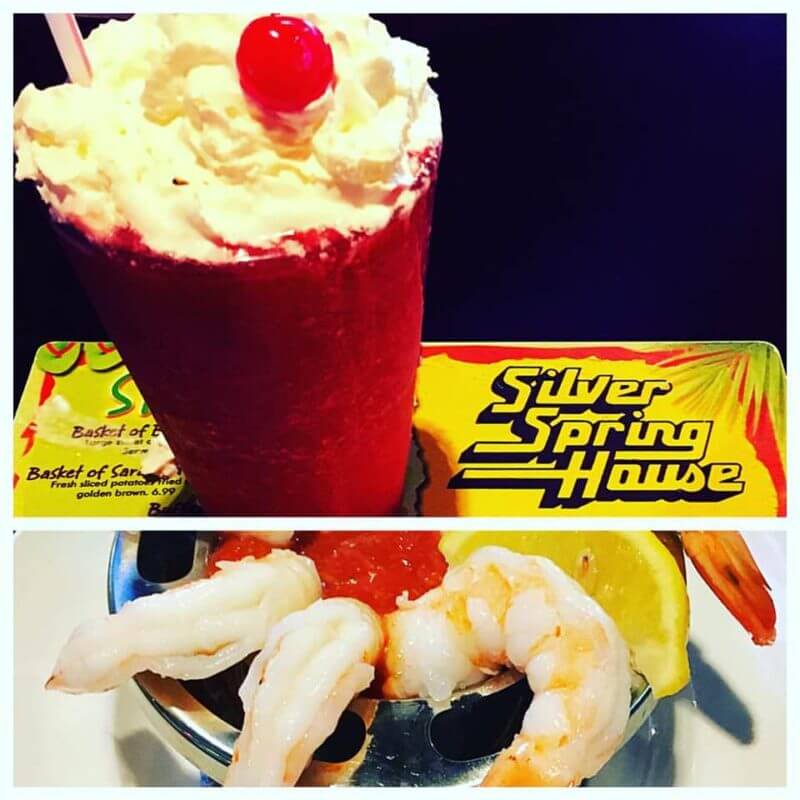 The Silver Spring House aka "The Chicken Joint" is known for its Tender, free-range chicken marinated in in their famous citrus marinade and spices (grilled to perfection)! Scott chose the Quarter Chicken White Meat with a Salad and Mashed Potatoes.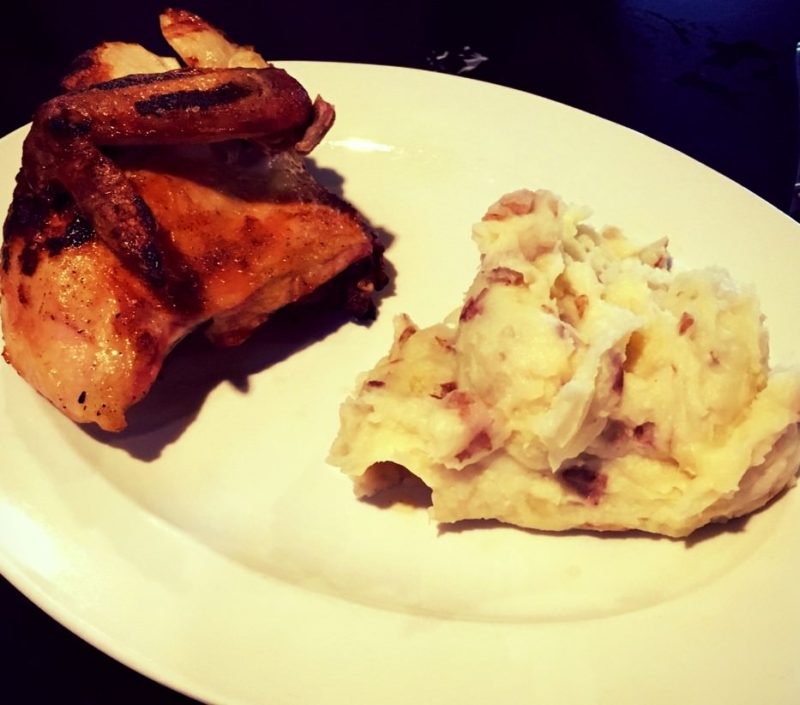 I love chicken wraps and black beans, and our server recommended the Roadhouse Burrito — Spring House chicken, cheddar cheese, onions, tomatoes, wrapped in a flour tortilla, topped with lettuce, sour cream, salsa and black olives. It was served with blue corn tortilla chips and garnished with their very popular fresh black bean salad.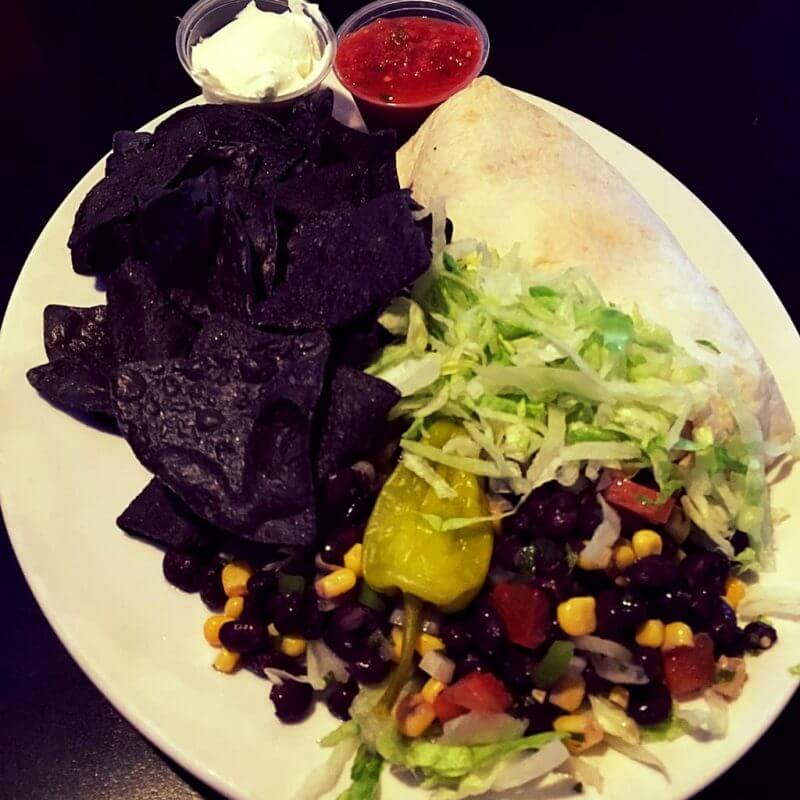 We were both so pleased with our selections. The food was amazing and the service was great! They bring little pitchers of what you are drinking, which I loved! The atmosphere is fun and relaxing. This was by far one of our favorite places we have been in a long time for a date. As I anticipated, Scott loved it!  I'd give it a $$$ price rating and ♥♥♥ hearts for romance. This will be our new date night "go to" spot for sure. Located in Symmes Township, it is close to home for us. If you haven't tried it, you are missing out!