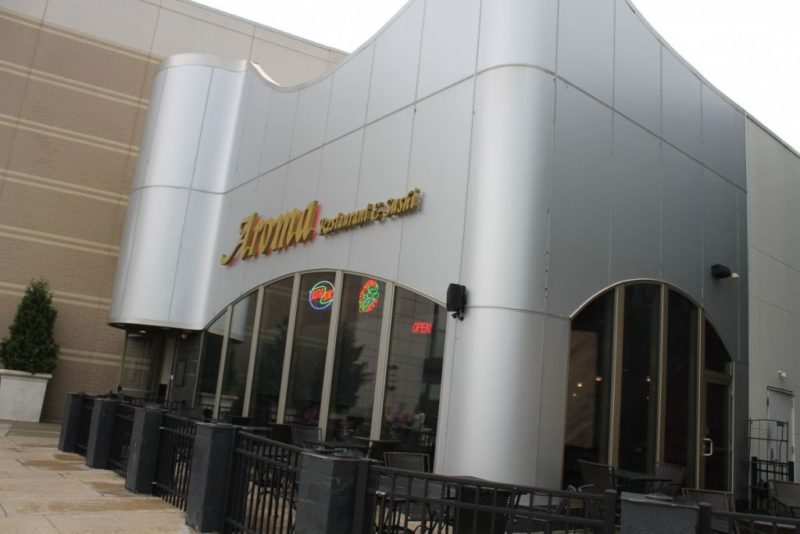 We had a rare Sunday afternoon to ourselves a few weeks back since the munchkins were with my parents, so we headed to Kenwood for an early dinner & a little shopping.  I convinced my husband to visit Aroma Restaurant & Sushi with me despite the fact that he's just not a fan of sushi.  We both left full and happy after a dinner full of trying new foods and lengthy conversations with no interruptions from our children.  Although I will admit, he never did try any sushi despite my best efforts.  He doesn't know what he's missing, but apparently he loved his dinner as much as I loved my sushi!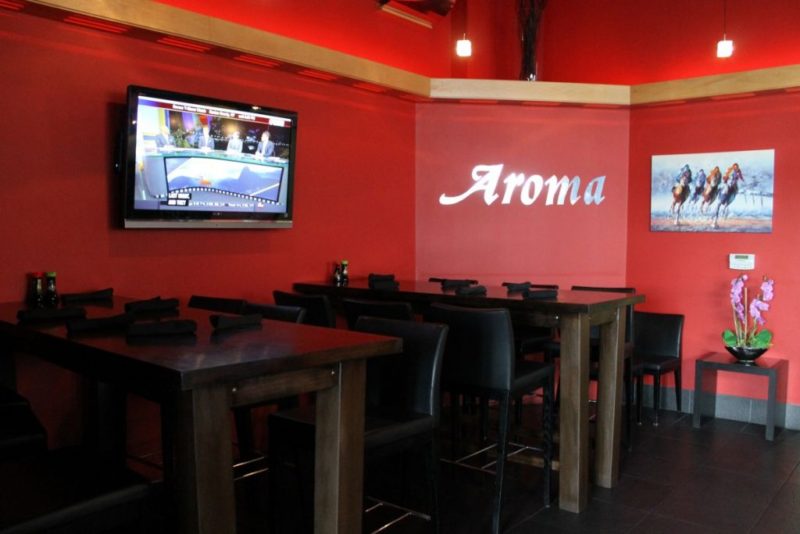 Aroma is located at the Kenwood Towne Center next to Nordstrom.  They have both indoor and outdoor dining, and they have a HUGE selection of sushi rolls to choose from.  We started with Gyoza (pot stickers) and a couple of adult beverages.  He had a craft beer and I had a cocktail. We were both impressed by the beer selection.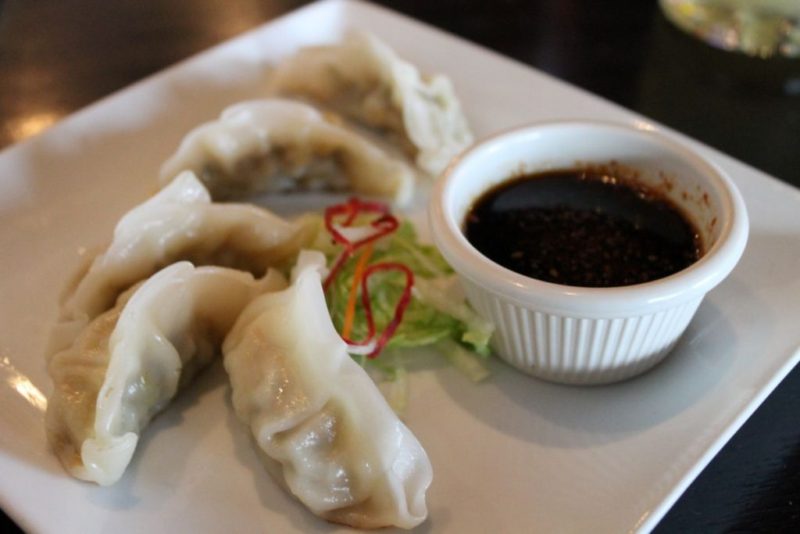 We sat and chatted with one eye on the World Cup final that was going on.  I liked that we could keep up with the game, but the volume very low so we could still hear each other talking and listen to the cool jams playing in the background.  I loved the casual atmosphere at Aroma, and their music selection was right up our alley with songs by bands like Vampire Weekend and The White Stripes.  So as I said, we were able to have a nice quiet conversation while enjoying our appetizer and beverages.  Our server was one of those pros who always seems to know right when to stop by the table.  She was always there when we needed her, but not so much so, that she was intruding on our conversations.  After lingering over our appetizer, we spent a good while going over their menu.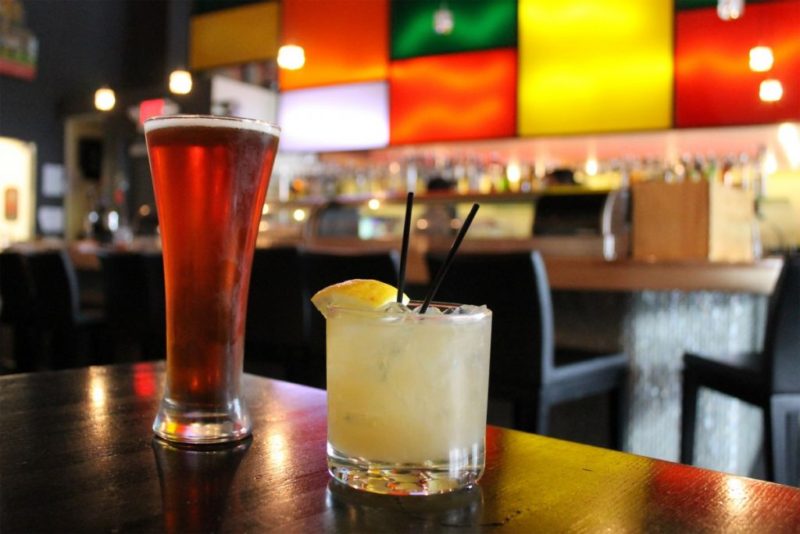 For dinner I decided to have sushi.  There's something for everyone on their list of sushi rolls, or you can design your own.  While I enjoy sushi when it's given to me at parties or by friends, I'm a sushi-rookie.  I don't know much about the different sorts of rolls there are out there, and I can be a bit picky sometimes.  Thankfully, we had a very helpful server who guided me toward the perfect sushi rolls.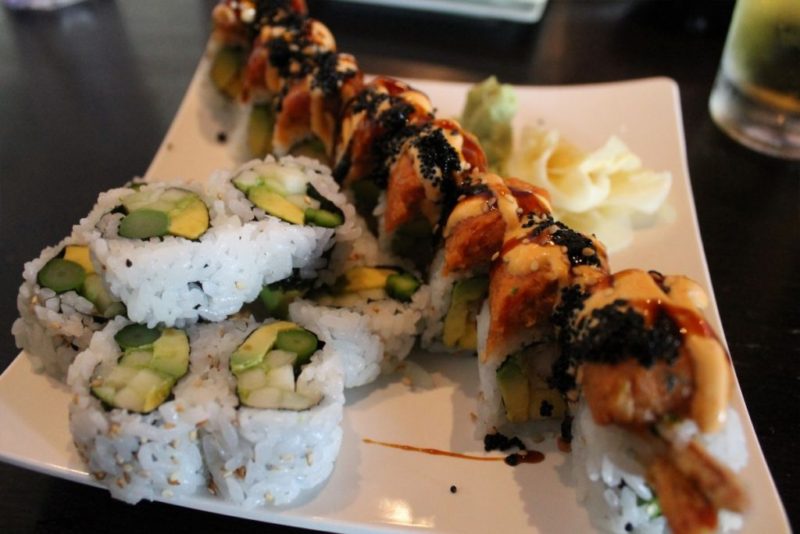 I tried an Avocado + Asparagus + Cucumber roll and the Cincinnati Roll, which had Shrimp Tempura, Avocado, and Mango on the inside and is topped with spicy Salmon, Black Tobikko, spicy Mayo and Eel Sauce.   They were both so tasty, the Cincinnati Special had a bit of a kick, so the AAC Roll was a nice mild accompaniment for it.  One of my favorite things about this restaurant was that the sushi chef made my rolls right there behind the bar in the dining room, so I could watch him prepare my meal.
Even though the menu had fewer non-sushi menu choices compared to the huge list of sushi rolls, Michael still seemed to go back and forth while making his decision.  And I understand why… the choices all sounded really tempting.  He decided on the Jalapeno Chicken, and he thought it was great.  I tried a few bites and agreed.  And his portion was so generous that he had enough left over for lunch the next day!   Aroma uses fresh ingredients, and you can tell that they take pride in what they create for your dining experience, because the food was just really well done.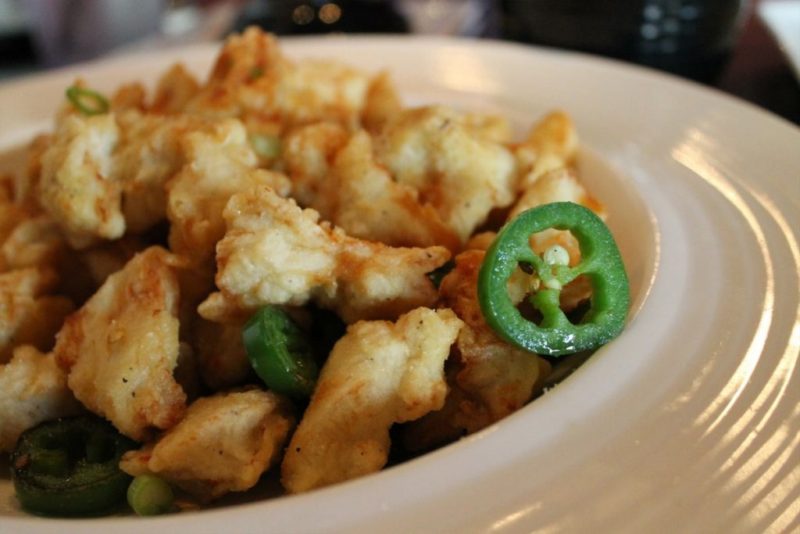 Since it was an early dinner, the restaurant was not very full when we arrived, but while we dined it started filling up.  Despite the more modern music selections, and the fact that the World Cup was going on and many of the tables were full you didn't feel like you were in a crowded noisy restaurant.  It was still a nice quiet intimate dinner without our munchkins.  And to top it all off, all of their sushi rolls are half price ALL the time!  So combine the half price sushi with a deal from eReach Cincinnati and you'd have a very reasonably priced date night dinner.  What I really loved about Aroma was having a fancy date night dinner in a casual atmosphere.  And it also didn't hurt that they are located at my favorite shopping location.