Sometimes it's hard to decide on a date night activity. Drinks and appetizers? Dinner and dessert? Or maybe an activity…bowling? Don't sweat it, because at Axis Alley in Newport on the Levee you can do all of the above!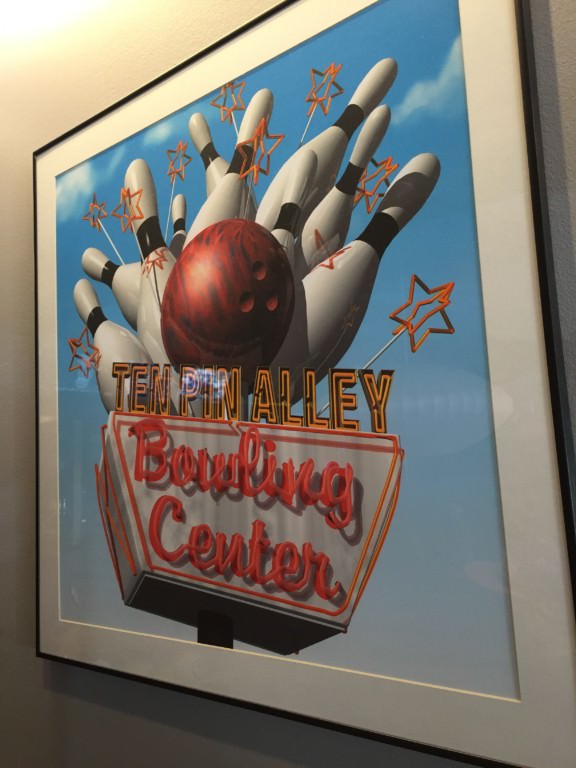 We were invited to check out Axis Alley and jumped at the chance to spend a night bowling and enjoying ourselves at this swanky bowling alley and restaurant. In the interest of full disclosure, I should mention this: I stink at bowling. Like badly. I mean, B.A.D. Think gutter balls every other ball with the slight chance of lane switching. That being said, I'm always up for an embarrassing bowling session so off we went to check things out.
::Date Night Idea:: Looking for a great spot for a first date? This should be your go-to place. It's bright, comfortable and perfect for meeting someone new. Have a drink at the bar, and if things go well, take it to a table for dinner or appetizers. Still having a great time? Head in to bowl a game or two. It takes the pressure off, and allows you the freedom to keep the date as short — or as long — as you want it to be!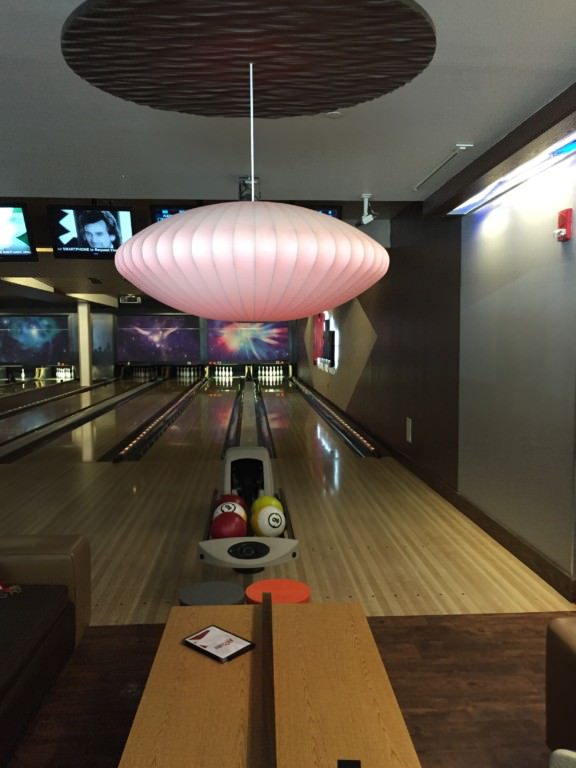 We enjoyed a drink while we waited for our appetizers – Nachos and Kicking Chili Fries – and got ready to hit the lanes. This isn't your typical bowling alley, instead of chairs or benches there are comfy couches at each of the lanes, and low top tables for your drinks and tasty bites. The lanes are lit with neon and have screens at the end that play both sports and music videos. Another disclosure: I could have sat and just watched music videos all night. The 80's were jammin' on the television the whole time and I got my fill of Lionel Ritchie, Steve Perry, Prince and so many more. If you download the Axis Alley app you can even request your favorites — heaven!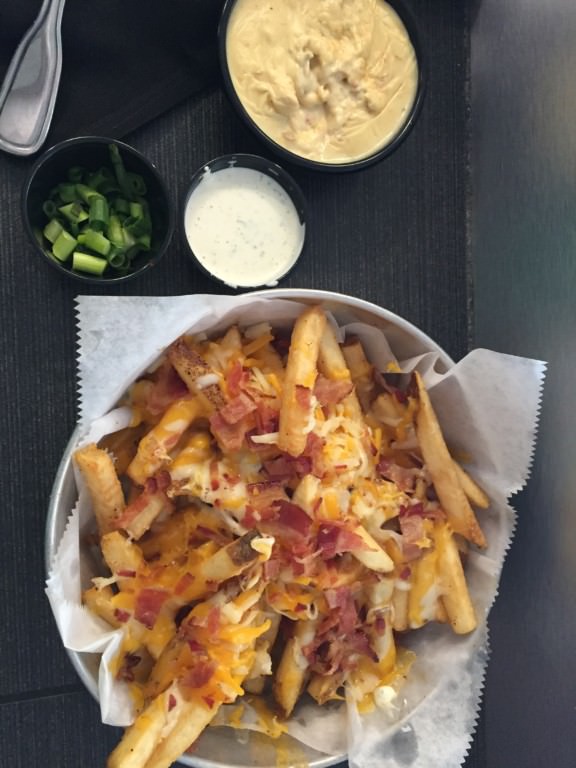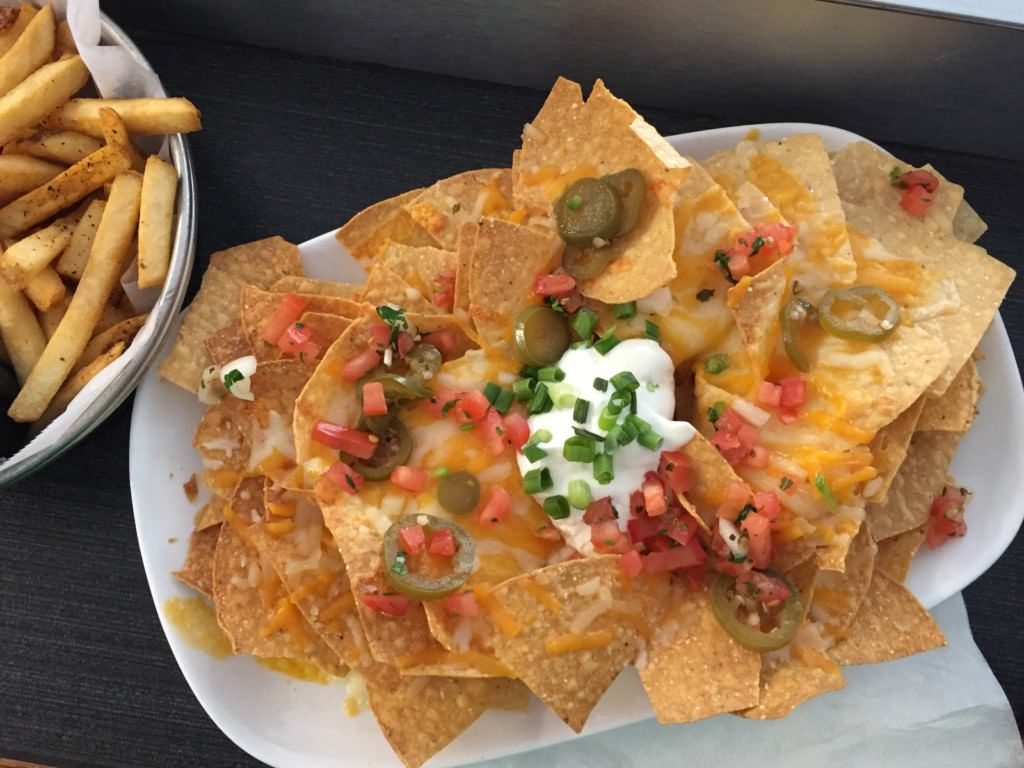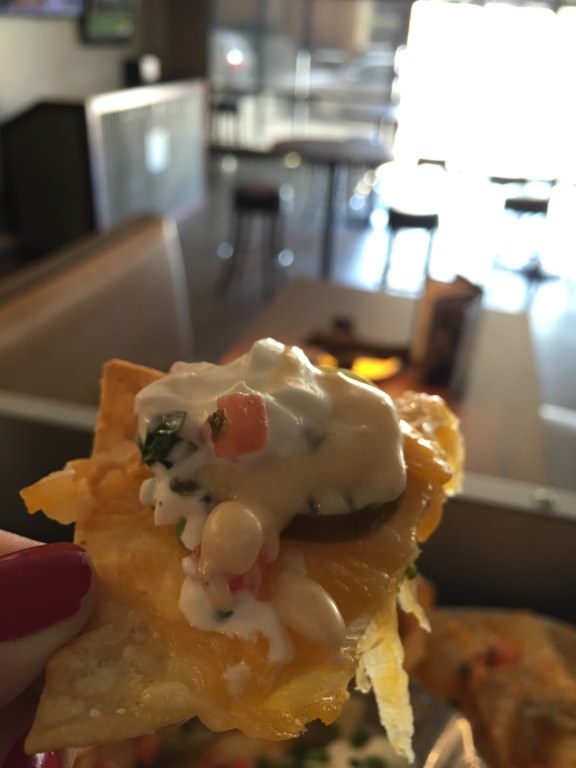 Our appetizers arrived and they were delicious. The nachos were awesome, the pepper jack fondue was rich and spicy, just perfection. The fries were crispy, the toppings plentiful. We dug in and ordered our main course – the Mushroom Swiss Burger and Tenders and Fries, and because we couldn't decide, a pizza as well.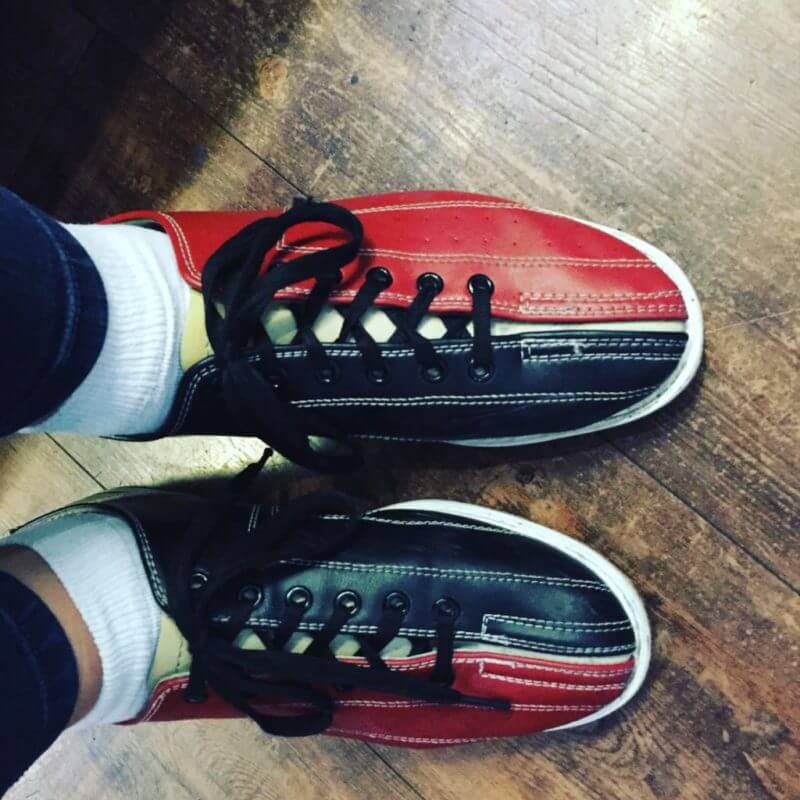 Let me interrupt this date to remind you how bad I am at bowling. Horrid. Well – not this night! I totally owned those lanes! I was bowling strikes left and right. Now, I know it will never happen again, but I had a great time flaunting my newfound bowling prowess in my husband's face…in a perfectly good-natured way, of course. We joked and laughed and had a fantastic time. I don't know what it was – the shoes, the lanes or I just had a lucky night – but I think Axis Alley is my lucky charm.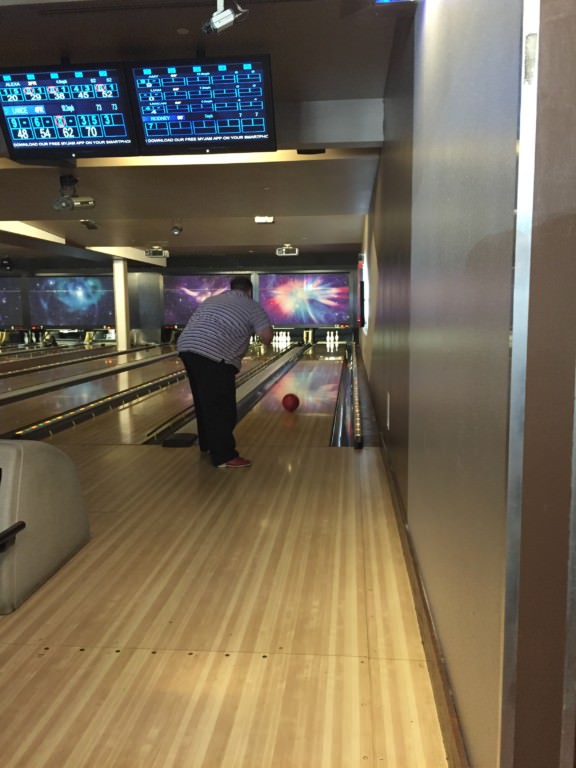 Our entrées arrived between games – perfect timing, and oh so tasty!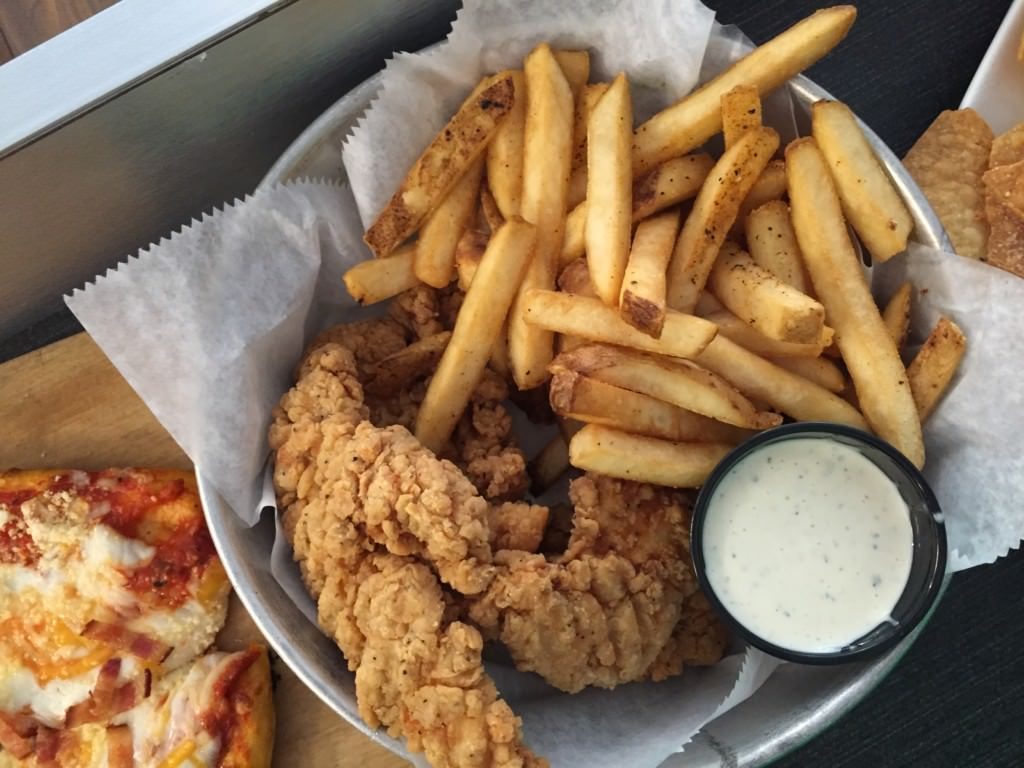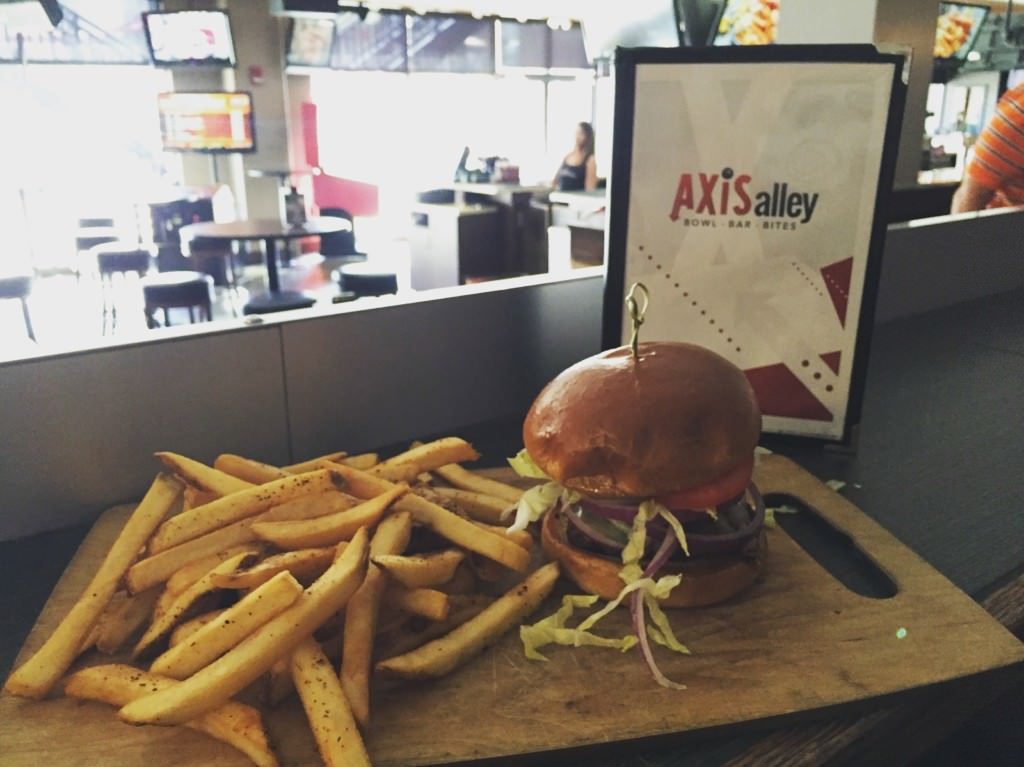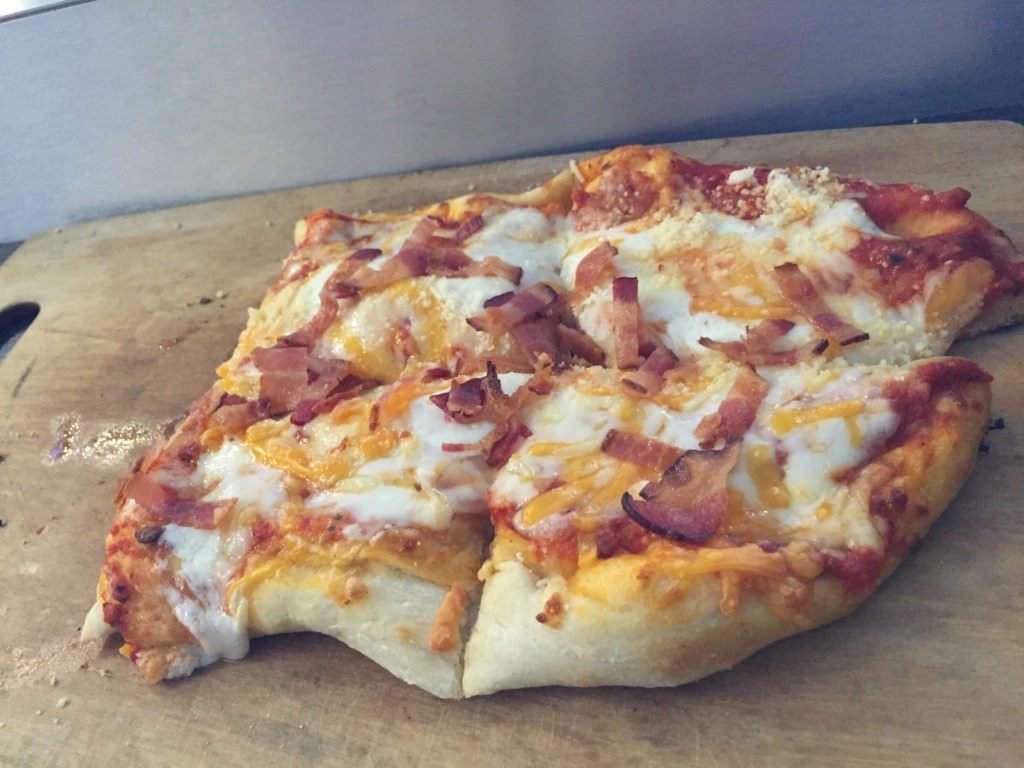 I can't say, which was my favorite, because they were all so very good, but I may have leaned a little toward the pizza. Delicious!
We enjoyed our dinner, finished a few frames of bowling (spoiler: I won!), and truly enjoyed our evening. We highly recommend Axis Alley as a date night destination. Beautiful and comfortable surroundings, fun atmosphere, great food – perfect for a quality date night!
Axis Alley is located at Newport on the Levee, on the lower street level — entrance from the side next to Redondo Taqueria. Like any bowling alley, make sure you take socks! They constantly run specials, so check out their website before you go. We give Axis Alley two ❤️❤️ for romance and a $$ to $$$ price range.