As avid movie goers, my boyfriend and I love going to theaters. After all, a dinner and a movie is one of the most iconic classic date night ideas and is perfect for all the summer blockbusters coming out this year. We were thrilled when we heard about the new movie theater, RJ Cinema, opening in Eastgate and couldn't wait to check it out. However, this cinema isn't your average movie theater.
Cinema Distillery and Taproom offers its guests the ability to order food during, before, and after the film. Currently their menu is very limited but will expand on their Grand Opening on July 15th. Movie goers can also enjoy locally sourced craft beers and premium crafted spirits anytime. With distillation lessons coming soon, RJ Cinema is the place to be for a casual hangout with friends or a fun and different take on date night!
As my boyfriend and I entered the building we both marveled at the décor and interior design. Much like Robert James Distillery, the cinema has a rustic chic look with the wood paneling along the walls and lots of barrels as decoration.  At first glance you would have thought this was a new restaurant in town due to all the seating available. There's a welcoming atmosphere encouraging patrons to relax either at the bar for a drink and a bite to eat or to catch the game on one of the many televisions. It's like a movie theater and gastropub rolled into one!
We saw Spider-Man Away From Home (which is a fantastic movie) and had a wonderful experience while watching the film. For a listing of what is currently showing, click here. There is plenty of seating with comfortable chairs perfect for your viewing pleasure. They are paired together with a small table connected to the seats in between for snacks and drinks. Menus are available at the concession stand so be sure to grab one before entering the theater.
After the film we grabbed a bite to eat. I ordered the street tacos and my boyfriend got chicken tenders with fries and the pretzel sticks from the "Opening Act" menu. The best part about the kitchen is that all the food is scratch made using the best ingredients available.  I cannot wait to see their expanded menu. This time around we didn't order anything on tap or cocktails, but I am eager to come back just to give their selection a taste.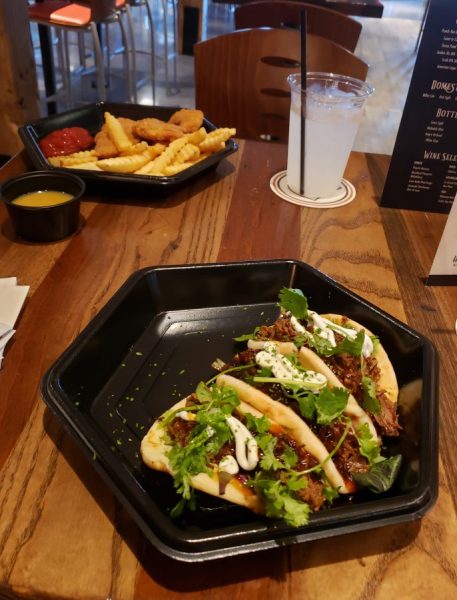 RJ Cinema Distillery and Taproom truly is a unique take on going to the movies because it is so much more than that. There's something for everyone to enjoy from the delicious food, craft beer, spirits at the bar and taproom to current box office hits. The friendly staff makes you want to keep coming back and I absolutely plan on returning. If you and your significant other are looking for what to do for your next date night, I highly recommend giving this theater a visit. Tuesdays are their date night special with tickets only $6.00 all day and is the perfect opportunity to experience this concept yourself!