There's something to be said for playing tourist in your own town, even when you've lived in that town your entire life. Recently, my husband and I were given the opportunity to explore MainStrasse Village in Covington, but this wasn't just any old walking tour – oh no. This tour was a culinary stroll through the charming village of MainStrasse, as well as through history.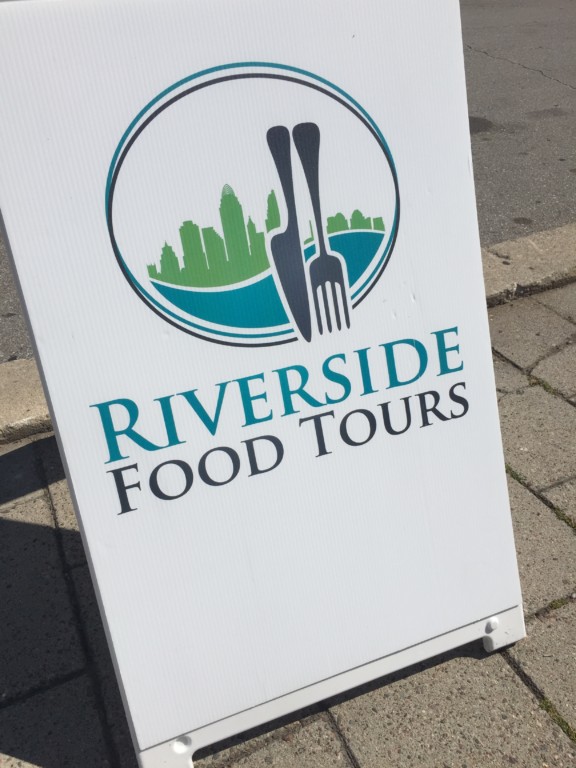 Riverside Food Tours is the brainchild of Laura and Mike Noyes who, after traveling to Newport, Rhode Island and checking out their very first food tour, were inspired to bring the experience of a food tour to the Cincinnati area. They got started by visiting Chicago to take a course and learn the ropes of the food tour industry, then returned home and sought out an area to start a food tour of their own. Lucky for us, they decided on MainStrasse Village in Covington, and Riverside Food Tours was born!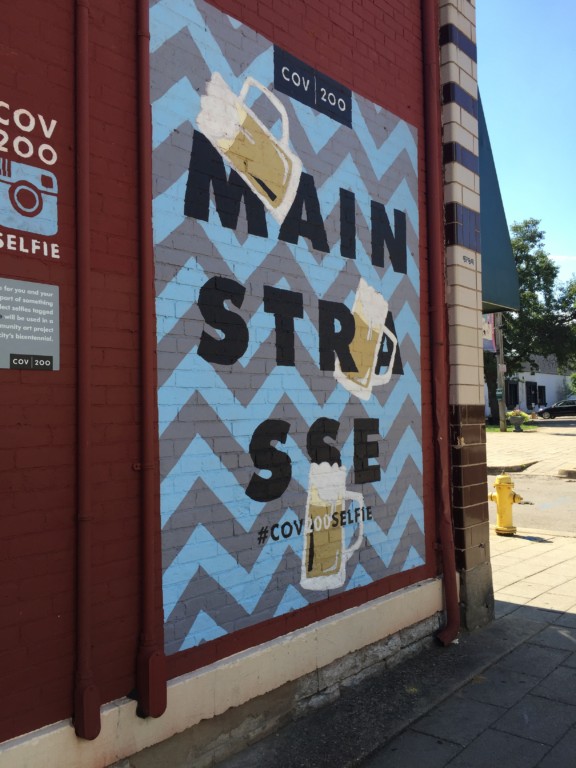 The tour starts on the 6th Street promenade in Covington, conveniently near an easy access and affordable parking lot ($2 for the day!)  We luckily had a gorgeous Saturday with blue skies and big fluffy clouds on which to explore the village and its culinary delights. Let me first say – I've lived in this area all my life, was born at the old St. Elizabeth Hospital just blocks south, and have explored MainStrasse on many a Maifest and Oktoberfest weekend. But not like this.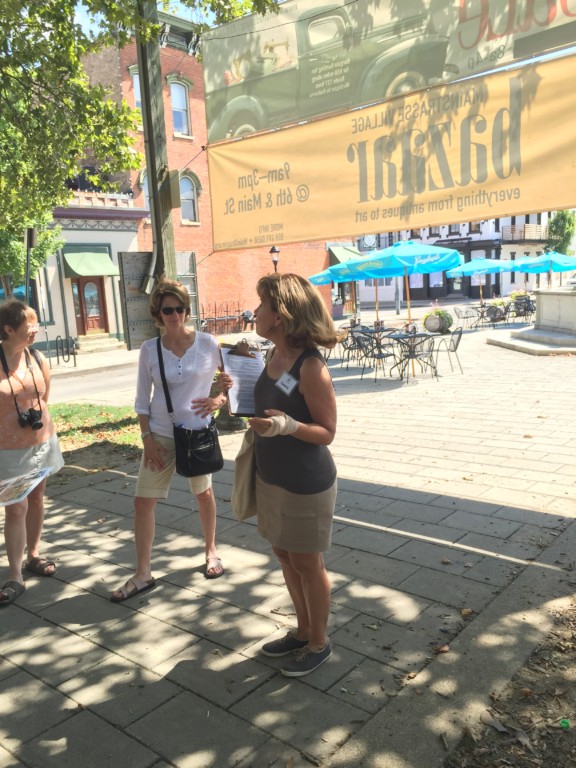 Laura and Mike met our tour group on the promenade, introduced themselves and had the group share our names and where we were visiting from. One or two of the folks were local couples like my husband and I, but there were a couple or two from out of town as well. After introductions, we ventured on towards our first destination — the Cock and Bull Public House. As we walked, Laura gave us some info on the little village we were exploring. I was surprised to learn some of the history behind the village and the buildings we were visiting – for instance, the Cock and Bull was once a Kroger store, the very first, as a matter of fact!  We arrived at the restaurant and sat down to enjoy our first tasting, a nod to the area's German heritage – Bell's Brewery Oberon Ale and Servatii Pretzel with Beer Cheese.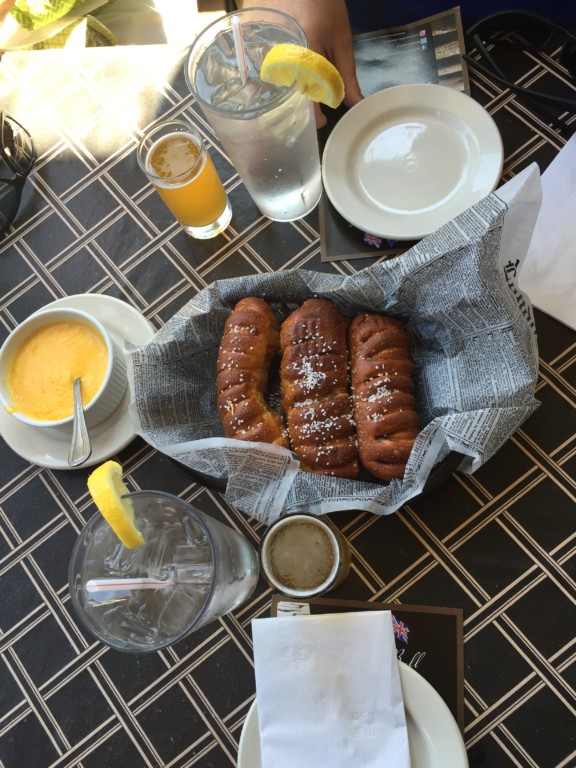 I would have been happy to sit and chat at the Cock and Bull, the building is beautiful, the ale and food was delicious. I don't entirely know what they do to those pretzels, but it's pretty amazing. And don't get me started on the beer cheese! Before we knew it, it was time to get moving on to our next tasty destination – with a little more history from Laura on the way.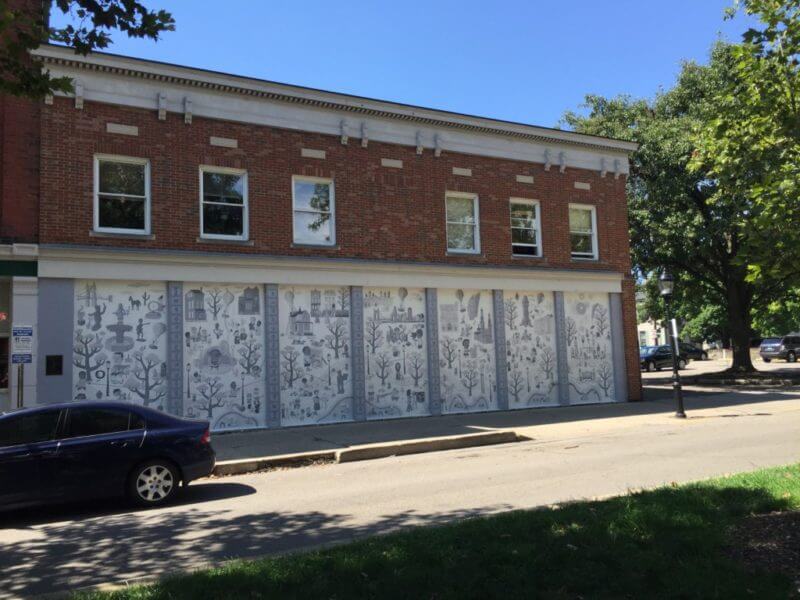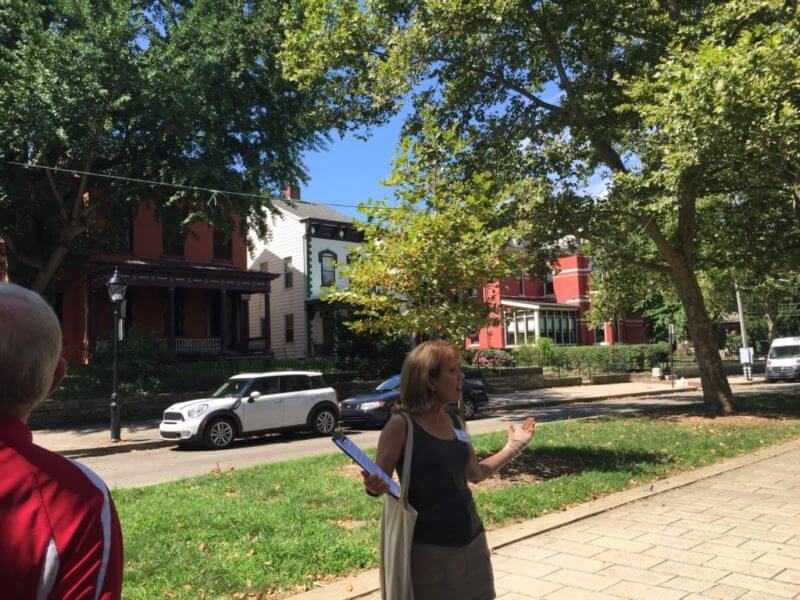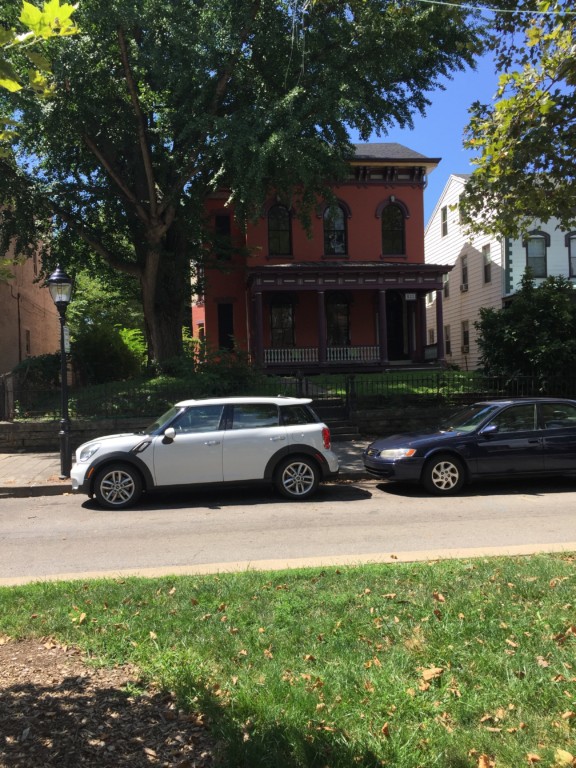 I won't share all of the fascinating history of the buildings, people who lived in them and the legacy they all left behind, but if you're a history buff this is definitely a tour you'll want to book. What a fun way to explore local history!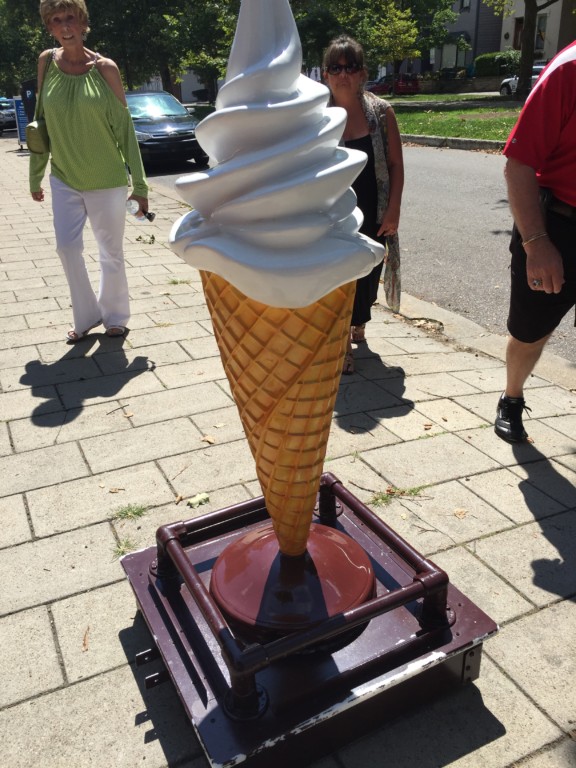 Insider's Tip: Let me just put this out here right now – DO NOT eat before your tour. I skipped breakfast, and I'm so glad I did. There's no way I could have tasted my way through everything if I hadn't! I'm not saying you should skip the most important meal of the day, but definitely keep it super light — you'll want to save room for the good stuff!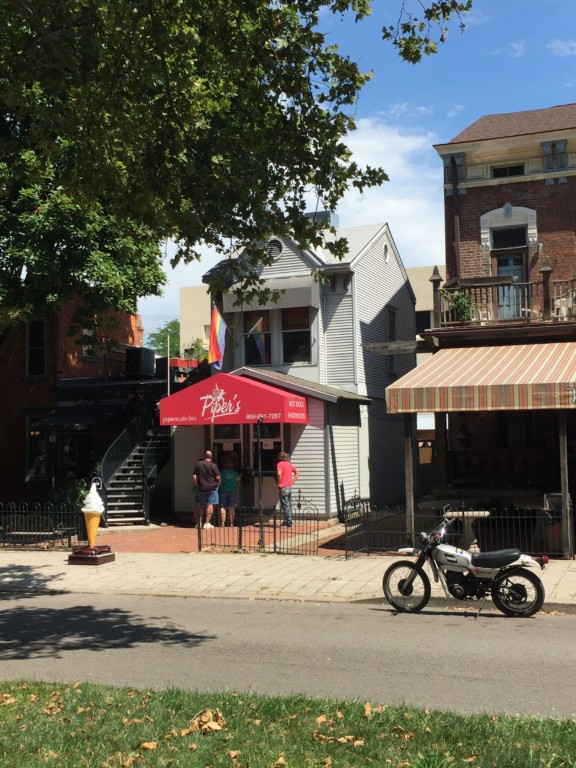 Speaking of good stuff, there was more coming up for us at Piper's Cafe. Holy moly. Again — I would have been happy to stop here and enjoy every single flavor of soft serve ice cream that Piper's offers – and there are a LOT of flavors. 63 to be exact. And it's lactose free! But wait – I am getting ahead of myself. First we got to enjoy the most delicious chili dog I've had in a long while. Now, this isn't Cincinnati style chili – in fact, it was Goetta Chili. And (big confession — I can hear the groans from all over the city) I don't even LIKE goetta! It's true! But that dog was a delight from the first bite to the last. We washed them down with a SodaStream ginger ale before moving on to that delicious and lactose-free soft serve. We were treated to the wild cherry flavor, but I absolutely cannot wait to go back and explore the other 62 flavors. Oh yes, it will happen. And there's also a great, shaded patio area where you can take your treats and enjoy people watching in the village — what a fun, lazy Sunday afternoon date idea!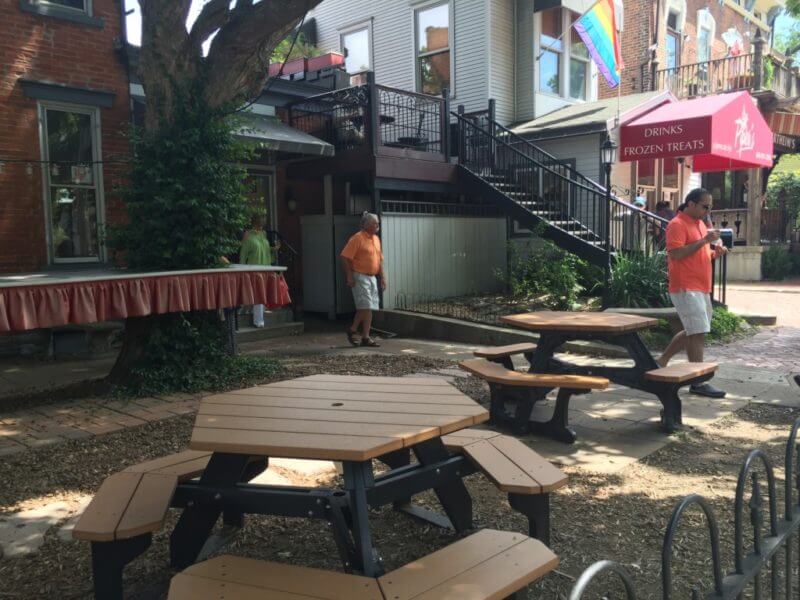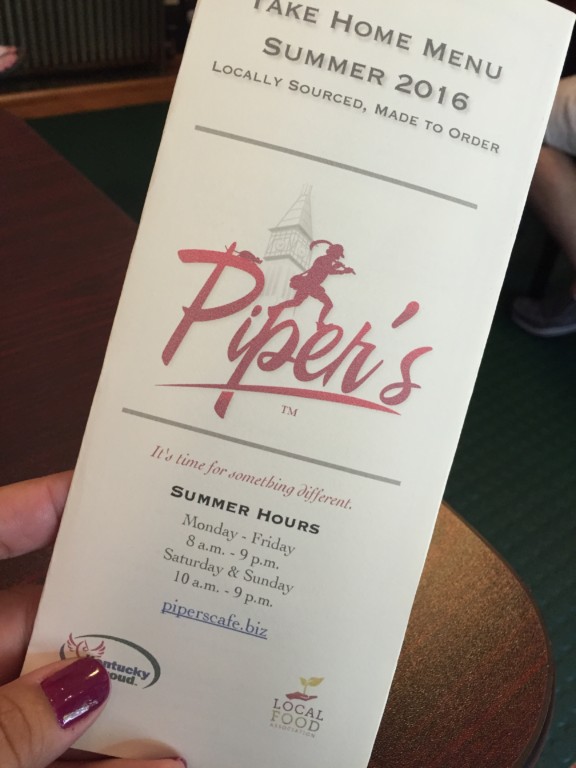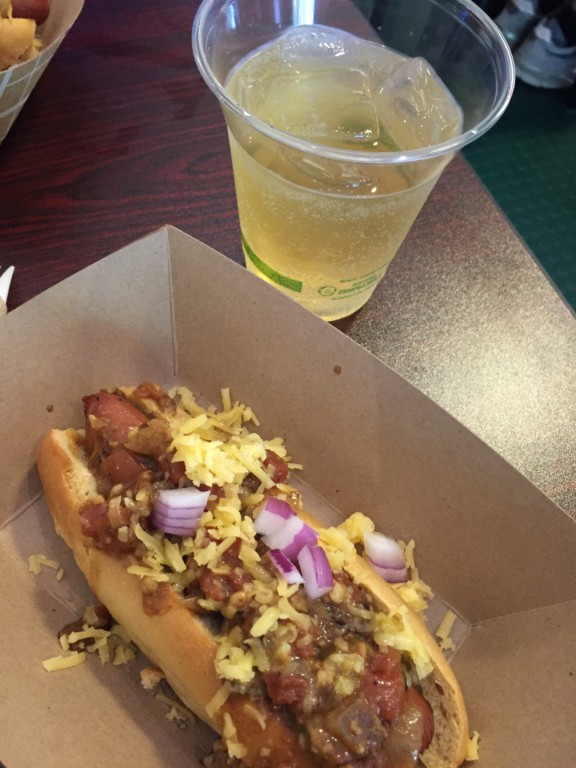 Insider's Tip:::: This is a great spot to take a date or a friend who has gluten tolerance issues as they offer gluten free bread options, on top of the lactose free ice cream, and are very careful of cross contamination. All of their ingredients – like most of the stops on our tour – are very careful to locally source their ingredients and create everything in-house, scratch-made, so it's fresh and they know exactly what is in each menu item.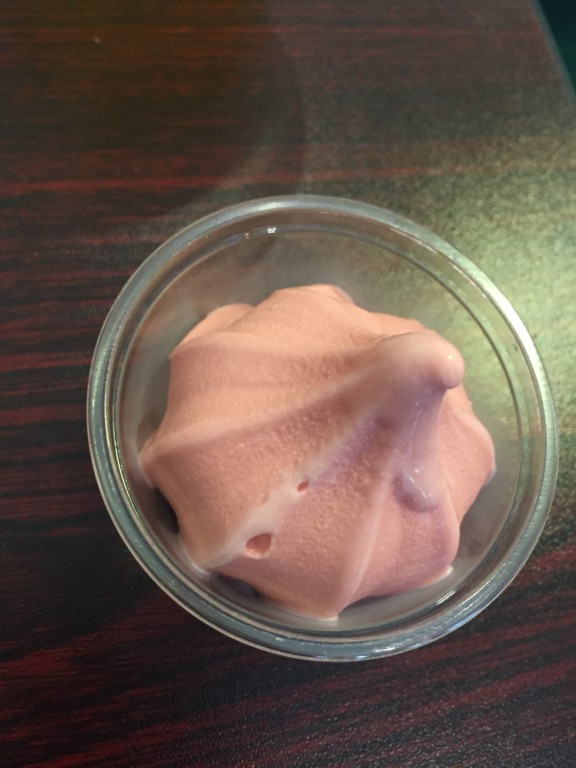 From Piper's, we made our way down to the big Mainstrasse clock tower at Goebel Park. You may have heard of the Goebel Goats — they did make a grand escape bid a few months ago — but we didn't get to see them on our visit. Instead, we got to check out the completely fun clock tower show happening at the Julian Carrol Clock Tower. Every hour, on the hour, you get to see a sweet little puppet show — The Pied Piper of Hamlin. The tower has a long and fascinating history…that I won't be sharing here, but believe me, you'll want to take the tour and hear the whole thing!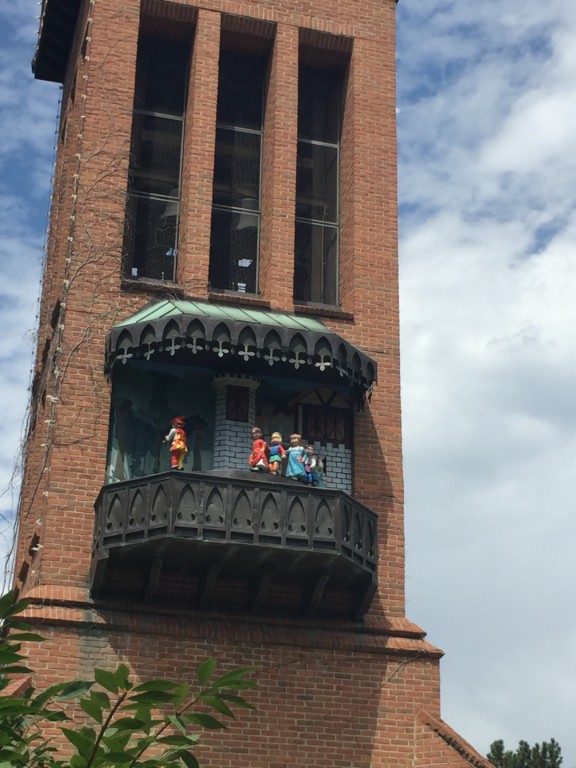 Insider's Tip: It was H.O.T. the day we toured. But it could have just as easily been super chilly or raining. Rain or shine this tour goes on, so please dress accordingly. I was fairly comfortable in a short sleeved shirt and light jeans with sandals. No need to dress up, you're touring and eating, after all and you'll definitely want comfortable walking shoes. I forgot my Fitbit that day, but the tour is an estimated 1.3 miles, so we definitely got some steps in! If it is raining the day of your tour, umbrellas are provided by Riverside Food Tours to keep you nice and dry.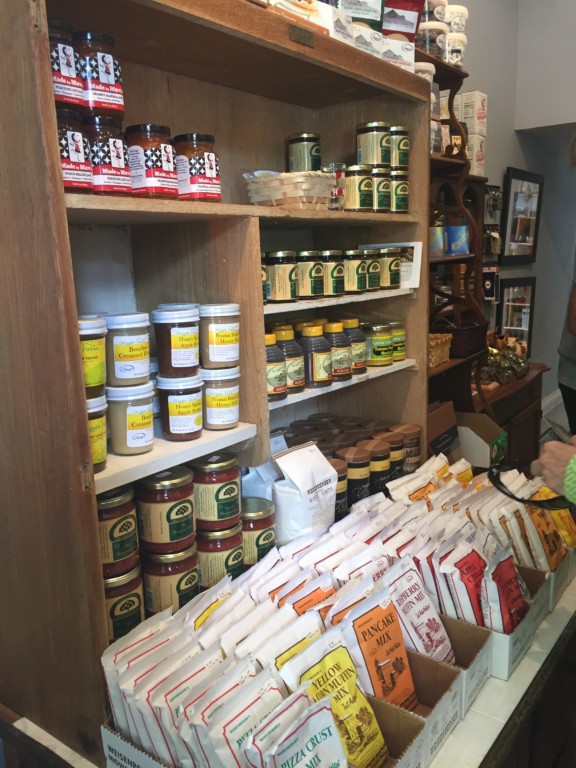 Our next stop took us down the promenade towards Main St. and Main Bite Restaurant. On our way, we stopped by Village Gifts for a moment to check out the adorable gifts inside. While we didn't stay, I spied some local products and lovely crafted items that I intend on gifting this holiday season, so I will definitely be heading back to further investigate.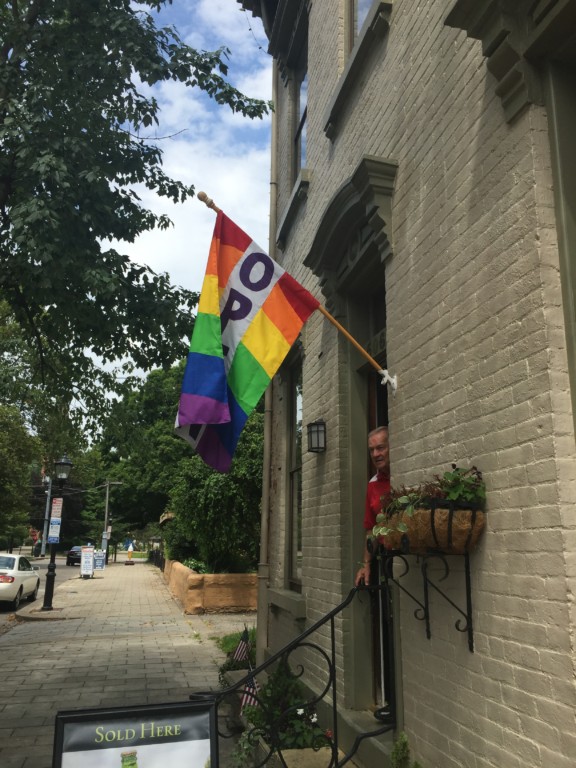 At the corner, as we waited for the light to change, I got a chance to really look around at all of the fantastic restaurants and businesses popping up in this small stretch of 6th and Main. Bouquet, Dee Felice, Otto's, Frida 602 (GREAT tacos!) and the all new Lisse opening in the old Chez Nora building — it really is a thriving and vibrant section of town! And the history! Just check out these photos — one from our tour and the other from years gone by — and you can see that although so very much has changed, it really has stayed the same, and I love that so many businesses have taken up the torch and instead of leveling this gorgeous section of the city, they've rebuilt it and reclaimed it for their very own, making it live again. Bravo MainStrasse business people!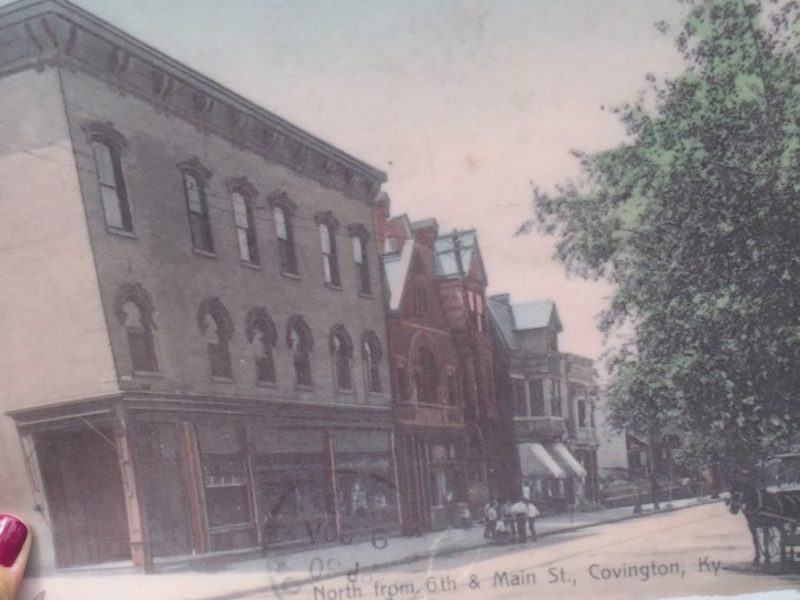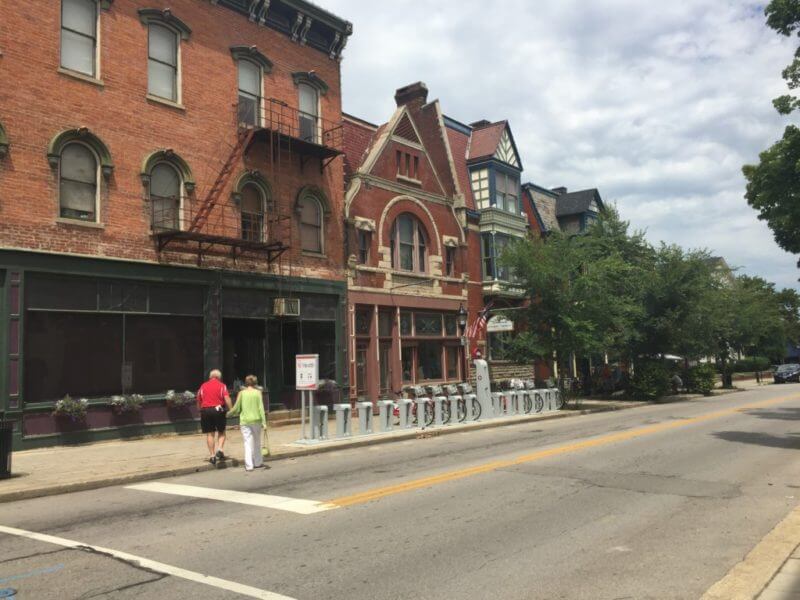 At Main Bite, we were treated to a delicious Thai Chicken Salad — so fresh and delicious. This sweet and cozy little restaurant has a side patio dining area and a variety of cozy indoor spots. Perfect for a romantic lunch or dinner.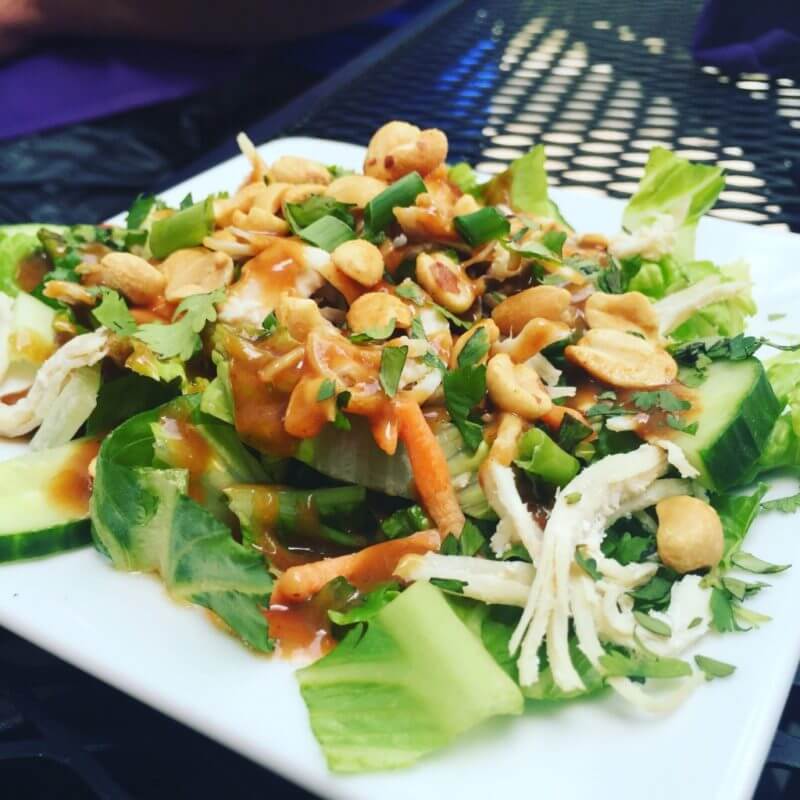 We finished up our salads and headed out once again to hear more history of the area, and to see the sights of the village — such as the overhead trains and church towers. Did I mention it was a gorgeous day? My husband and I both really enjoy history, and local history often gets overlooked. We truly savored every moment of the day, from the interesting tidbits shared with us by Laura, to the delicious food offerings, to really just enjoying the walk around town. It was a busy itinerary, but it was still leisurely enough that we never felt really rushed. Up next was Goodfella's for pizza and bourbon cocktails!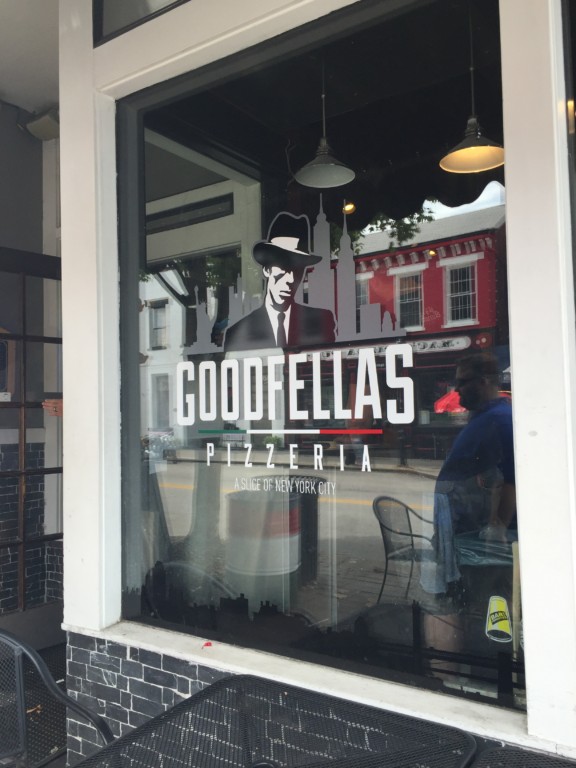 Goodfella's was not unknown to us, we had enjoyed their amazingly delicious pizza before, but we'd never been to Wiseguy Lounge, situated on the second floor of the Goodfella's Pizzeria in Covington.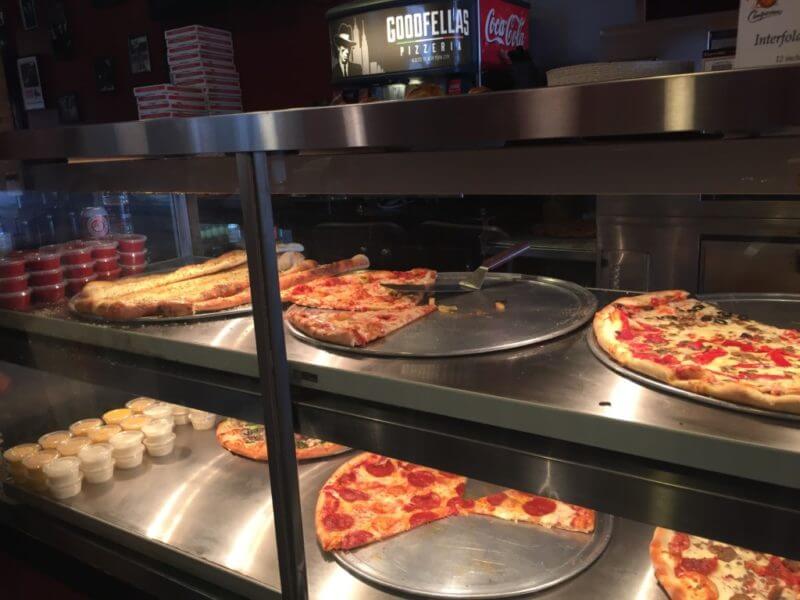 Insider's Tip: They sell pizza by the slice at Goodfella's, along with breadsticks that are, quite literally, as long as your arm. Treat yourself sometime – you won't regret it!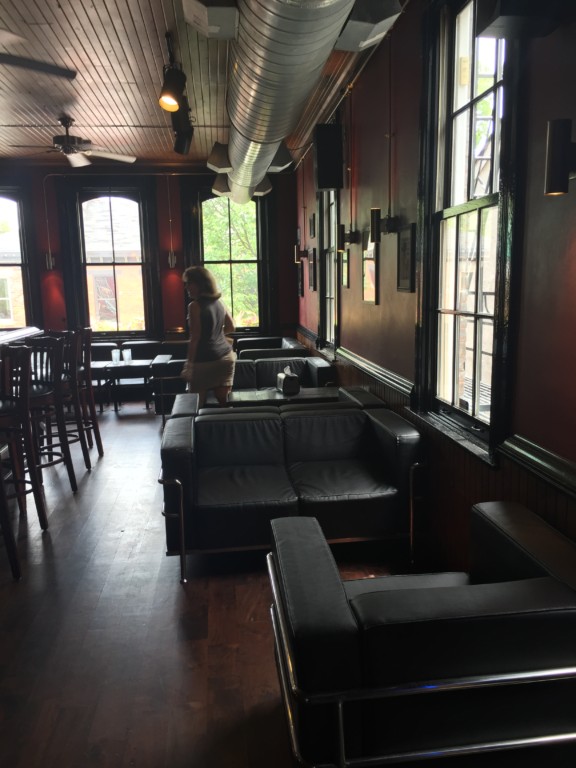 We ventured upstairs to Wiseguy Lounge, which was sublimely air conditioned and comfortable. Upon entering, you are instantly certain you're going to run into Frank Sinatra or another famous, and possibly mob-connected celebrity. It was nice to rest and take in the street scene from a bird's eye view above the pizzeria. Then our pizza arrived, and although I was quite certain I couldn't handle another bite, I still managed to dig in, and oh, it was good!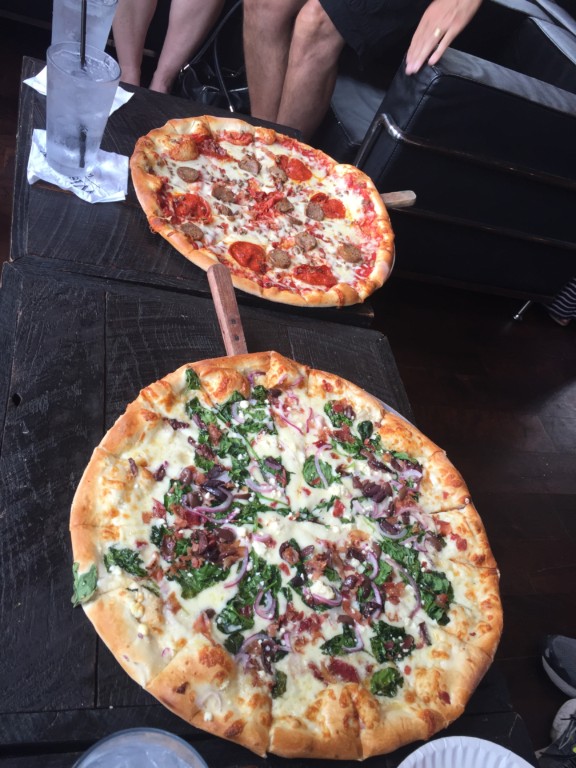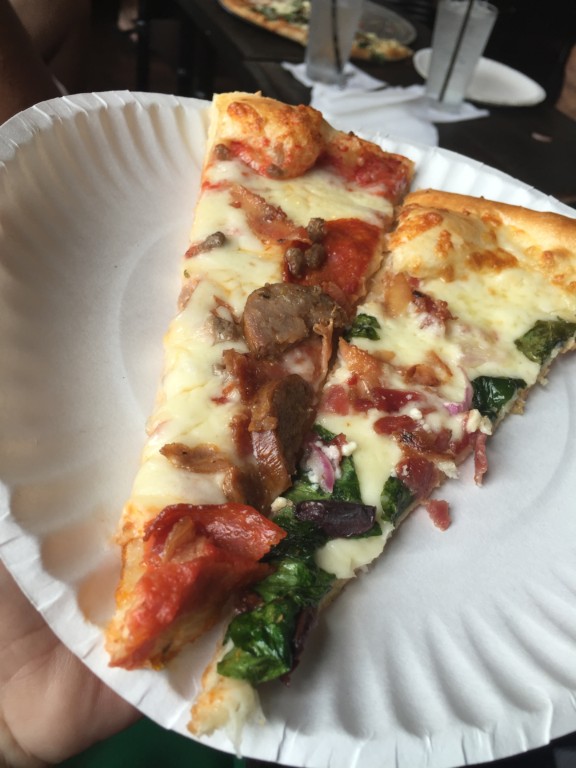 In addition to the delicious pizza, we tried the Goodfella (pepperoni, spicy Italian sausage, ground beef, bacon) and Jimmy the Gent (Greek pizza with bacon, kalamata olives, garlic, spinach, onion, and feta), we were treated to a delicious cocktail made with a bourbon soaked cherry. And Oh. My. Goodness. Was it ever perfection!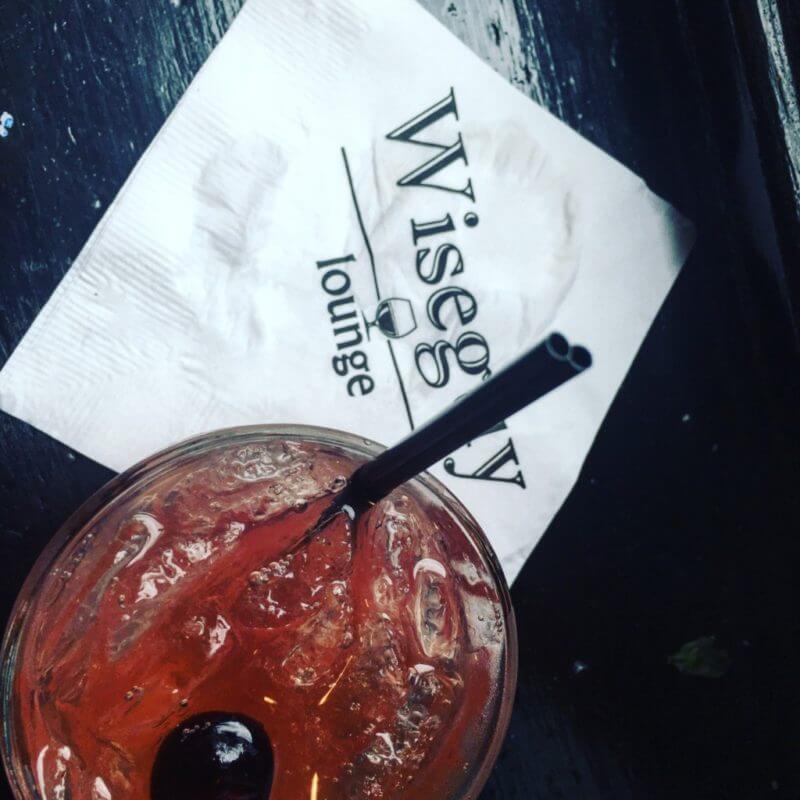 Not going to lie, by this point my husband and I were well fed and cozy, having fun chatting between stops, enjoying the stroll and the good company. But it wasn't over yet! We had one more stop to make before we headed out for the day — The Bean Haus.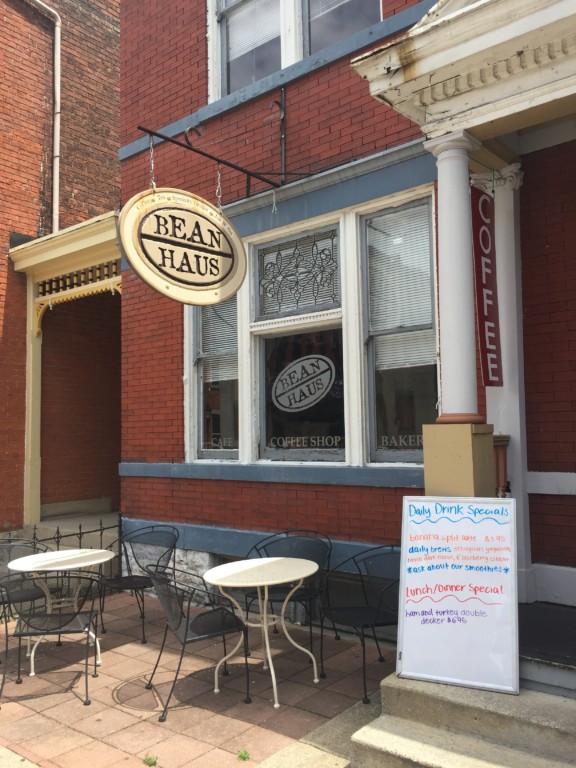 This local coffee shop and bakery is quaint and cozy, like most of MainStrasse Village's delightful restaurants, and the owner was just as welcoming as all the rest had been. At this final stop, we were treated to our choice of deliciously fruity and tropical iced tea or an Ethiopian coffee. We chose to get one of each so we could try them both — so glad we did, because I can't say I could choose a favorite, they were both so good! Then dessert came — a French Silk Pie that was so creamy and delightful. I had full intentions of taking the lovely owner up on the offer of a take-out box for my dessert, but the moment I tasted it I knew that wasn't going to happen. It was amazing!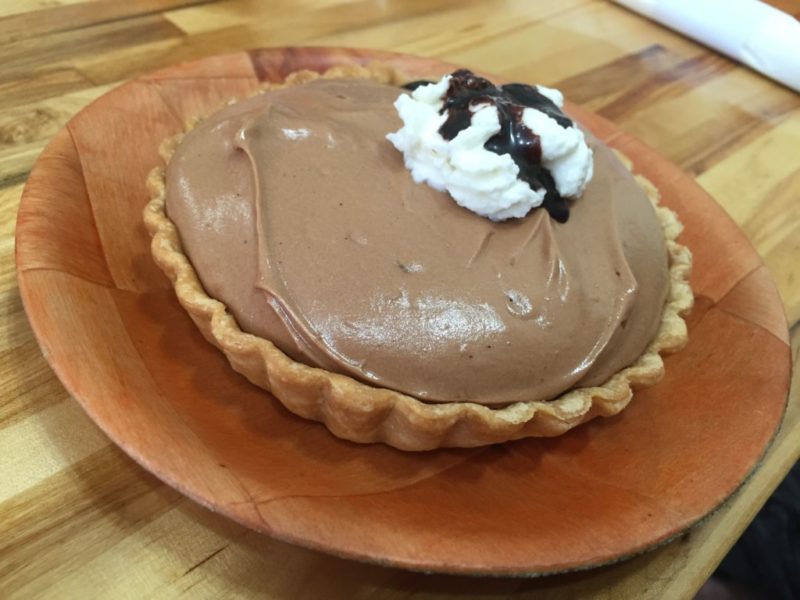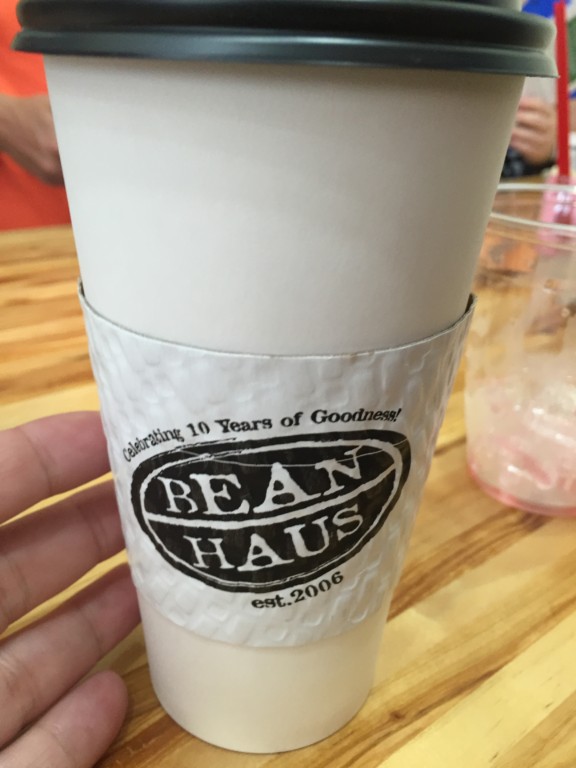 We had a truly amazing time on this tour. It was so much fun to play tourist in a town we thought we knew so very well, and we loved being pleasantly surprised by some of the historical facts that were shared on the way. It's easy to overlook parts of our history by letting them become forgotten, repainted, refurbished or simply removed from sight. And, I loved the fact that all of the restaurants on our tour go out of their way to source their ingredients locally, and that many prepare all of their items from scratch, in house. You support your local community when you choose to do business with them, and they support a healthy community by bringing in the freshest and best ingredients they can find.
We found out some great news while were on the tour as well — coming soon you'll be able to experience a whole new food tour: Roebling Point Food Tour! The new tour brings together some of my favorite Covington restaurants — Keystone, Blinker's Tavern, The Gruff and Molly Malone's. It's going to be fantastic!
We give Riverside Food Tours  ❤️❤️  hearts for romance and three $$$ for cost. We truly enjoyed every minute! Laura and Mike are phenomenal at their jobs, they make you feel welcome and at home from the start, and they have really done their homework on the history of the tour spots. You could tell they really enjoy their jobs and are well-liked by the community members. Some final tips — Again, dress comfortably and wear comfy shoes. It's a lot of walking, but so worth it and so much fun. And finally — take your appetite, you're going to need it. Above all else – have fun!
You can visit Riverside Food Tours on their website: www.riversidefoodtours.com or find them on Facebook and Instagram.