On any given day of the week I might pop into the Macaron Bar for one or two macarons in OTR. One is never really enough. I usually opt for two. If I'm forced to share with my husband, I will purchase a sleeve of six or 12 (yes, I said 12). I can't help it; they are just delightful.
I have been a fan of the Macaron Bar since the opening of the OTR location in 2014. They have since added locations in Kenwood Town Center, Hyde Park and Loveland. The growth and expansion of the business goes to show how fantastic their product truly is, and I'm very grateful they landed right here in our city!!!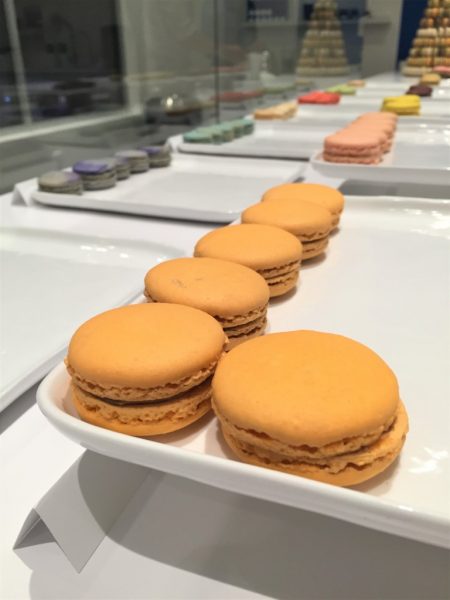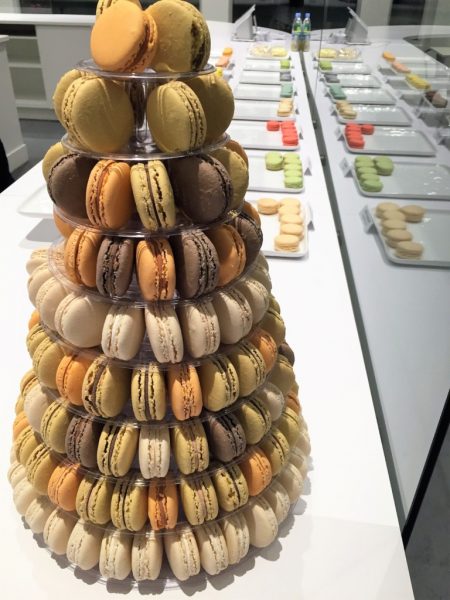 So, you may be asking, "What is a macaron?" Google defines it as a sweet meringue-based confection made with egg white, icing sugar, granulated sugar, almond powder and food coloring. The macaron commonly is filled with ganache, buttercream or jam filling sandwiched between two cookies.
Sounds heavenly, right? I wanted to take a stab at creating my own macarons. The only problem is, I'm not a baker. Imagine my joy when I discovered that the Macaron Bar offers a fabulous three-hour, hands-on class to teach you the intricate process of how to create your own macarons! Operation Friday Night Date Night begins!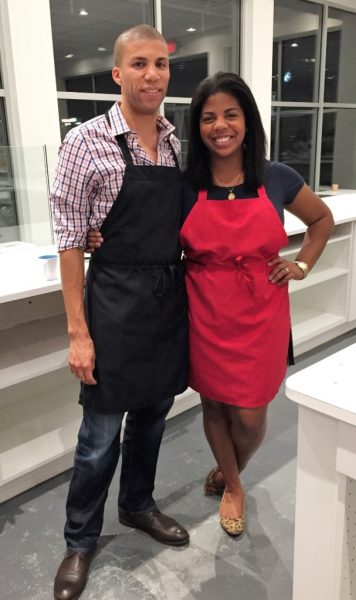 I must say, the class was so much fun. We had the privilege of venturing out to the Loveland location. Such a beautiful area! The décor concept is the same at each Macaron Bar location: modern clean lines with pops of rich bold colors throughout.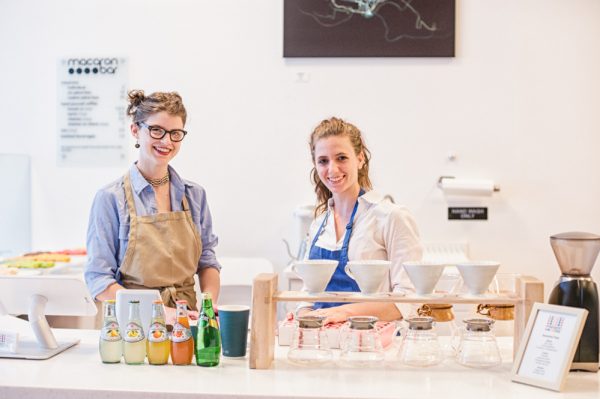 Upon arriving for class, you are offered a tasty non-alcoholic beverage from fine teas, sparkling or still water, and of course an assortment of delicious juices! The class size of eight students is perfect for intimacy. Each pair of students has their own work station and is given the one-on-one attention needed.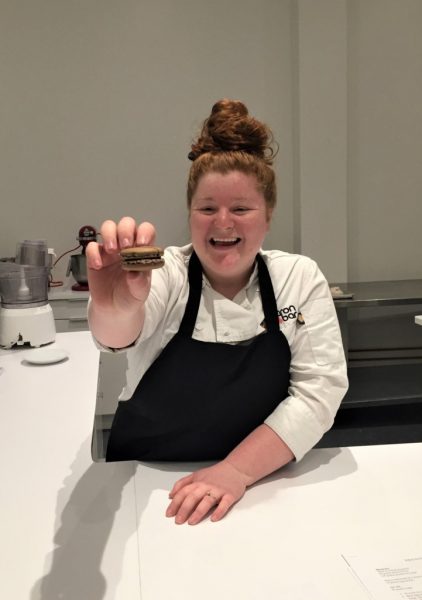 Our Master Baker for the evening was Nicole! She started with a step-by-step tutorial on how to create the shell of a macaron. You are then released to work with your partner and make the macaron shells on your own. I found the process to be a great team building experience for couples! The class teaches you to create and work together. Assisting one another is key, especially if you are a non-baker!
After creating the shells and letting them bake, we moved on to making the white chocolate ganache and caramel filling! Who knew the process was so easy? I loved all the expert baking tips Nicole provided. She gave me the confidence to create not only the shells, but the macaron filling at home!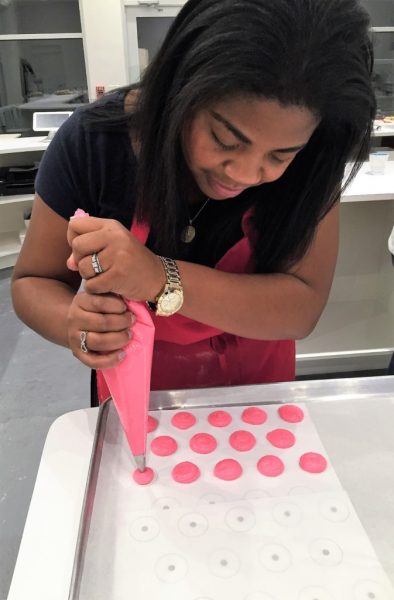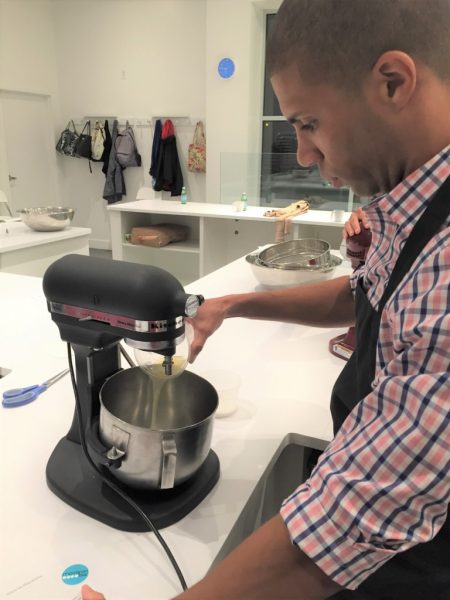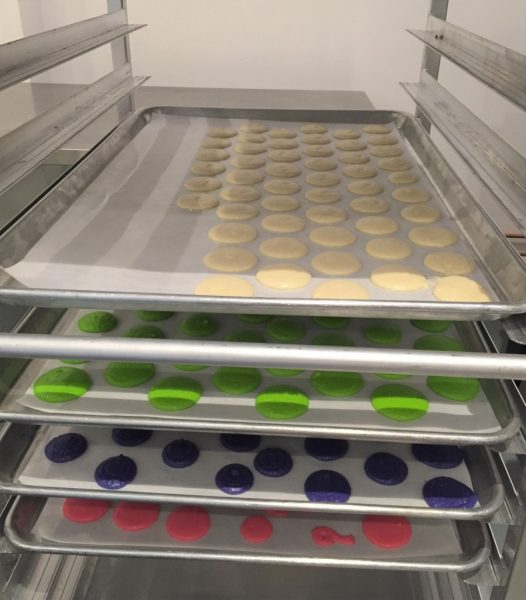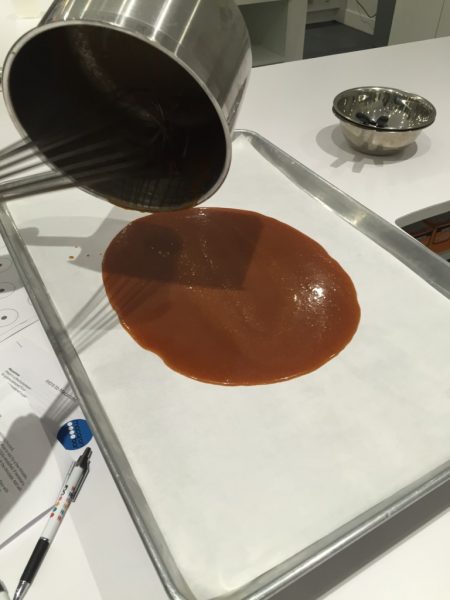 It was time for the final touch. . . making the sandwich complete! I was proud of the hard work we accomplished together! The macarons looked just okay, but tasted divine! I highly recommend this class as a gift idea or for your next date night! It was an evening to remember, even for us non-bakers!