The Littlefield is situated in a quaint little block of restaurants and bars on the north side of town. I'd heard of The Littlefield and it's amazing chef, Shoshannah Hafner, but had never gotten the chance to head up to Northside for a date night. I am so glad that my husband and I finally ventured up for a quiet night, just the two of us. It was easily the best night date we've ever had.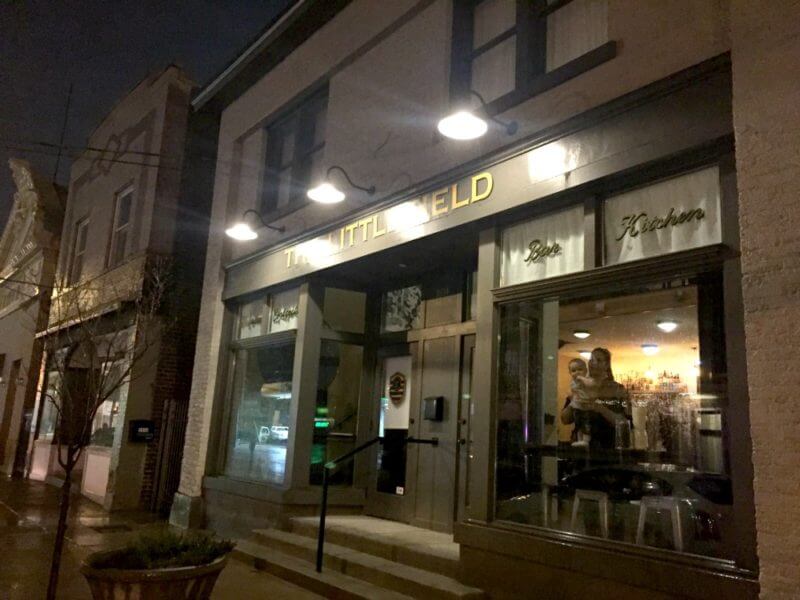 Having heard many great things about The Littlefield, we very excitedly headed up to Northside on a grey and rainy Thursday night. We were excited to see that Arcade Legacy is located just across the street, and made a note to return another night for some arcade fun. There was ample street parking, and a parking lot right next door, so we had no trouble finding a spot. We snuck inside between raindrops, passing through The Littlefield's outdoor dining patio, which will be fantastic in the warmer months. Once inside, we were greeted warmly and invited to have a seat at one of the two-top tables situated around the dining area.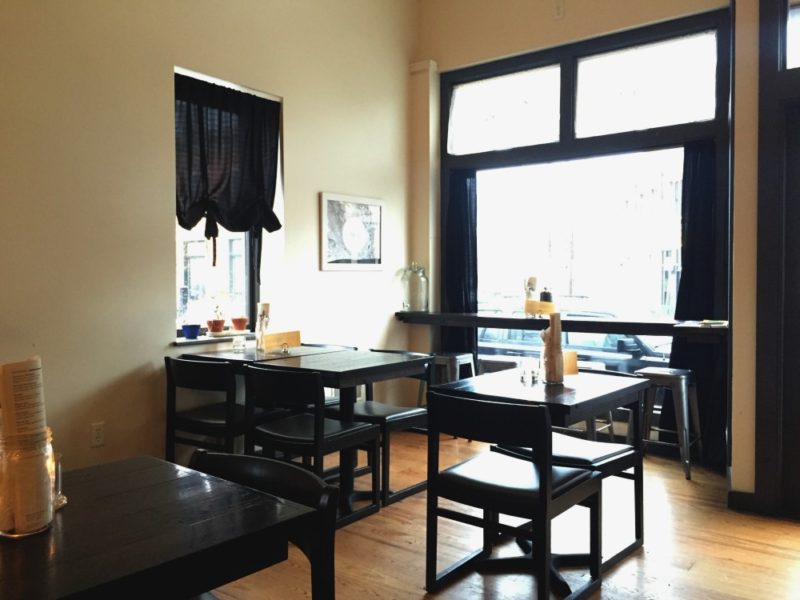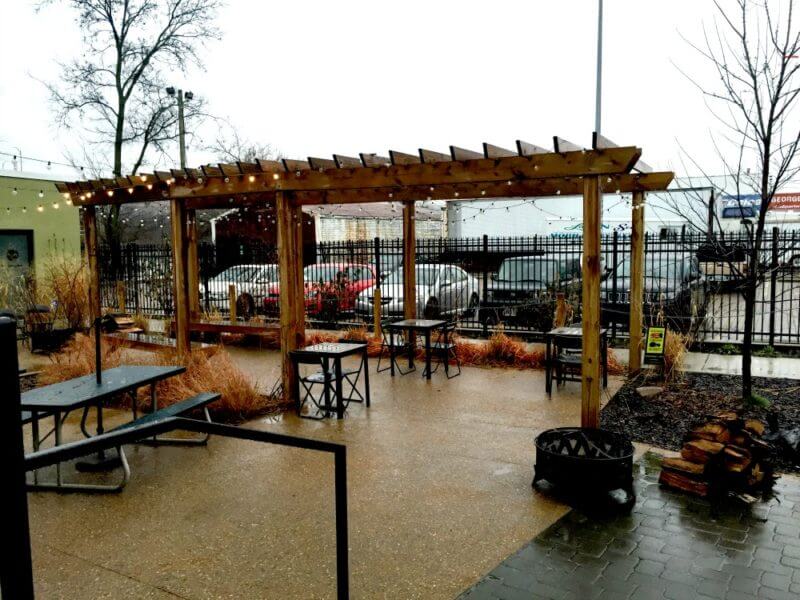 The Littlefield's main dining room is warm and cozy, with the feel of an English pub with a modern touch. We chose a seat near the bar and settled in to peruse the menu. Our server, Kiki, stopped by between other tables to check in with us, tell us a little about the menu and the specials and get our drink order. She helped us choose between many completely delicious looking cocktail options, and we finally settled on the Northcider and Blue Goose Old Fashioned.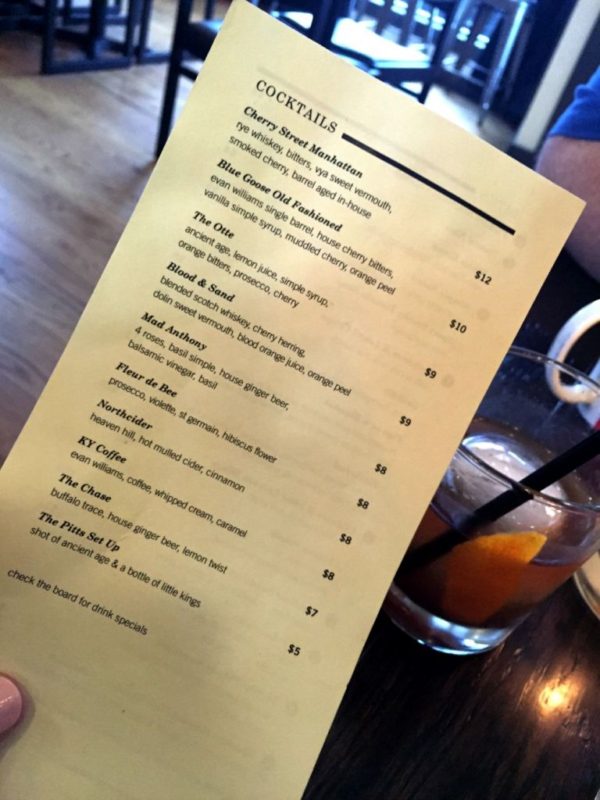 While we waited on our cocktails, we chatted and looked over the menu, trying hard to narrow down our choices from so many delicious options. It wasn't easy. Between the regular menu items and the specials that Kiki described for us, it was a very tough choice — but we finally landed on the Flatbread appetizer to share.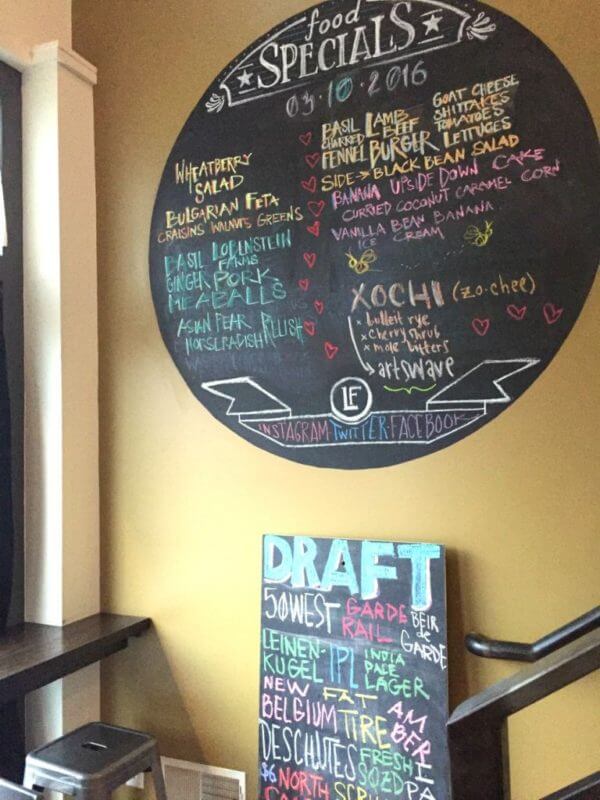 The cocktails were, in one word, absolutely fantastic in every way. Okay — that's more than a word, but one just wouldn't do them justice. My Blue Goose Old-Fashioned was absolutely perfect. At The Littlefield they make their own giant ice-balls for cocktails, and they are both perfect and amazing. The Northcider may have been our favorite. Like a cross between wassail and mulled cider, it was absolutely perfect on a chilly, damp evening and I was a tad jealous that my husband ordered it and not me. At least he shared!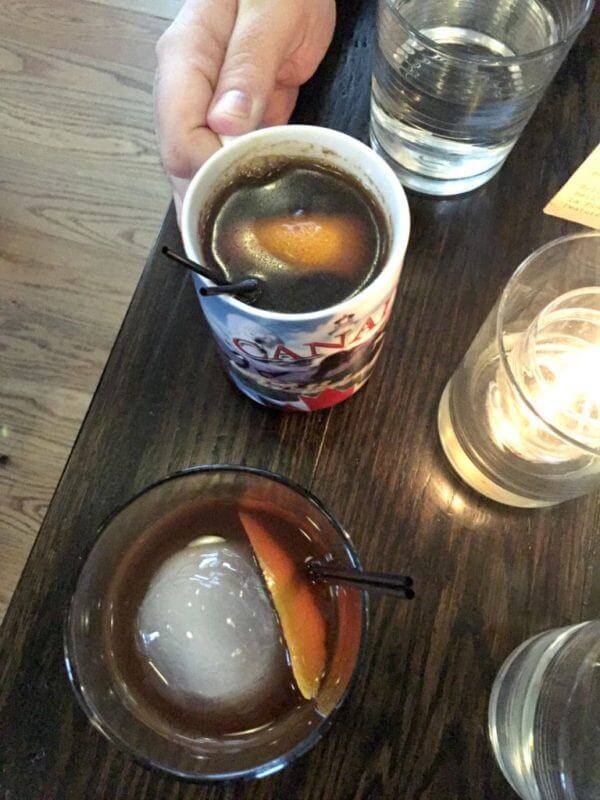 This is a good time to mention that The Littlefield is not only a wonderful restaurant with good people, but they do good things for the community as well. Each month they feature a cocktail special with proceeds from the sales of that cocktail going to a carefully chosen local charity. When we visited, the sales from the cocktail special went to benefit Visionaries + Voices as well as ArtsWave. How amazing!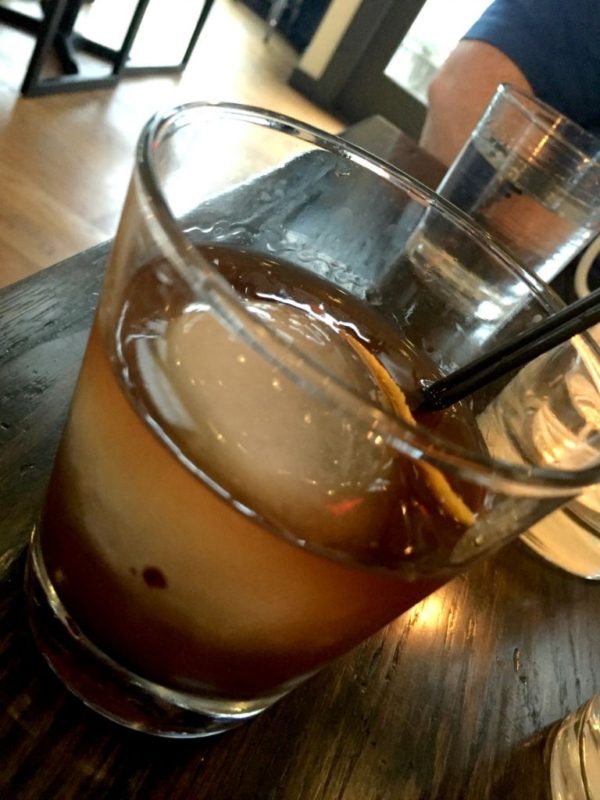 Our Flatbread arrived, and all I can say is Oh. My. Goodness! After the first bite, my husband and I looked at each other in utter shock. It was seriously the most delicious thing I had ever eaten in my life. I was worried, just for a minute, that my husband wasn't having the same euphoric taste experience that I was, but once he was over the initial taste sensation he managed to voice that he, too, was blown away by the deliciousness. After that moment, we knew that we were in for a glorious evening.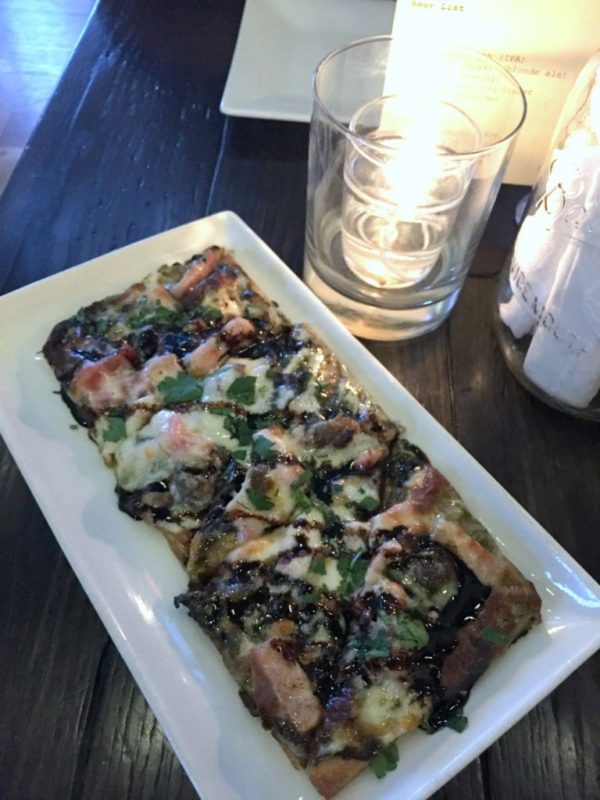 We enjoyed our Flatbread, drinks, conversation. The quiet atmosphere was really nice as we enjoyed each others' company on what was shaping up to be one of the most romantic and comfortable date nights ever. Romance doesn't always have to involve white linen table cloths and long stem roses. Sometimes romance is made up of perfectly crafted cocktails, delicious food and even tastier conversation.
Our main course arrived in good time, and yet again, we were thrilled with our choices! My husband chose the Meatloaf Sandwich and I chose the Shrimp Pobaby sandwich. Both were absolutely perfect in every way. The Meatloaf was tender, juicy and perfectly seasoned. The Shrimp on the pobaby sandwich was plump and juicy, and the caramelized onion aioli was the perfect accompaniment. Don't even get me started on the 16 Bricks bread. I'm telling you – perfection!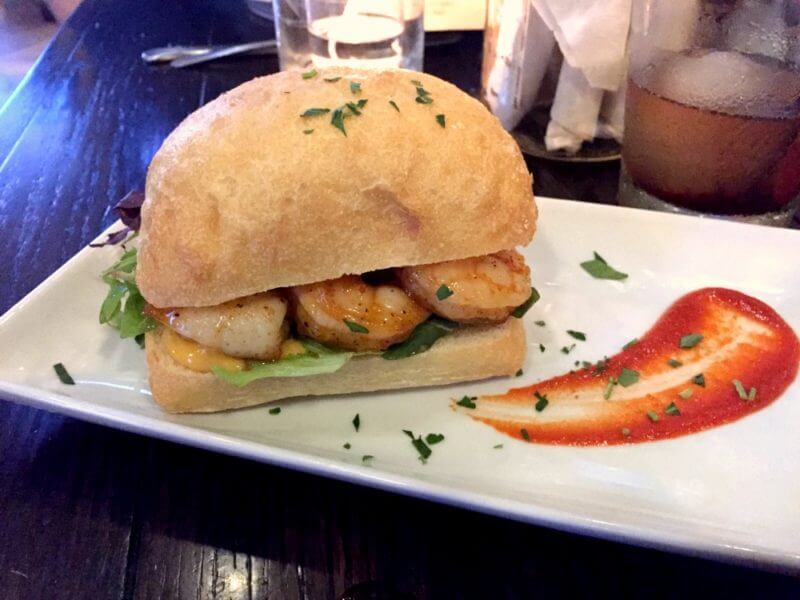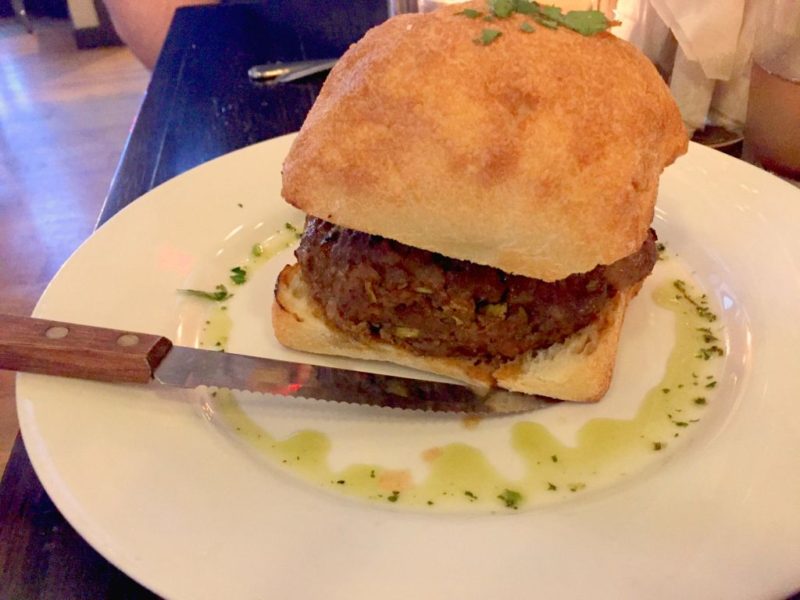 By this point in the evening we felt fully relaxed, happy and quite well fed. I honestly didn't think we could manage another bite, until we heard the dessert special. When we heard Banana Upside Down Cake with Curried Coconut Caramel Corn and Vanilla Banana Ice Cream all bets were off. We had to try it!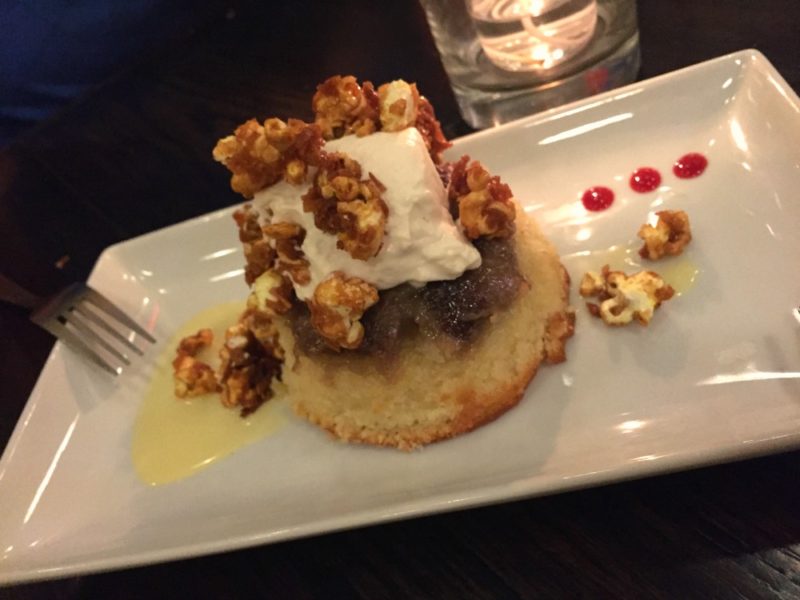 Every bite of this dessert was pure heaven. I've never tasted anything so perfectly sweet and tender, yet savory at the same time. We chose to share, and I'm glad we did, because as full as I was from the rest of our meal I would have completely finished this all on my own, it was that good.
All the while we enjoyed our meal we were watched over by Kiki, our amazing server, who made sure that we had everything we needed. The food at The Littlefield is absolutely amazing, and the service is outstanding. On a romance level we give The Littlefield three hearts for romance and ambience, and and $-$$$ on the price range – mainly because the menu is so flexible that you can make a date night at The Littlefield exactly what you want it to be. Cold craft beer and appetizers?  A full five-course meal with craft cocktails? All of this and everything in between!
Take our advice and plan your next date night at The Littlefield in Northside. Intimate, romantic, cozy and delicious — it's the perfect place for a night out. Get more information on the menu and drinks at www.littlefieldns.com.