After walking through a light rain and the hustle and bustle that comes with Liberty Center in Liberty Township, my wife and I entered Kona Grill and were delighted by the soothing and welcoming atmosphere.
We were seated at a table by a window, giving us a nice view of much of the restaurant as well as the people passing by outside.
Kona gives off a sophisticated but laid back vibe, a setting that suited our date night quite well. Modern décor and some soft music completed a mood we could really enjoy.
We went to Kona on a Tuesday, knowing we could pick from their Date Night Menu.
Special Tuesday Date Night Offer!
We started off with drinks, and my wife opted for a red sake' sangria. She really liked it, noting that it was smooth and fruity without being too sweet.
For an appetizer, we went with the pot stickers. They arrived promptly and were hearty with a great flavor to them.
With a lot of options to choose from, we had a bit of a tough time deciding on our entrees. My wife ended up selecting the New York Strip, while I ended up going with the Macadamia Nut Chicken. Both of our entrees came with the house mashed potatoes and broccoli.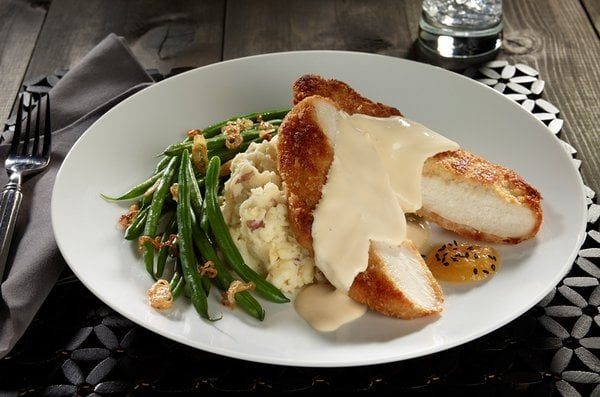 The head chef delivered our dinners, and he added that my entrée was his favorite dish – so, naturally, I was pretty excited. And it didn't disappoint. The Macadamia Nut Chicken, which came with a shoyu cream sauce, was simply delicious. My wife loved her meal, too. Her steak was cooked just the way she wanted.
Before selecting her dessert, my wife had a question for our server about the butter cake. Hearing it tasted just like a sugar cookie was good enough for her. It came with raspberry sauce and vanilla ice cream, and the description couldn't have been more perfect.
I opted for the carrot cake. To say it was a huge piece of cake may be doing it a disservice. It was absolutely enormous. The carrot cake came with a caramel drizzle, and this dessert was melt-in-your-mouth delicious.
We decided to explore the whole restaurant before leaving. Kona has a full-service bar with lots of TVs as well as a full sushi bar – and a large list of sake'!
The second floor has a large bar and some tables inside and a partially covered patio with more seating options outside.
We loved the excellent service, great food and relaxing atmosphere at Kona Grill, and we will be back soon.
One tip for date nighters: For an even more romantic setting, see if you can be seated near one of the delightful fire features!