Being in a long distance relationship can be difficult, especially if you're from Cincinnati. How many of us have gone away to school and missed the deliciousness that is Skyline Chili or Larosa's pizza? Remember hanging out at grad school wanting to enjoy a black raspberry chip cone on a hot day, but couldn't? Or did you miss hearing the words, "Who Dey!" being shouted every fall?
We talked to a few Cincinnatians that were or are in a long-distance relationship. Some found genius ways of bringing Cincinnati to their partner and others found ways to help introduce an outsider to the Queen City.
Hannah 
Date Night Cincinnati (DNC): How long have you been together and why are you currently in a long distance relationship?
Hannah (H): Tim and I have been together for 5 years and (almost) 4 months now, and we've been long distance for about the past 7 months. Tim moved to California for work, and I have a job in Cincinnati that I really enjoy, so that's how we ended up in the long-distance situation. We do, of course, plan to move back together some day, but right now we just take it one day at a time!
DNC: How did you share a piece of Cincinnati with them?
H: We often send each other photos of where we are or what we're doing, and it's such a great way to make each other feel like we are in the same place together! We'll sometimes send each other photos of the grocery store we're shopping at, food we're eating or if we see something pretty outside, like some nice flowers. This gives Tim a little bit of Cincinnati and the places he enjoys going to here, while I get a little bit of the warm California sun!
DNC: How do you keep it going?
H: Love! When you care about someone this much, that's really all you need. That, and also having really good communication. Being long-distance is definitely hard, but we both care about the other person's passions, dreams, desires, and goals.
We also communicate constantly, whether that be through Skype, FaceTime, text messages, or phone calls, and always keep each other updated on what we're up to, how we're feeling, any plans we have coming up, etc. This great communication has definitely helped keep us strong and feel connected despite the distance. Also, to help us put things in perspective, when you plan on spending the rest of eternity together, a couple of years of being long-distance doesn't sound like all that long of a time!
DNC: This year was our first Valentine's Day apart, and in the past, we've usually gone to dinner for Valentine's Day. This year we decided to cook a dinner together over Skype! We found a stuffed chicken recipe to make, so even though we were thousands of miles apart, we still got to eat a Valentine's Day dinner together. We also bought each other flowers, and even though we couldn't give them to each other in person, it was still a little gift that we could look at, and that was really sweet. It turned out to be one of our most fun and memorable Valentine's Days together!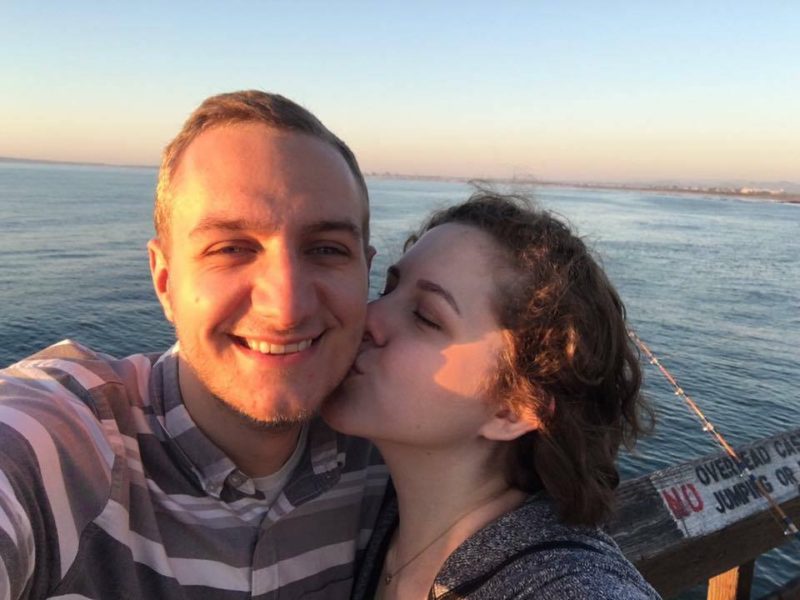 Kahle (currently not in the long-distance relationship)
Date Night Cincinnati (DNC): How long were you together and why was it long distance?
Kahle (K): We were together for three years and it was long distance because he lived a few hours away.
DNC: How did you share a piece of Cincinnati with them?
K: We took adventures around Cincy when he would visit [like] Kings Island, The Museum Center. Ludlow was also another place we really enjoyed being [with] date nights [being] at the Bohemian Hookah Lounge or Bearcat Cafe on Calhoun.
DNC: How did you keep you going?
K: We kept it going by sharing our personal and separate adventures, like lots of selfies with our individual cities and friends in the background to make it seem kind of like you're there.
DNC: Any cute stories?
K: We were bored one night when I was living in Forrest Park and decided to play "left, right or straight." It's a car game that can lead to many great adventures and somehow we ended up lost in Blue Ash and decided to stop at Blue Ash chili for dinner since he'd seen it on food network with his mom last time he'd visited her. It was really unexpected, but honestly the best date I'd ever had.
Haley
Date Night Cincinnati (DNC): How long have you been together?
Haley (H): We have been together going on three years (it'll be three years in August). It has basically been four years, but both of us were too stubborn for the first year to actually call what we were doing a relationship, so we'll just go with three years.
DNC: Why is long distance?
H: Currently, it's long distance for two reasons: James was in Air Force ROTC when we were at Miami together, so upon graduation, he would be commissioned as an officer in the Air Force and be sent to his first duty station. A few months before graduation, they got their notice of where they would be stationed. James was informed he would be stationed at Holloman AFB in Alamogordo, New Mexico.
Exciting, but also terrifying. At the same time, I had been applying to graduate schools and jobs in various places. I was actually offered a job within one of my undergraduate programs as their Student Activities Coordinator, but when I got the letter from UC saying I had been accepted to their Master's of Criminal Justice program, I had to turn down the job offer, as much as I wanted to live and be at Miami another year.
We were faced with a dilemma: UC had an online Masters program, comprised of the same things I would get with an on-campus degree. Would I do the online program and move to New Mexico immediately with James, or would I stay for a full calendar year and complete my Masters with him living and working in New Mexico?
Ultimately, we talked it over, and decided it would be best for me to go with the on-campus degree. We knew that down the road, if he makes the Air Force a career, there's a good chance that there will be more long-distance in our future. We knew we could handle it, but it would be hard. Our communication in our relationship has always been really great, but that was with us living within the same state (he's from Cleveland originally). It's definitely been a test, but here we are almost finished with the year, and when I visit in April we'll be looking at apartments together for when I move after graduation in August!
DNC: How do you bring Cincinnati into your relationship?
H: Since we went to school at Miami, we've been in and out of Cincinnati for various reasons. Obviously, I'm from here, so I would bring him home occasionally to hang out with my family, which he always really enjoyed. On his last visit here, I planned a Cincinnati adventure day for the two of us, and it was a lot of fun! We actually did a lot of things that I've wanted to do for a while in Cincinnati, but never have, even though I've been here my whole life. We went to the top of Carew Tower, walked to OTR to have lunch at Bakersfield, then walked down to Smale Park and laid in the grass and watched dogs walk around with their owners. One of his favorite places/beers is Rhinegeist, so we made a trip there as well.
DNC: Any cute stories?
H: His birthday is actually coming up in April, and he doesn't know this, but on my next visit out at the end of April, I'm planning on bringing him some Rhinegeist. Any time I'm drinking it and I send him a Snapchat, he gets so jealous, so I'm planning on surprising him with some. I'd send him Skyline chili, but unfortunately that's one Cincinnati food item he doesn't love… but I suppose I'll keep him.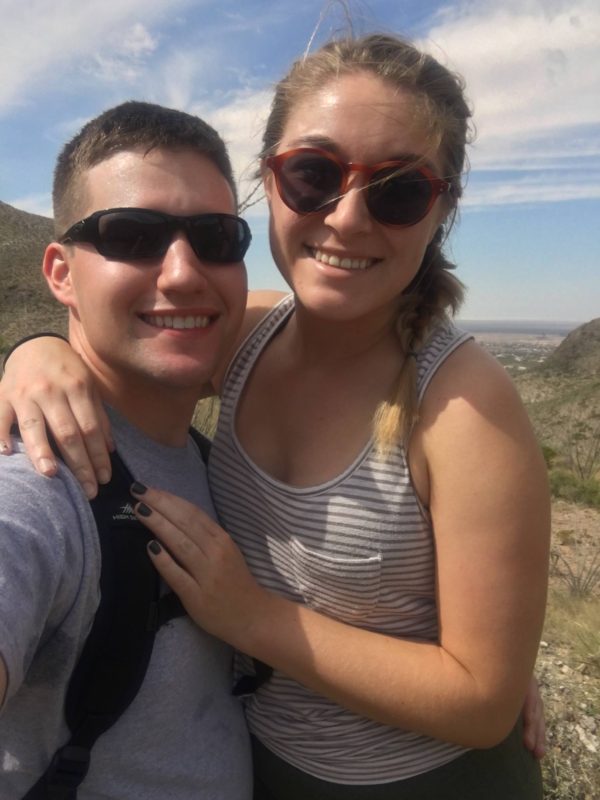 Taylor
Date Night Cincinnati (DNC): How long have you been together and why is it long distance?
Taylor (T): We've been together since November 13, 2014. So, roughly a year and a half. When we met, it was about 2 months before he had to leave for boot camp. But we felt an immediate spark. I'm not exaggerating when I say I couldn't wait to get his letter each week. I'd send him pictures of me and his family. I still have all the letters, and him saying how great it was to 'see me' after so long.
He's now a submariner in the Navy, stationed in Honolulu, Hawaii. Over 4,000 Miles away.
DNC: How do you keep Cincinnati a part of the relationship?
T: Maybe this is more KY culture, but he kept begging me to send him Al8 (Ale 8). I make him care packages, but it's difficult to ship more than snack foods that far. But, Busken cookies are always a great reminder of home.
DNC: How do you keep the relationship going?
T: Our ability to have contact with each other varies. I send care packages on holidays, and instead of sending gifts for things like anniversaries or Valentine's Day, we'll set a day aside to just talk to each other, Skype and play games online. The closest thing to 'spending time together' we can get. Sounds cheesy, but when you don't see someone much, time spent together is the best gift.