It's fish fry season in Cincinnati and Northern Kentucky! While it may not sound like the most likely date night, checking out the local fish fry scene can be a fun and delicious date night. Great food, good company and fun locations – what's not to love? Some locations not only serve up your typical fried fish meal, but fish tacos, sandwiches and delicious side dishes, such as macaroni and cheese and coleslaw. Many also serve frosty adult beverages to accompany your delicious meal. Take turns picking the location and venture to find the finest fish fry Friday ever.
Even more fun? Turn Fish Fry Friday into a recurring date night theme and create a "passport" to track all of your fun fish fry excursions from year to year!
To get you started, here's our list of great Cincinnati & NKY Fish Fry Friday locations. Where is your favorite Fish Fry Friday spot?
Mary, Queen of Heaven – Home of "The Codfather," you can't go wrong with a visit to Mary Queen of Heaven's fish fry. They have many options, including the Holy Haddock Sandwich. Plus, this fish fry location offers dine in, carry out or drive-thru service. 1150 Donaldson Hwy, Erlanger, KY (859) 525-6909
Bridgetown Finer Meats – Stop at Bridgetown Finer Meats for Fabulous Fish Friday and choose from Big John's Shrimp Boat, lobster bisque, lobster mac, french fries, mac and cheese and much more. The homemade tartar sauce alone is worth the trip! 6135 Bridgetown Road, Cincinnati (513) 574-3100
Immaculate Heart of Mary – Fried or baked fish, shrimp Caesar salad, hush puppies, mac and cheese and even pizza for those non-fish eaters out there. Save room for the dessert – delicious! 7800 Beechmont Avenue, Cincinnati (513) 388-4086
Knights of Columbus – Fried fish, beer-battered and baked cod, chicken, steak, french fries, mac and cheese, coleslaw … the list goes on and on. Free parking is available on site and a carry-out option makes this a convenient fish fry. 828 Elm St., Ludlow, KY (859) 261-2704
All Saints Church –  Love a good craft beer? All Saints serves up Mt. Carmel beer to accompany the fish sandwiches, fried fish platter, baked fish or fish tacos. Save room for a delicious Irish Car Bomb cupcake. 8939 Montgomery Road, Kenwood, OH (513) 792-4732
St. William – How can you pass up a meal called the Magnificod Platter? If that doesn't whet your appetite, try the baked tilapia, crab cakes or shrimp platter. This location also offers carry out and drive thru from 4-7 p.m. 4108 W. 8th Street, Price Hill, OH (513) 921-0247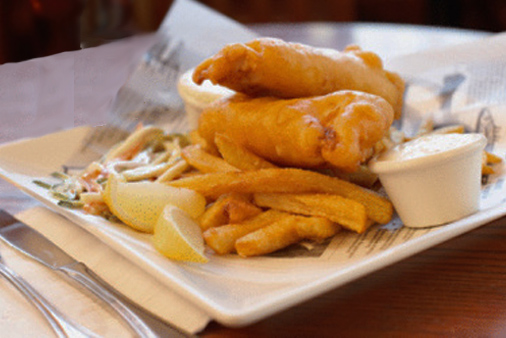 Prince of Peace –  A local favorite, Prince of Peace serves up fresh battered fish, fried shrimp, mac and cheese, coleslaw, green beans, homemade desserts and more. Live entertainment and local and craft beers make this a great choice for your fish fry Friday. 625 Pike Street, Covington, KY (859) 431-5153
St. Gertrude – Dine in or carry out, and all for one great price: Choose a fish fillet, fish sandwich, boiled shrimp or cheese pizza, plus a side dish, dessert and drink. 6543 Miami Avenue, Cincinnati (513) 561-5954
There are a bunch of Lenten fish fries to explore – hope you're hungry!
NOTE: If your favorite fish fry isn't listed, let us know in the comments and we'll add it.