Having a date night downtown is so much fun. But, when you're going to make the effort to travel downtown, you hope it's worth the drive. We recently visited We Olive & Wine Bar, and no worries here — the drive is definitely well worth it! We Olive is a unique and clever way to have more than just your typical restaurant date night. Located at 33 East 6th Street, behind Fountain Square and across from the Contemporary Arts Center, the inviting ambiance draws you in. Upon arrival, you'll be warmly greeted and given an overview of We Olive. Take note of the stainless steel vats in the front of the store, these house We Olive's Extra Virgin Olive Oil in an array of flavors as well as, delicious and flavorful Balsamic Vinegars. Taste testing the various OO (Olive Oil) combinations is encouraged, and the staff is very knowledgeable about what pairs well together and will provide suggestions on how to use them at home.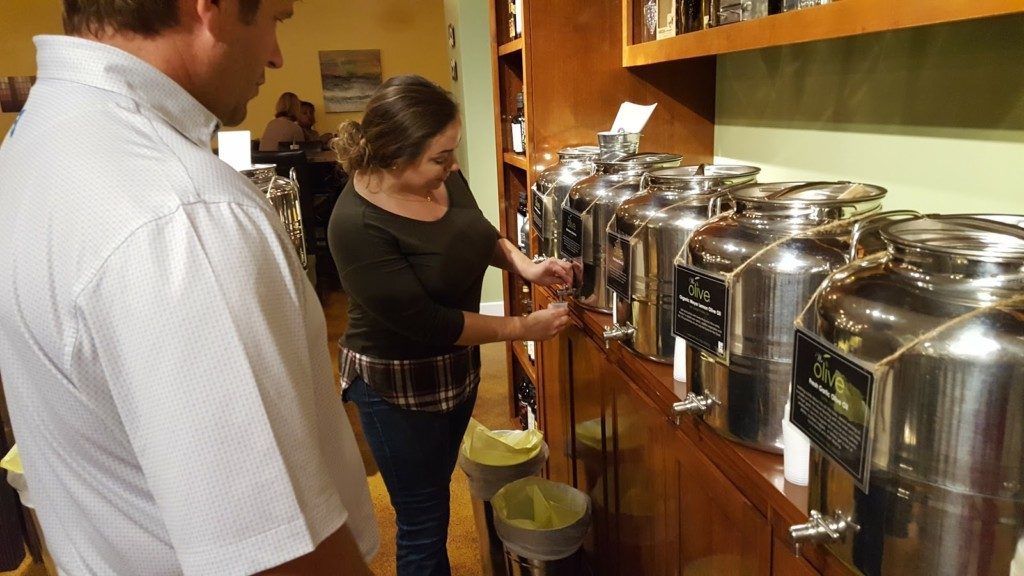 Leah Jones, store owner, helping Chis with a tasting.
Chris and I both really liked learning more about We Olive & Wine Bar. Comparing and contrasting the flavor combinations added to a different date night experience. Tasting the OO's is free, but if you decide you'd like to take some home, you can purchase either a 12.75 ounce bottle or a 25.36 ounce bottle. Once you use up all your OO, you can reuse your bottle and get refills for only $1.25/ounce. They also have smaller pre-filled bottles and assorted olives, mustards and spreads if you want to sample some at home or gift them.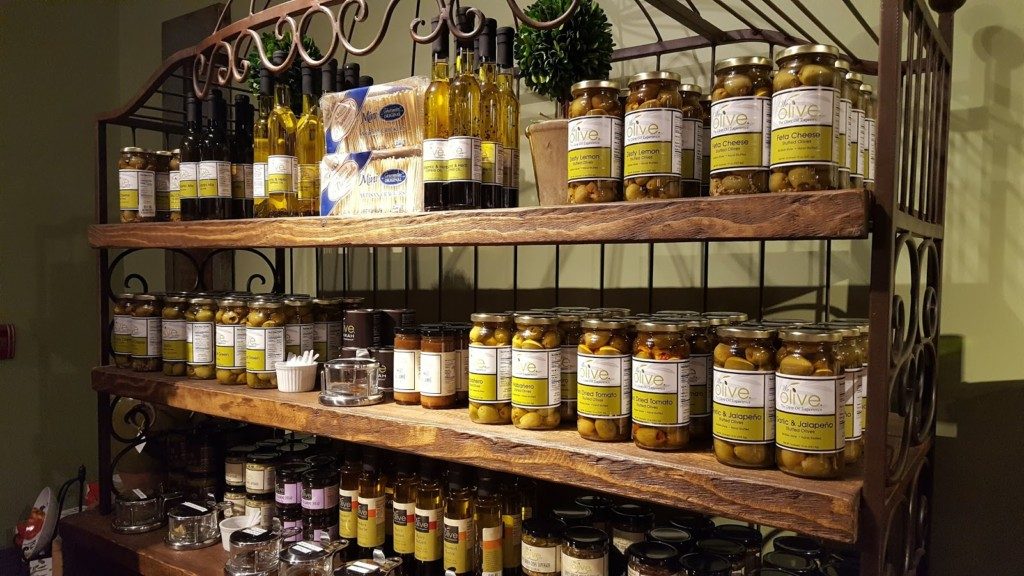 After our OO tasting, we were ready to sample some food and wines. Knowing that the foods they serve are made with the OO's they sell enhanced our interactive dining experience. We had the option of sitting outside on their covered patio or sitting in the intimate dining space. We opted to sit inside since the restaurant has so many interesting things to see. We Olive & Wine Bar serves domestic artisan wines and craft beers. If you're unsure of which wine to try, you can always do a tasting (a 1.5 oz pour ranges from $2.25-$4.00). The servers are very knowledgeable on the selection of wines available. I'm a semi-sweet white wine drinker so my server suggested the Colombard from McNab Ridge Winery in Mendocino County, CA. It was the perfect wine to go with my meal. They also have wine tastings if you want to learn more about the wines they sell. Reserve your spot online for their next event.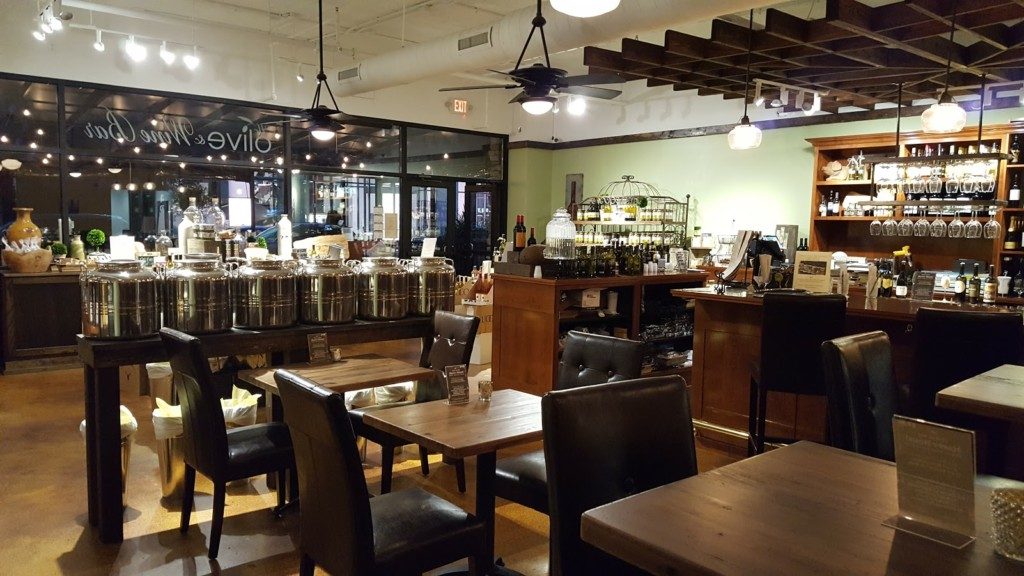 We then perused the Mediterranean inspired menu, but were unsure what to order. It all looked delicious! Leah and our server gave us some great tips on some of their favorites. I liked that this was a one page menu featuring bites, salads, panini's and flatbreads.  All the dishes can be easily shared so if you want to try a few things, your taste buds will thank you. Before our appetizers arrived, we were presented with a complimentary OO tasting plate. There were four OO combinations to taste. Such a fun way to start your meal and taste test even more OO's.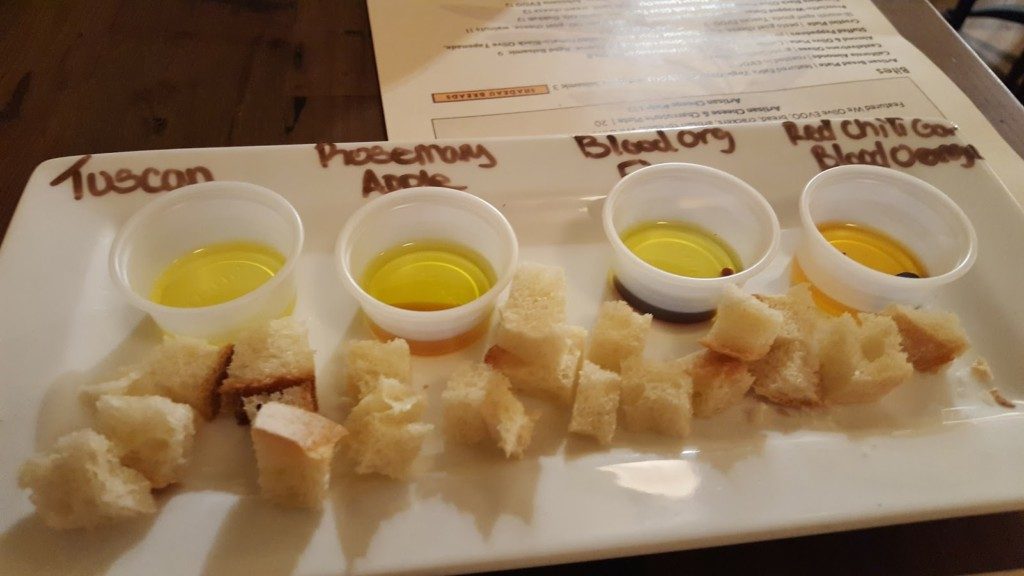 My favorite was Rosemary Apple and Chris loved the Red Chili/Blood Orange pairing.
Next up was Leah's recommendation of Prosciutto-Wrapped Dates. These were delicious bites filled with warm goat cheese, drizzled with We Olives' Blood Orange Balsamic & Garlic OO and topped with finely chopped walnuts. I wasn't sure if "dates" were my thing, but after trying them, the flavor combination won me over.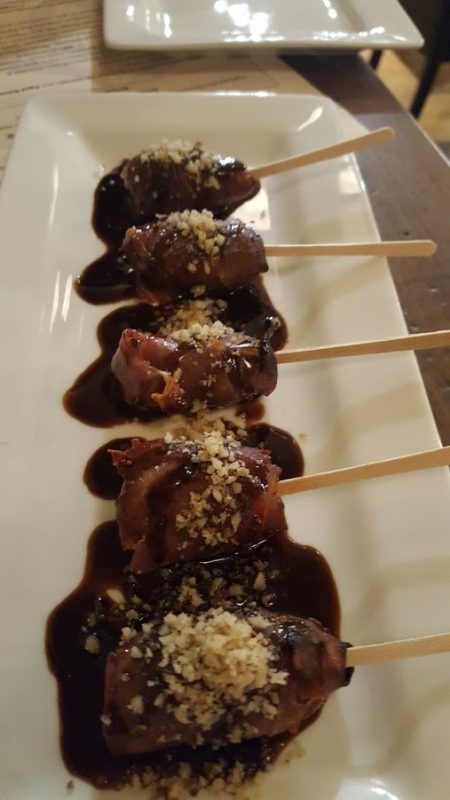 Another recommendation was the Artisan Cheese & Charcuterie platter. Here you will enjoy WE Olive EVOO accompanied by Shadeu bread (in my opinion, the best bread in Cincinnati), We Olive mustards, assorted fine cheeses, figs and artisan spreads — a great dish to share. During happy hour (M-F, 3:30-6:30 pm), you can get a discount on this platter and some other food specials (cheese plate, bowl of olives, hummus plate, Fromage flatbread).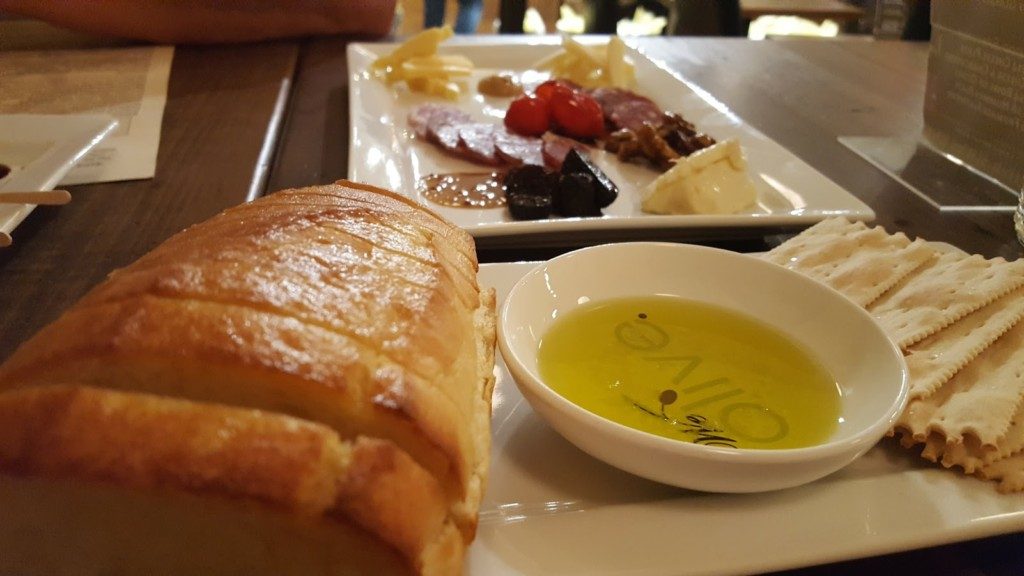 Following our appetizers, Chris opted to try the BBQ Chicken Flatbread (topped with Peach Balsamic & Jalapeno OO) and I went with Leah's suggestion of the Mediterranean Salad.  Light and flavorful, the dressing on the salad melded so well with the salad greens. Chris loved the BBQ Chicken Flatbread, and I was lucky enough to score a square. I definitely wanted more. Both of these dishes can easily be recreated at home since our server handed us recipe cards for each of them. I loved how We Olive shares their recipes and incorporates their products in the foods you are eating.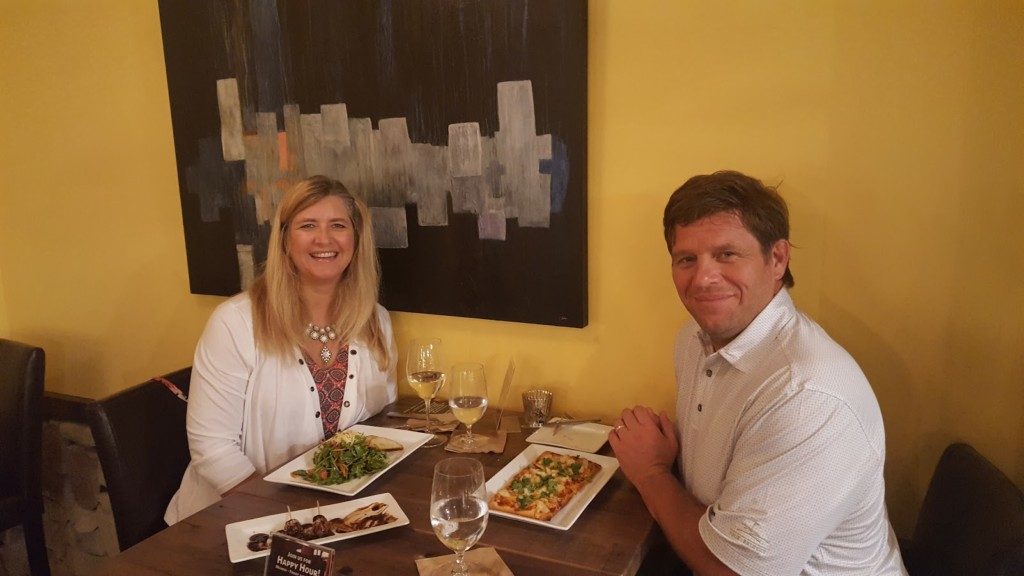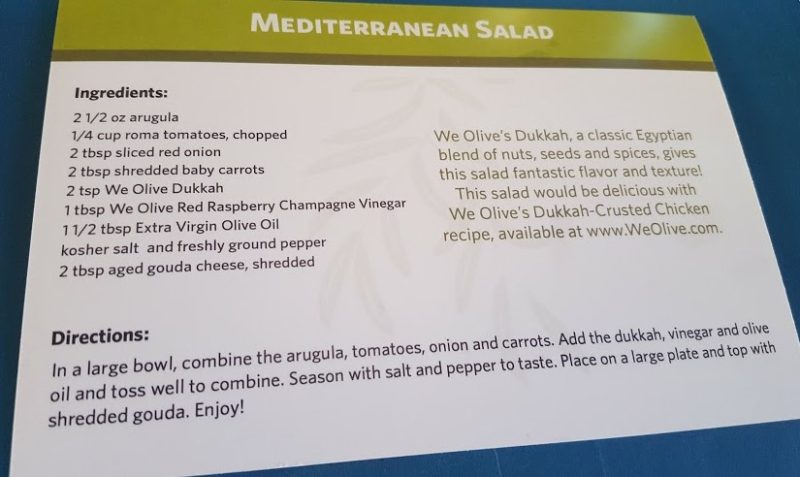 We Olive & Wine Bar is a perfect addition for date nights in Cincinnati. It offers an interactive and fun dining experience accompanied by artisan wines and craft beers. The menu is affordable ($-$$) and I'd give it  ♥♥♥ for romance since you really get more engaged with your dining partner as you taste test the different flavors. I hope you'll visit We Olive & Wine Bar soon.
For more information visit the We Olive & Wine Bar website.