Give the best gift ever, and support your local small business owner at the same time – this holiday season get all of your Cincinnati holiday gift ideas by shopping local!
Part of the fun of the holiday season is shopping for the perfect gift for friends, family, and especially your special someone. Why not find the perfect gift and support small, local businesses at the same time? A thoughtful, hand-made gift, carefully chosen at a local business can mean so much. They are much more personal and touching than a mass produced item, and help support a small business in the process. We've got a round up of great spots to shop local and support your neighborhood small businesses while finding the "perfect gift" for every name on your list! Check out our top picks for Cincinnati holiday gift ideas.
Holiday shopping events:
The City Flea Unwrapped Holiday Market –This outdoor market is perfect for strolling and enjoying the chill of winter and beauty of the park and Over The Rhine.  Vendors, local businesses, and restaurants of OTR come together to celebrate the season and give you a perfect spot for shopping.  Rain/snow or shine event.
Cincideutsch Christkindlmarkt –Traditional German food, sweets, beer, artisan gifts, and mulled wine. Add in a skate around the Fountain Square ice rink and hot chocolate at Graeter's afterward to warm up, and you've got a great shopping day!
Where to shop around town:
Over the Rhine – With a wealth of locally owned businesses, restaurants, and so much more, Over the Rhine is a perfect place to start when shopping for unique and special gifts. A few of our favorite shopping spots include Mica 12/V, Park + Vine, Suder's Art Store, Brideface (elegant makeup options) and Pet Wants.
MainStrasse Village and Covington – This is another perfect spot for making it a day out: shopping, dinner, and entertainment all in one area! So many unique gifts, delicious restaurants, and more make this one stop shopping for your holiday. Embroidered gifts from MK Totes and Monogramming, unique locally crafted gifts from Village Gifts in MainStrasse, beautifully hand-crafted gifts from Grainwell, fine note cards and art prints from Handzy, elegant gifts and Keep Your Shirt On Covington finds in the Hotel Covington gift shop, exotic finds at Ottoman Imports, find the perfect old school candy treat for your special someone from The Candy Bar- it's all waiting for you there!
Madison Road in Oakley – Art, toys, textiles-Oakley has the perfect spot for all of this and more. Grab a bite to eat at Sleepy Bee, or enjoy a glass of wine, at one of the many restaurants and enjoy the day.
Shop Bellevue – Bellevue, KY is home to a hidden gem called Fairfield Avenue. Art, food, unique gifts, antiques, sweet treats and so much more all can be found by wandering Fairfield Avenue. Stop in to Avenue Brew to warm up with a cup of coffee or latte, head to Fessler's for pizza when you're done and enjoy a day of shopping and and great food!
Fort Thomas — This lovely, charming village holds a wealth of shopping possibilities. Head to Fort Thomas Central for unique baby items, fashion accessories, and much more. Fort Thomas Coffee has delicious coffee, and tantalizing coffee related gifts. Pet Wants Fort Thomas offers all-natural and unique products for your furry family members. Monera Chic Boutique is full of fun fashion accessories, jewelry and many other interesting gifts for friends and loved ones, Blue Marble Books for excellent reads, and Faded Finds offers creative home decor and gift items for your shopping pleasure.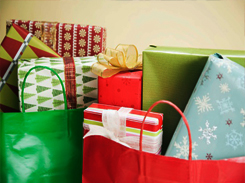 No matter where you shop, supporting local business is a win/win.  You get a creative, unique, and often hand-made gift that you've thoughtfully picked out for your loved one, and you support all of the amazing small, locally-owned businesses that make our region so amazing.  Do you have a perfect spot for shopping for amazing gifts?  Share in the comments!