Munich By Way of Newport
Tradition, beauty, and a meticulous attention to detail define much of what Americans perceive of modern German culture.  Cincinnati, a city steeped in German heritage, sets a high watermark along the Ohio River for classical sensibilities with regard to German fare and craft beer.
Not far from Cincinnati's city center, lies the historic City of Newport, Kentucky.  Hofbrauhaus Munich bestowed 3 local Newport owners with the honor of allowing the construction of the first truly authentic Hofbrauhaus in America, which is where this writer found himself on a group date, on a mid-Saturday afternoon, not so long ago.
Upon entering Hofbrauhaus, the design and decor are meticulously modeled after the 400+ year-old tavern in Munich.  Patrons will notice long communal tables, steins of authentic German beer, old photographs and mementos abound, a stage, an outdoor biergarten, and a pristine microbrewery.
The service staff dresses in traditional German garb and welcomes patrons warmly.  Our party was led to a table between the bar and a stage.  The Cincinnati Brass Band played German and non-German selections alike, which filled the room with music, creating a romantic ambiance that still invited conversation.
Our server Hailey thoughtfully guided us through our first round of drinks.  We ordered a flight for the table, which included an assortment of German beers (Lager, Hefe Weizen, Dunkel, Amber, and Schwarzbier).  My date and I decided on a Hefe Weizen, a sweet old-style wheat beer.  Our friend decided to try a Dunkel, a dark medium-bodied lager, with malt flavor and caramel undertones.  Each beer is brewed under the German Purity Law "Reinheitsgebot," using only hops malt, and water.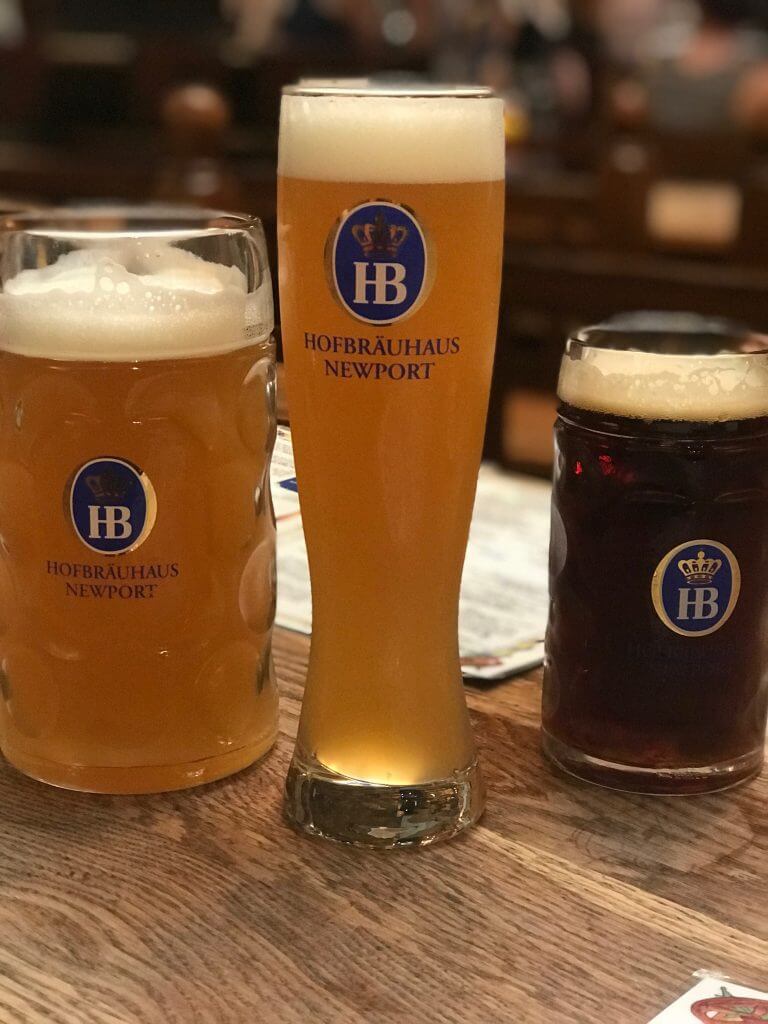 Hofbrauhaus also offers a full selection of liquor, so our non-beer-drinking companion enjoyed a vodka soda.
Our venue and timing, it being mid-afternoon, provided our group with the perfect opportunity to enjoy appetizers, rather than a full meal.  Once again, Hailey, our server, recommended "The Newport Sampler," which allowed us to try a number of dishes including:  Pretzels with homemade bier cheese, fried pickles, potato pancakes with applesauce, and sauerkraut balls.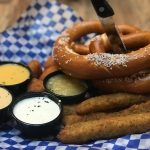 For more intrepid diners, I recommend the "Schmankerlplatte."  Our group also ordered this traditional Bavarian sampler plate which included:  Schweinebraten (pork roast in bier sauce) Schnitzel Wiener Art (breaded pork cutlet with a Burgundy wine mushroom sauce), and three kinds of Wursts (Bierwurst, Bratwurst, and Frankfurter).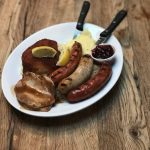 Our group enjoyed eating outside of our comfort zone.  The food invited conversation amongst our dates, as each person gave varying degrees of positive reviews of food they had never tried before.
After appetizers, Gary the bar manager offered to take our group on a tour of the microbrewery.  As we shuffled amongst the copper 20-barrel tanks, Gary taught us about the strictly monitored German beer-making process without making us feel less-than or dumb.  The only difference between the brewing process in the United States is the tanks and beer taps are kept at cooler temperatures than Germany due to the proclivity of American taste buds.  This tour really added to our group date's overall experience.
We thanked Gary and returned to our table for dessert.  "Schwarzwalder Kirsch Tort," or traditional Black Forest Chocolate & Sweet Cream Layer Cake is by far the best thing you will eat at Hofbrauhaus.  This sinfully good moist chocolate cake with cherry puree filling is, simply put, divine.  Our group cannot recommend enough.
Our mid-afternoon Date Night experience at Hofbrauhaus stayed with us, as we headed towards the Ohio River for a romantic walk.  Our group couldn't help but feel happy, taking a little slice of Munich into the early evening of Newport.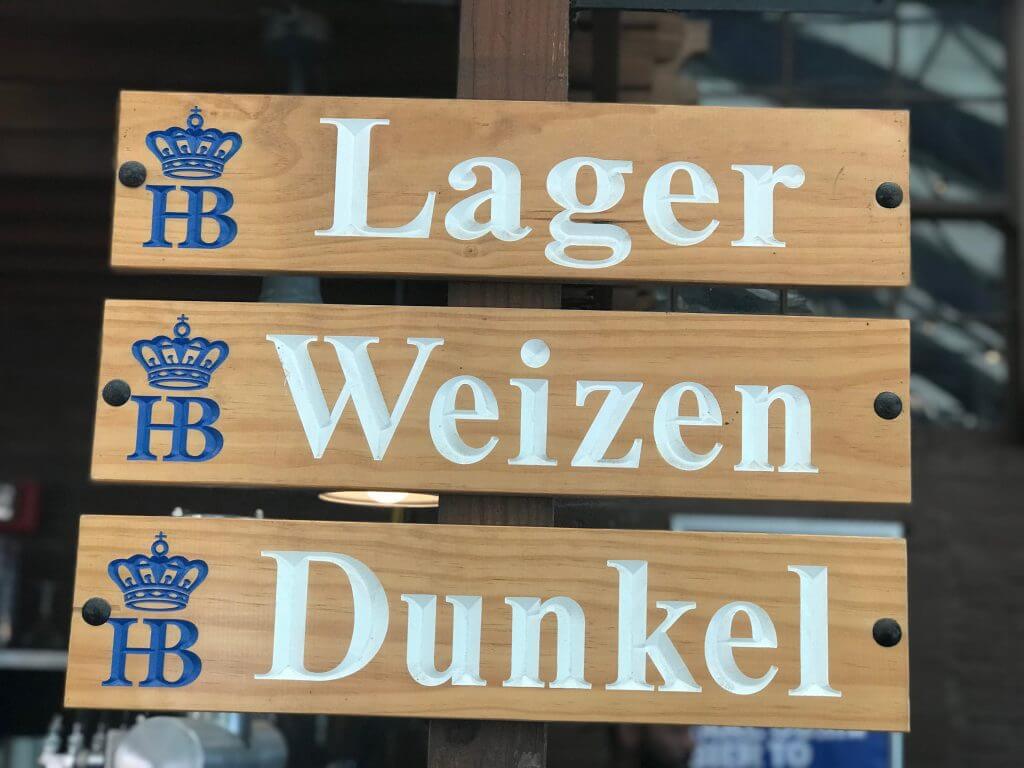 Hofbrauhaus Newport:
3rd and Saratoga at the Levee
200 East 3rd Street
Newport, KY 41071
Contact:  859-491-7200 OR www.hofbrauhausnewport.com
Atmosphere:  Traditional German Tavern Palette
Sound Level:  Just Loud Enough
Service:  Very Good