Are you and your partner searching for something exciting to spice up your date nights? Maybe you two are active and are looking for more sporty dates, or if you're anything like my boyfriend and me you just like friendly competition involving foam weapons that can be flung at each other. If any of these statements are true or simply pique your interest, then combat archery is for you. Prepare to volunteer as tribute and give Legolas and Hawkeye a run for their money at Archery Arena in West Chester!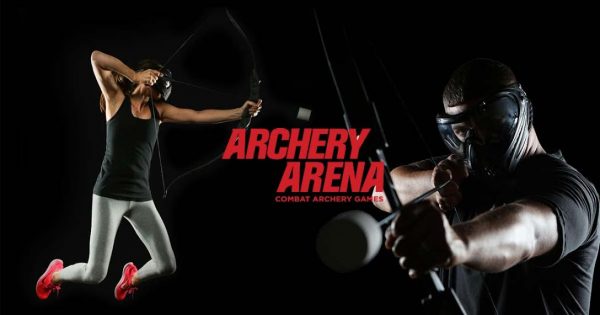 Now you may be thinking, "I don't have any archery experience so it's not for me." But that could not be further from the truth. Archery Arena's staff train their players before every game which means anyone can join in on the fun! There are several mini games to play but the overall objective is clear; defeat the other team by tagging them with arrows.
Combat archery is perfectly safe. Players wear protective headgear and arm guards, the arrows are tipped with foam, and the impact is like getting hit with a dodgeball. There's also a water cooler outside of the arena for whenever you or your teammates needed a quick breather. Take not only my word, but my boyfriend's as well. The staff at Archery Arena really did put a lot of work into making sure this activity is safe and enjoyable to play.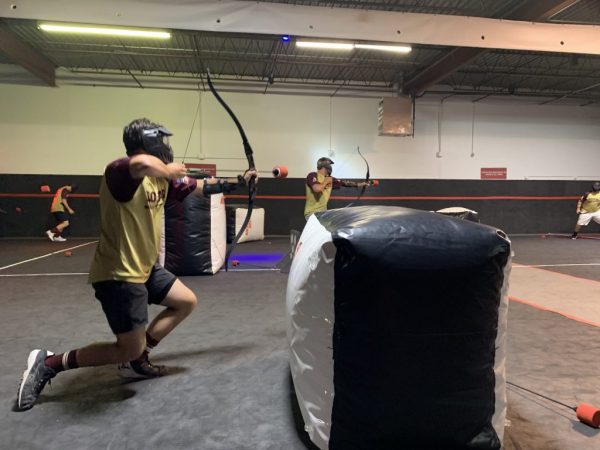 Photo courtesy of Archery Arena
You can bring a group of people, which is perfect for double dates, group dates, or bachelor/bachelorette parties! However, if it is just you and your significant other, you'll be placed into a game with individual players or another group. What a way to meet new people, huh? My boyfriend and I managed to get a group of friends together and even though we were all out of breath with hearts racing, we all had a blast during our session. Who knew exercising could be fun, even if you are breathing heavily simply from running around and shooting arrows at each other?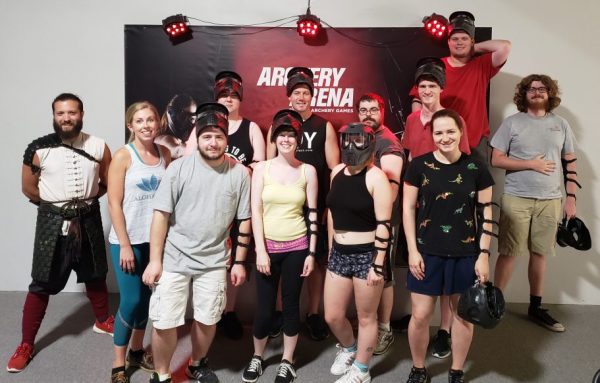 Before shooting at each other with arrows
Obviously, I wasn't the only person who enjoyed this experience. My friend Zach was probably THE most excited of my friends to go because of his LARP and Foam Fighting hobbies. He said, "I found the arrows to be very similar to the ones I saw being used in the event battles I go to, so I wanted to try this place out. I even went as far as to garb up for this, and I was glad that I wasn't told to change into something else." You can see him on the left of both photos in his gear! He can't recommend Archery Arena enough for anyone that's looking for something out of the ordinary.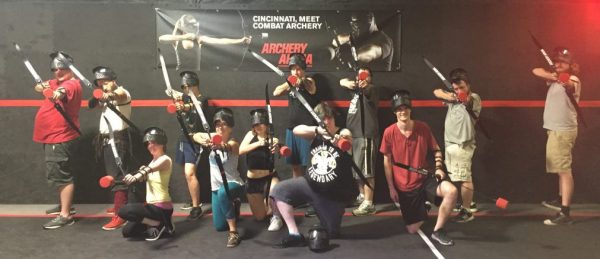 After shooting at each other with arrows
Neither my boyfriend nor I work out regularly so we both found Archery Arena a little intense. We weren't the only ones who felt that way either! However, because of the friendly staff and no pressure environment no one felt judged by their level of physical activity or discouraged from playing. Essentially, the exact opposite of high school gym class.  This group outing made my boyfriend eager to come back a second time. Despite the lasting soreness I had I would join him in a heartbeat. Please, and I cannot stress this enough, learn from my follies and stretch before you play! You and the other players will thank me later. In the meantime, book your next game today!