It's that time of year again, when our thoughts turn to cuddling up on the sofa with popcorn and drinks, huddled close together in fear wondering what will happen next! That's right – it's Halloween movie date night time! Is there a better excuse for snuggling up to your special someone than the fright of a scary movie? There are plenty of Halloween movies that are fun with or without all of the thrills and chills. Check out our roundup of Halloween movie date night picks – then get ready for a spooktacular time!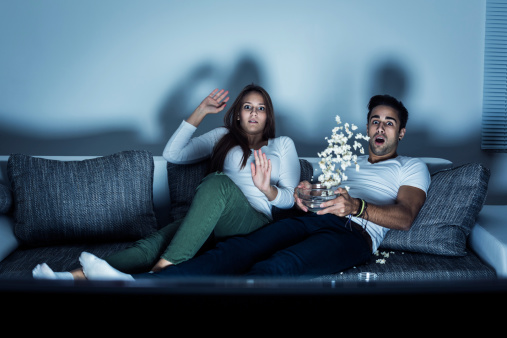 Insidious – If you like to be scared, and enjoy the thrill of a good jump scare, then this is the film for you. With three films in the franchise, it stands to reason that there are plenty of you out there already! Plot: An otherwise healthy little boy falls into a coma. Except, it's not actually a coma. It's a supernatural possession that has the entire family in its clutches and won't let go.
The Others – If psychological terror is more your thing, then The Others is the film for you. Tense and mysterious, it will leave you pondering until the very end. Plot: A mother, alone with her two chronically ill children after her husband fails to return from the war, finds herself believing that her home is haunted.
Alien – Unlike the second movie in the franchise, Aliens, the mother of this film series, is more horror film than action movie. There are enough jump scares and psychological plot twists to feed every horror fan appetite. Plot: A commercial spaceship investigates a distress call lands on a distant planet and discovers they aren't alone.
Scream – Okay, it's a typical teen slasher flick, right? Yes, and no. It might not be at the top of the scare-o-meter, but it is a fun horror film that will keep you guessing. One of those "if you haven't seen it, you probably should" movies with enough jump scares to keep you cuddling up close and a good enough plot to keep you busy trying to figure out who the real killer is. Plot: A young woman is taunted by mysterious phone calls by a killer who is slowly picking off her friends, one by one.
Hocus Pocus – NOT a scary movie, but if you haven't seen Hocus Pocus you are seriously missing out! Laugh together at the antics of this fun, family-friendly Halloween flick. Make it a family date night, watch it to lighten the mood after your heavier and scarier movies, or just spend an enjoyable evening together with a fun film. Plot: The Sanderson Sisters were witches in Salem during the witch trials when they were tried for devouring the souls of little children and consequently put to death. Before they go, they curse the town and vow to return – and when they do, they find themselves in 1990's Salem, returning to wreak havoc on the town on Halloween night.
Sleepy Hollow – Johnny Depp and Tim Burton team up to bring you their take on the classic Halloween tale of the Headless Horseman. Chilling, and a tad gory, but full of Johnny Depp/Tim Burton quirkiness and guaranteed to provide a fun night of chills for all. Plot: Ichabod Crane, played by Depp, is sent to Sleepy Hollow to investigate the decapitations of three people by the infamous Headless Horseman.
Shaun of the Dead – Campy, zombie filled and hilarious, Shaun of the Dead is a Halloween pick that will leave you laughing, and there's even a love story! This rom-zom(bie)-com is sure to leave you laughing and enjoying your night together. Plot: Shaun decides to win back his ex-girlfriend and reconcile with his estranged mother, but first he has to deal with the zombie apocalypse.
We could go on – The Exorcist, Ghostbusters, The Sixth Sense, Poltergeist, Psycho, Dracula, Zombieland and the list goes on and on. There are so many amazingly scary movies out there – you'll definitely be able to find just the right one to make your Halloween movie date night a chilling success!