From brackets and buzzer beaters to rivalries and rebounds, there's no denying that the NCAA Tournament is one of the most exciting parts of spring. Even for casual sports fans, it's easy to get into the competitive spirit of the annual college basketball tournament and watch with excitement as your favorite team advances through the bracket or a hometown underdog becomes the Cinderella story that makes it all the way.
But the NCAA Tournament is about more than just the games. It's also a perfect opportunity for a fun, low-key date night (or afternoon!) with your special someone. Whether you and your date are jersey-wearing basketball aficionados or just casual fans of college hoops, catching some games while enjoying beer and wings has all the makings of a great casual date.
Check out some of our favorite spots in Cincinnati to get your game on:
Knockback Nat's
Knockback Nat's is a neighborhood bar that has become known as one of the best spots in Downtown Cincinnati to watch the big game. Their smoked chicken wings simply can't be beat, but they also offer other favorites like Knockback Nachos and Hanky Panks that are great to grub on during particularly intense games. They also offer drink specials, free popcorn, shuffleboard and plenty of TVs to ensure that you and your date are covered no matter which team you're rooting for.
Lachey's
If you and your date are craving both sports and delicious food, you'll love Lachey's. This comfortable neighborhood sports bar features a 90-inch television screen that lets you watch the big game in a larger-than-life way, as well as a running sports ticker so that you can stay up-to-the-minute on all the scores. You and your date also will love exploring a menu designed by celebrity chef Brian Duffy that includes game day favorites such as Buffalo Chicken Dip and Wild Card Wings. And who knows? You just might run into local celebrities Nick and Drew Lachey while watching the game!
O'Bryon's Bar and Grill
If classic pub grub is what you're after, O'Bryon's Bar & Grill is your spot. O'Bryon's is known for their delicious wings, offered with a variety of mouthwatering sauces and dry rubs to choose from! There also are game day specials on favorite beverages, like pitchers of Shocktop and Yuengling, along with special discounts during big moments of the game. If you want your date night to pack an extra punch, also be sure to try O'Bryon's infamous Shark Tank cocktail!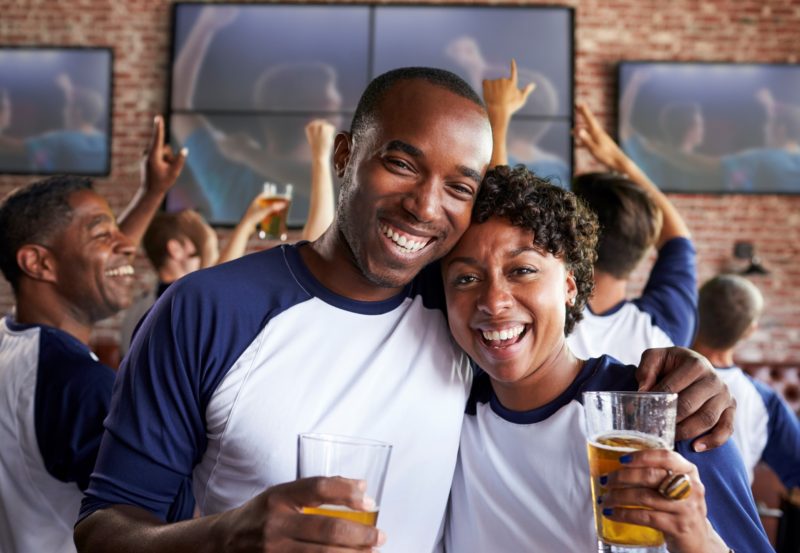 The Oak Tavern
"If there's a game, we'll be watching." That's the motto of The Oak Tavern in Oakley, a sports bar with a classic feel that offers a fun, energetic atmosphere. Be sure to try an order of Jumbo Wings, which comes with a sauce caddy featuring nine different ways for you and your date to spice up your wings. Afterwards, wash the wings down with one of the many craft and draft beers on tap.
Queen City Exchange
It may be one of the newest places on this list, but Queen City Exchange in OTR already is making a name for itself as one of the most unique places to watch your favorite game. The prices on Queen City Exchange's extensive list of craft beers fluctuate according to demand, giving you and your date a perfect incentive to try something different! This stock market element provides a fun, interactive twist to spice up your date and makes Queen City Exchange a perfect place to catch a game on a weekend afternoon.
Mac's Pizza Pub
If wings aren't really your thing, pizza is a great alternative — and the slices at Mac's Pizza Pub are second to none! With locations in Clifton, Covington, Landen and Mariemont, Mac's is the place to go if you and your date just want to enjoy brews and bites in an unpretentious space. Be sure to try the "Mac Snacs," one-topping deep dish pizzas that are perfectly sized for snacking. There's also an extensive list of craft and local beers, meaning you can keep celebrating long after your team's win!
JerZees Pub & Grub
If you're looking to watch the big game somewhere on the Kentucky side of the river, make a pit stop at JerZees Pub & Grub. Located on Monmouth Street in Newport, JerZees features a fully stocked bar and is known for their delicious JerZee Burger and wings. It's also housed in a building dating back to the 1800s, so you will get to take in a bit of history along with the big game!
MVP Sports Bar & Grille
If you prefer your college hoops date with an added dash of nightlife, consider ending your evening at MVP Sports Bar & Grille. In addition to 15 55-inch flatscreens that allow you to be surrounded by college hoops at all angles, MVP also offers an extensive lineup of live entertainment, including a weekly local music showcase spotlighting some of the best up-and-coming artists from our area.
No matter which of these hot spots you head to, an NCAA Tournament date is a great way to spend some fun time with your special someone. Now go start cheering on your favorite team!