Looking for an exciting and fun date that incorporates sports and local craft beers? Check out Punch Out: Round 2
Tickets are on sale now for Fifty West Brewing Company's highly anticipated 2nd Annual Punch Out via cincyticket.com. Tickets are available in advance ($15) and the day of the event ($20).
With the festival fast approaching, Fifty West Brewing Company invites beer and boxing lovers of all ages to join them on the night of July 8, 2017, at their Production Works facility for another year of all-American entertainment.
Fifty West Brewing Company is thrilled to announce Punch Out: Round 2 on July 8th. Prepare yourself for brewery on brewery boxing matches, 80 local brews on tap, live music from Ernie from Detroit, and some of the best food trucks in the area! Stay tuned for more details.Get your tickets now at https://www.cincyticket.com/eventperformances.asp?evt=3656

Posted by Fifty West Brewing Company on Friday, June 16, 2017
Last year, Fifty West Brewing Company took a chance by combining two Cincinnati favorites: beer and boxing. And this year the local brewing company promises to not only bring back the one-of-a-kind festival, but to turn things up a notch. With more than 80 unique brews from nearly every local brewery in the Greater Cincinnati area (including some rare releases and heavyweights from all your hometown heroes) and four variants of fan-favorite Punch You in the EyePA, beer lovers of all shapes and sizes are sure to find what they are looking for throughout the night.
Bobby Slattery, Fifty West Founder, weighed in with this about the event: "At the heart of it, this event is all about bringing together Cincinnati's growing beer market in a unique way. We're beyond excited to present such a robust list of local brews, and we can't wait for everyone to try out the four Punch You in the EyePA variants we'll have on draft throughout the day."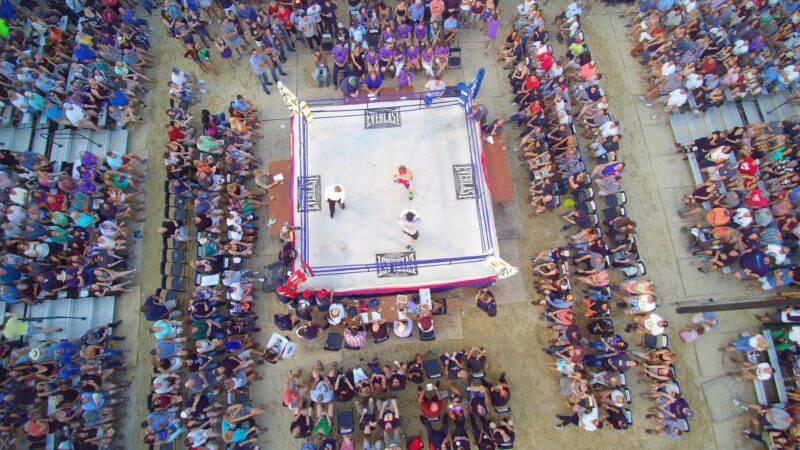 While many of this year's guests will be trekking out to Fifty West Production Works to try loads of awesome beers, many are just as excited about the fights. And this year's event promises not to disappoint. With an upgrade from last year's stadium to a new stadium featuring a video board and lighting enhancements, three more fights and the addition of Bob Bonder, Co-founder of Rhinegeist, stepping into the ring, it's hard to downplay the excitement brewing in the local craft beverage industry. Guests returning from last year's festivities will also be happy to hear that Punch Out: Round 2 will sport the rematch of the century as Kiri Crawford (Taft's Ale House) will be stepping into the ring to defend her title over Karenna Brockman (Listermann Brewing Company) in what's sure to be a physically and emotionally charged face-off.
New to this year's event, Fifty West has announced that they will have a live band performing between select fights. The band performing at this year's event is Ernie Johnson from Detroit, a Cincinnati-based funk group that's sure to get even the most stoic of guests to put on their dancing shoes and moving to some hometown grooves.
To buy tickets for this fun event, click here!