The warm weather is moving in, and we have cabin fever! To start off your spring date adventures, we found the best outdoor date ideas. It's time to shed the coat and explore the city and surrounding areas.
Get your thrills
Kings Island
Get ready to scream! One of our favorites is just a short drive north. Whether your favorite ride is an oldie like The Beast or a new one like Banshee, you'll be sure to hold on to your sweetie. Keep an eye out for all kinds of deals going on during the summer. Kings Island opens April 15.
Cincinnati Zoo
The zoo is a wonderful place to take your date. You can walk around and find your favorite animals or even take a ride on the train. Dinner options are available, and you can get discounts if you're a member! Watch for a variety of special events.
Beach Waterpark
Beach, beach, let's go to the beach! If you can't manage a trip to the beach this year, why not check out our own beach in Cincinnati's back yard? Take a trip on the lazy river or down one of the slides. The Beach Waterpark will open in May.
Outdoor adventure
Morgan's Canoe
Grab a paddle and push off into the water. Morgan's offers canoe and kayak rentals, as well as riverside camping options. You can choose from different distances on the water to fit your canoeing preference. Pack a lunch and start paddling!
Ohio River Trail 
Looking for a more challenging longer ride? The Ohio River Trail eventually will span 23 miles along the north bank of the Ohio River from Coney Island through Downtown and on to Sayler Park. For now, this park includes Lunken Trail and Armleder Park trail and spans more than 10 miles.
Bellevue Beach Park
Take a ride along the mighty Ohio River and get a great view of Downtown Cincinnati.
Licking River Greenway and Trails 
Gravel and paved trails along the Licking River give you a great view of the Licking and Ohio rivers as well as a scenic ride through historic Covington.
Loveland Bike Trail 
The Loveland Bike trail makes up part of the more than 70 flat paved miles of the Little Miami State Park. Bike rental is available on the trail, so if you don't have your own, don't worry!
Enjoying Nature
Krohn Conservatory
Plan a safari by your date's side and explore the rain forest and the desert in the same day! Krohn Conservatory is located in Eden Park and offers several exhibits throughout the year. Their famous butterfly exhibit will run until June 18.
Boone County Arboretum at Central Park 
Both paved and wooded trails will great you at the nation's first arboretum within an active recreation park setting and Northern Kentucky's only arboretum.
Spring Grove Cemetery and Arboretum 
Spring Grove Cemetery, widely held to be one of the most beautiful in the country, is one of the largest cemeteries in the United States. Grounds maps are available on their website.
Cincinnati Nature Center 
The Cincinnati Nature Center offers two locations: one in Milford and one in Goshen. The CNC is among the top nature preserves in the country and has a trail perfect for every experience level.
Florence Nature Park 
Nestled in the heart of Florence, Kentucky, you'll find this lovely nature park that boasts 15 acres of green space, a gazebo and more!
Caesar Creek State Park 
Escape the city life with a trip to Caesar Creek State Park. Camping, fishing and boating are just the beginning of what is offered at this park.
Relaxing fun
The Banks
The Banks have been built up over the years, and now there are many restaurants that line the Ohio River. After dinner, you and your date can take a stroll through the gardens and playsets. When you want to take a break, you can take a seat on the metal swings.
Sawyer Point and Yeatman's Cove
If you want to continue your walk, take some time to check out Sawyer Point and Yeatman's Cove. Throughout the summer, the 5:13 series (formerly Party in the Park) takes over. A concert series as well as craft beer and food trucks line the serpentine wall. It's a great way to get out and dance with your date.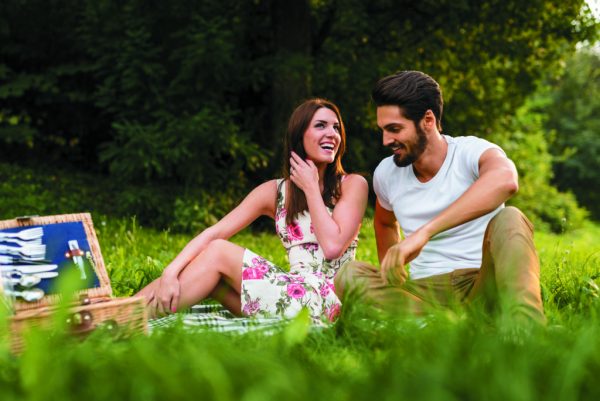 Newport on the Levee
Conveniently located across the river is Newport on the Levee. It's a quick walk across the Purple People Bridge to find yourself surrounded by restaurants and entertainment. If you hang out on the plaza, you're bound to find a street performer or two. The metallic man will try to fool you and your date into thinking he's just a statue … or maybe he is?
Fountain Square
Summer begins in Fountain Square with all the events! For hanging out downtown, Fountain Square is the perfect starting or ending place. The PNC Concert Series, featuring local music, takes place each weekend. If you want to get in on the action, check out some of the dancing events, such as Salsa on the Square.
The Cincinnati Reds
You can always catch a Reds game with your date! Game tickets are not that expensive, so you might be able to see a few games during the season. After a game, you can always explore the city.
Parks, parks and more parks!
Devou Park
Talk about a breathtaking view! Get a great view of Covington, the Ohio River and Downtown Cincinnati.
Ault Park
There are plenty of parks in Cincinnati, but we chose to highlight Ault Park because of some of its features. Ault has a picnic area and hiking trails, as well as a lookout point. It's also beautifully constructed with historical structures that are great for a photo shoot!
Theodore M. Berry International Friendship Park 
If you haven't explored this riverside park yet, what are you waiting for? By foot or by bike, this park should be on your must-see destinations.
Woodland Mound 
With more than 1,000 acres, it's sure to be a place you and your special someone can explore. This park includes a disc golf course and both wet and regular playgrounds. Bike rental also is available.
Mitchell Memorial Forest 
If you're looking for a challenge, you can head to Mitchell Memorial Forest and take on the eight miles of challenging mountain bike trails.
Miami Whitewater Forest 
This park was made for a weekend getaway! Take along your bikes and camping gear and spend a long weekend in nature.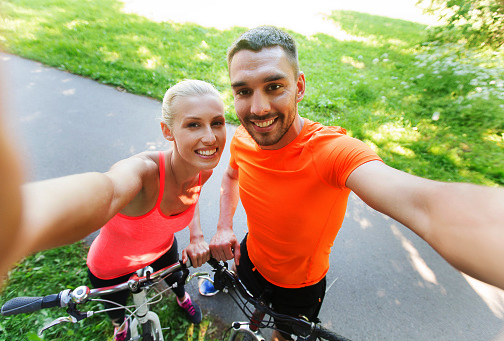 Mt. Airy Forest 
This beautiful park has a gorgeous arboretum, gazebos and a picturesque lake, making for a fun and scenic bike tour.
Sharon Woods 
If you're looking for easy gliding, this is the place for you. Sharon Woods features a 2.6-mile paved multipurpose trail around the lake for an easy and relaxing ride. Bike rentals are available.
Winton Woods 
Winton Woods offers more than just excellent bike trails. If you're feeling adventurous, you can take a canoe or kayak out on the 156-acre lake. Bike rentals are available if you want to stick to the trails.