Grab your sweetheart, hold on tight and prepare to skate your way to romance. The O'Keeffe's Ice Rink, presented by Fifth Third Bank is open on Fountain Square for another amazing season! Whether you are an ice-skating pro or just a beginner, the Fountain Square Ice Rink is the perfect date activity. What's more romantic than clasping hands as you glide across the ice together?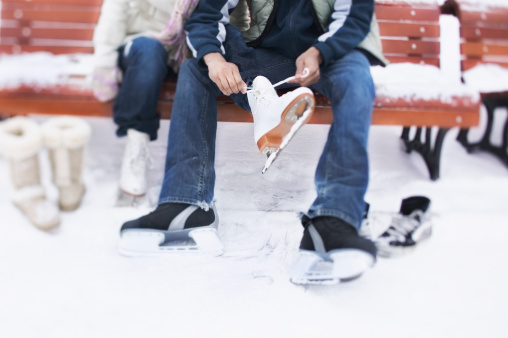 Make this fun wintertime activity the star of the show by spending the afternoon skating hand in hand, then stop and warm up with a hot chocolate and snack from the Fountain Square concession stand. Looking to get out of the chill for a while? Head to Carew Tower for a stroll, Graeter's on Fountain Square for a sweet treat or Rock Bottom Brewery for a beer and an appetizer.
Are you making a day of it downtown? Start with shopping at Macy's, The Booksellers on Fountain Square, Carew Tower or any of the other fantastic downtown shops. You could even hop the Cincinnati Bell Connector Streetcar and travel up to OTR for a little shopping or a stroll around Washington Park and Findlay Market. Enjoy lunch, dinner or just drinks and appetizers at any of the city's amazing restaurants – Via Vite, Palomino, Bakersfield OTR, Taste of Belgium and many more – then head to the Fountain Square Ice Rink for a spin around the ice.
There's really no end to the fun date combinations you can come up with – and the best part is that the rink will be open until February 20, 2017, giving you plenty of opportunities to perfect your ice-skating form!
If you head down to the rink, keep the following in mind:
Dress warmly and in layers. It might be very cold, but you will work up a sweat once those skates are strapped on.

Admission to the rink is $6, skate rental is $4. If you have your own ice skates you are welcome to bring them. If the weather gets above 60 degrees, if there is high humidity or lots of rain, it's possible the rink will be unskatable and temporarily closed. Check out myfountainsquare.com or call 513-381-0782 if you have any doubts about rink status.

Parking is available under Fountain Square, very convenient and affordable whether you plan on staying a few hours or all day. One block away is also the new 51° Garage. If you are coming from the Kentucky side of the river, you also can take advantage of the South Bank Trolley and park-and-ride lots located in Covington and Newport.

Lockers are available for storing purses, coats, shoes, etc. on the rink platform. The rink staff can assist you in securing one for a small fee.

Skate rentals are first come, first served.
Check the Fountain Square website for holiday related programmed events on the square, such as Bowling on Ice, Turkey Bowl, Light Up the Square and so much more.
Fountain Square Ice Rink hours of operation:
Pre-Holiday Hours (Through Dec 15)
Monday – Thursday: 12p to 10p
Friday: 12p to 11p
Saturday: 9a to 11p
Sunday: 9a to 9p
Exceptions:
Tuesday, November 8: 9a to 11p (Election Day)
Friday, November 11: 9a to 11p (Veteran's Day)
Wednesday-Sunday, November 23-27: 9a to 11p (Thanksgiving Holiday Break)
Holiday Hours (December 16 – Jan 2)
Monday – Sunday: 9a to 11p
Post-Holiday Hours (Jan 3 – Feb 20)
Monday – Thursday: 12p to 5p
Broomball: 6p to 10p
Friday- Sunday 12p to 9p
Exceptions:
Monday, February 20th from 9a to 9p (President's Day)
Enjoy the upcoming holiday season, we hope to see you skate your way to romance on the Fountain Square Ice Rink! For more information, visit www.myfountainsquare.com.