If you've read up on online dating etiquette and feel like you're ready to dip your toes into the online dating world, it may be time to explore a few dating apps. We've put together a list of top dating apps for your smartphone to help get you on your way to dating bliss!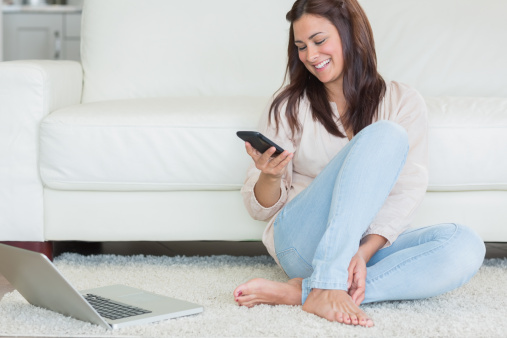 Match – If you haven't heard of Match.com yet, we're surprised. It touts the largest online database with millions of users, so you'll have a wide selection of potential dates to choose from.
Coffee Meets Bagel – Coffee Meets Bagel is a newer app, but one that is catching on quickly. It allows you to meet 'friends of friends' via your Facebook friends list. If you are hesitant about trying out a dating app, or internet dating in general, then this one gives you a bit more security– you will have a friend you can poll in reference to the proposed "bagel", or match, that pops up for you.
eHarmony – eHarmony and its in-depth questionnaire isn't for the casual dater. You can find examples of eHarmony daters turned into married couples all over the internet. If you are looking for a serious relationship that is going places, this is your app.
At First Sight – Remember video dating services? Think that, but with better technology. Developed by The Bachelor host, Chris Harrison, this app allows you to feel a more personal connection to proposed dates by getting a feel for their personality through a recording of them talking about their likes, dislikes, hobbies, etc.
Tinder –  Tinder, an app known for it's famous swipe right for like and left for lose, matches you up with potential dates that could be as close as a block away. If you aren't the patient type, and would rather not drive miles away for a night out, this is the app for you.
OkCupid – The OkCupid has been around for a while and boasts a huge membership list. It is definitely for the more casual dater, or someone who likes to head out the door at the spur of a moment for a night out.
Plenty of Fish – Plenty of Fish also had a large membership list, both on the app, as well as, the online dating community. If you want choices, this is another great app.
HowAboutWe – HowAboutWe is perfect for when want to find someone who likes to do the same spur-of-the-moment or quirky activities that you do? This is your app. Users ask a question, such as "How about we…head to the fossil park and dig for dinosaurs" and then wait to see if anyone responds with interest. If you get a response, you take it from there.
Have you already dabbled in dating apps for your smartphone? If so, which do you find most useful and well developed and why? Share in the comments!