Sometimes the promise of a delicious dessert is all it really takes to tempt my husband and I to sneak out for a date, just the two of us. This held true when we heard about Buona Terra Gelato and Crepes in Mt. Lookout. Don't get me wrong, we were excited about the chance to try out Buono Terra's crepes as well…but honestly, they had me at gelato.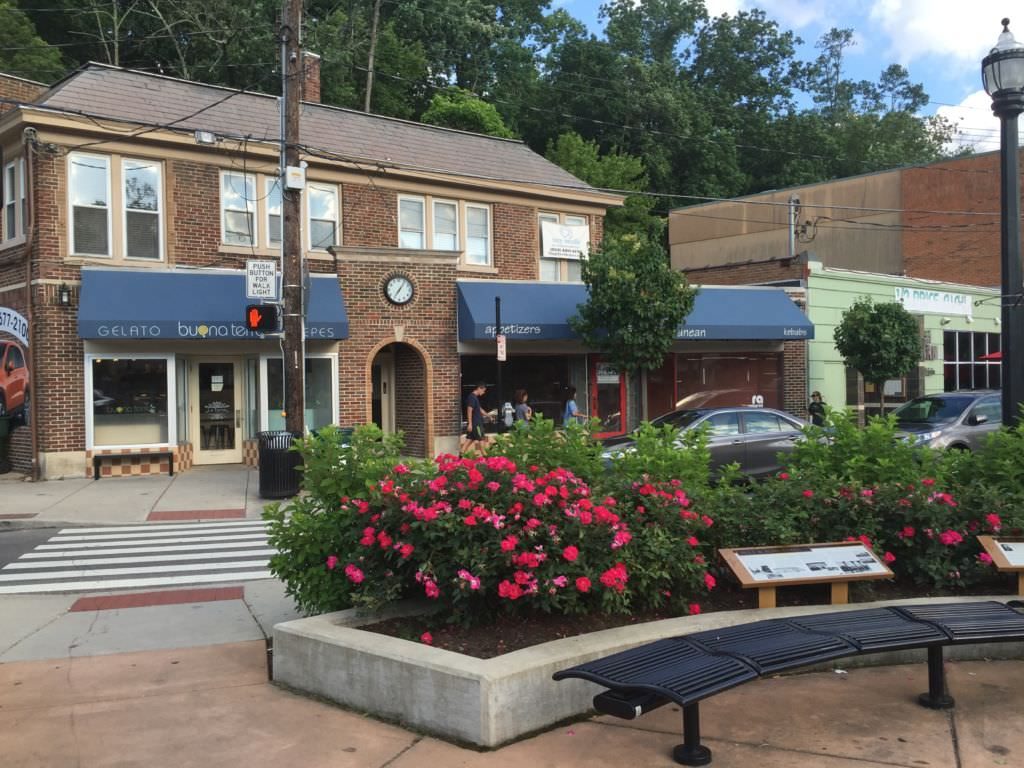 Mt. Lookout is about as quaint and cozy as it gets for a date night destination. It wouldn't be difficult to forget yourself for awhile and pretend you were exploring a quiet little European village, such is the atmosphere of that sweet little corner of Mt. Lookout. Within just a few blocks there are numerous storefronts for window shopping as well as quite a few tasty restaurants to explore, but our sights were set on Buona Terra and with good reason. The gelato at Buona Terra is out of this world, and the crepes are outstanding. You could just get dinner OR dessert, but why limit yourself?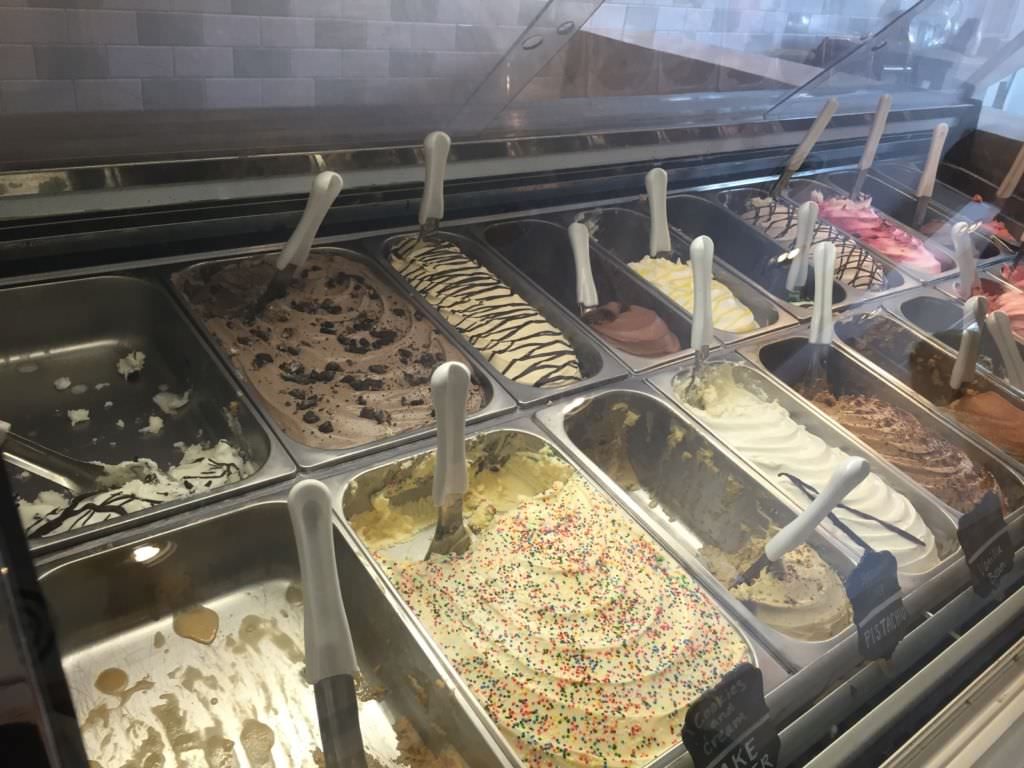 The Buona Terra storefront is lovely. You're greeted by a smiling face upon entry and immediately feel at home. The problem is, once you've entered you are torn between all of the delicious scents, and it's really difficult to decide where to start. Directly inside the door is the large gelato case full of the promise of tastiness. Lucky for you, they are more than happy to let you taste test to your heart's content. Once you've narrowed it down, you get to pick from three sizes.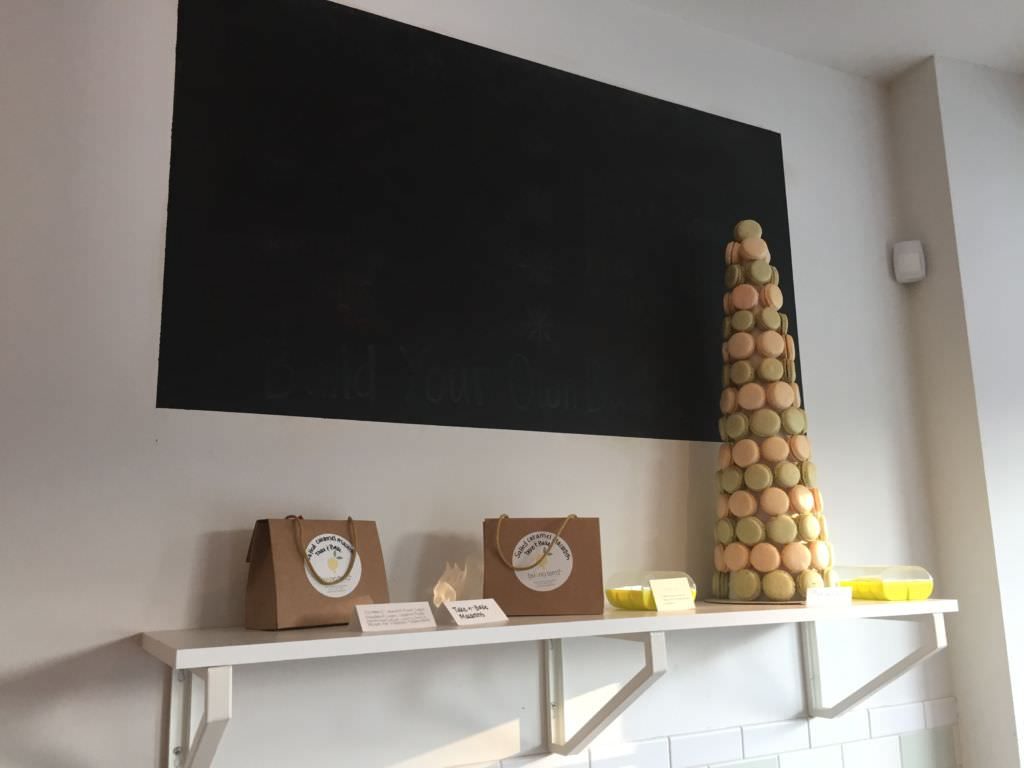 ::Smart Tip:: If you can't narrow it down to just one flavor, don't fret! Depending on the size you choose, you can get more than one flavor! If you get a small, you can get up to two flavors, medium holds three and a large holds FOUR flavors. Be warned, it's addictive!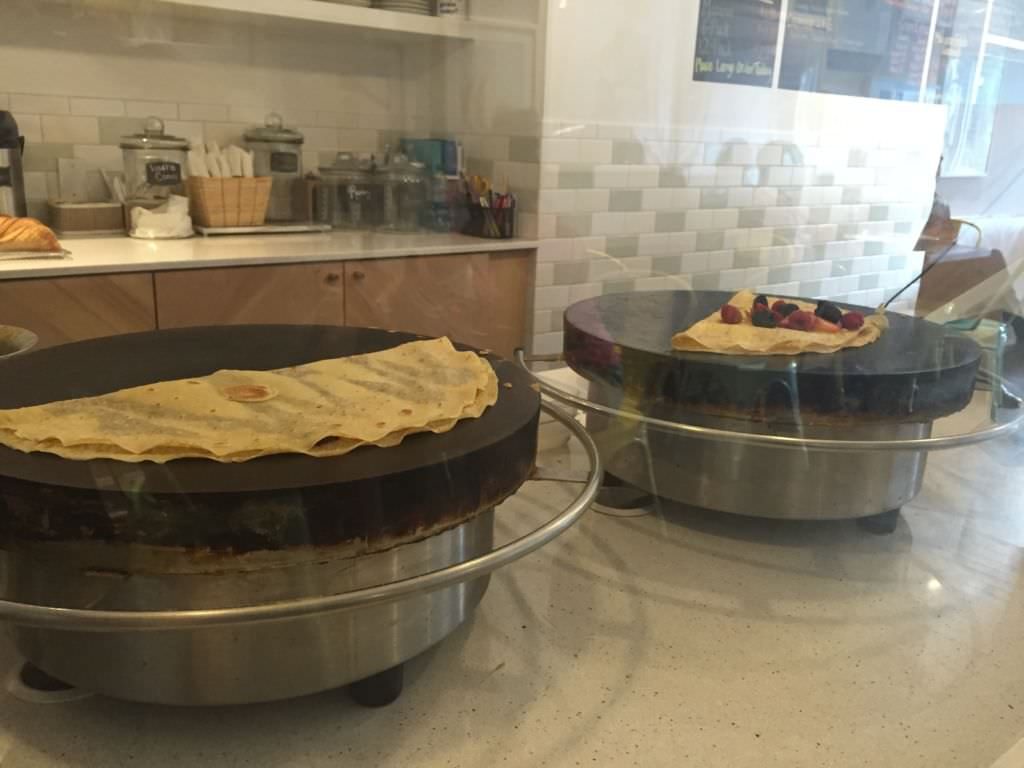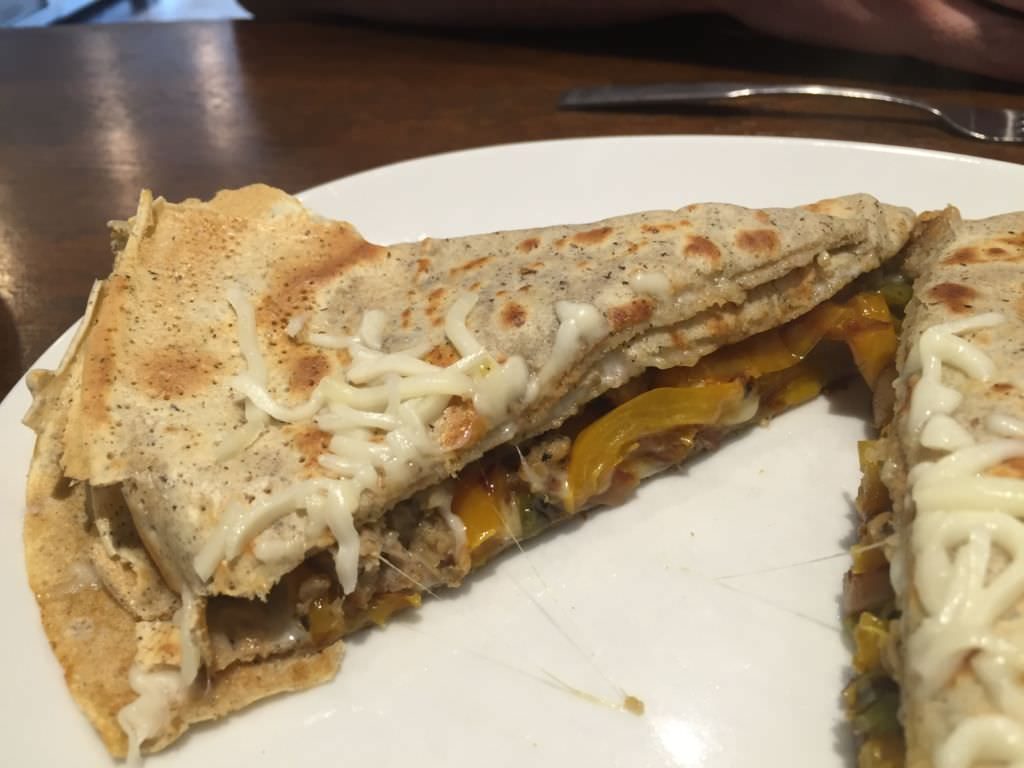 If you're only coming for gelato you're all set, but we came for the full experience and chose to try out a crepe as well. As hard as it was to wait for that delicious gelato, and as much as we were tempted to have dessert first, we restrained ourselves and perused the crepe menu. They have both savory and sweet crepes, and we promised ourselves we'd be back for the Belgian Breakfast (Nutella and banana) and chose The Sicilian – cheeses, Italian sausage, peppers and onions. When I say this was the most delicious crepe I've ever eaten, I really mean it. At that point, we both agreed that another trip was definitely in our near future.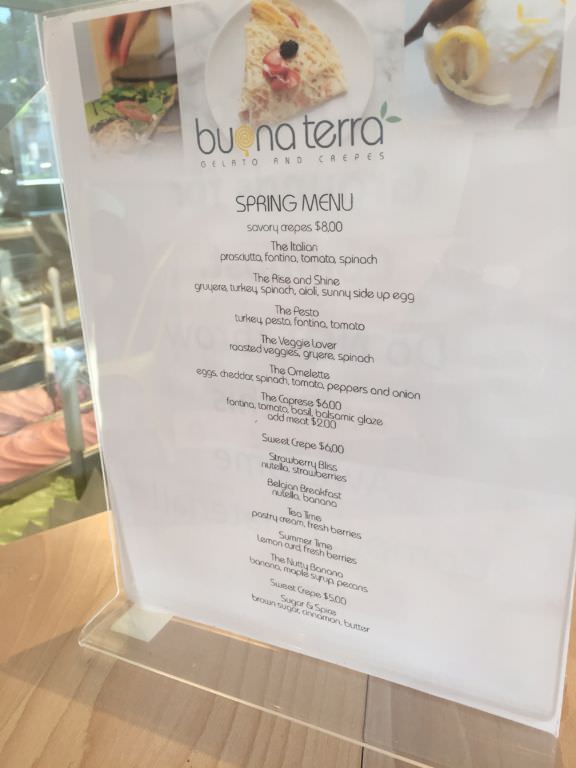 During all of our gelato tasting and crepe devouring we had a chance to sit and relax, talk and enjoy our time together. We weren't rushed, although the restaurant was busy we never felt hurried toward the door. We enjoyed our time together and for that alone, I give Buona Terra three hearts ❤️❤️❤️. However, our night wasn't over yet…because now that we had enjoyed our fantastic Sicilian crepe, we moved on to gelato!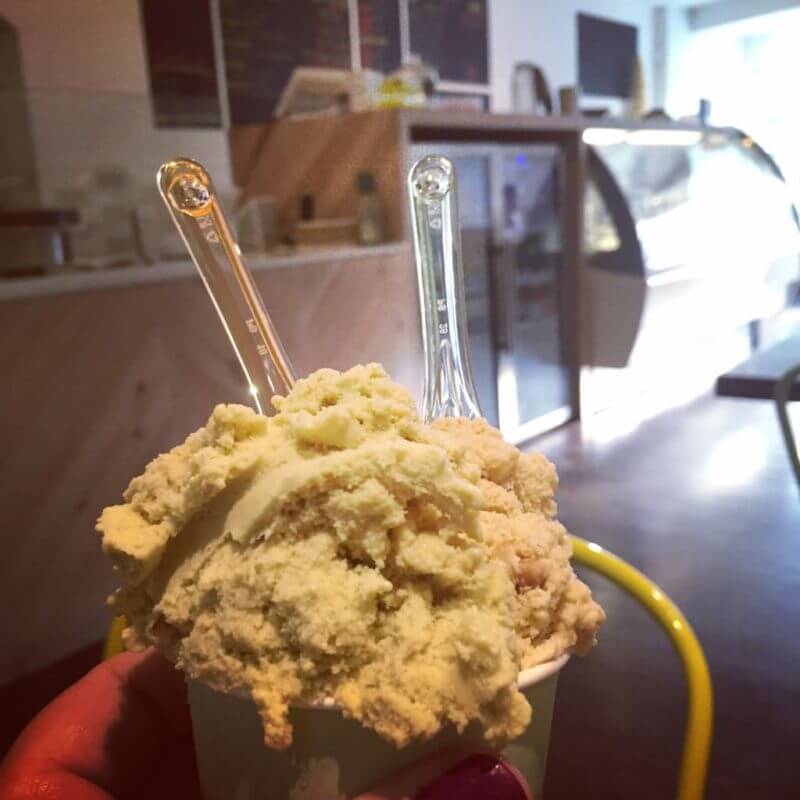 The choice was difficult – and when I say difficult I mean nearly impossible. After the tasting and agonizing we ended up narrowing things down to a few top choices. I went with the small size and chose the Hazelnut and Tiramisu.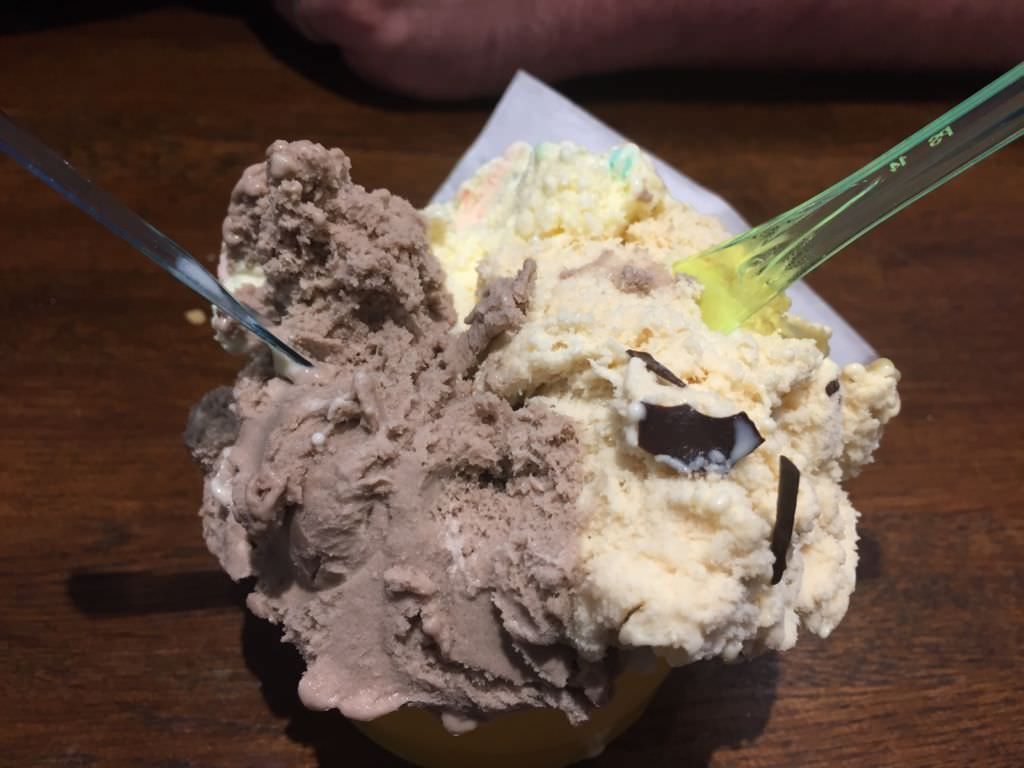 My husband went medium size and got the Birthday Cake, Salted Caramel and Nutella flavors. I adored mine and my husband thoroughly enjoyed his too. What I didn't anticipate is that I would covet his Birthday Cake flavor as much as I did. It might have been the only gelato flavor I didn't try, and once I tried his it's all I wanted.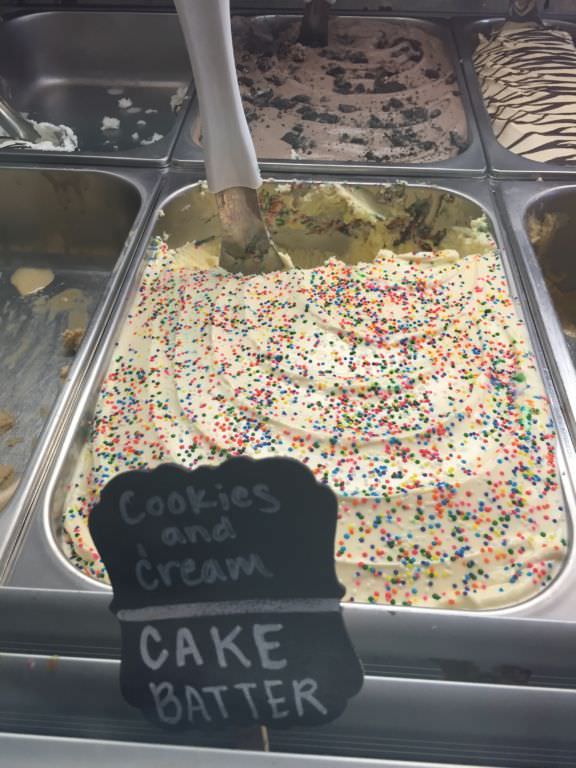 ::Moral of the Story:: Try the flavors you think you typically don't care for as much, because you WILL be surprised. I'm not usually a birthday cake flavor kind of girl, but I was seriously tempted to go back for seconds just to have more of it. It was THAT good.
We left Buona Terra feeling well fed and relaxed, happy to have stolen a few hours to ourselves. It was one of the most pleasant evenings we've spent in recent memory, just strolling to peek in the shops (there's a fun looking board game shop nearby and we definitely want to get back to check it out – game night is great!) Buona Terra Gelato and Crepes and Mt. Lookout have definitely made it into our date night rotation.
Buona Terra Gelato and Crepes is located on Delta Avenue in Mt. Lookout. When you go you'll find that most parking is on-street and metered (unless you arrive later in the evening), however there is a small lot right in the center of the square where you can find a spot if you are lucky. Enjoy your date night — we will definitely be back soon!
EDIT: The Sicilian Crepe is no longer available on their menu. For a full list of crepes available click here.