You can find out more about the Cincinnati Dinner Train from their
website
or call ( 513) 791-7245 for reservations.
I'm always looking for new ways to mix up date night. When a date night can double as an adventure, you know you've found something special. That's where the Cincinnati Dinner Train comes in.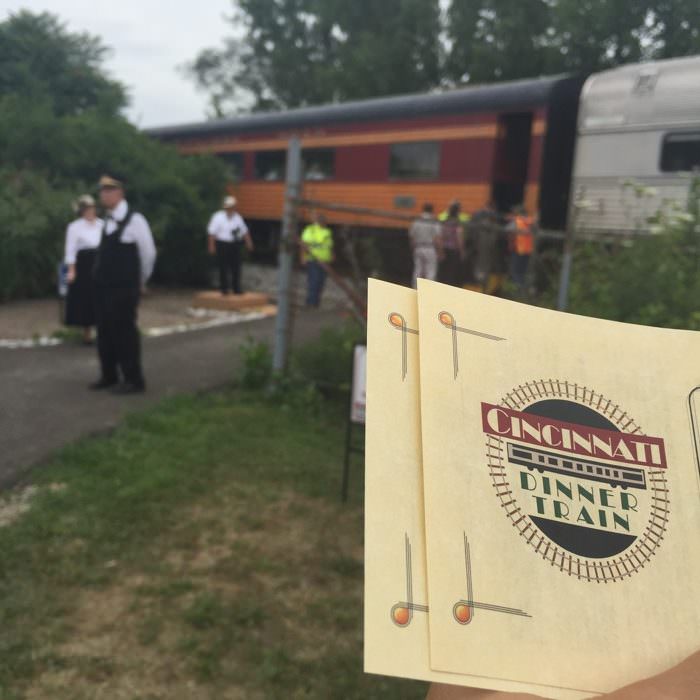 There are only about ten dinner trains still in operation in the United States. That makes this experience even more special! The Cincinnati Dinner Train transports up to 148 dinner guests back to the era of the 1940's on a 3-hour train ride inside three vintage dining cars. When you arrive at the departure location in Oakley, you will pick up your train tickets with your table assignment. There is a parking attendant who stays at the departure lot with the vehicles while guests are on the dinner train. The mood for our adventure was set by music from the Queen City Sisters. There was also a photographer taking pictures before we entered the train. I would recommend at least dressing business casual for this experience.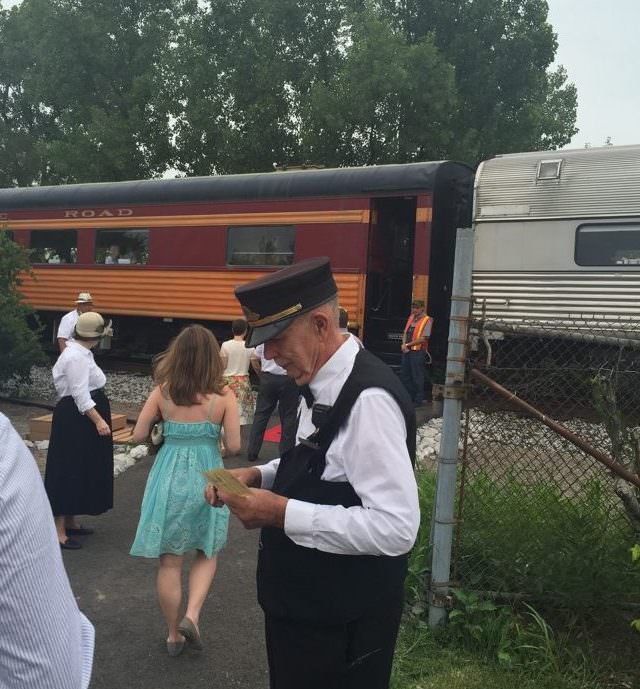 There are a limited number of 2 top tables available and most of the tables are for four people so you will most likely be seated with another couple. I would suggest either making this adventure a double date or be open to meeting new people the way other travelers did back in the 1940's. We met a nice couple and made small talk easily. Dinner train guests can reserve their train car ahead of time. We rode in the Milwaukee Road car located next to the kitchen car which also made it so that we got our food first. Score!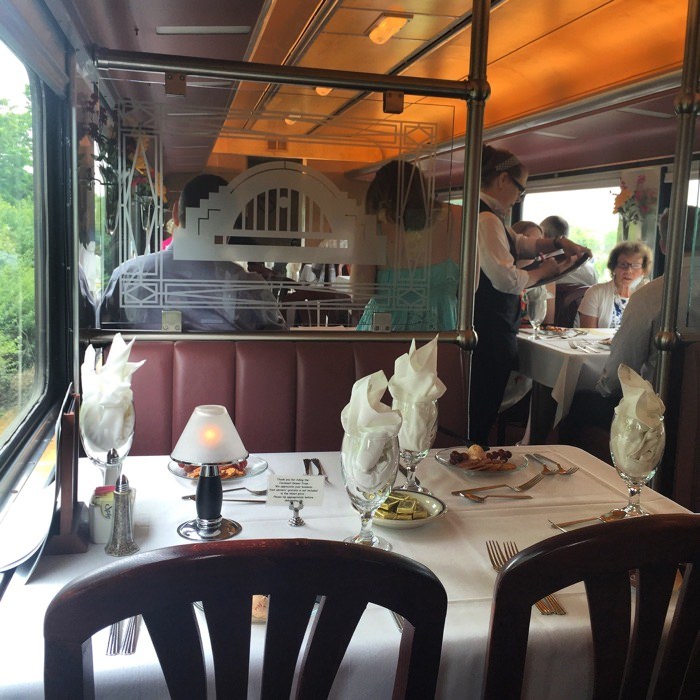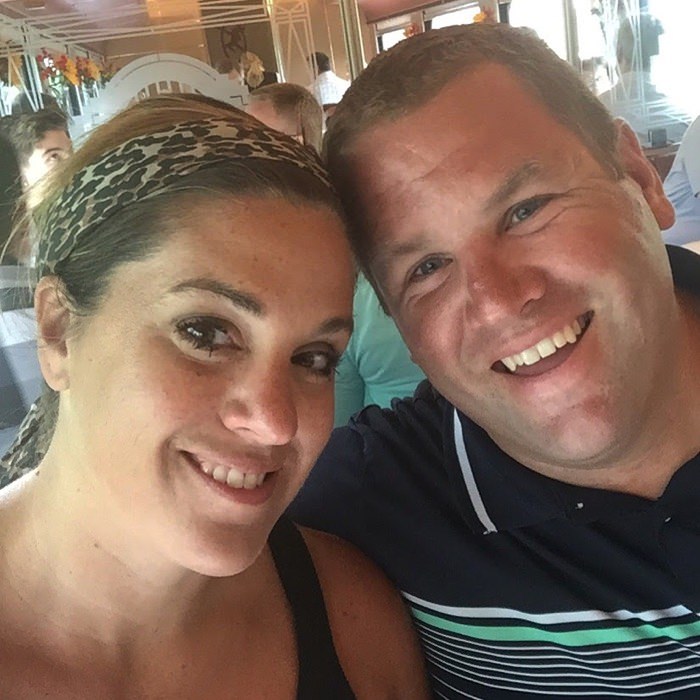 Every table is located by a large window and each couple is given information on the train route with points of interest by the owner who is also a great storyteller. There is live narration providing history of several landmarks along the route so you don't miss a thing. The route on the dinner train gives you the ability to see areas not accessible to the public.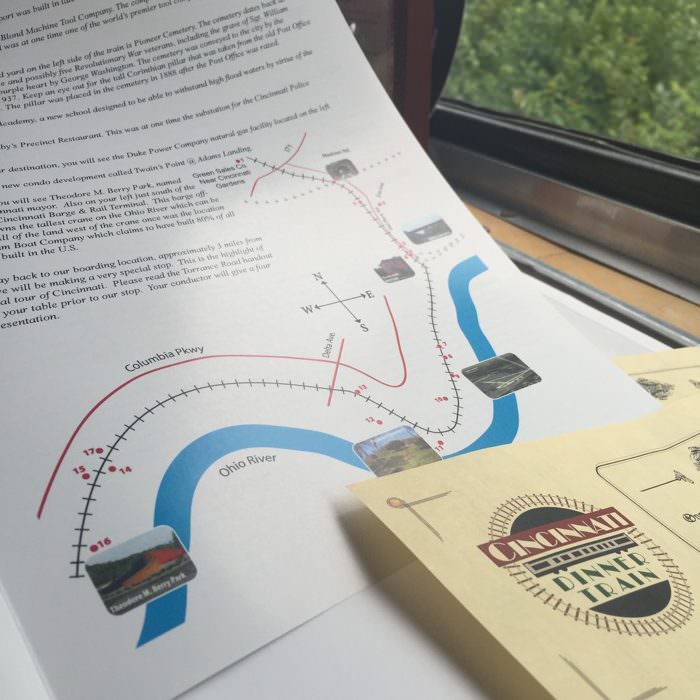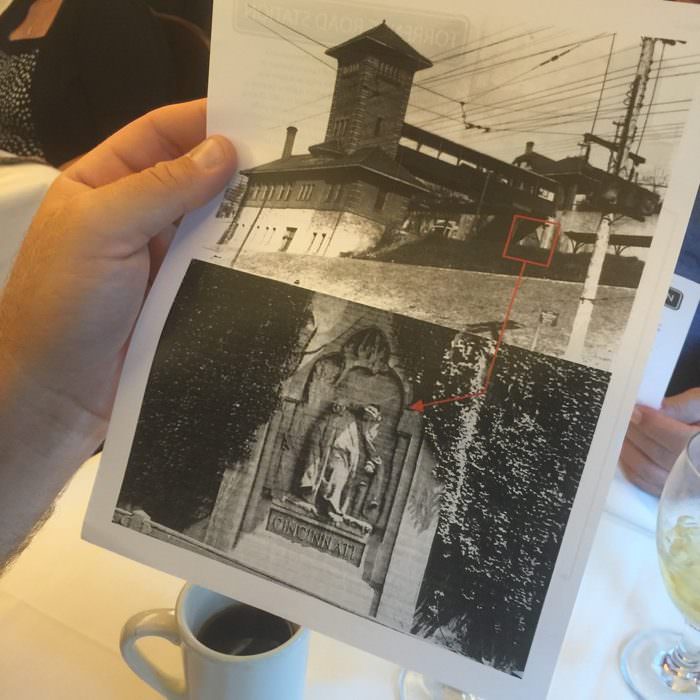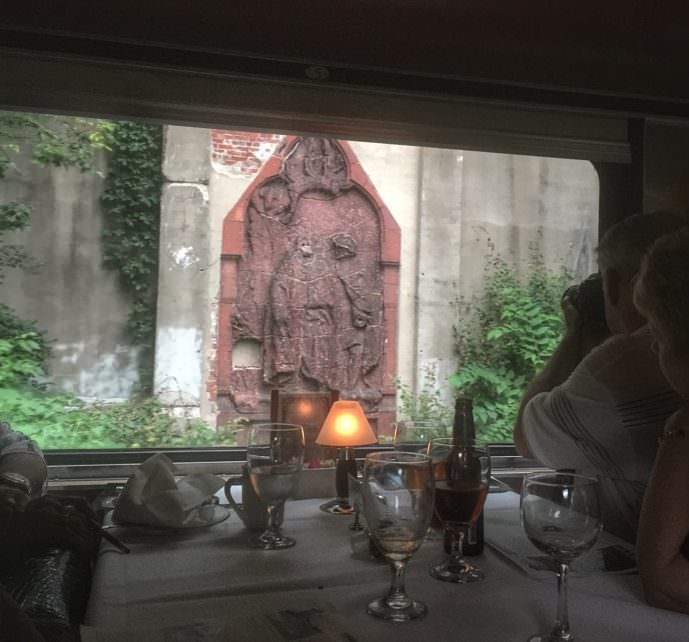 Train guests are seated to a four-course meal that begins with a cheese spread appetizer served with meat, grapes and crackers.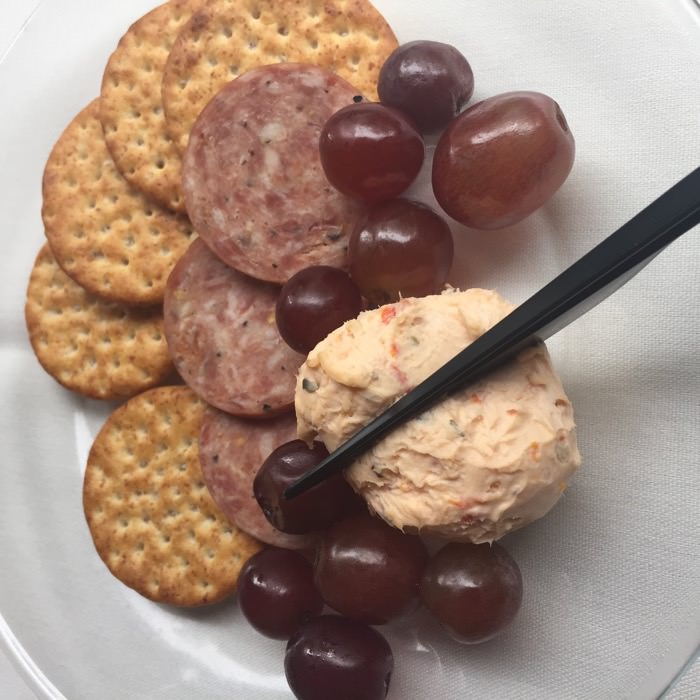 Your meal comes with water, tea or coffee. Alcoholic beverages are available for an additional fee.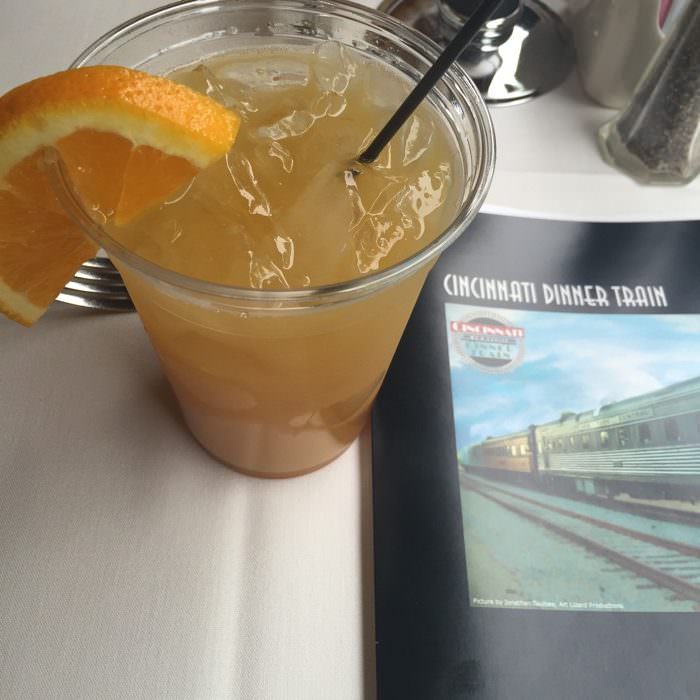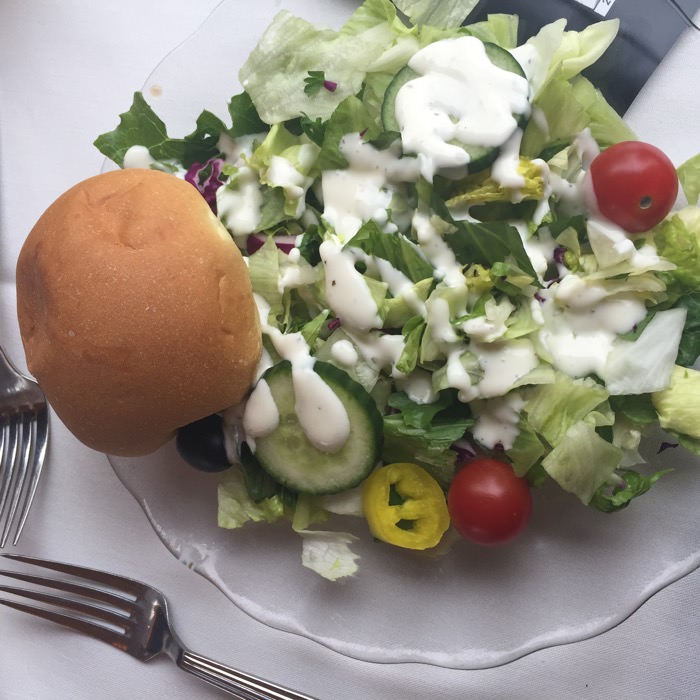 Each dining guest orders their food ahead of time with their reservation. The options are Oven Roasted Prime Rib, Salmon with a spicy hoisin glaze or Boneless Chicken Breast sautéed in white wine sauce with Chocolate Pecan Pie or New York Style Cheesecake with or without strawberry topping. My husband and I opted for the Prime Rib with the Chocolate Pecan pie.
You can find out more about the Cincinnati Dinner Train from their
website
or call ( 513) 791-7245 for reservations.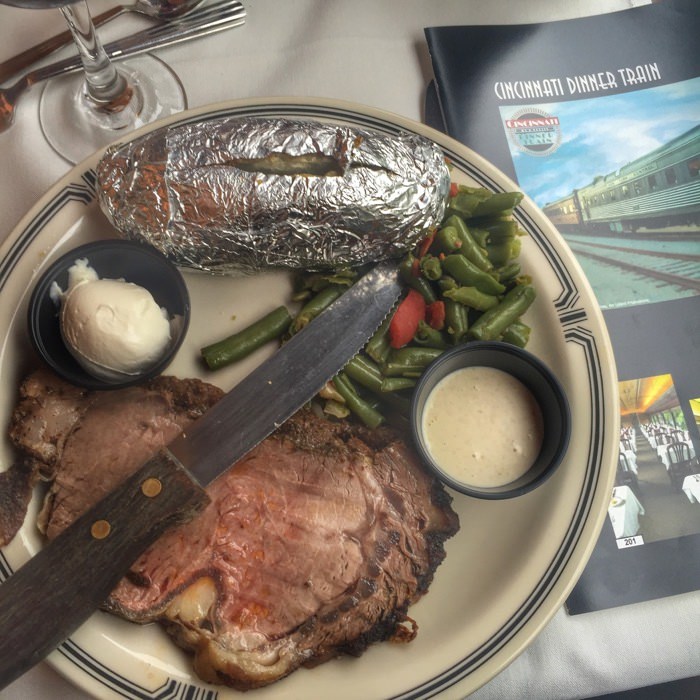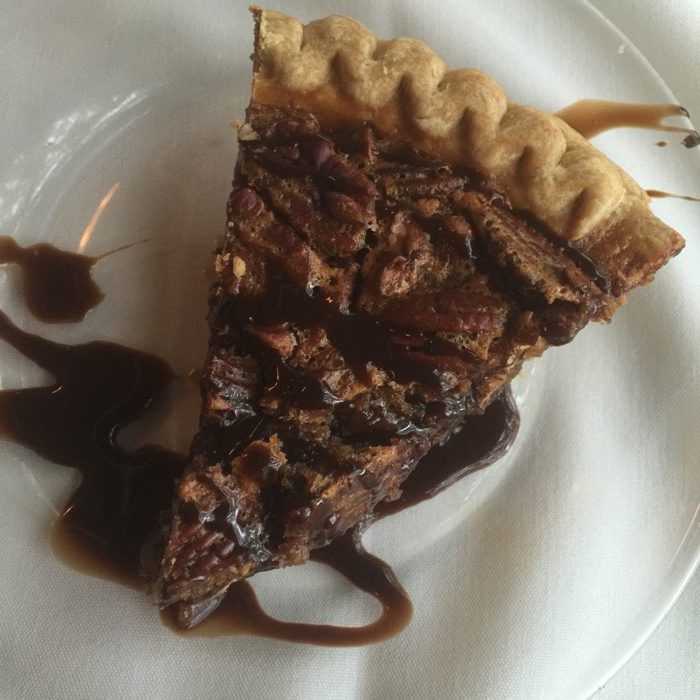 Guests have the option to purchase their photo after dinner as well.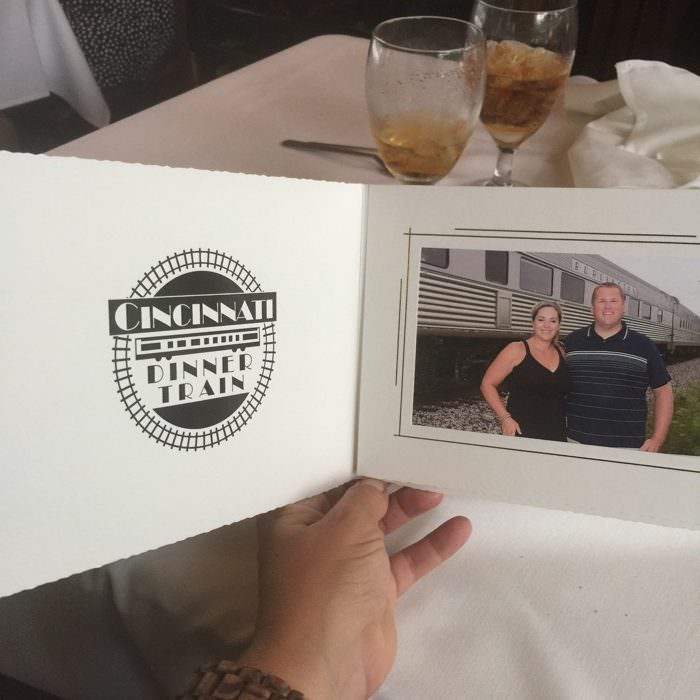 After dinner, you are also free to move around the train. This is rare for a train ride because you are usually discouraged from moving around on typical train rides. The dinner train takes you along the riverfront by Montgomery Inn Boathouse before returning to Oakley.
The Queen City Tavern car had a bar and live music from the Queen City Sisters. You can also observe the view from two open side doors. I highly recommend walking through all of the train cars, because they each have their own charm. You can also blow the whistle from the back of the train, which is fun and a great photo opp.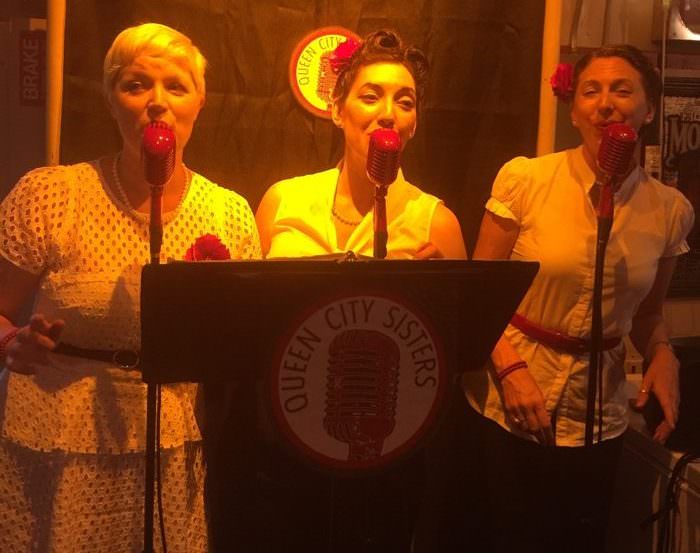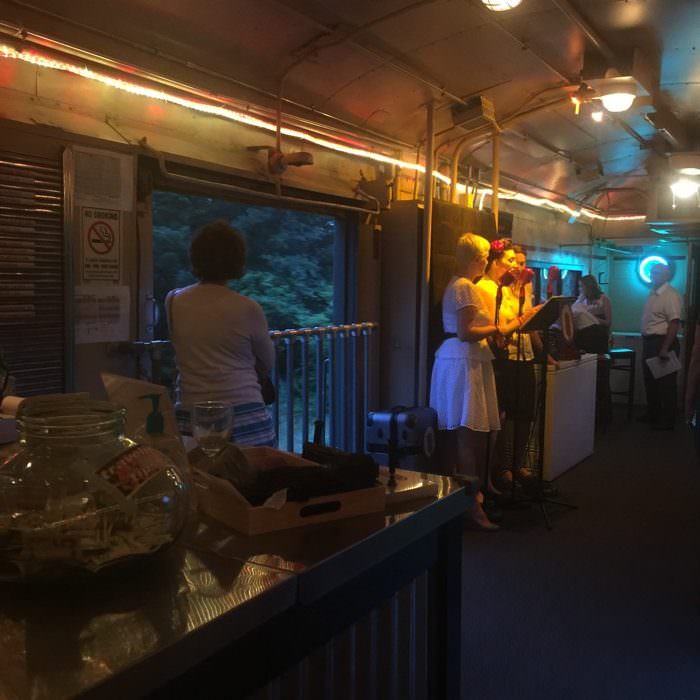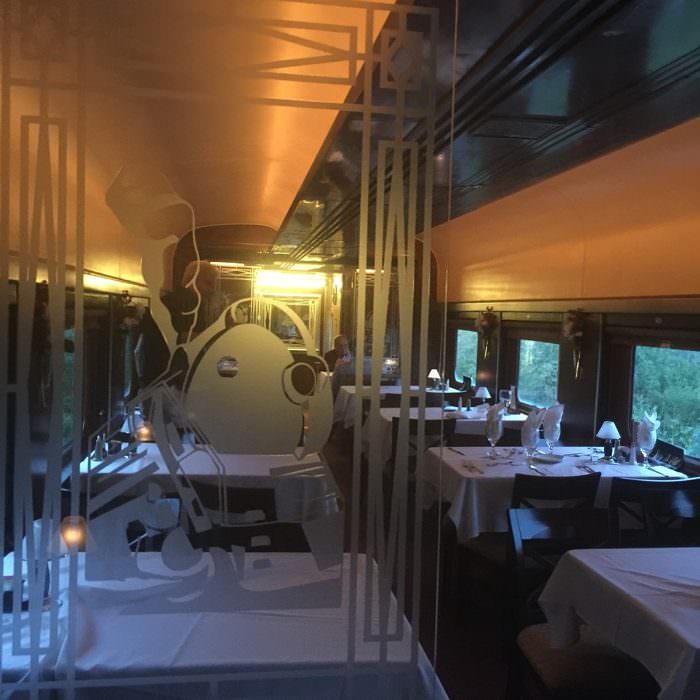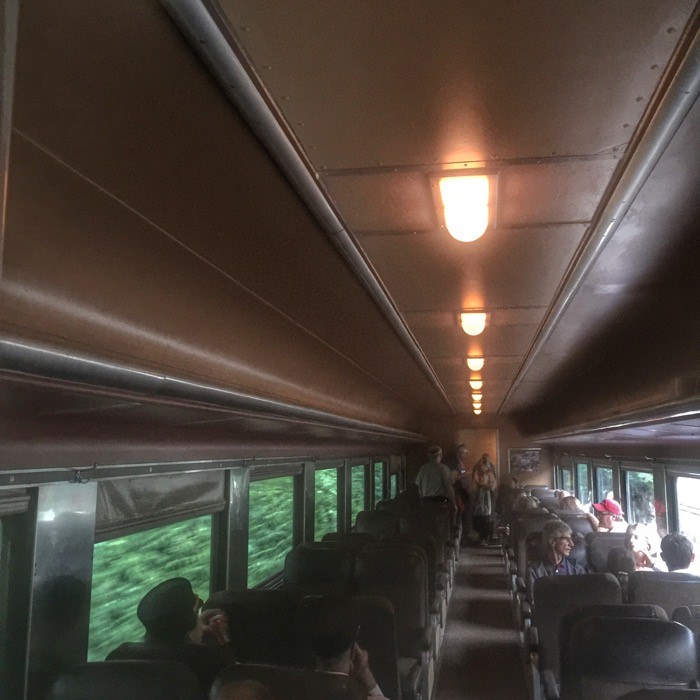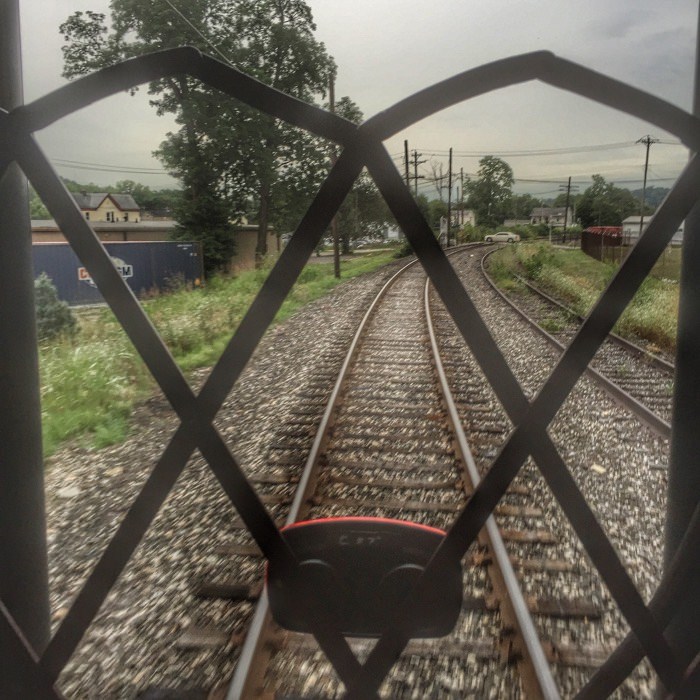 We loved our adventure on the Cincinnati Dinner Train! The whole experience was really relaxing and a unique way to mix things up. I will also note that the dinner train is for ages 12 and up. Keep the kids at home and enjoy an night out.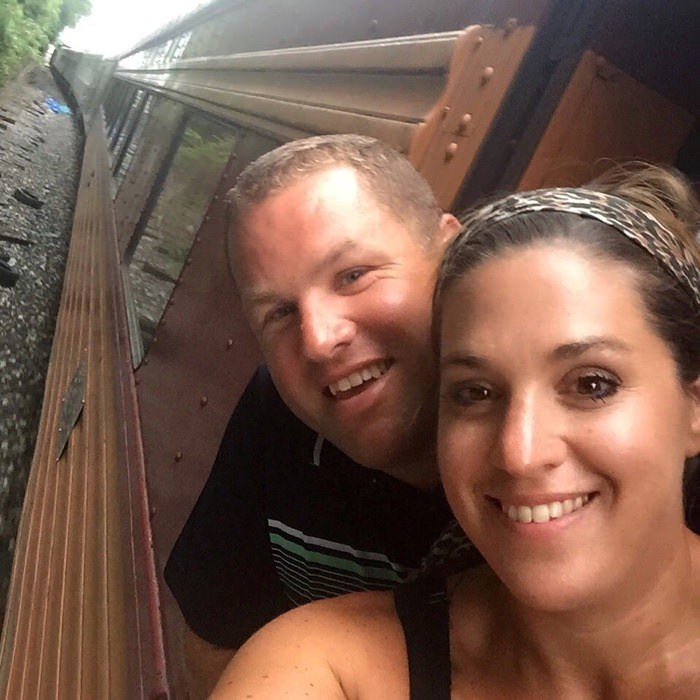 The Cincinnati Dinner Train operates on Saturdays throughout the year.Ticket prices are $84.95 per person (sales tax and gratuity not included).
You can find out more about the Cincinnati Dinner Train from their
website
or call ( 513) 791-7245 for reservations.