My boyfriend and I are always looking for new experiences and ways to spend time with each other. We've dated for four years and frankly, we both sometimes feel a little too comfortable in our relationship. It's exciting to shake things up, try new things, and reignite that spark regardless of how long you've been together. For us, ballroom dancing was the perfect date night idea since we both love to dance.  Full Disclosure:  Neither of us have rhythm. We were thrilled to have a private lesson at Let's Dance Cincinnati and try something out of our comfort zones! A night in each other's arms dancing to music fueled that little bit of romance, we both desperately needed.
Our instructor, Melissa Fields, has 20 years of experience in the industry. Her business is a home-based studio that served as a welcoming, nonjudgmental space for our lesson. The studio is the perfect size for private lessons, and we benefited greatly from the one-on-one style of teaching. She taught us the basics of the waltz and rumba, and offers a variety of dance styles as lessons including wedding dances, Latin, line dancing, social dance, and even yoga!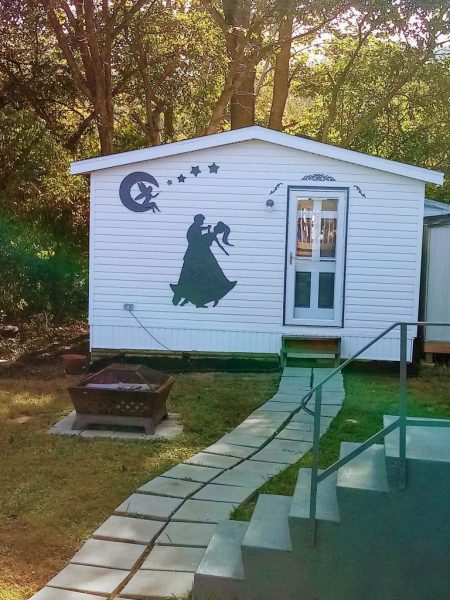 I can already hear some of you saying, "I don't dance," or "No one can teach me," among the other many objections. To which I say, you'll never know if you don't try! Melissa is a very beginner-friendly instructor, and with a $25 introductory special for 45 minutes, now is the time to start! Plus, a partner isn't necessary for your lessons! Dancing is an invigorating activity and good for your health both physically and mentally. It gets you moving and practicing some complicated motor skills along with other mental stimulations. Not only are you physically exercising but so is your brain! So, what's there to lose?
The whole experience was something I will never forget. I got to learn something new and not just the difference between a waltz and a rumba. I learned how my boyfriend and I carry our bodies and how to depend on each other as we danced. It was honestly one of the most romantic and intimate nights I've ever had, and I could not be more grateful to Melissa for making that happen. She was very patient with us throughout the lesson which made me and my boyfriend want to continue learning. I would absolutely take a second lesson (or more!) at Let's Dance Cincinnati so I can continue having that feeling of closeness and intimacy with the love of my life.

If you and your partner are interested in dance but aren't sure where to start, both my boyfriend and I highly recommend Let's Dance Cincinnati. Not only did we have an absolute blast, Let's Dance Cincinnati has a contract with The Knot, the leading all-in-one wedding-planning resource. So, for all you engaged couples looking to make your first dance extra special, this is the perfect place to do so! Book your lesson today and take advantage of the grand opening special! Sale ends November 14th, 2019. Lessons are only available through appointment. Studio hours are 3pm – 9pm Monday through Friday and 10am – 9pm Saturday and Sunday.