Is there anything better than a little bit of a drive before and after a date night? I love the anticipation of a great meal and that little bit of extra time with my date, so this sentiment was what I had in mind when I took my date to The Coach House in Hamilton.
Upon arrival, we both agreed that the décor and ambiance were "cute," but after seeing the stunning pond with an ornate fountain in the middle, we thought a more appropriate setting descriptor was "beautiful." The Coach House is in a quaint, lovely retirement community, and the staff greeted us with a smile as soon as we walked in. The hostess offered us our choice of sitting in a booth, table, inside, or outside, the options were limitless. We chose an intimate table outside and were led to a beautiful patio, behind a tasteful shade screen, which was perfect, so we could enjoy the sunset without having the sun in our eyes during the golden hour.
Our waitress greeted us with water and a quick run down of the specials and her personal preferences. We began our meal with the "crustini trio", which included six pieces of pita bread with various toppings: two with hummus & roasted red pepper, two with a sun dried tomato and pesto, and two with a mushroom and bleu cheese crumble. All three were an absolute delight, my favorite was the hummus & red pepper. My date loved the sun dried tomato and pesto.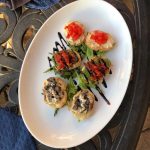 This appetizer was quickly followed by another visit from our waitress, who topped off our waters and brought us two delicious warm pieces of bread with a soft and fluffy butter. She then took our order. My date and I zeroed in on the Sweet and sour Pork as well as the Oven Roasted Sirloin, which we agreed to share.
While we waited for our main course, we people watched and admired the natural beauty of the square, which had a slight buzz about the environment, almost like it was encouraging interaction. There were ducks scurrying about the pond, people walked around, and we saw all kinds of trees and wildlife. The setting made us feel peaceful and invited conversation, which we both felt really added to the overall experience.
Our food was served at the perfect time, quick enough to make you happy, but not too quick. The plating of our food nearly caused us to start drooling. My date made sure to take a couple of photos.
In the world of The Coach House, appearances are not deceiving, in that the food tasted even better than it looked. We enjoyed it so much that we had to make ourselves slow down while we ate. Simply put: well done!
My date's sirloin was served with peppers, onions, and Spanish rice, and a tomato chipotle sauce. She tried the chipotle sauce by itself and thought that it was too hot. Then she tried it with the sirloin, as the sauce was intended and said, "I take that back, this is the best part of this meal." The various components of each dish added up to perfection.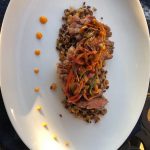 My pork was served with assorted vegetables and black rice, with a glazed sweet and sour sauce. Again, the presentation was beautiful. Each ingredient played their part en route to "flavor country."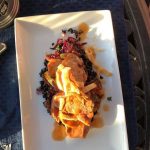 As my date and I left The Coach House, we both smiled, reveling in an exemplary dining experience, and looked forward to the anticipation of our drive home together. What a great night!
Date Night Verdict: The Coach House was an amazing dining experience, with superior service, delicious food, and the added benefit of beautiful scenery. I cannot wait to go back.