When my date and I signed up for a session at Cincinnati Escape Room, we knew very little of what to expect. We had a vague concept of what the escape room experience was about – timed puzzles, themed settings, maybe some teamwork? We certainly didn't expect to find ourselves in handcuffs. However, as we quickly found out, the Cincinnati Escape Room specializes in the unexpected in the best of ways.
When my date and I arrived, we were promptly greeted and asked to sign a common-sense safety waiver, then led back to a private briefing room. A short video briefed us on the surprising backstory of our selected challenge, entitled "Prison Break" (one of several intriguing options). After a few follow-up tips and a quick Q&A session from our friendly host, we immediately were handcuffed and whisked away to get thrown in the clanker.
By this point, my date and I were filled with a sense of excitement spiked with a hint of anxiety — the experience was extremely immersive. But when our host left us in our "prison," started the timer and turned us loose, everything "clicked" and it was game on.
My date and I found ourselves locked in a series of finely detailed rooms made to look like an actual prison complex. A series of ingenious, hands-on puzzles built into the environment required us to get hands on with our surroundings and communicate. I don't want to reveal too many details to spoil the experience, but let's just say that clues were everywhere, and we had to look at our surroundings from every angle quite literally.
The level of immersion was phenomenal. We really felt like we were in the middle of a heist! If it sounds a little anxiety-inducing, rest assured that the team at Cincinnati Escape Room supervises the experience at all times and there were safeguards in place if at any point the experience got too intense. But let me tell you, it was a fantastic date. We rushed from room to room, calling out theories and handing objects back and forth in a thrilling race to unlock each new challenge. We cheered each other on each time we solved a puzzle and nabbed the next clue, and we both felt a great sense of accomplishment at contributing to our shared progress.
At several points, the solution we came up with seemed too crazy to work, but we repeatedly were surprised by how organic and engaging the puzzles were. The few times we ran low on ideas, the easily accessible hint system offered us a subtle clue to keep our minds flowing and keep the excitement level high. Our timer ran out just as we approached the final challenge, but we left feeling completely satisfied, proud of our attempt and immediately ready to sign up for another go.
While we arrived at Cincinnati Escape Room with very little idea of what we were in for, we left having experienced one of the most thrilling and exciting experiences we had ever shared as a couple. The experience of communicating and working with my date in this gripping setting helped us to grow closer while flexing our problem-solving skills. We absolutely recommend it and can't wait to do it again — handcuffs and all!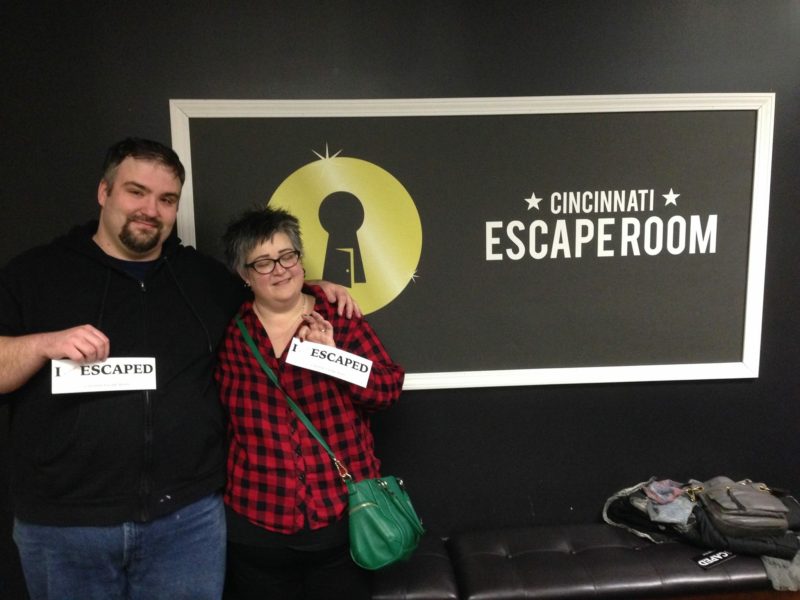 Cincinnati Escape Room currently offers three different escape room challenges: Prison Break (the one we experienced), 221B Baker Street (a Sherlock-inspired challenge), and Secret Cincinnati (just as it sounds, a Cincinnati inspired challenge). Check the website for challenge times, as this is a timed entry experience and challenge times fill up quickly. Not only did this make a great date afternoon for the two of us, but we would highly recommend this as a group date idea as well!