My husband and I recently celebrated our wedding anniversary — 11 years — and wanted to find a new spot for our date night dinner. After crazy-busy end of the school year non-stop go, go, going we were looking forward to a relaxing night, just the two of us, without too much fuss. Through the Garden looked like the perfect place to try out, and we're glad we did!
Through the Garden boasts the best and freshest seafood in Blue Ash, and it's menu is said to be comprised of the best ingredients. Everything is made in house, so it promised to be fresh and delicious.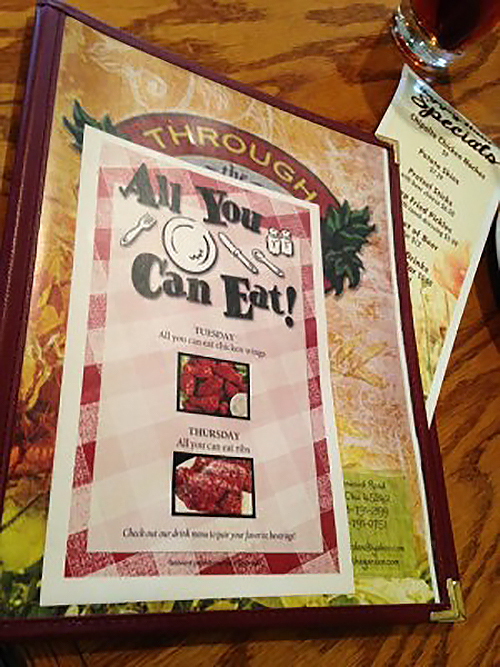 When we entered we were met by friendly employees all around and were immediately shown to a table to look over our menus. Our server was delightful – efficient, friendly and well-versed in the menu and specials for the night. We ordered drinks (they have a full bar) and settled in to peruse the offerings. First on our list — an appetizer or two. We waited until a little later in the evening since we were dining out on a Friday and wanted to avoid the big crowds, so our appetites were definitely ready for a pre-entree bite or two.
We settled on the Fried Pickles (on a special menu) and the Blackened Chicken Quesadilla. I'm a huge fan of fried pickles, so any time I see them on a menu I jump at the chance to try them out. I was not disappointed — they were crisp, flavorful, and the ranch dipping sauce was the perfect! The quesadilla was also delicious. Tasty, hot, and clearly prepared fresh. While we enjoyed our appetizers we settled on the rest of our meal: Crab Cakes (one of the night's specials) with a baked potato, fresh grilled veggies, and a house salad for me, and the Rancher's Pot Roast with mashed potatoes and a BLT Spinach salad for my husband.
While we waited we enjoyed a live band playing classic favorites of the soft rock variety. While I'm not always a huge fan of a live band while dining, they were talented and pleasant to listen to, and the music wasn't so loud that I couldn't have a conversation with my husband or hear the server when she spoke to us. We enjoyed listening to them throughout the evening. When our salads came I was excited to try the house salad, because our server had promised that she firmly felt the salad dressing was something they would become famous for, and after tasting it I have to say, I believe her! I don't know what they put into their basil vinaigrette, but it was amazing and I wish they sold it in bottles. My husband's BLT Spinach salad came with a cilantro ranch dressing that was also truly delicious. Both salads were fresh and plentiful.
Before our entrees arrived I was certain I wouldn't be able to eat another bite, but trust me, I did manage to dive in when the time came. My crab cakes were light and flavorful, the grilled veggies and baked potato so fresh I felt as if I was eating dinner prepared in my own kitchen. The true star of the show, however, was my husband's Rancher's Pot Roast. Oh. My. Goodness. It was absolutely the best and most delicious pot roast I have ever tasted in my life! So tender and full of flavor, I almost tried to barter my own delicious dinner away to dive into his (luckily I have a super sweet hubby who didn't mind sharing a few bites, since it was our anniversary and all). When we go back I will definitely be ordering a dish of my very own!
I tucked away part of my entree in a take-out box to save room for dessert, because I had heard that their bread pudding was a must to end our evening. I am very glad that we ordered it because it was creamy, warm and tasty. The vanilla ice cream was served on the side so that it stayed cold, a nice contrast to the steamy goodness of the bread pudding.
Throughout our entire dining experience our server made sure we were happy, our drinks were fresh and that our food came out correctly. Other servers and even the chef were seen in the dining room interacting with guests in a friendly manner, chatting with those folks who were coming and going and checking on other diners. A steady stream of happy couples made their way into the restaurant as we sat and enjoyed our meal and even at 8 PM, the restaurant was still quite full. It was clear that Through the Garden is a popular Friday night destination for many area couples, and my husband and I could definitely see why!
All in all, we plan on visiting Through the Garden again soon. It's a fantastic date night destination if you're looking for a spot with delicious food, great service and a relaxed casual atmosphere. It's perfect for catching up from your busy lives and slowing down long enough to reconnect with your special someone. For your next date night dinner out, give Through the Garden a try! (and get the pot roast — trust me!)