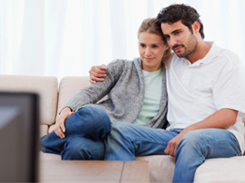 It's that time of year when we might find ourselves indoors more than out.  Bitterly cold temps, gray rainy days, post-holiday funk…sounds like some binge dating is in order – television series binge watching that is!
There are so many great series these days that it's easy to pick a show you and your sweetheart will both enjoy – and when you binge watch a show you know you are guaranteed an easy date night…at least for a few seasons!
So pop that popcorn or pick up your favorite take-out, grab a cozy blanket and a tasty beverage –here's our list of favorite shows to binge-watch on date night, in no particular order:
House of Cards
Breaking Bad
Orange is the New Black
Friday Night Lights
Game of Thrones
True Detective
American Horror Story
Doctor Who
Alpha House
The Blacklist
Parks & Recreation
The Office
The Walking Dead
Dexter
The Affair
Scandal
Marco Polo
Arrested Development
Psych
Boardwalk Empire
Weeds
Homeland
Supernatural
Once Upon a Time
Downtown Abbey
Sons of Anarchy
Do you have a favorite series to add to the list?  Share your favorite binge-worthy date night shows in the comments!