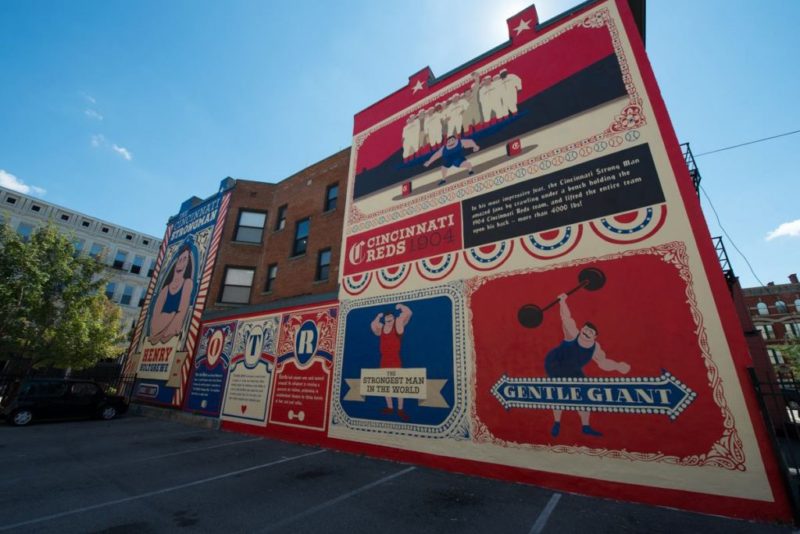 We are always on the lookout for new and unique date night destinations to share with you because we know that your time together is precious and you want to keep it fresh and fun!  That's why we are excited to share this fun and creative way for you to spend time with your special someone – ArtWorks' Guided Mural Tours!
In 2007, ArtWorks was challenged by Cincinnati Mayor Mark Mallory to paint at least one mural in each of Cincinnati's 52 neighborhoods, and ArtWorks accepted with gusto.  Partnered with Cincinnati's Youth to Work program, which provides summer employment  opportunities throughout Cincinnati, ArtWorks' award-winning mural program has helped to produce 90 murals in 36 Cincinnati neighborhoods and seven nearby cities.  To date, ArtWorks murals now adorn more than 135,000 square feet of wall space in greater Cincinnati and Northern Kentucky.
Beginning on Saturdays in October, two public mural tours – The Spirit of OTR and Cincinnati Master & More – will meet and begin outside of the Coffee Emporium in Over-the-Rhine and wind through the streets of Cincinnati.  The Spirit of OTR mural tour will start at 12:00PM and the Cincinnati Masters & More mural tour will begin at 2:00PM. Both walking tours will last about an hour and a half and feature seven to ten ArtWorks murals. ArtWorks' youth Apprentice mural painters, paired with knowledgeable adult volunteers, will lead the tours explaining how the murals are made and their connection to the Cincinnati community.
Afterwards, finish off your arts inspired date by enjoying a romantic meal, or just drinks and appetizers at one of the many amazing downtown restaurants available to you.  After The Spirit of OTR tour which ends Washington Park try out Senate, Kaze, Bakersfield, or A Tavola; Taking the Cincinnati Master & More tour? Try Via Vite, Palomino, Nada, Quan Hapa, or Nicholson's Tavern and Pub.
The Guided Mural Tours will take place on Saturdays in October and November. Advanced Purchased Tickets are required for all tours; $20 for adults, children under 12 are free.  To make a mural tour reservation, purchase tickets, or schedule a private mural tour visit ArtWorksCincinnati.org.