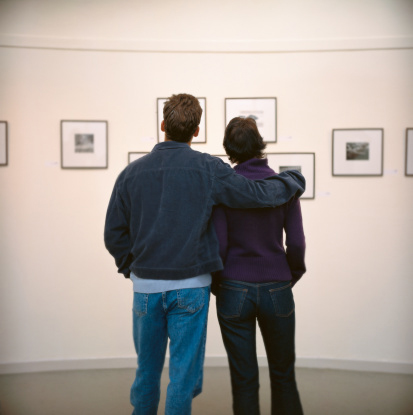 If you and your special someone are fans of the arts, there are many great opportunities to get out and explore all of the amazing art our city has to offer, and do it all for free!  Many local galleries, arts centers, and museums offer Final Friday events, or Art Walks, that allow you to explore the creative worlds of many amazing local artists. Make a day of it, explore our city, and connect to art in a way that will bring you closer together as a couple with every step. Check out our top picks for artsy dates in Cincinnati.
Pendleton Arts Center – Final Fridays at Pendleton Arts Center are free and open to the public and run from 6-10 PM.  Studios are open to the public, giving you a chance to view creative art space, purchase one of a kind artwork from the artist, and more.  Art In Action takes place the Saturday after Final Friday from 11AM to 3PM and allows you to meet artists, view and purchase their work, attend lectures, live demonstrations and FREE interactive classes.  1310 Pendleton Street, Cincinnati, Ohio.
Essex Studios – Art Walk Weekend is coming up on December 5-6 from 6-10PM both nights.  Experience a diverse and creative community as artists transform their workspace into a gallery, showcasing their particular medium.  Art Walk weekends happen twice a year, the first Friday in October and December.  Keep an eye out for this amazing event and you're sure to create a date night to remember.  2511 Essex Place, Cincinnati, Ohio.
Final Friday Gallery Hop in Over the Rhine – Take a stroll through historic OTR and enjoy an evening of connecting to the arts.  Final Friday's Gallery Hop in OTR runs from about 5 PM until Midnight.  Make a night of it by visiting one of OTR's many amazing restaurants and enjoy a night devoted to the arts.
Art After Dark at Cincinnati Art Museum – The final Friday of the month you can enjoy Art After Dark at the Cincinnati Art Museum with cash bar and appetizers, docent tours, special themes and exhibits, and more.  Enjoy a night out with the arts in a beautiful setting and impress your date! 953 Eden Park Drive, Cincinnati, Ohio.
CAC @ 21C – Join CAC docents for a 30 minutes guided tour of the 21C galleries, following by a 30 minute tour of the Contemporary Arts Center exhibitions.  The tour includes free museum admission, so make a day of it and explore downtown before, then have cocktails at Nada or Obscura afterward for a perfect day together.  CAC @21C tours begin at 4 PM in the lobby of 21C and are free.  609 Walnut Street, Cincinnati, Ohio.
Taft Museum of Art – At the Taft Museum of Art you can take advantage of free docent led tours of their special exhibitions as well as a look at the highlights of the museums collection.  Docent tours are led on Saturdays and Sundays and are free.  316 Pike Street, Cincinnati, Ohio.
Clifton Cultural Arts Center Sunset Salons — Sunset Salons at Clifton CAC allow you to enjoy light bites, a drink or two, and a different conversation with each different event.  Bourbon and music, wine history and tasting…there are many different forms of art, explore them all together!  3711 Clifton Avenue, Cincinnati, Ohio.