Are you looking for a fun way to get out of the house and into the spring sunshine, but still enjoy time together as a couple? Or maybe you want to meet new people who have the same hobbies? Try joining an adult sports league!  We've put together some great online resources for finding co-ed sports league and pick-up games in Cincinnati and Northern Kentucky: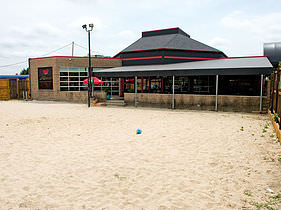 Volleyball at Mac's Pizza Pub – Mac's in Landen is now forming leagues. The season (8 weeks plus a tournament) starts June 13th with Men's Quads on Monday, Recreational Coed Sixes on Wednesday, Competitive Coed Quads on Thursday and Recreational Coed Quads on Sunday. T-shirts and gift cards will be awarded to tournament winners! Email Volleyball@macspizzapub.com or call 513.677.MACS.

Cincinnati Sports Leagues – This organization offers coed sports and events for adults. If you are looking for a league to join, then look no further than Cincinnati Sports Leagues — Basketball, bowling, corn hole, darts…dodge ball? They've got it!  Besides sports leagues, they also organize events and happy-hour get-togethers, which give you even more options when you are looking for fun date ideas.
The Cincinnati Pick-up Sports League – Meetup.com has a group dedicated to organizing pick-up games in the area for couples and individuals. Join a game organized by someone else, or set up one of your own. They offer everything from volleyball to basketball and more. Events take place all over town so you should be able to find something close to home.
Kickball at Washington Park – Sponsored by Cincinnati Sports Leagues — you can register a whole team to play kickball in the park! Monday and Thursday nights are coed kickball nights at Washington Park on the Civic Lawn.
Southern Lanes Sports Center – Nothing says summer fun like sand volleyball! Southern Lanes has coed, and sign-ups are currently underway for the next session.
Sports of All Sorts NKY – Sports of All Sorts also offers coed volleyball leagues on Friday evenings for both Competitive and Recreational levels. For individual sports, you can also register for women's or men's basketball leagues through their website.
Blue Ash Recreation Department – With everything from racquetball to Coed Recreational Softball, and Coed Recreational Soccer, you're sure to find fun with the Blue Ash Recreation Department. Priority is given to Blue Ash businesses and residents.
YMCA – Your local YMCA hosts adult leagues for everything from basketball to pickleball, volleyball, and more. Check out which locations offer the sport you are interested in joining, and don't hesitate to branch out — pickleball is a blast!

The Sandbar Cincinnati — More than just a place to play sand volleyball, The Sandbar also boasts an outdoor cabana bar, large grassy area for corn hole and an awning-covered deck overlooking Four Seasons Marina.