I was beyond excited to try out Cozy's Cottage in Liberty Township. It is a hop, skip and a jump away from me, and my hubby and I were in desperate need of a date night! I had heard many wonderful things about the restaurant since it opened just over a year ago, but had not been there myself to test it out.
I was impressed when we first pulled up at the adorable outdoor bar and dining area they had set up. They have a full bar, several dinner tables, a cozy fire pit and even a ping pong table! I loved that the outdoor dining area gave a completely different feel from the inside so you could visit twice and have a different date night atmosphere each time!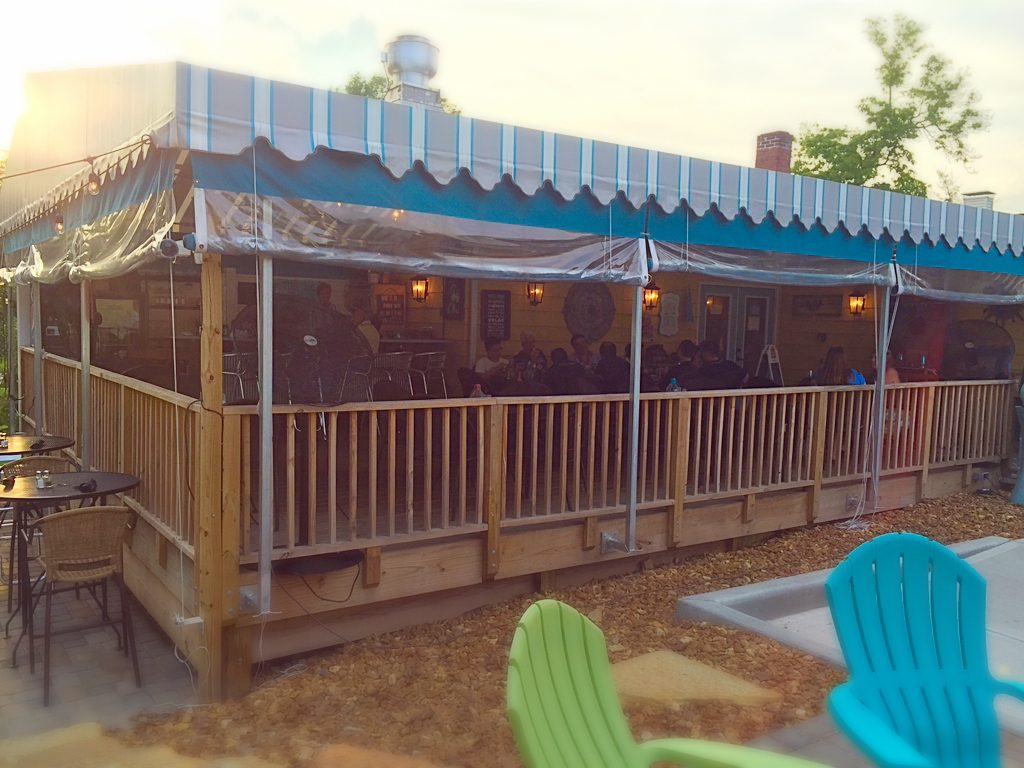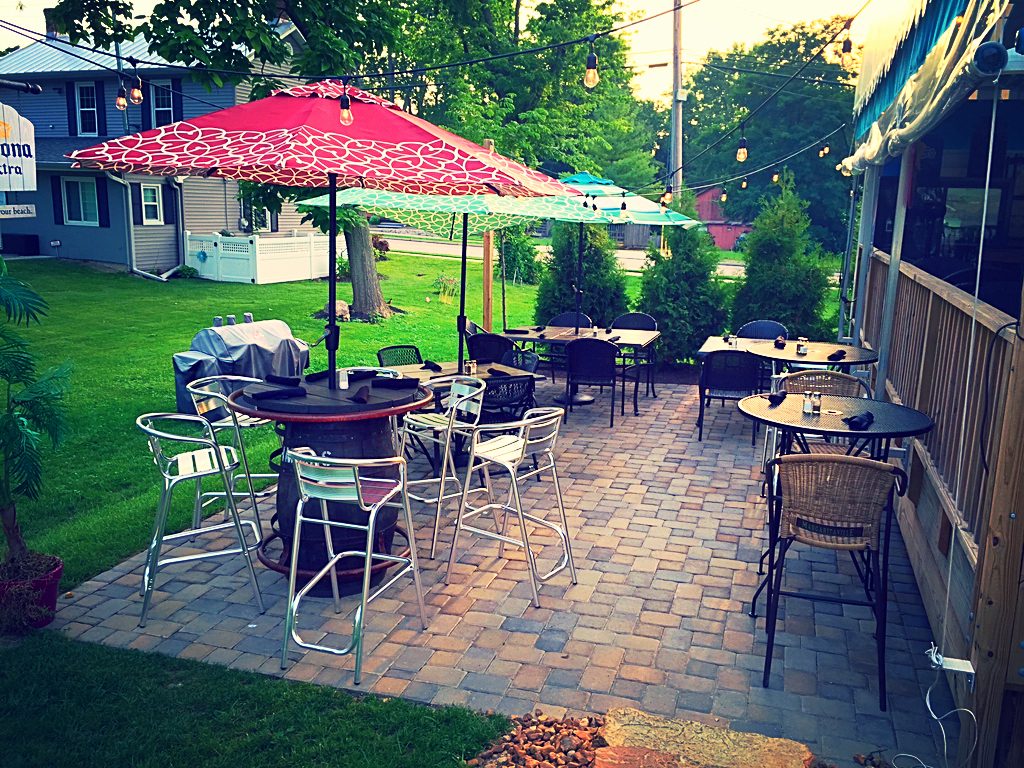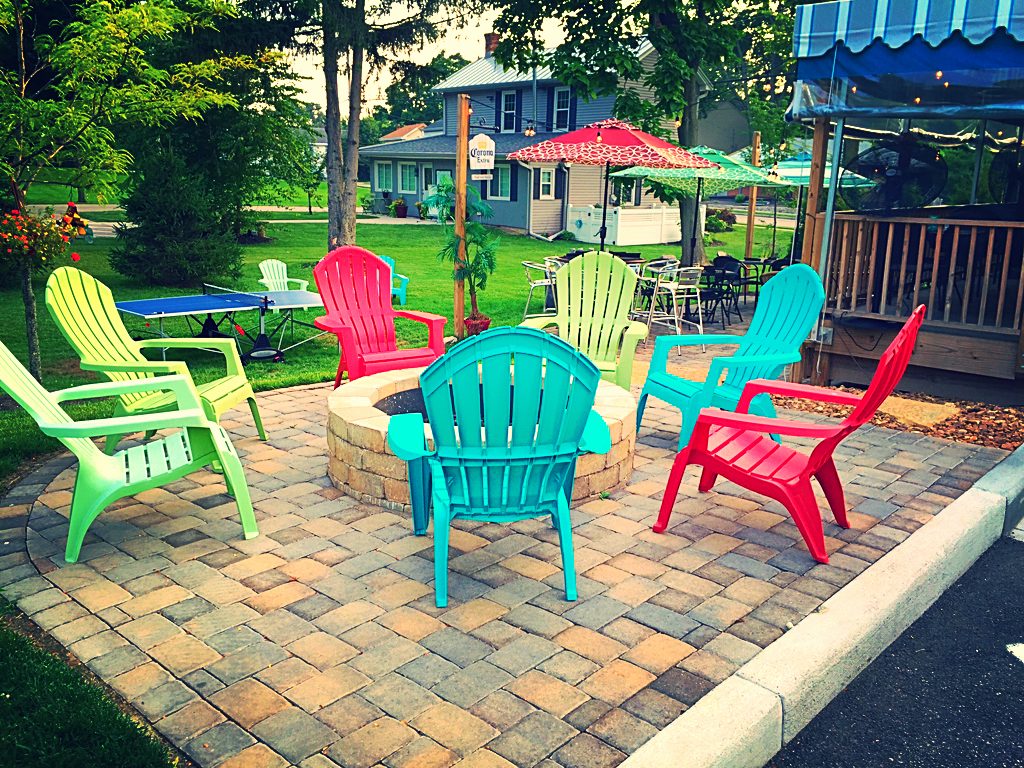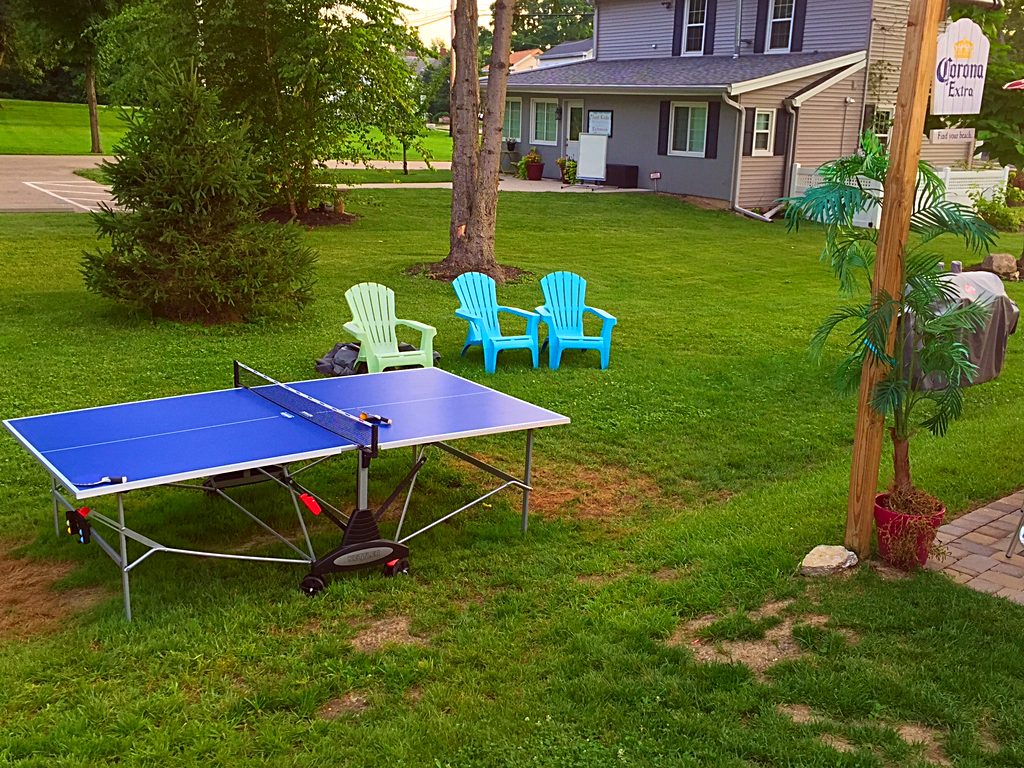 Cozy's Cottage also hosts a variety of events and specials, depending on the day. You can rent the space on Sunday nights and Mondays for any event you have such as a birthday party, bridal or baby shower. They also have a quaint building next door that is open for event rental. They even have done small weddings there! They also host private events that are open to the public.
Cozy's Cottage also has daily specials so you can try something new every time you go. They offer live music on Thursday, Fridays and Saturdays and a mouth-watering brunch on Sundays. My hubby and I already talked about checking out their Wine Down Wednesdays. If you are a wine drinker this one is for you… half price bottles of wine! They even switch up the wines from week to week so you never get bored! Doesn't it sound nice to cozy up with your sweetie around the fire pit, sharing a bottle of wine under the stars?! What is even more fabulous and romantic is that with every bottle of wine you drink, you can write a little note on it and they hang it from a tree on the property that they call the Wine Tree!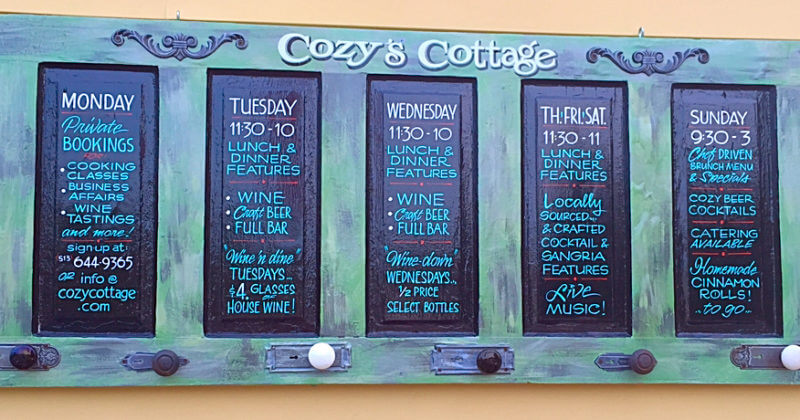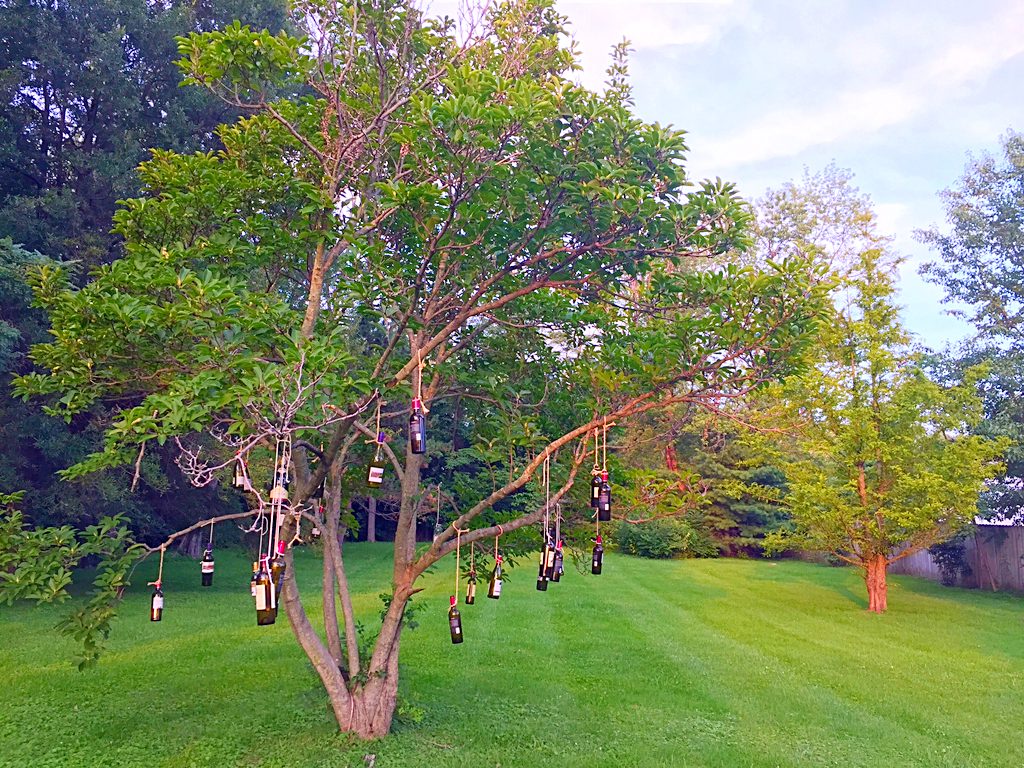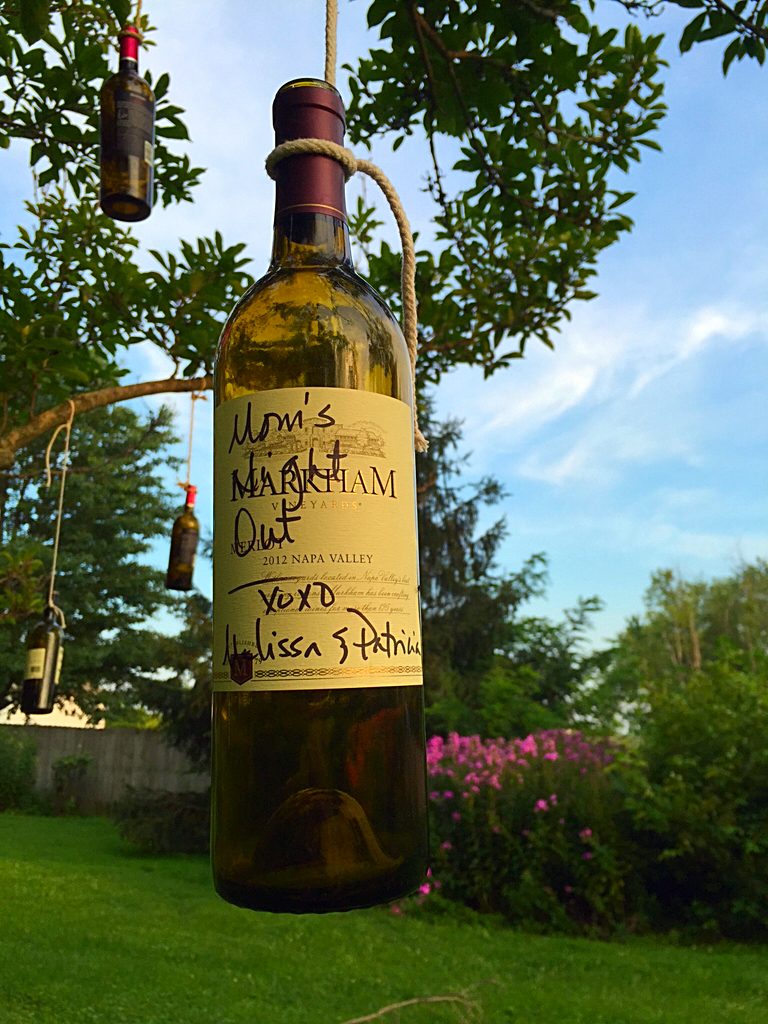 Can you believe one place has all this to offer, and we haven't even gotten to the best part… the FOOD! My husband and I love trying out new restaurants so we couldn't wait to see what was on the menu. Walking in the restaurant, you will notice how quaint and truly cozy it is. The decor is adorable with vibrant colors and inspirational quotes. I love that you can see the kitchen from most of the dining area, and they even have a big screen so you can watch the chef prepare your meal!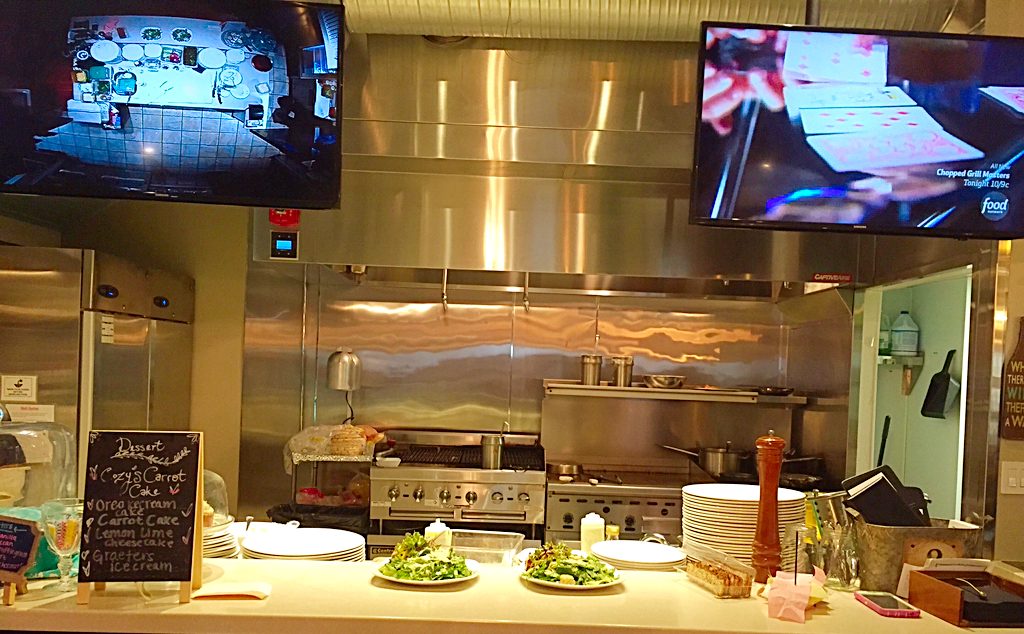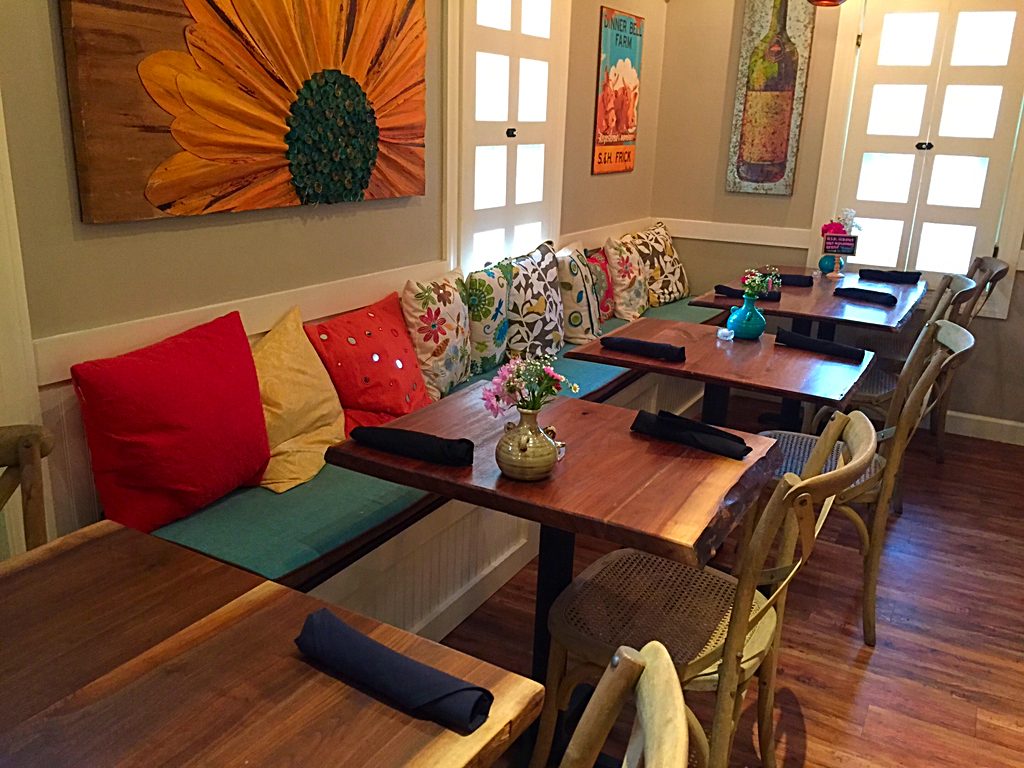 I learned that Cozy's Cottage has a vegetable garden on site that they pull from daily to prepare meals. They also buy meat and produce locally as much as possible. I love to support local businesses just like this so I was even more excited to be there after hearing this!
Of course we had to start with cocktails — is that even a question?! My hubby typically sticks with beer, but I enjoyed one of their many unique cocktails! It was beautifully presented and so refreshing!
Since I am in love with anything Goat Cheese, we had to try the Grilled Fig Flatbread. It has Figs, Goat Cheese, Caramelized Onions & Blood Orange Olive Oil, and let me just tell you this was to die for! The creaminess of the goat cheese with the sweetness of the figs was the best combo on a flatbread if you ask me!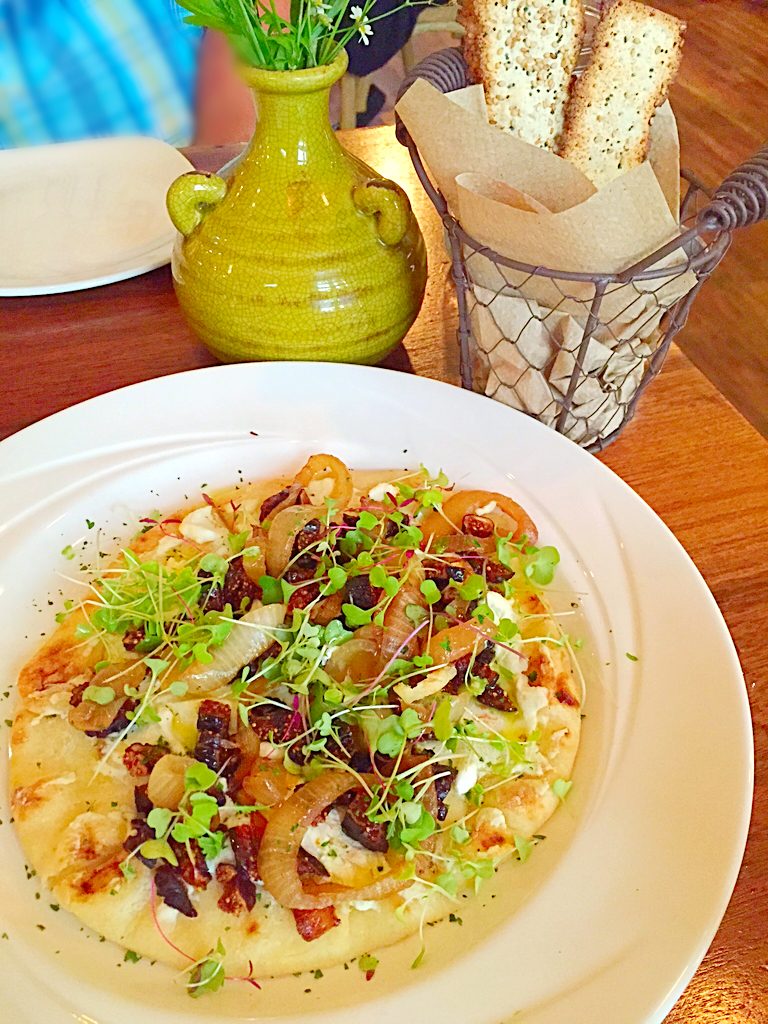 We asked our server what the most popular and most requested entrees were and decided on the  Braised Beef Short Ribs and Jumbo Lump Crab cakes. You get a salad with your meal, and we both opted for the House Salad with mesclun greens, tomatoes, cucumbers, sprouts and croutons. It was super tasty and I was able to snap a picture of the Cozy's Caesar Salad with romaine, creamy Caesar dressing, shaved Parmesan, croutons and fresh cracked pepper, as well, so you can see the difference.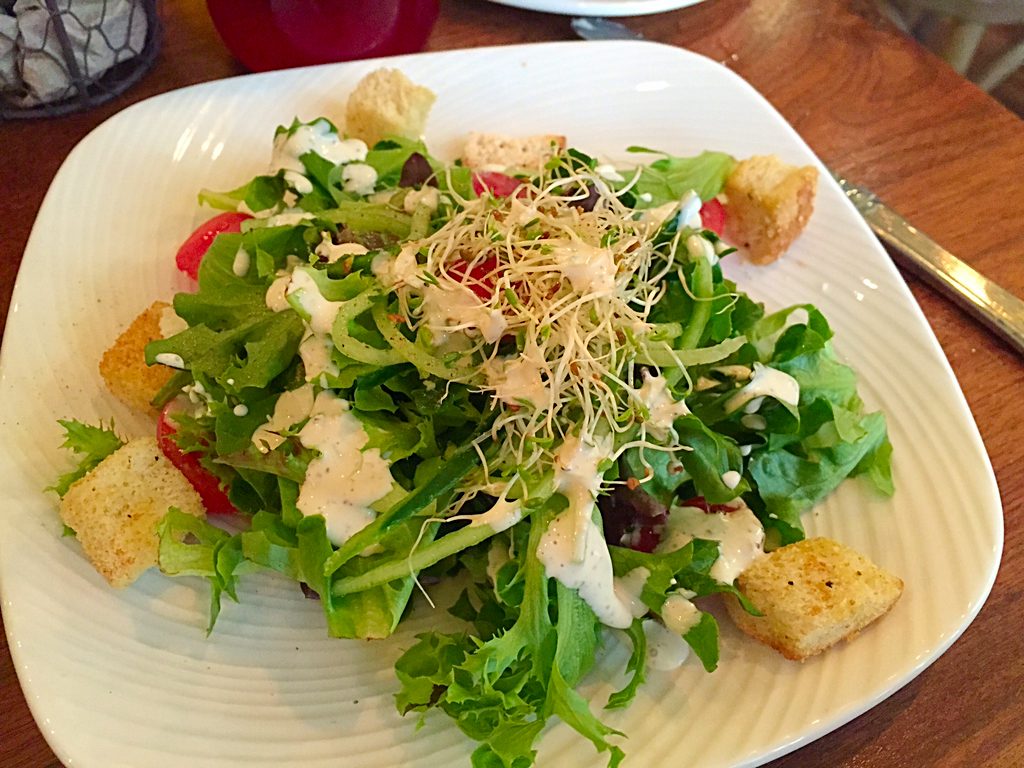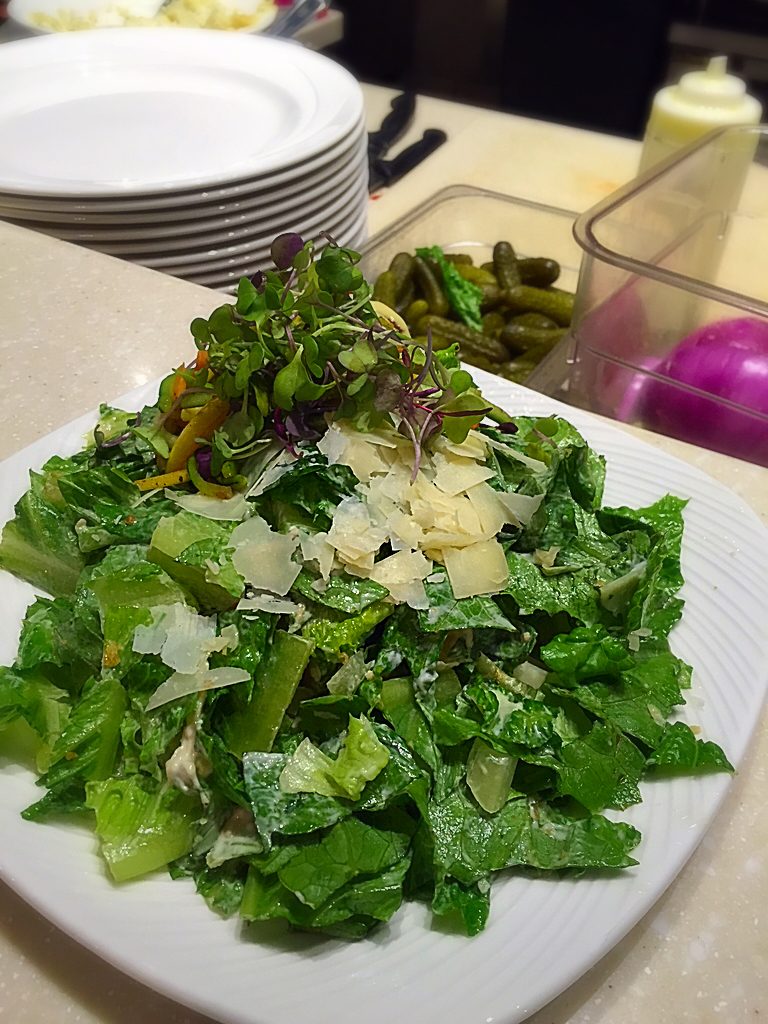 The Braised Beef Short Ribs are prepared with a sweet and sour glaze and are laid on top of cheddar grits. The first thing I noticed was how big of a portion you get — you get four very large pieces! They were prepared PERFECTLY and literally melted in your mouth. I loved taking a bite of the short ribs with the cheddar grits together — YUMMMMM.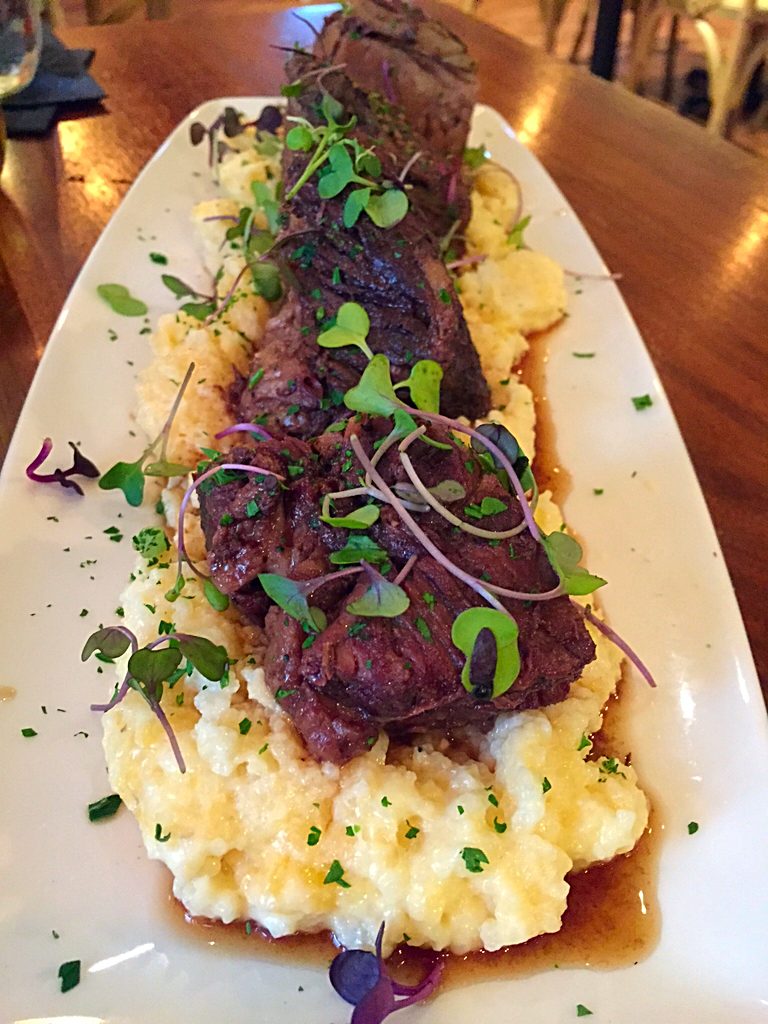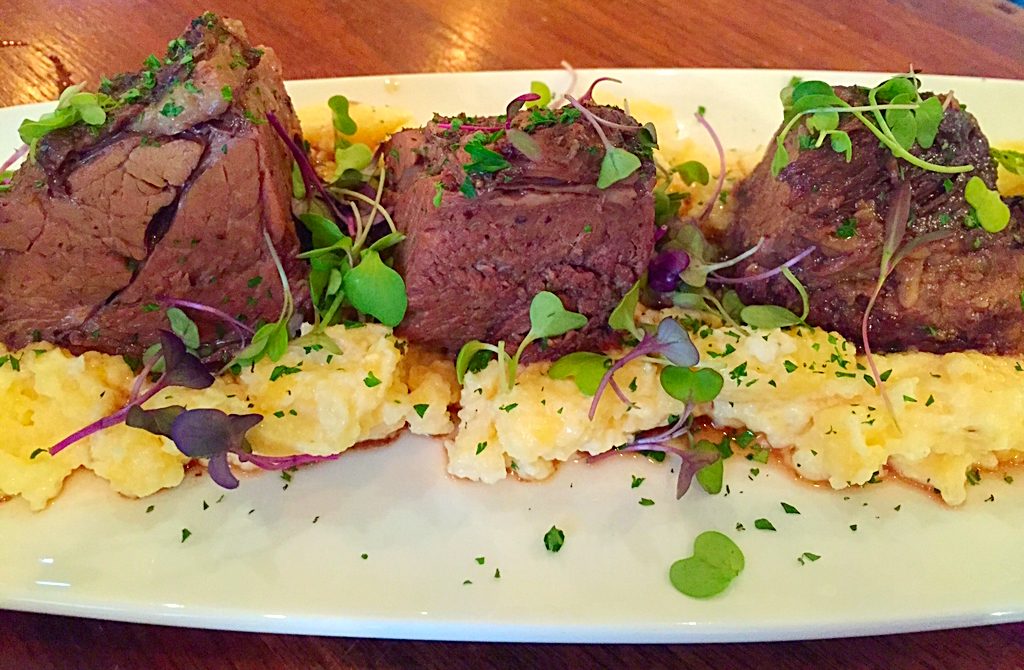 The Panko-Crusted Jumbo Lump Crab Cakes are prepared with arugula, julienne vegetables and a house-made Dijonnaise. It is laid on top of a bed of sautéed spinach. When they say jumbo they aren't lying! This was another large-portioned meal! If you are not a crab cake lover, don't let that deter you from trying these. They do not have any type of a fishy taste, and they are crusted with Panko breadcrumbs, which give them a nice crunch when you bite into them. Top that off with the Dijonnaise sauce to dip them in, and they are nothing short of heavenly! You also get to choose a side, so I went with the cheesy whipped potatoes. They were light and fluffy, but also rich in flavor!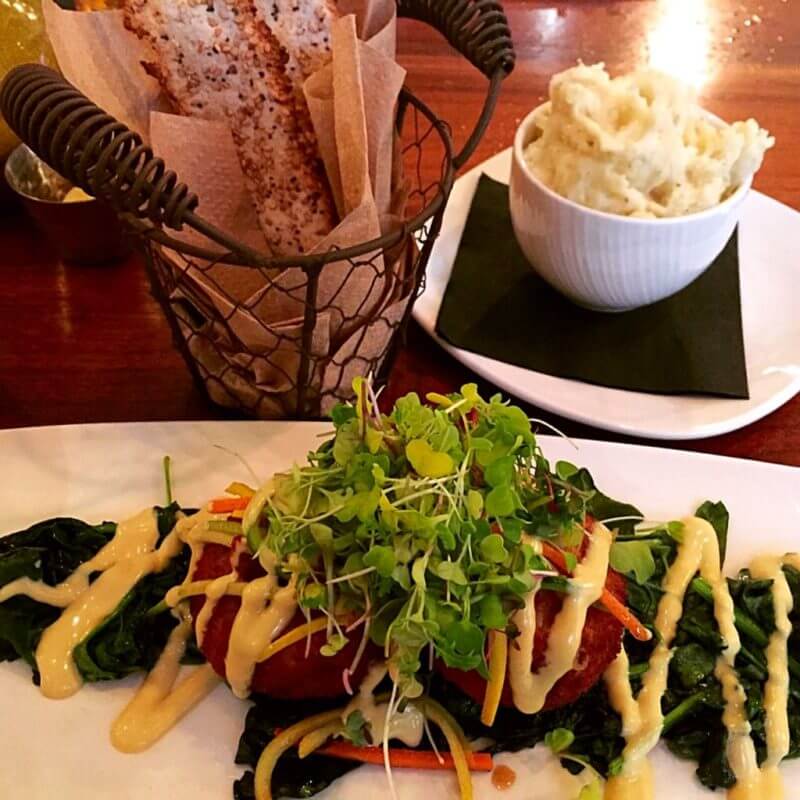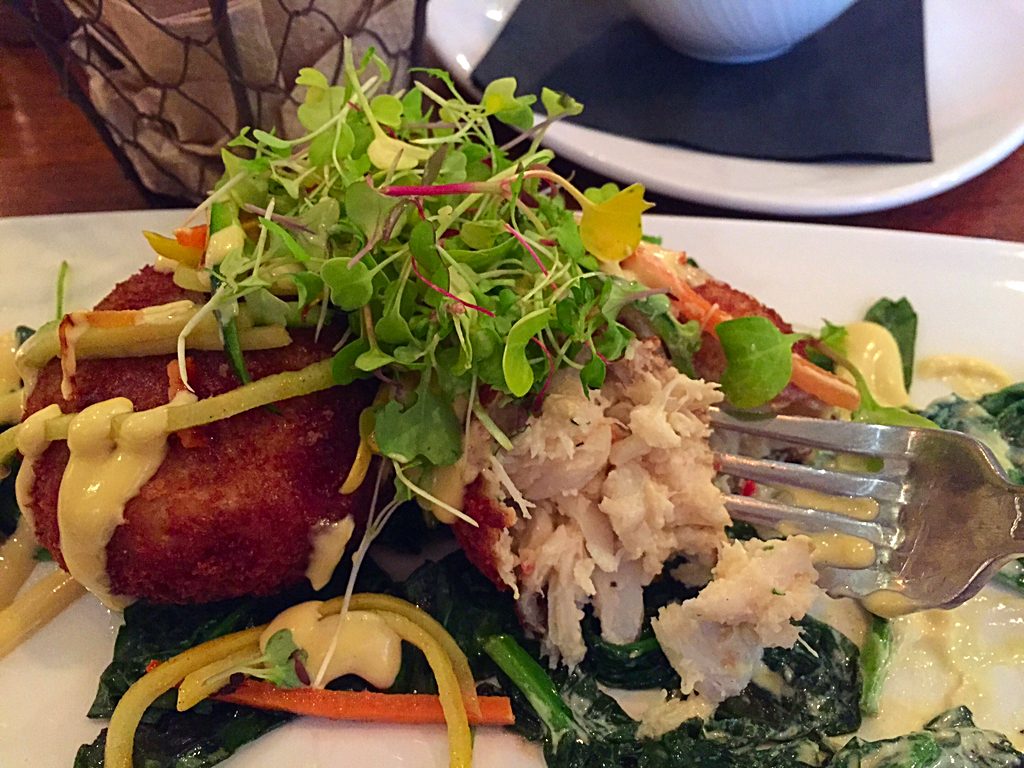 After all of that food, we were stuffed! They offer several house-made desserts daily, but we just could not eat another bite! Overall, Cozy's Cottage was a unique dining experience. I loved that it is not just another restaurant… it has style, flair and a true coziness that just makes you want to curl up with the one you love, sharing a bottle of wine and a tasty meal. I love that you have two different atmospheres in one place, and that depending on the night you decide to go, you could sip half priced wine by the fire, listen to live music or watch your 4-course meal being prepared inside on the big screen. My husband and I declared this our new "favorite place," and we cannot wait to go back again! We are lucky to live less than five minutes away from this gem, but even if you live farther, I would HIGHLY recommend taking a drive out to this Cozy Cottage!