Not too far from Hyde Park is The Art of Entertaining, an event/party planning business that specializes in interactive culinary and wine tasting. Every month they host a Vine & Dine event that includes six to seven courses of contemporary American cuisine, live music, and of course tastings of their featured wines and local handcrafted beers.
Upon arrival each patron received four Lego pieces in a small bag as tokens to exchange for drinks for the evening. As a bonus, the bag acted as our fifth drink! Not only was this a great way to keep track of your drinks but also lots of fun for those who are still a kid at heart.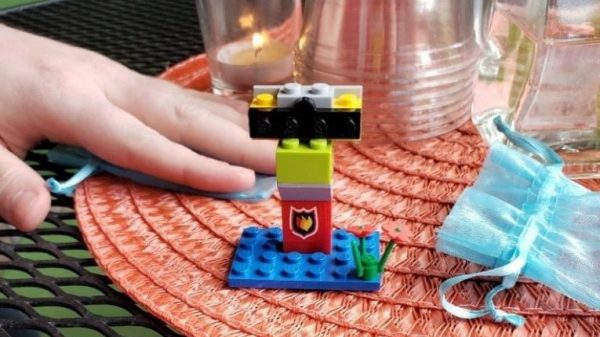 We decided to seat ourselves right in front of the band playing for the best music experience. The band performing that evening was The Chuck Brisbin Trio and they perfectly set the fun, casual atmosphere of the evening with a mix of blues, R&B, rock, and country. The band's music made it perfect for dancing the night away with a drink in one hand and your date in the other!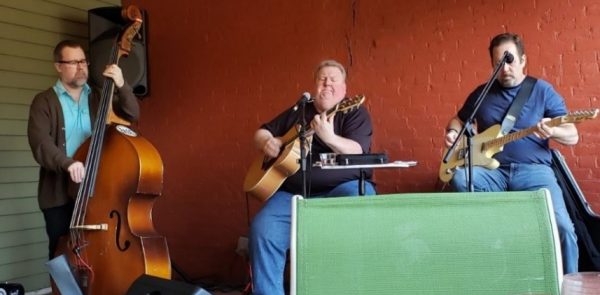 The menu that evening was very Mediterranean in flavor but with a contemporary American cuisine twist in execution. Our dinner was served buffet style and though it was awfully tempting to pile lots food onto our plates we resisted the urge. After all it was a six-course meal, so we had to pace ourselves! The cooks were aware of the importance of pacing too since the food was served gradually instead of all at once. This allowed guests to have more time to socialize either with their date or other guests and in general have a fun evening which was the focus of the event.
The dinner started with little neck clam puttanesca and a gyro inspired flatbread as our appetizers. The puttanesca included clams, mussels, chorizo with roasted garlic tomato sauce, a red pepper flake, and a chiffonade of basil. It had been ages since the last time I've had clams or oysters and I regret not having more that evening. It was definitely my favorite part of dinner! The flatbread had braised lamb, feta cheese, tzatziki sauce with fresh arugula, roma tomatoes, and a lemon herb vinaigrette. Both dishes were bursting with flavor and gave us a taste of what else to expect from the menu.
After the appetizers was the traditional Greek salad with slivered red onions, tomatoes, kalamata olives, banana peppers, feta cheese and a classic Greek vinaigrette. It was a light salad so we both still had plenty of room for more food. In fact, after serving the salad, the staff brought out more mussels and the flatbread if anyone wanted seconds or thirds!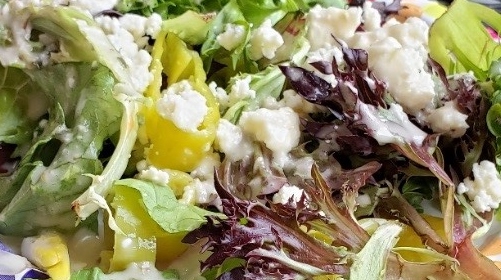 Then onto the main course featuring arroz con pollo (or rice with chicken) and lump crab stuffed tenderloin. The thigh cut grilled chicken and chili spiced was served with Spanish rice pilaf, sofrito, red and green peppers, onion, green peas, and topped with a cilantro aioli. The tenderloin was grilled and stuffed with lump crab, herbed goat cheese and a pesto hollandaise. It was the perfect combination of land and sea rolled into one delicious dish.

Last but certainly not least was dessert. Unlike the rest of dinner, dessert was served to us instead of the usual buffet style. Our evening ended with a deep-fried honey doughnut served with a crème anglaise and toasted walnuts with a touch of powdered sugar.
Aside from amazing food, The Art of Entertaining had an exceptional selection of wine and craft beers. The staff were incredibly friendly and quite helpful with drink suggestions. We began our evening enjoying a glass of wine and found ourselves trying not just new wines but new beers as well. Our favorite craft beers were Fifty West's Doom Pedal and Brewdog's Elvis Juice. Of course, there were many more drink options and if you and your date are itching to taste some of Cincinnati's best craft beers, The Art of Entertaining is the perfect place to do so!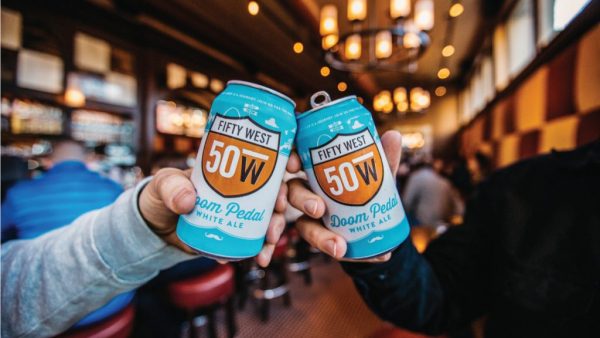 There are Vine & Dine events every month and the next one is May 10th and I highly recommend going with your date. If you love good food and a nice glass of wine or craft beer this is the place to be. Check out more about The Art of Entertaining on their website and schedule your next date night!